Best Chardonnay of the Year goes to Murviedro Pasión White
Judges at USA Wine Ratings crowned Murviedro Pasión White as the best Chardonnay of the year.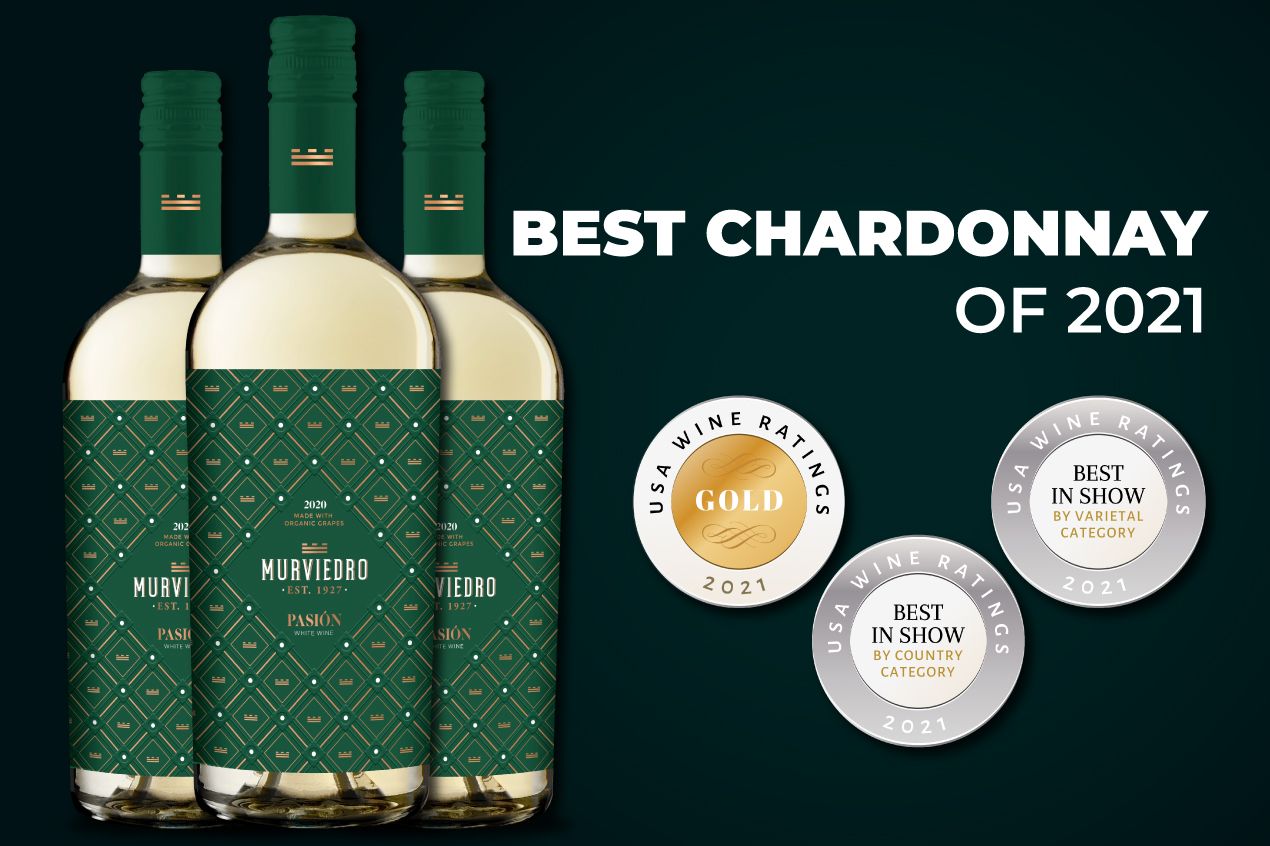 The Murviedro Pasión White by the Bodegas Murviedro winery gloried at the annual USA Wine Ratings by earning 96 points and winning a gold medal. The wine was crowned as the 'Best Chardonnay of the Year' and the 'Best in Show by the Country' at the competition.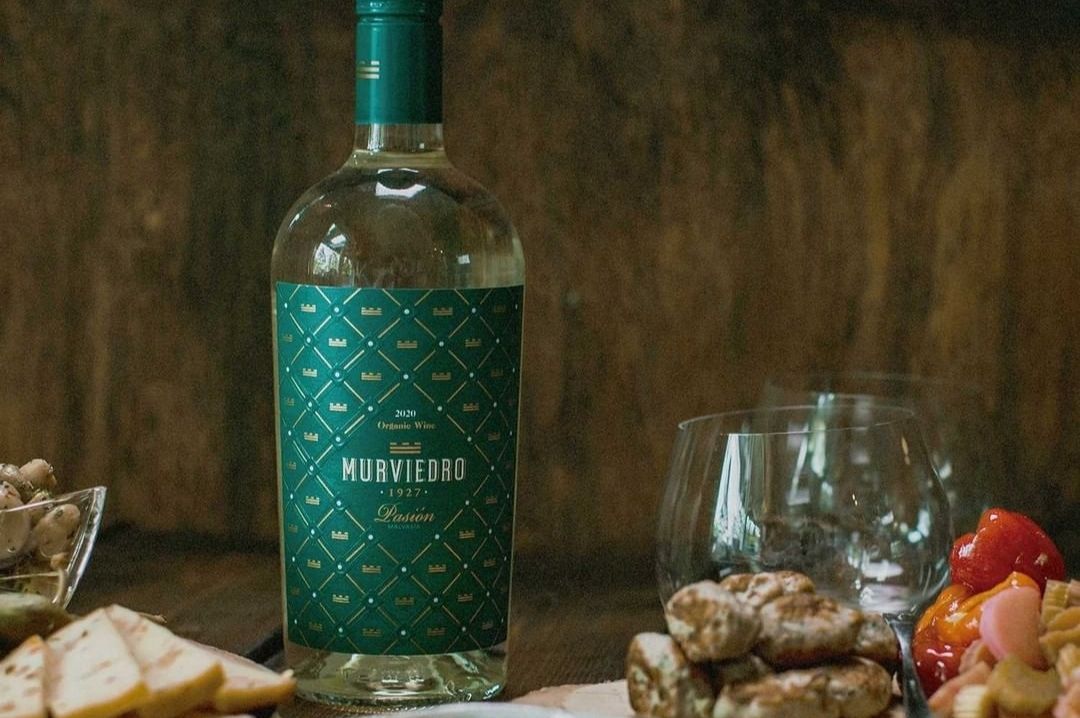 Murviedro Pasión White, source: Instagram
The 2021 USA Wine Ratings' judges got to taste over 1000 wines and over 100 varietals from across the globe. The competition judges wines based on how we, the drinkers look at a bottle before adding it to our own shelves. Each wine is blind tasted and judged on the basis of three parameters: quality, value, and packaging.
The judges at the competition include Masters of Wine, major retail chain buyers, master sommeliers, and experts in the retail drinks industry with direct commercial buying responsibility. This year the judging panel included Tim Marson MW (Senior Buyer at Wine.com), Tim Hanni (the USA's first Master of Wine), Pat Andress (Wine Product Developer, Trader Joe's Company), Tim Widnes (Wine and Beer Buyer, Whole Foods Market), and several other leading wine buyers and sommeliers from around the US.
The Winery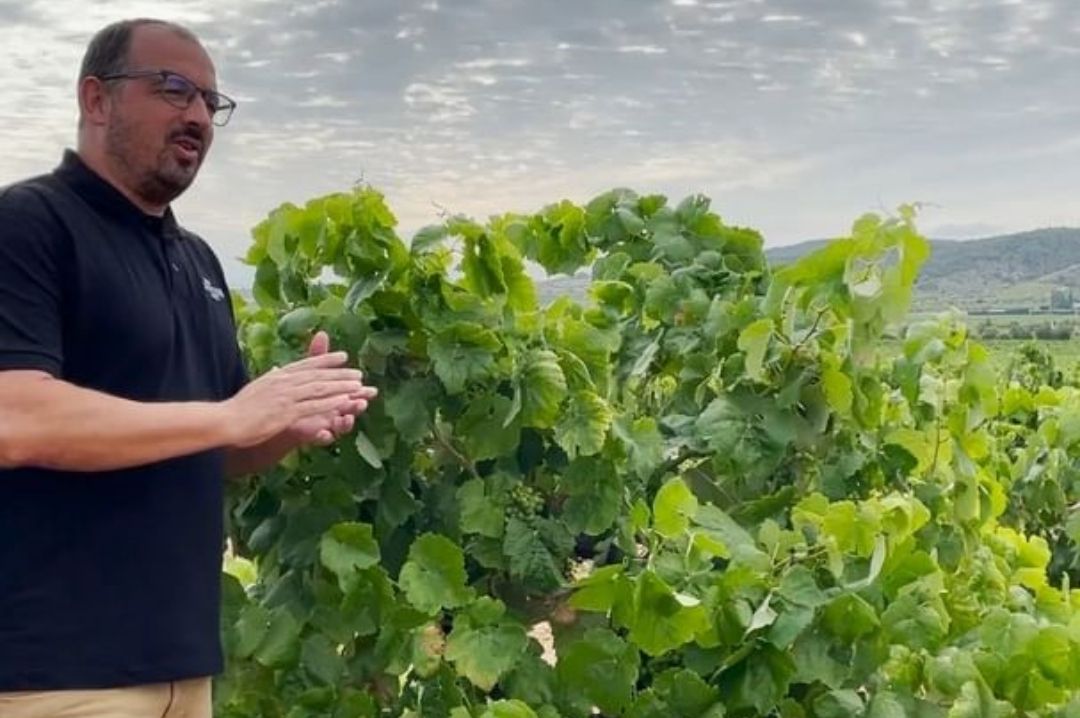 Winemaker Juanjo Muñoz, source: Instagram
Bodegas Murviedo was established in 1927 and since its launch, it has become one of the leading wineries in the Valencia region. With an award-winning portfolio and a strong international presence, Bodegas Murviedro is well on its way to becoming a truly global brand. The company prides itself on combining the most modern winemaking techniques and careful selection in the vineyards. Murviedro produces wines from Valencia, Utiel-Requena, Alicante and Cava. Core brands are Murviedro, Estrella, Los Monteros and Cepas Viejas.
At Bodegas Murviedro, their policy and commitment is to preserve and look after the environment and form a fundamental part of their philosophy. They champion sustainable viticulture and enology and thus, their wines are made in complete harmony with the surroundings.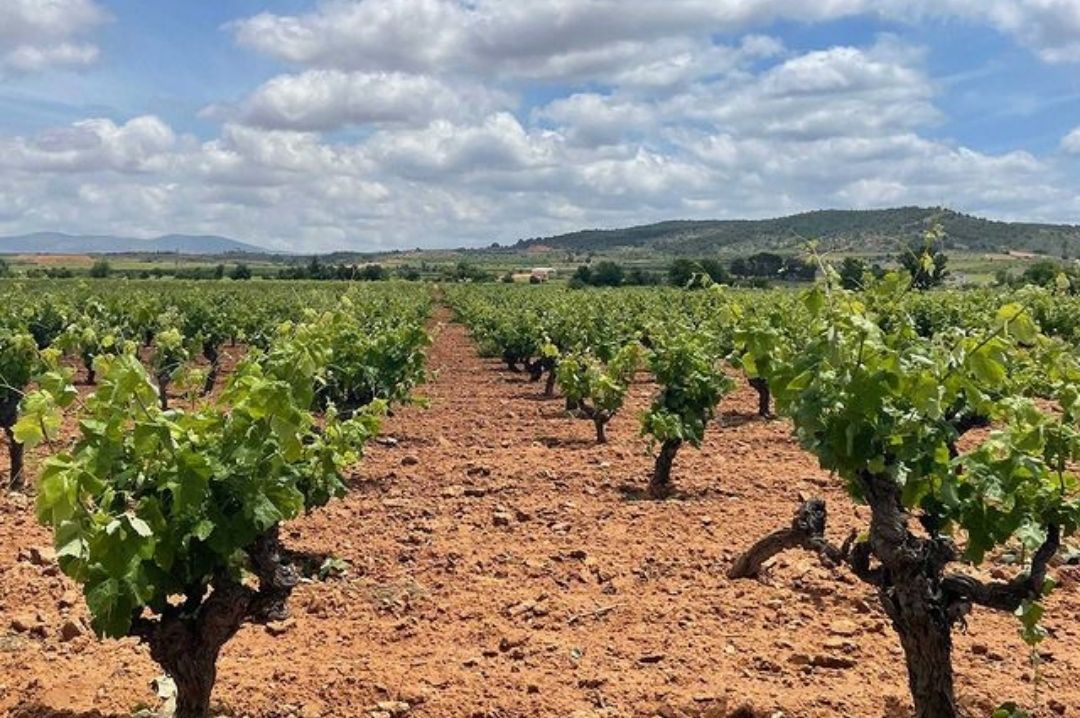 The vineyard, source: Instagram
At many of their vineyards, the grapes are grown organically using biodynamic techniques, and the production and aging methods are also as environmentally friendly as possible. In addition to this, they also produce vegan wines which avoid the use of animal-origin products during the entire winemaking process.
One of the main goals of Bodegas Murviedro is to reduce emissions and gases, ultimately working towards meeting the requirements set out by the Spanish Ministry of Ecological Transition. They are putting all their efforts into improving electrical efficiency by installing solar panels, streamlining the consumption of their machinery, and switching to low-consumption LED light bulbs and many other such practices.
In terms of water and waste reduction, the company boasts a modern filtration system and they recycle all glass and cardboard used at the winery to ensure that the impact on the environment is kept to a minimum.
A Historic Winery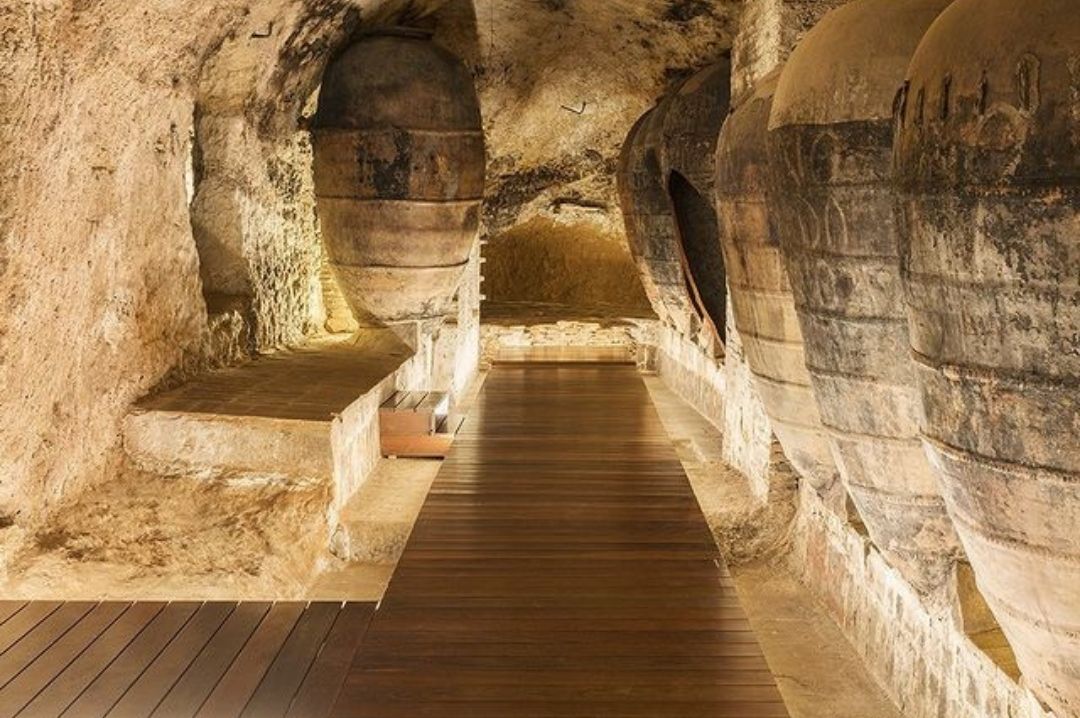 The historic underground winery, source: Instagram
Hidden underground, at the heart of the old quarter of the city of Requena is Murviedro's Historic Winery. It is a mysterious space that becomes a fantastic experience through which visitors will discover their historical connection with the world of wine: the mysterious origin of its caves and their relation to wine growing and making since the fifth century BC. You will feel you have made a journey into the past.
Visitors will also witness an urban winery created for the micro-production of their La Casa de la Seda wine, and discover the characteristics that the latest technologies inspired by the most traditional methods can give wine, through which you will become a little more acquainted with the history of Requena.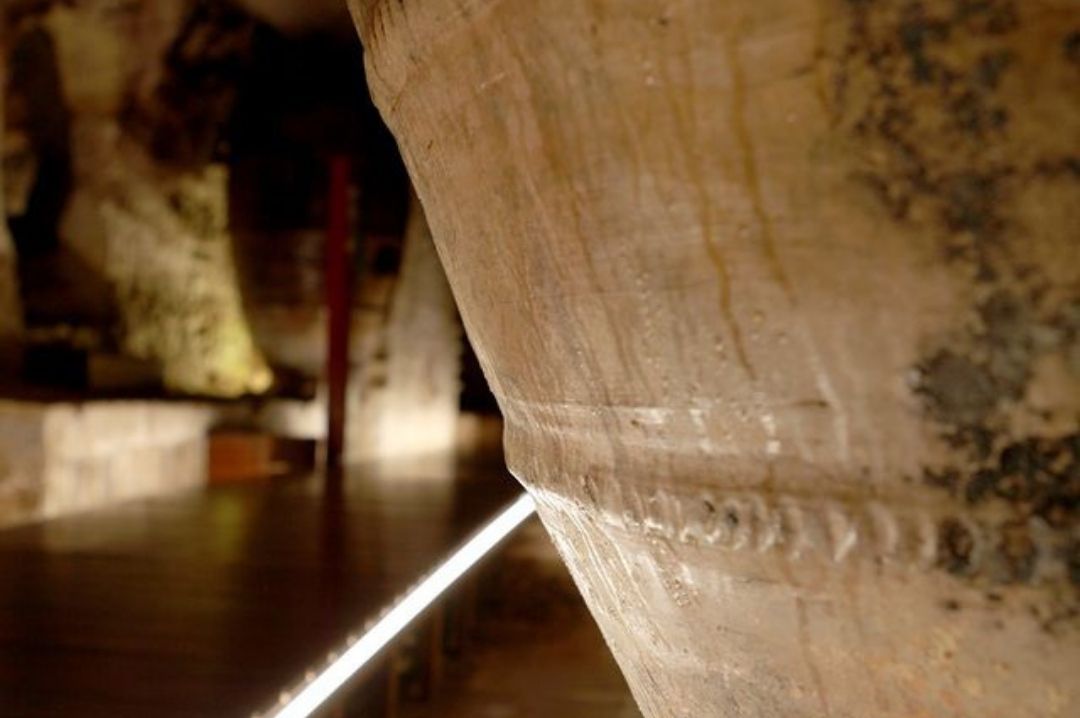 The clay jar in which wines are sheltered, source: Instagram
Descending underground, you will be taken back to a different era. A criss-cross of caves excavated with pickaxe and shovel in clayey limestone tuff, with harmonious, and careful lighting, will guide you. You will discover the wine's passage through its different stages in a winery kept in its original state. An underground treasure where time stands still, and all that breathes is the stillness and constant temperature where the wine is sheltered in the large clay jars.
They provide two types of visits. The first is the standard one, a guided visit with two tastings and a free gift charged at €7. The second is the premium visit, which is a guided tour of the winery with 5 tastings accompanied with cold meat and a free gift charged at €15. Make a reservation before you visit.

The Company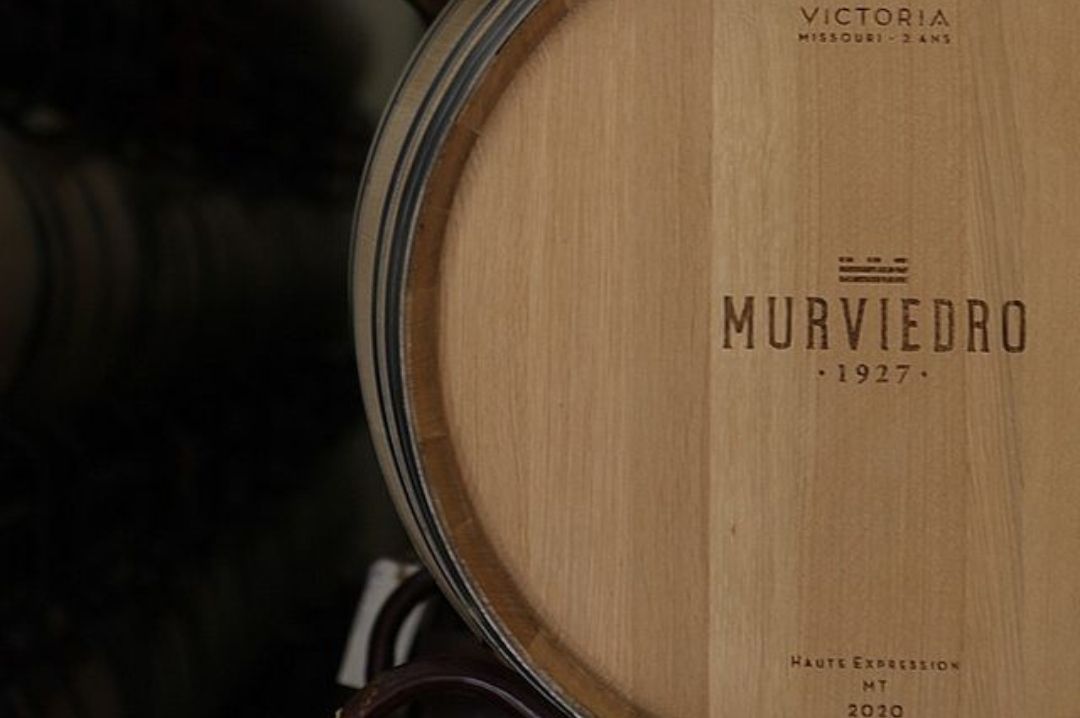 Wine barrels at Bodegas Murviedro winery, source: Instagram
Bodegas Murviedro sits under Schenk's umbrella, which was founded in 1893 in Switzerland by Charles Schenk. Later it was taken over by Arnold Schenk, who inherited his father's passion for wine and for the land. Soon, he had transformed his firm into the largest wine growing and making company in Europe.
Today, more than 100 years later, Schenk continues to power through as a family-owned company, maintaining its years-old traditions. Along with Spain's Bodegas Murviedro, Schenk also has a plethora of other wineries in many countries including Switzerland, France, Italy, Spain, Germany, Benelux, and the United Kingdom.
Award-Winning Expressions
At the competition, several wines from the Bodegas Murviedro winery entered and won a medal. These are award-winning wines.
Murviedro Pasión White - This white wine has won a gold medal by earning 96 points and is crowned as the 'Best in the show by Country' (Spain) and the 'Best in the show by Varietal' (Chardonnay). This wine is dry and zesty with subtly perfumed tart lemon peel. On the palate, it has tastes of under-ripe green apple and fresh apple blossoms. It can be enjoyed by itself or with light appetizers.
La Casa de la Seda - This 2019 vintage has earned 92 points and secured a gold medal. The wine is made from the typical Bobal variety and is completely vegan. It has an intense purple-red color and notes of forest fruits, mixed with aromatic herbs, violets, and spices like saffron. Initially, on the palate, it has a taste of ripe fruit with a hint of sweetness (blackcurrant jam). With good acidity and freshness, the flavor is persistent, with silky tannins and a mineral background. The wine is ideal for accompanying red meats, game, cold meats, and cured cheeses. Serve between 16 and 18ºC.
Sericis Cepas Viejas Monastrell - Another gold medal for the Bodegas Murviedro came with this 91 point winner. This wine has an intense red color with purple tones. The bottle has elegant and powerful aromas of ripe fruit and toasted oak. It is full-bodied, complex, with ripe tannins and toasted flavors on the finish. Sericis Cepas Viejas Monastrell is an ideal wine to accompany red meats, game, stews, spicy dishes, and strong cheeses. Serve between 16 and 18ºC.
Murviedro Pasión Red - This 2019 vintage earned 90 points and secured a gold medal at the competition. The wine is an opulent and juicy red with bright ripe strawberries, plums, cherries, fruit leather, lightly grilled meat, toasted wood, and coffee notes. This wine is bold and spicy, and the jammy fruit complements the earthy notes.
Sericis Cepas Viejas Merseguera - The 2019 vintage uses typical merseguera variety and has earned 89 points winning a silver medal at the competition. The wine has a bright yellow color with a green tinge. It has medium intensity aromas of ripe white stone fruit with a hint of flowers, fennel, and balsamic tones. The wine is smooth, round with flavors of apricot and dried peach. It is a wine with Mediterranean character, well-balanced acidity, and a long finish. Sericis Cepas Viejas Merseguera is a very aromatic white wine with a big personality, ideal to be served with salads, seafood, fieduà, paellas, and white meat. It is also excellent served on its own. Best served chilled between 6 and 8ºC.
Sericis Cepas Viejas Bobal - The second silver medal was secured by this wine by earning 89 points at the competition. It is made of 100% bobal grapes. The wine is intense red in color with light earthy hues. It has a deep and complex taste with forest fruit aromas together with tones of toffee and vanilla. The wine is fresh, deep-bodied with smooth tannins and a very long finish. The wine is suitable for vegetarians and vegans. It is ideal to accompany meats, games, and cold meats. Serve between 16 and 18ºC. The winery recommends decanting the bottle at least one hour prior to serving.
Murviedro Pasión Rosé - The 2020 vintage is made from the bobal variety. At the competition, the wine earned 86 points and picked up a silver medal. It has aromas of strawberries, cherries, and hints of fresh flowers upfront. On the palate, it has flavors of wild berries and savory herbs.
Shop for the Bodegas Murviedro wines here.