Serenade of Vibrant Flavors: The UNO Sauvignon Blanc Wine
A Journey through Refreshing Aromas and Zesty Citrus Notes.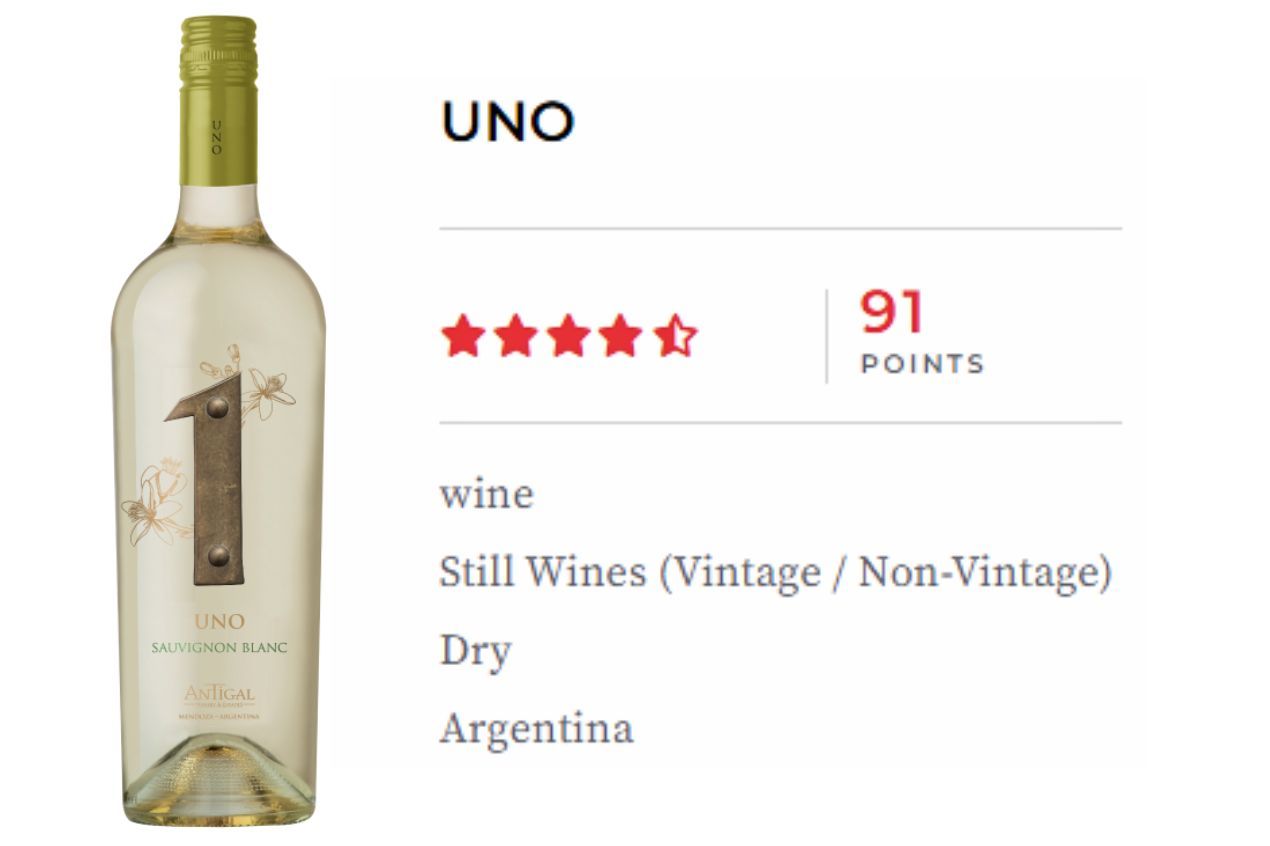 UNO Sauvignon Blanc is a wine that effortlessly captivates palates and delights both wine enthusiasts and casual drinkers alike. Judge Shirley Brooks describes it as a crowd pleaser and the perfect companion to bring along to a joyful brunch gathering with friends.
A wine that is a perfect companion, has been ranked #7 at the Global Drinks Guide Ratings, 2023 with a remarkable score of 91 points. With its crisp acidity and zesty citrus notes, the Uno Sauvignon Blanc is a delightful choice that will elevate any brunch experience, making it a must-have for those cherished moments of togetherness.
Facts To Know
Alcohol %: 13.5
Beverage Type: Wine
Category: Still Wines (Vintage / Non-Vintage)
Sub-Category: Dry
Age: 2022
Producer: Antigal Winery & Estates
Country: Argentina
Varieties: 100% Sauvignon Blanc
Color: Red
Tasting Notes
Nose: With herbal notes such as rue cut grass and mint and tropical fruit like passion fruit grapefruit and pineapple
Palate: Fresh showing balanced sugar acidity roundness and excellent volume
Production Process
Born from the cool realms nestled high in the Andes foothills, UNO Sauvignon Blanc is an exquisite creation shaped by an intricate production process. The journey begins with clusters of hand-picked Sauvignon Blanc grapes, meticulously selected and swiftly chilled to preserve their vibrant essence. With utmost care and the aid of Antigal's gravity-fed technology, these precious grapes are treated with a gentle touch, ensuring the preservation of their delicate flavors. Each step in the process harmoniously combines to unveil a wine that captures the purest expression of the varietal's allure.
Here is what drinks experts have to say
Shirley Brooks (Bartender at Madrone Art Bar)
Shirley describes the wine as, "Notes of grass and grapefruit peel on the nose. Nice pale yellow color. A crisp clean acidity. With hints of grass, pomelo, and other citrus. Finishes with lingering notes of grass and mint."
Nora Furst (Beverage professional with roots in SF and The PNW)
"A food-friendly wine for dining al fresco on a summer evening", says Nora. She adds, "Floral and zippy nose open to notes of grapefruit peel and honeysuckle. Bright acidity with a lingering finish."
About The Brand
Antigal Winery & Estates is a well-known winery located in Mendoza, Argentina. They specialize in producing high-quality wines, particularly Malbec, which is the flagship grape of the region. The winery was founded in 2003 and has since gained recognition for its commitment to crafting exceptional wines that showcase the unique terroir of Mendoza.
They focus on vineyard management and sustainable practices to ensure the highest quality grapes. They have several vineyards in different regions of Mendoza, allowing them to capture the diverse expressions of Malbec.
Unlock the Complete Uno Sauvignon Blanc Wine Review by Global Drinks Guide Ratings, 2023 - Click Here!
Global Drinks Guide is quietly making an impact on those drinks enthusiasts who are keen to find out more about the wines, spirits, and beers they like to drink – and then go out and discover more in the right bars, and restaurants in their cities.
South San Francisco Conference Center, 255 South Airport Boulevard, South San Francisco, CA 94080, United States.
Register Now
South San Francisco Conference Center, 255 South Airport Boulevard, South San Francisco, CA 94080, United States
Register Now