Unlocking the Essence: Exploring the Enigmatic Uno Wine
Delve into the Richness and Purity of Argentina's UNO Malbec.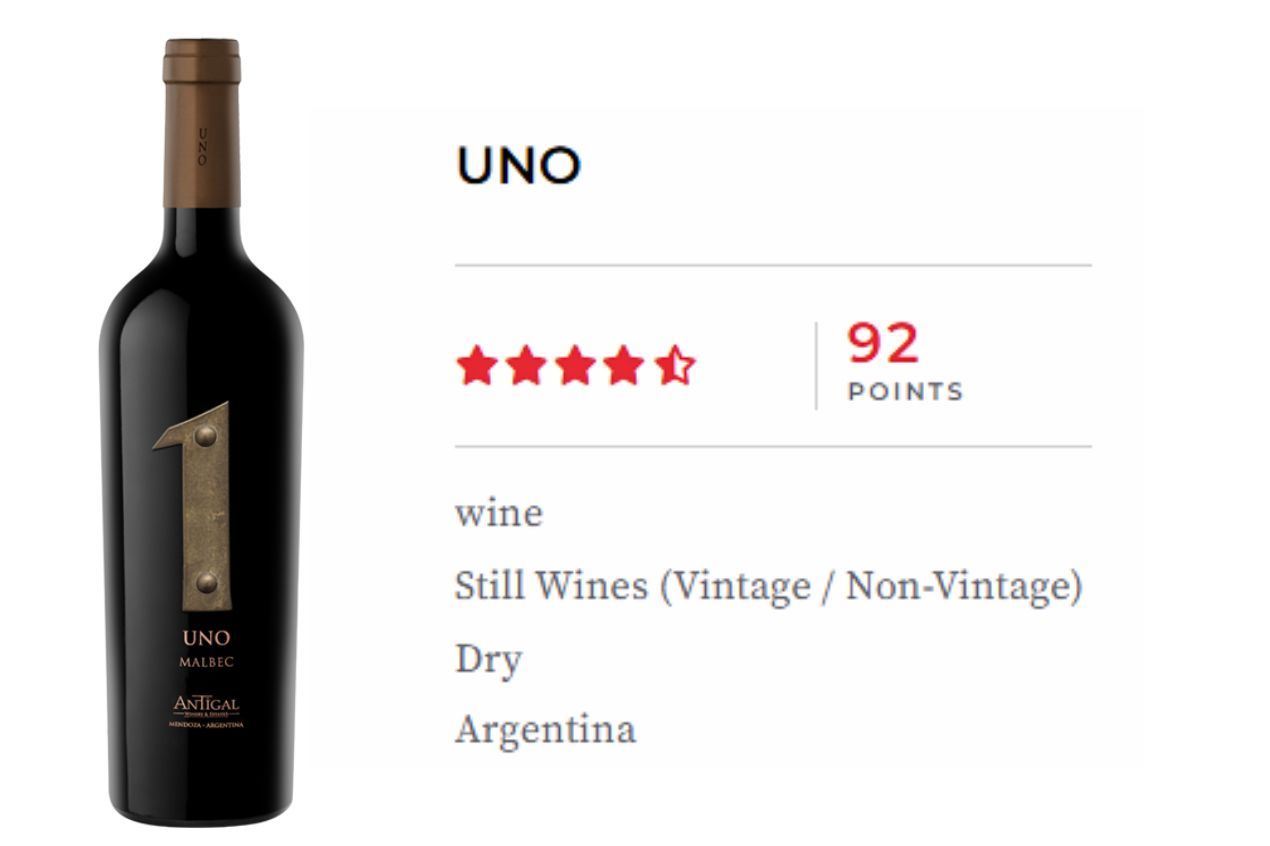 Indulge in the harmonious balance of flavors and the sheer versatility of UNO Malbec Wine - "A wine which is perfect for sipping while grilling with friends", as said by Judge Nora Furst. With a rich, deep ruby color derived from its 12 months of aging in French oak barrels, this remarkable wine offers a complex flavor profile that captivates the palate.
The wine has been ranked #6 with a score of 92 points at the Global Drinks Guide Ratings, 2023. Whether you're savoring succulent steaks, juicy burgers, or pasta dishes, UNO Wine is the ideal choice, elevating the culinary experience and creating lasting memories with each sip.
Facts To Know
Alcohol %: 13.9
Beverage Type: Wine
Category: Still Wines (Vintage / Non-Vintage)
Sub-Category: Dry
Age: 2020
Producer: Antigal Winery & Estates
Country: Argentina
Varieties: 100% Malbec
Color: Red
Tasting Notes
Nose: Forward aromas of red and black fruit preserves, redolent of maraschino cherries play against background notes of oak.
Palate: Soft, with sweet tannins and a round, rich mouthfeel. Hints of tobacco, chocolate, and vanilla underscore the wine's complexity.
Finish: Balanced and long.
Production Process
Crafted from meticulously hand-picked grapes nurtured in the acclaimed Uco Valley, the UNO Malbec undergoes a meticulous production process to capture the epitome of excellence. Benefiting from the region's optimal blend of elevated altitudes and arid climate, the vineyards yield grapes of unparalleled quality. Following the harvest, the wine is delicately aged for 12 months in carefully selected French oak barrels, imparting a captivating deep ruby hue and a symphony of intricately woven flavors that unfold upon every sip.
Here is what drinks experts have to say
Shirley Brooks (Bartender at Madrone Art Bar)
"Bright and mellow", says Shirley. She adds, "Notes of dark berries and ground coffee on the nose. Beautiful ruby color in the glass. Bright yet mellow. Big tannins. Notes of oak, bark, dark berries: blackberries, ripe dark cherries. Slightly spicy. Long finish."
Nora Furst (Beverage professional with roots in SF and The PNW):
Nora describes the wine as, "Dark red fruit and a bit of inkiness with cocoa notes on the nose. The palate is lighter than expected, with some drying tannins."
About the Brand:
Antigal Winery & Estates is a well-known winery located in Mendoza, Argentina. They specialize in producing high-quality wines, particularly Malbec, which is the flagship grape of the region. The winery was founded in 2003 and has since gained recognition for its commitment to crafting exceptional wines that showcase the unique terroir of Mendoza.
They focus on vineyard management and sustainable practices to ensure the highest quality grapes. They have several vineyards in different regions of Mendoza, allowing them to capture the diverse expressions of Malbec.
Unlock the Complete Uno Malbec Wine Review by Global Drinks Guide Ratings, 2023 - Click Here!
About Global Drinks Guide
Global Drinks Guide is quietly making an impact on those drinks enthusiasts who are keen to find out more about the wines, spirits, and beers they like to drink – and then go out and discover more in the right bars, and restaurants in their cities.
Header Image Source: Antigal
South San Francisco Conference Center, 255 South Airport Boulevard, South San Francisco, CA 94080, United States.
Register Now
South San Francisco Conference Center, 255 South Airport Boulevard, South San Francisco, CA 94080, United States
Register Now