Drink on the Dark Side with these Star Wars Cocktails
Make a Star Wars inspired cocktail this May 4 and celebrate the force.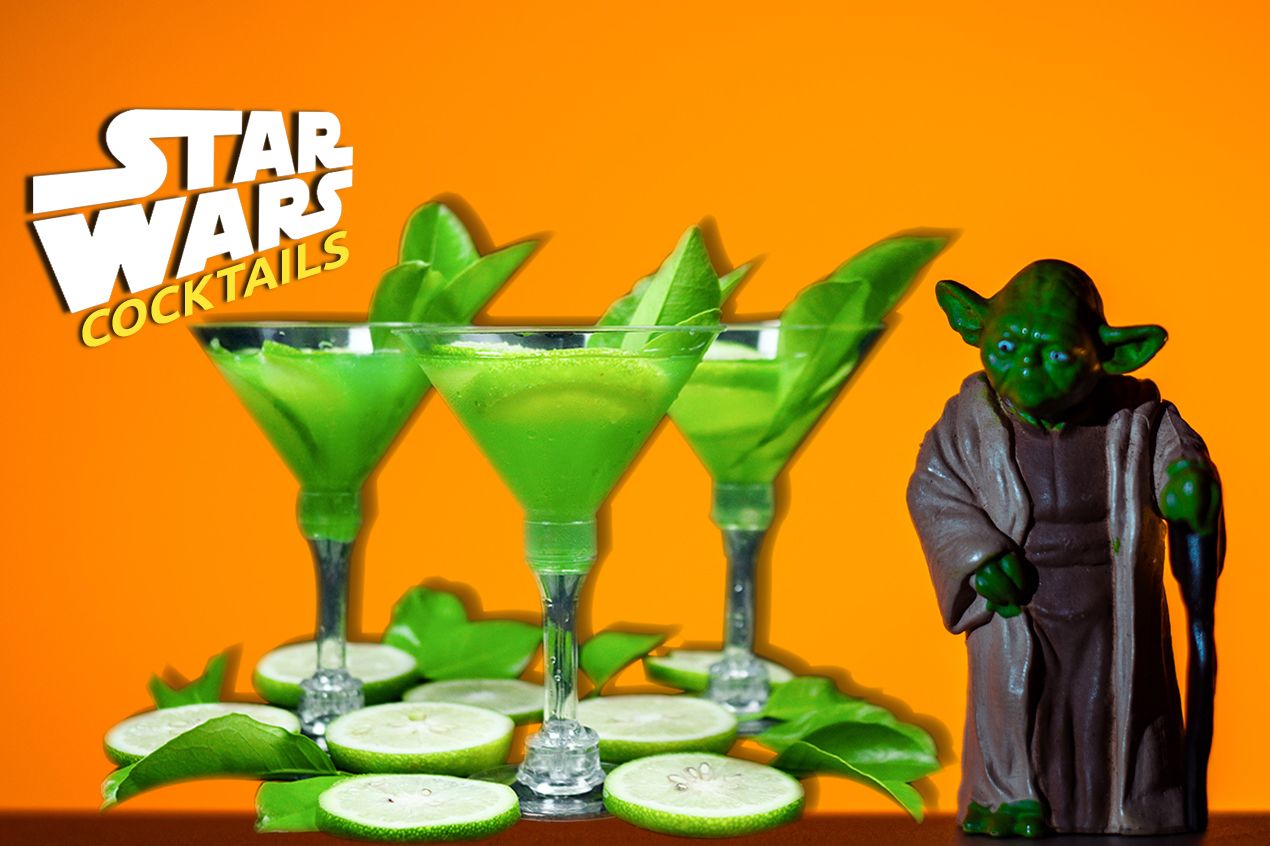 Forty years have passed since the world first came to know Luke, Princess Leia, Han Solo and their numerous droid friends. Little did the world know then that Star Wars was going to become a cultural uniter. George Lucas created a story of mythic proportions about a young man, an evil empire and a galaxy far, far away. Come May 4, as the world will reunite once again, some in-person, others virtually from their homes to celebrate Star Wars Day.
Getting together with fellow Star Wars fans is enough to get your juices flowing but these cocktails add to the perfection. Stir up these other-worldly concoctions inspired by our favorite Star Wars characters to add a spark to the day.
Try these simple, stir up cocktails that have been inspired by legendary characters from the universe.
The Floating Yoda
Recipe by Homemade Hooplah
Homemade Hooplah, Source Website
The world begins and ends with the wise Yoda. Legendary Jedi master, he has trained Jedi for over 800 years. One bearing truth to the fact that size is no matter to power, The Floating Yoda hails the wise master. A variation of the White Russian, The Floating Yoda contains Kahlua and mint chocolate chip ice cream.
Ingredients:
Ice, enough to fill the glass
1 part Kahlua
1 part Vodka (We suggest the award-winning Hanson of Sonoma)
½ part milk
1 scoop mint chocolate chip ice cream
Method:
Fill the glass to the brim with ice. Pour in the Kahlua and vodka of your choice, and give it a quick stir. Pour milk on top (careful not to overflow!) then finish with a scoop of mint chocolate chip ice cream on top (balancing the ice cream on the ice). Serve immediately.
The Darth Vader
Recipe by Drinksfeed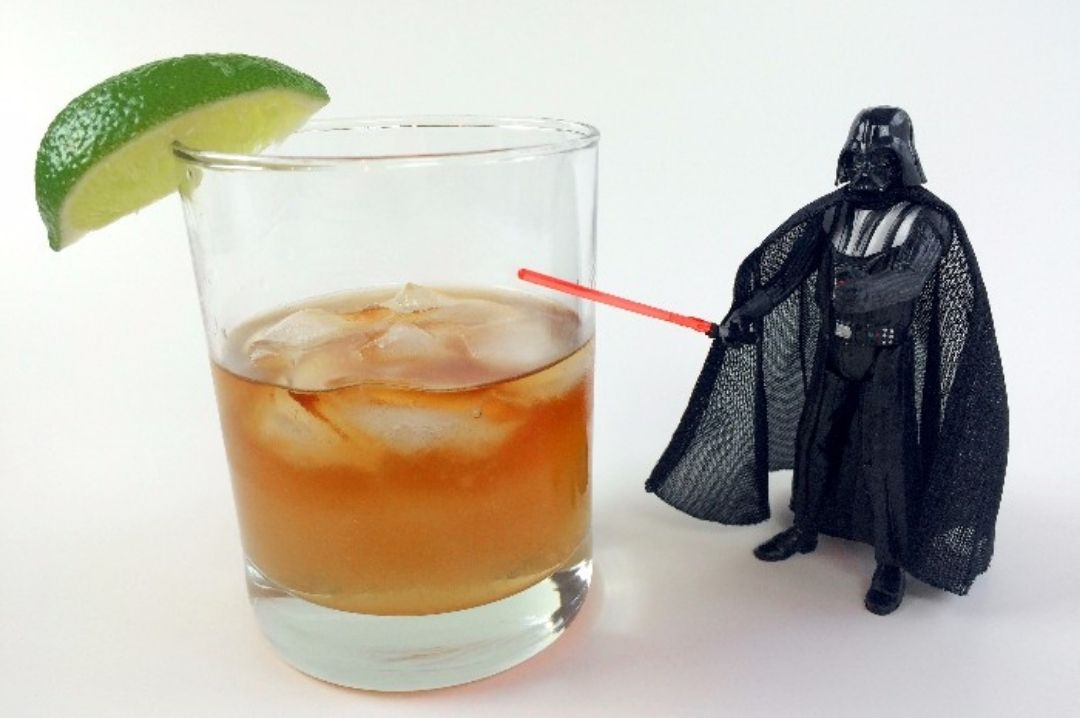 Drinksfeed, Source Website
This drink is inspired by the prime antagonist with a character arc that came to be with a fascinating story of origin. The deep baritone shook cinema-goers as the impressionable Anakin Skywalker discovered his powers, falling in love with a beautiful princess and then moved over to the dark side.
Ingredients:
½ vodka
½ gin (we suggest the highly rated Barr Hill Gin)
½ tequila (the Espanita Reposado Tequila is a great choice)
½ rum
½ orange liqueur
½ Jagermeister
Method:
Add all ingredients one after the other in a cocktail shaker with ice. Shake and strain in a cocktail glass and enjoy.
The Kylo Rye
Recipe by Liquor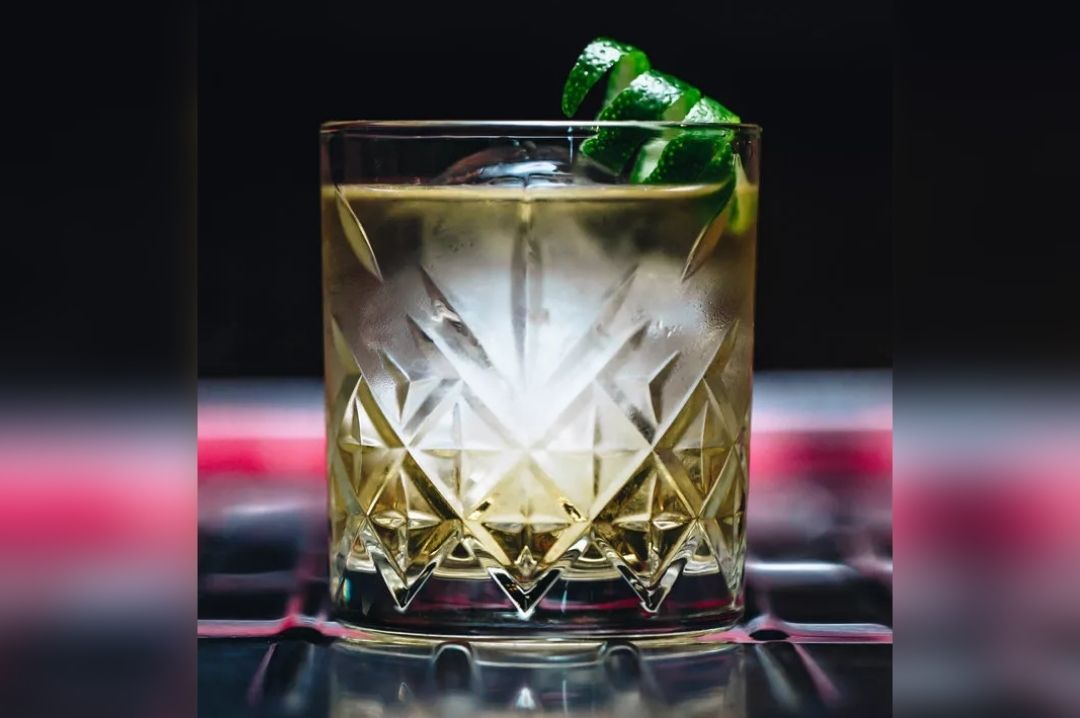 Liquor, Source Website
A tale of alter-egos Ben Solo and Kylo Ren was embodied by the conflict between the dark side and the light side. Kylo Ren learnt it all and was a product of Jedi and Sith teachings. The bartenders at the Bendistillery in Bend are devotees of Star Wars so much so that they created the Kylo Rye cocktail dedicated to the Master of the Knights of Ren and Supreme Leader of the First Order.
Ingredients:
1/4 oz Fresh lime juice
Club soda, to top
Garnish: Lime twist
Method:
Combine 2 oz. Crater Lake rye whiskey and ¼ oz fresh lime juice in a rocks glass with ice. Top it with a club soda and garnish with a lime twist and sip on May 4.
Blue Milk of Tatooine
Recipe by Liquor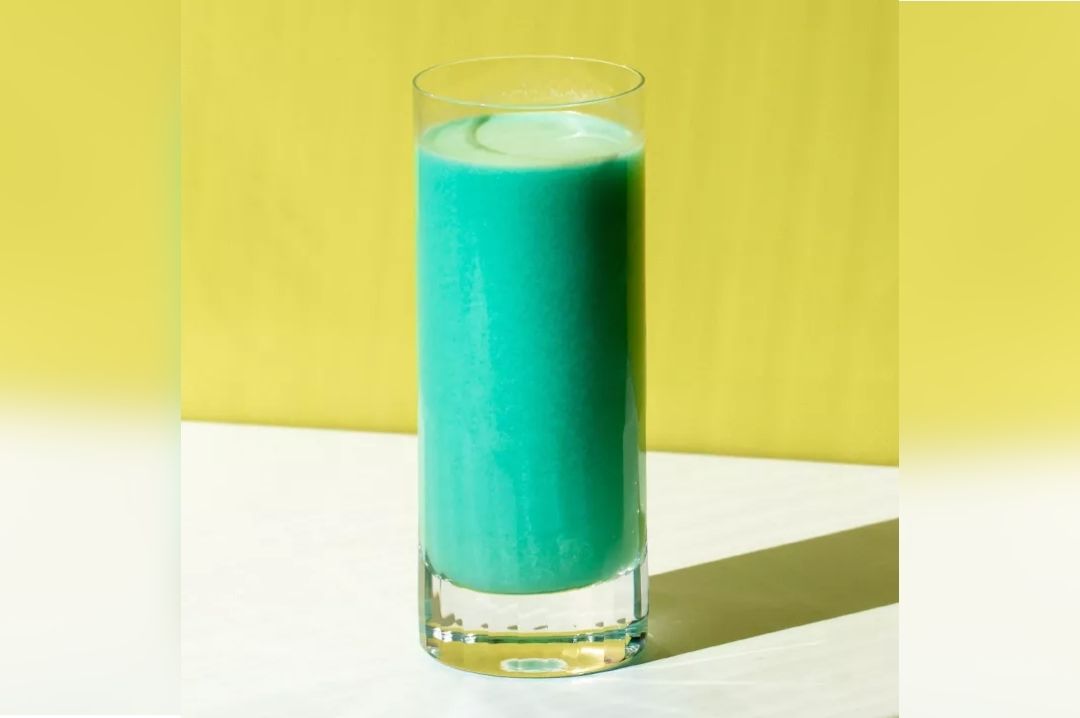 Liquor, Source Website
Not inspired by a character but by the "Bantha Milk" from the series. The Blue Milk of Tatooine cocktail packs a creamy, citrus-flavored punch with a mix of gin, coconut cream, Blue Curaçao, vanilla syrup, Orgeat syrup, pineapple juice, and lime juice. The perfect cocktail to channel the alien planet.
Ingredients:
2 oz Beefeater 24 gin
½ oz blue curaçao
¾ oz lime juice
¾ oz pineapple juice
½ oz orgeat
1 oz cream of coconut
Method:
Add all ingredients into a shaker with ice and vigorously shake until well-chilled. Strain into a Collins glass.
The Lightsaber
Recipe by Maine Spirits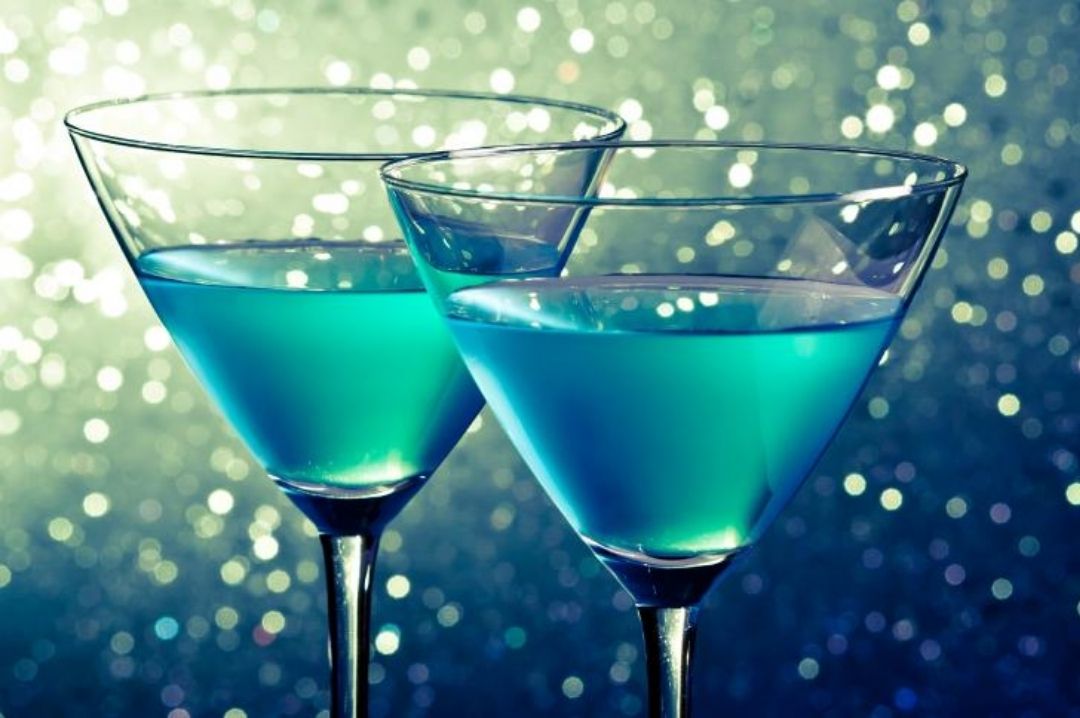 Maine Spirits, Source Website
The plasma blade powered by the kyber crystal that we have grown up with. Whether you are on the side of the Jedis or the Dark Side, you got to have one lightsaber and a good one at that! If you feel you are past the days of swinging your lightsaber (you know you are not), you can always stir up the cocktail and enjoy it. The ingredients for The Lightsaber include Skyy vodka (for Skywalker, yes!), Blue Curacao, pineapple juice and lime juice.
Ingredients:
2 oz Skyy Vodka
1 oz Blue Curacao
1 oz Pineapple Juice
½ oz Lime Juice
Method:
Take 2 oz of Skyy Vodka and add 1 oz of Blue Curacao. To the mix add 1 oz of pineapple and half an oz of lime juice. Stir the mix in a martini glass and enjoy.
The Chewbacca
Recipe by Maine Spirits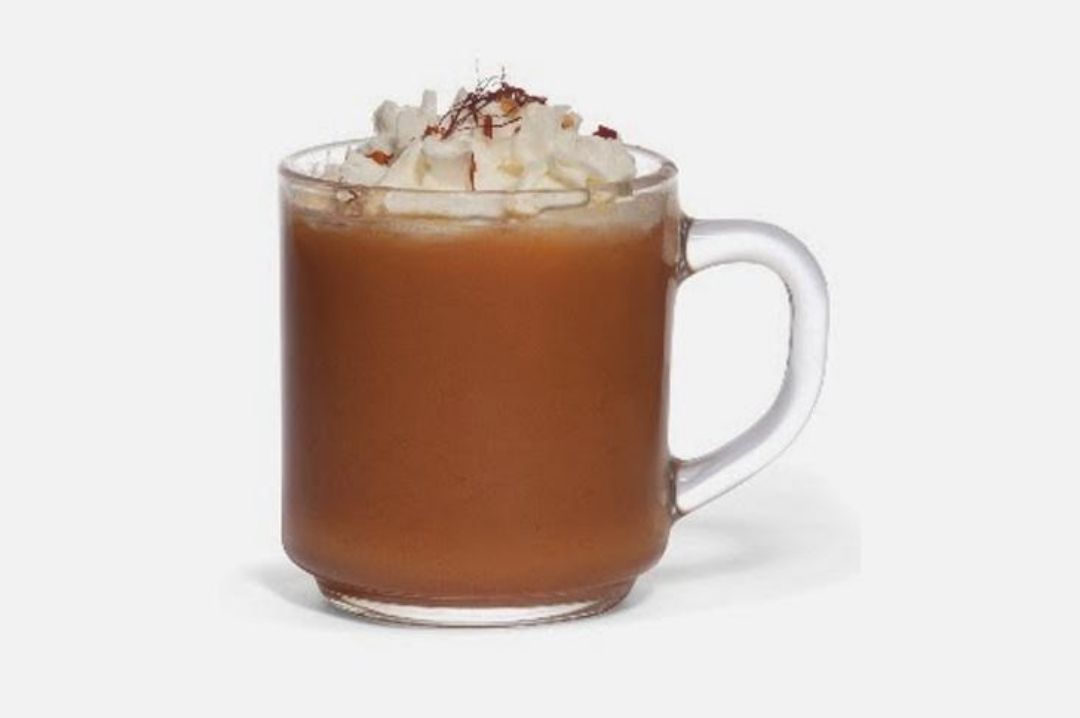 Maine Spirits, Source Website
Star Wars is incomplete without Chewie and so are these cocktails. The resistance warrior who fought the Clone Wars, the Galactic Civil Wars and became a Wookiee military leader. To honor his contribution to making Star Wars a universally acclaimed and loved series, here's The Chewbacca.

Ingredients:
1.5 oz Milagro Anejo Tequila
½ oz Dark Crème De Cacao
1 tsp Saffron Threads
1 Pinch Red Pepper Flakes
½ oz Monin Spiced Brown Sugar Syrup
3 Dashes Aztec Chocolate Bitters
1 oz Sweet Potato Puree
2 oz Hot Water
1 oz Whipped Cream
½ tsp Saffron Threads
Method:
Add all ingredients to a small pot and heat up till almost boiling. Pour into an Irish coffee cup or mug. Top with whipped cream and garnish with saffron.
South San Francisco Conference Center, 255 South Airport Boulevard, South San Francisco, CA 94080, United States.
Register Now
South San Francisco Conference Center, 255 South Airport Boulevard, South San Francisco, CA 94080, United States
Register Now