Pretzel-Inspired Cocktails on National Pretzel Day
Celebrate adulting by drinking pretzels in your favorite cocktail recipes.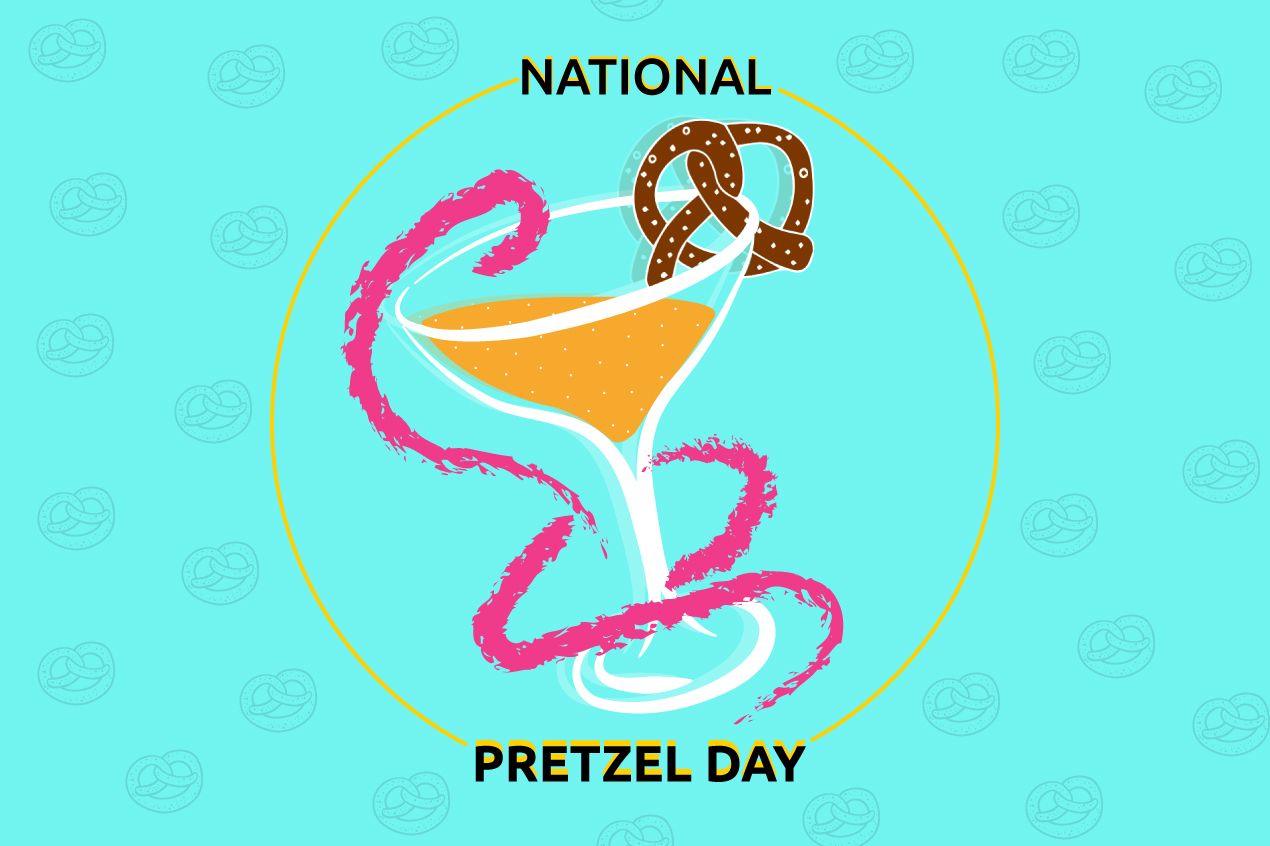 April 26th is National Pretzel Day, and we've been waiting to grab a free pretzel from either Auntie Anne's, Philly Pretzel Factory, Pretzelmaker, or Wetzel's Pretzels, along with their giveaways and exciting goodies. You can have your pretzel and drink it too with these pretzel-inspired cocktails made with award-winning spirits.
Chocolate covered pretzel shot
Recipe by: Dishing Delish
A pretzel shot with sweet hints of chocolate is everything you need today.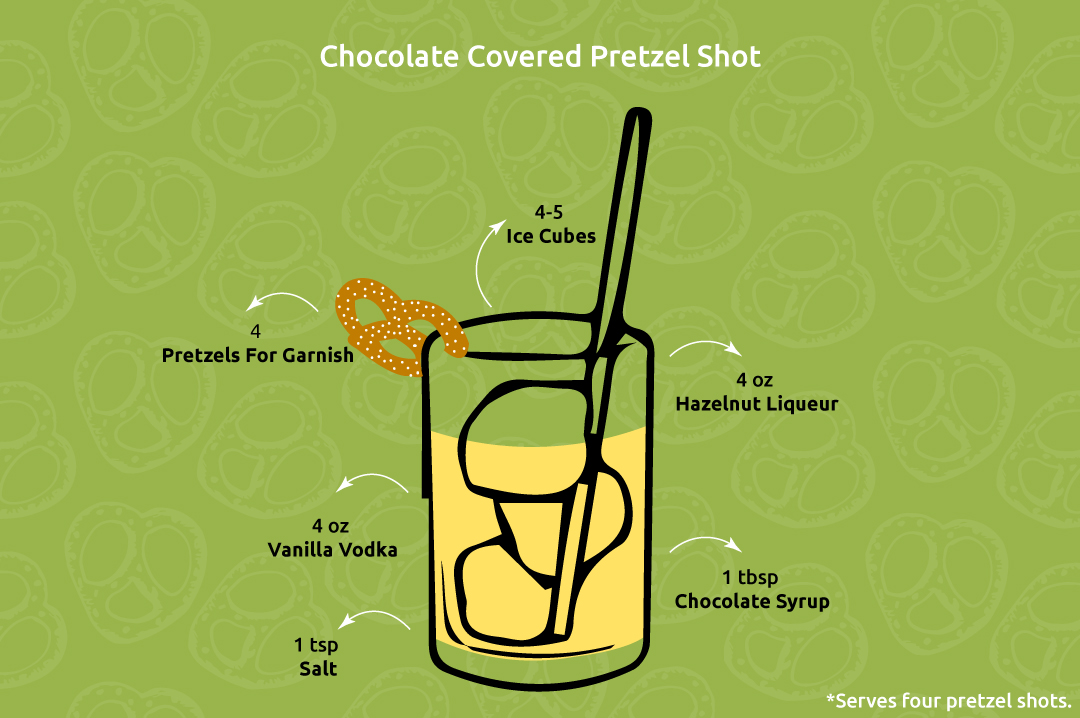 Ingredients:
4 oz hazelnut liqueur (Try Pooka Irish Poitin Hazelnut Liqueur)
4 oz vanilla vodka
1 tbsp chocolate syrup
1 tsp salt
4-5 ice cubes
4 pretzels for garnish, (optional)
Serves four pretzel shots.
Pour the chocolate syrup into a plate and dip the rim in the syrup. Now repeat the process by applying salt to the glass. Keep the glass in the freezer until the shot is ready. In a shaker cup, drop the ice cubes, vanilla vodka, and add London Spirits Competition's silver medalist Pooka Irish Poitin Hazelnut Liqueur. Shake it thoroughly and discard the ice to pour out the liquor in the shot glass. Garnish the top of the glass with a baby pretzel.
Chocolate caramel pretzel cocktail
Recipe by: American Lifestyle.
Try this cocktail martini mixed with the USA's favorite childhood (and adult!) snack.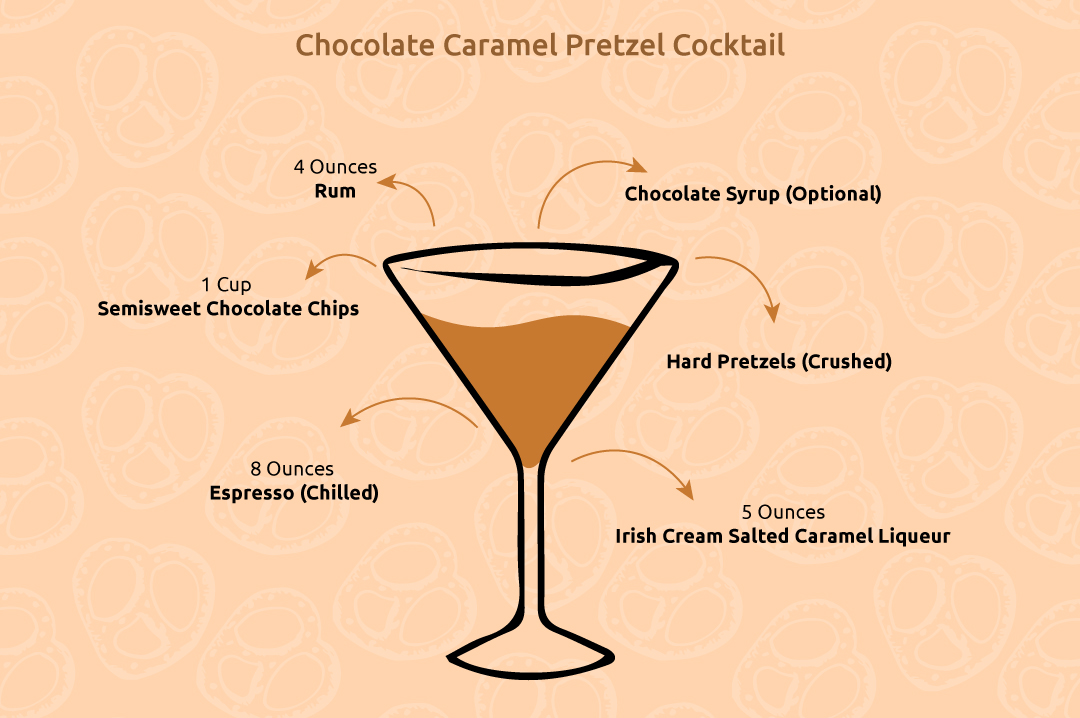 Ingredients:
1 cup semisweet chocolate chips
Hard pretzels, crushed
Chocolate syrup, optional
5 ounces Irish cream salted caramel liqueur
4 ounces rum (Try Bumbu the Original)
8 ounces espresso, chilled
Crush the pretzels, and melt the chocolate first, then dip the top of your martini glass into the melted chocolate followed by the pretzels. Freeze the glass for a while, and then swirl the chocolate syrup inside the glass. Mix the Irish cream salted caramel liqueur and USA Spirit Ratings' gold medalist rum with chilled espresso in an ice shaker. Pour out when chilled, and voila! You have your very own chocolate caramel pretzel cocktail.
Uncle Johnny's Choco-Pretzel Cocktail
Recipe by: Elvis Duran
Take your tastebuds on a roller-coaster tour of sweet and salty flavors with Uncle Johnny's pretzel cocktail.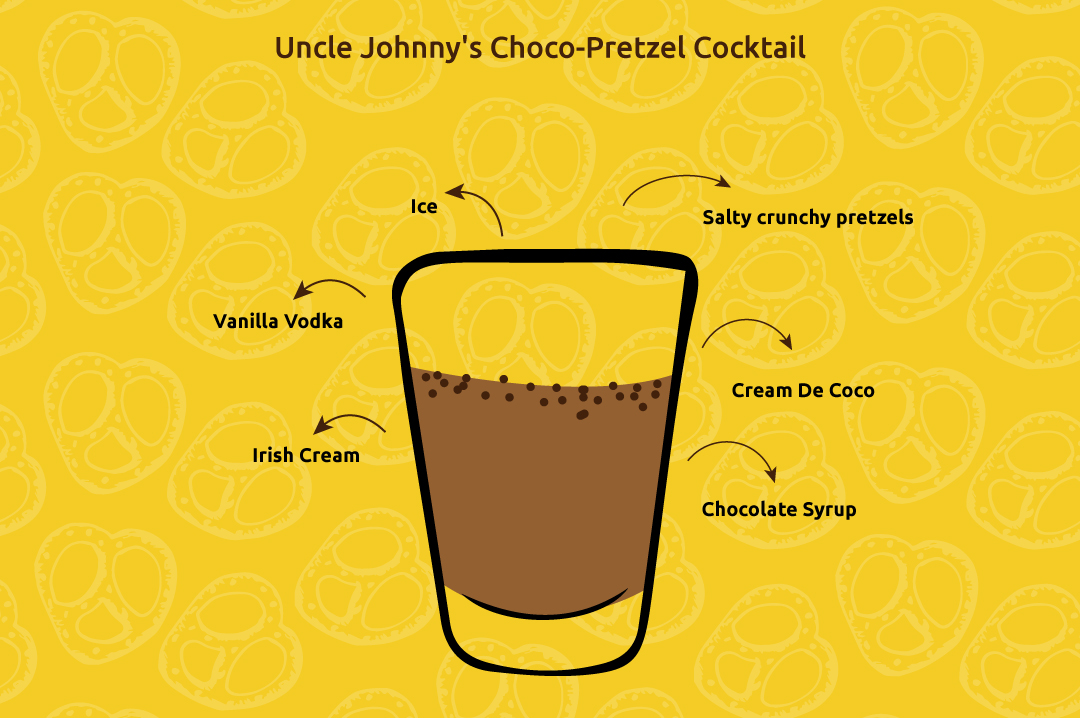 Ingredients:
Vanilla Vodka (Add Absolut Vanilla)
Cream De Coco
Irish Cream (Try Baileys Irish Cream)
Chocolate Syrup
Salty crunchy pretzels
Ice
Crush the pretzels and let them sit aside. Mix the vanilla vodka, Cream De Coco, and Baileys Irish cream in the shaker. Drop some ice, and shake until chilled. Decorate the glass with chocolate syrup and crushed pretzel pieces. Pour the cocktail and serve.
Strawberry Pretzel Whipped Martini
Recipe by: Snappy Gourmet
A twist of taste, with strawberry cream sauce, pretzels, and whipped vodka, or as they say, "Strawberry Pretzel Whiptini".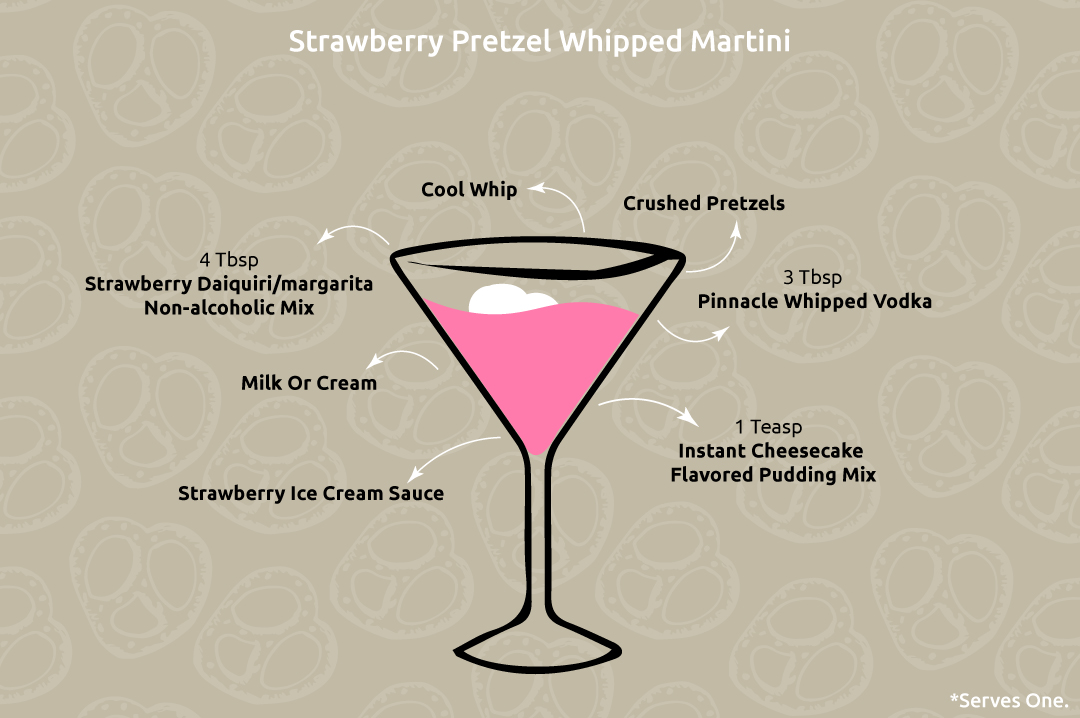 Ingredients:
4 tablespoons strawberry daiquiri/margarita non-alcoholic mix
2 tablespoons milk or cream
3 tablespoons pinnacle whipped vodka
Teaspoon instant cheesecake flavored pudding mix 1
Strawberry ice cream sauce
Crushed pretzels
Cool Whip
Serves 1
Shake the margarita non-alcoholic mix with milk/cream. Add whipped vodka and pudding mix with ice and shake for 30 seconds. Dip the rim in strawberry sauce, and then a layer of crushed pretzels. Strain the mix into the glass and top it with Cool Whip.
Salted caramel pretzel
Recipe by: Total Wine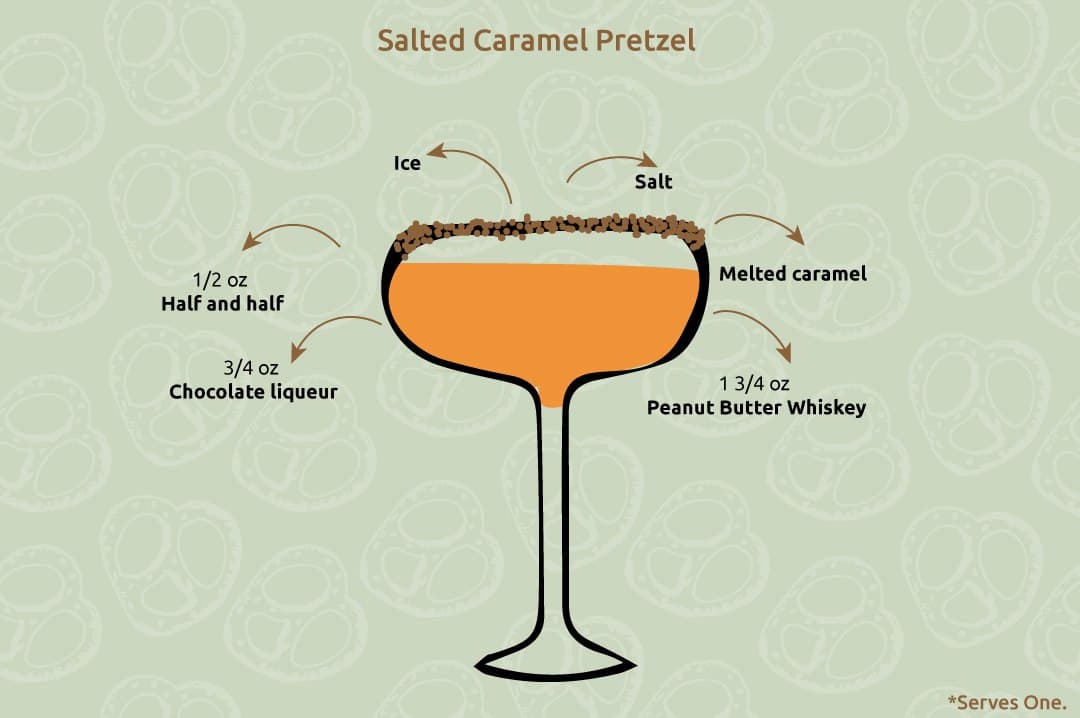 Ingredients:
Melted caramel
Salt
1 3/4 oz. Peanut Butter Whiskey (96 points at USA Spirits Ratings)
3/4 oz. Chocolate liqueur (Try Godiva Chocolate Liqueur)
1/2 oz. Half and half
Ice
Serves 1
Dip the rim into the caramel sauce, and then salt. Add the Peanut Butter Whiskey, chocolate liqueur, half and half and ice, and shake it thoroughly for 5 mins. Pour the cocktail into your glass and enjoy.
Salty Pretzel Shot
Recipe by: BarProducts.com
Relive your childhood with a twist of vodka.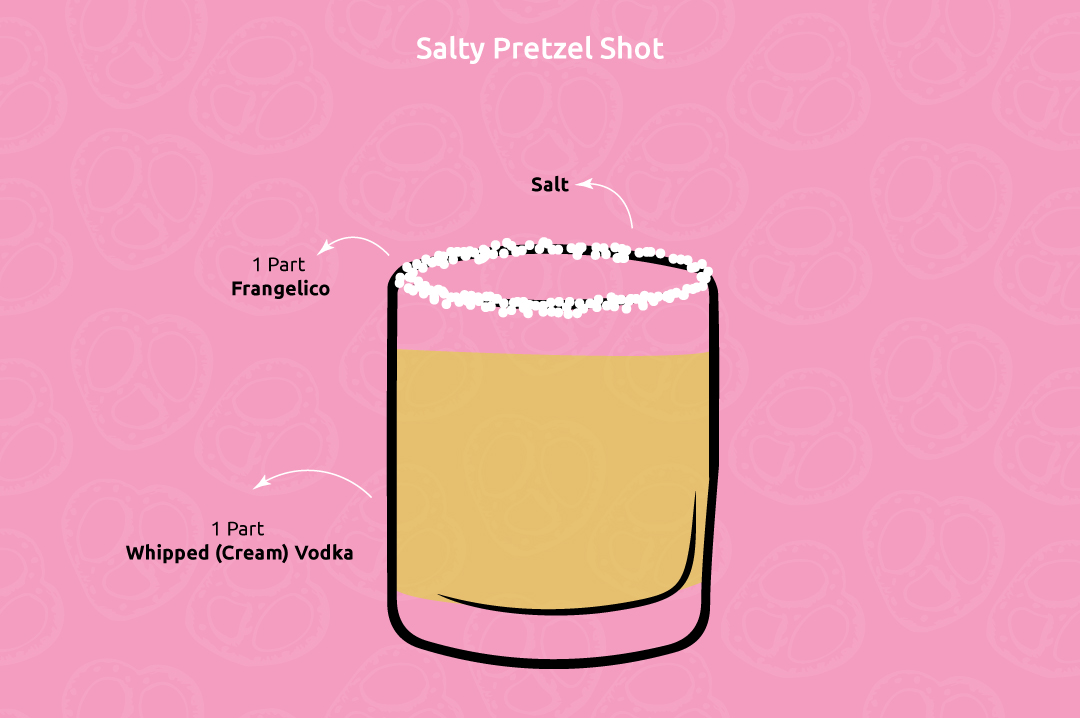 Ingredients:
1 Part Whipped (Cream) Vodka (Try Pinnacle Whipped Cream Vodka)
1 Part Frangelico
Salt
Make equal parts of Whipped Vodka and Frangelico, mix them in a shaker with ice. Strain the drink with a salted ring on the rim, and serve.