Two drinks one Limoncello
Sip on the Lemon Bourbon Spritzer and The Immigrant made with award-winning Jovis Limoncello.
Alessandro's (founder) lifelong passion for liqueurs and curiosity for the "local" gave birth to the Originals. Originals is a company dedicated to discovering, supporting, and importing the craft, unique and family-owned spirits of the world. The company is based in the US and they only import spirits they fall in love with, from people that are passionate about what they do and crafted in unique areas of the world.
Brought to the US by The Originals, the 'Grappa Di Brunello Riserva' (Brandy) and 'Jovis Limoncello' (Liqueur) impressed judges at the 2021 USA Spirits Ratings. Both bottles earned 85 points and secured silver medals for the company. The competition determines winners by footing their quality, how reasonably they are priced, and their packaging and design. The esteemed panel of judges includes the USA's top spirits professionals, bartenders, and specialists from the field.
The company discovers spirits from the tips provided by their customers. They nurture this customer relationship and ultimately take them through their journey. Every journey reveals a number of characteristics developed out of local history and geographic conformation. The Originals like to tell their viewers what they found out and you feel almost as if you traveled there in person. The main reason for their travel is to discover local traditions, unique ingredients, and ultimately, meeting amazing people on the way.
The Originals' vetting process can take many months as they don't like to leave anything uncovered. They don't strive for large volumes, rather they seek to craft, unique, and inevitably high-quality spirits.
While searching for new producers they have the following criteria: Production that uses irreplaceable local ingredients adopts unique methodologies and uses only premium ingredients and high-quality processing standards.
Grappa Di Brunello Riserva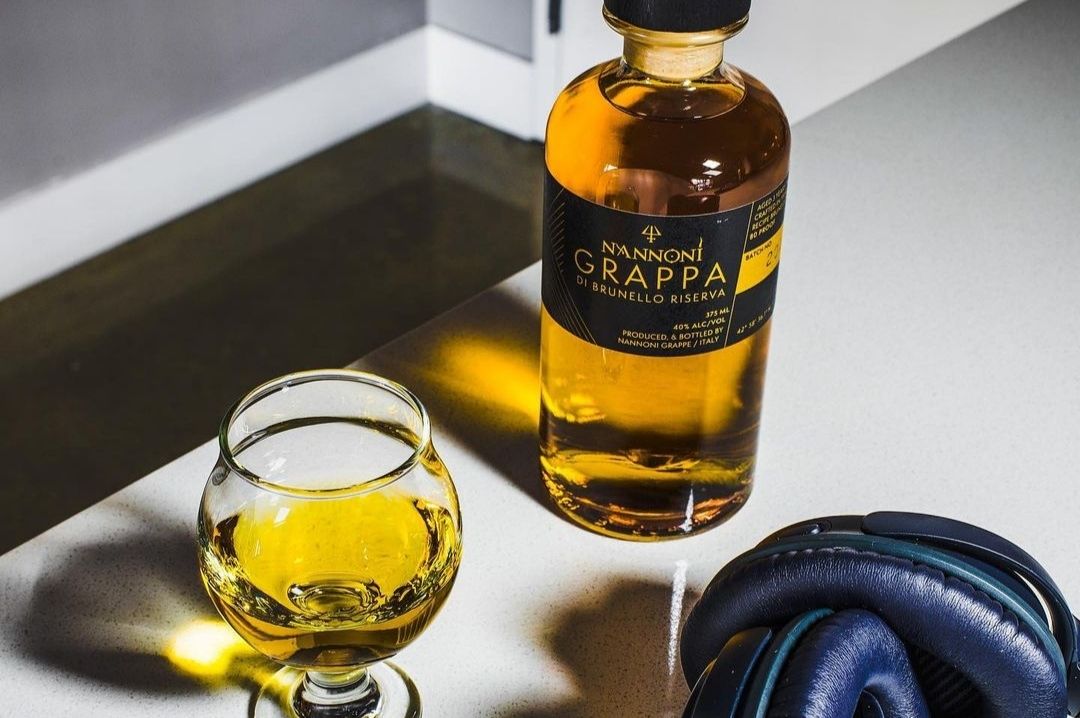 Grappa Di Brunello Riserva, source: Instagram
Nannoni Grappa di Brunello Riserva is a highly pure and aromatic grappa. This Grappa is manually distilled within the heart of Tuscany, only from fresh pomace, to capture the intact essence of the Brunello di Montalcino grapes. To the nose, it presents clean notes of chocolate, fig, dried prunes, hazelnut, walnut, licorice, tobacco, and honey. On the palate, it is balanced and exceptionally smooth. It can be enjoyed with aged cheeses served with honey, marmalade, dried fruits, and nuts. It also creates a great pairing with chocolate and dried pastries.
Jovis Limoncello
Villa Jovis has been producing Limoncello for the last 20 years and is a favorite of the locals in Sorrento, Italy. The Originals is now importing Jovis Limoncello to the US for the first time. The spirit has the aromas of bright candied lemon peel with a slight ginger heat on the finish. Limoncello is traditionally served chilled (freezer or fridge) at the end of a meal. By chilling Limoncello, the tones of the alcohol are lowered. The low temperature also increases viscosity making it more pleasant at the sense of touch. Try savoring dark chocolate when sipping Limoncello.
Savor it in a cocktail:
Lemon bourbon spritzer
Refreshing and great bourbon flavor. This spritzer is one of the few drinks where bourbon can be refreshing!
Ingredients -
Plain seltzer water
Jovis Limoncello
Freshly squeezed lemon juice
Bourbon
Angostura
Ice
Lemon wheels
Method -
Fill 3/4 of a large wine glass with ice. Add two or three lemon wheels between the ice and the glass. Add more ice to fill the glass. Gently add 4 oz of plain seltzer water making sure bubbles don't escape. Add 2 oz of Jovis Limoncello, 1.5 oz of freshly squeezed lemon juice, a drop or two of Angostura, and a splash of bourbon (approx. 1/4 tablespoon), or as desired. Gently stir twice and enjoy!
The Immigrant
The Immigrant, source: Facebook
Ingredients -
Bourbon
Jovis Limoncello
Angostura
Orange Bitters
Thyme
Method -
Place two or three medium-sized ice cubes in a stirring glass. Add 2 oz of bourbon, 1 oz of Jovis Limoncello, 1 dash of Angostura, 1 dash of orange bitters. Stir for 15-20 seconds. Place a large ice cube in an old-fashioned glass and tuck the thyme between ice and glass. Strain the cocktail into the glass and enjoy!
Header image, source: Instagram
South San Francisco Conference Center, 255 South Airport Boulevard, South San Francisco, CA 94080, United States
Register Now
South San Francisco Conference Center, 255 South Airport Boulevard, South San Francisco, CA 94080, United States
Register Now