Irish Whiskeys That Stand Out
A handful of standout bottles of the Emerald Isle's "water for life" that you may raise a glass to.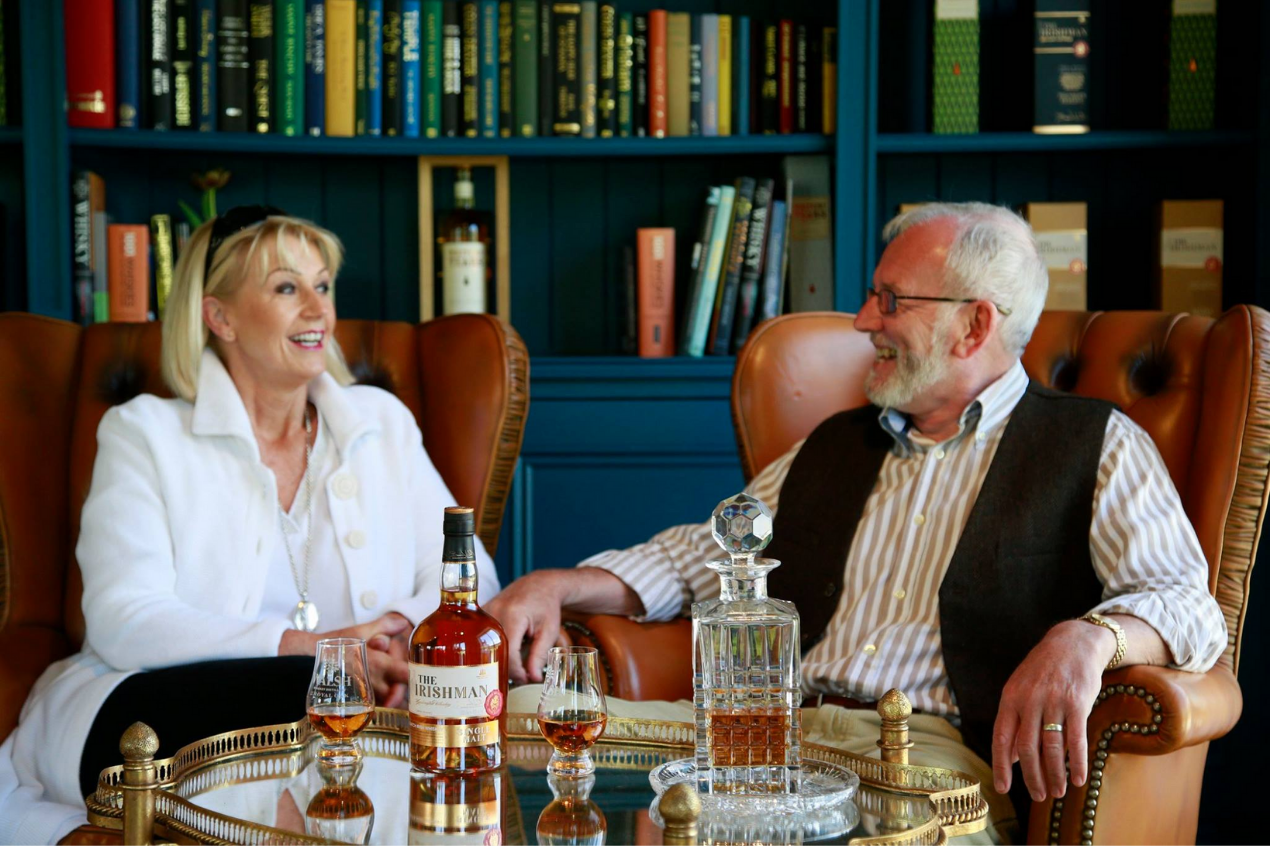 The Irish are known for making stellar whiskies and savoring them too. As you celebrate St. Patrick's Day, pull out any of these award-winning Irish whiskies. Promising exceptional quality, they will elevate your experience of the Irish holiday.
Proper No. Twelve Irish Whiskey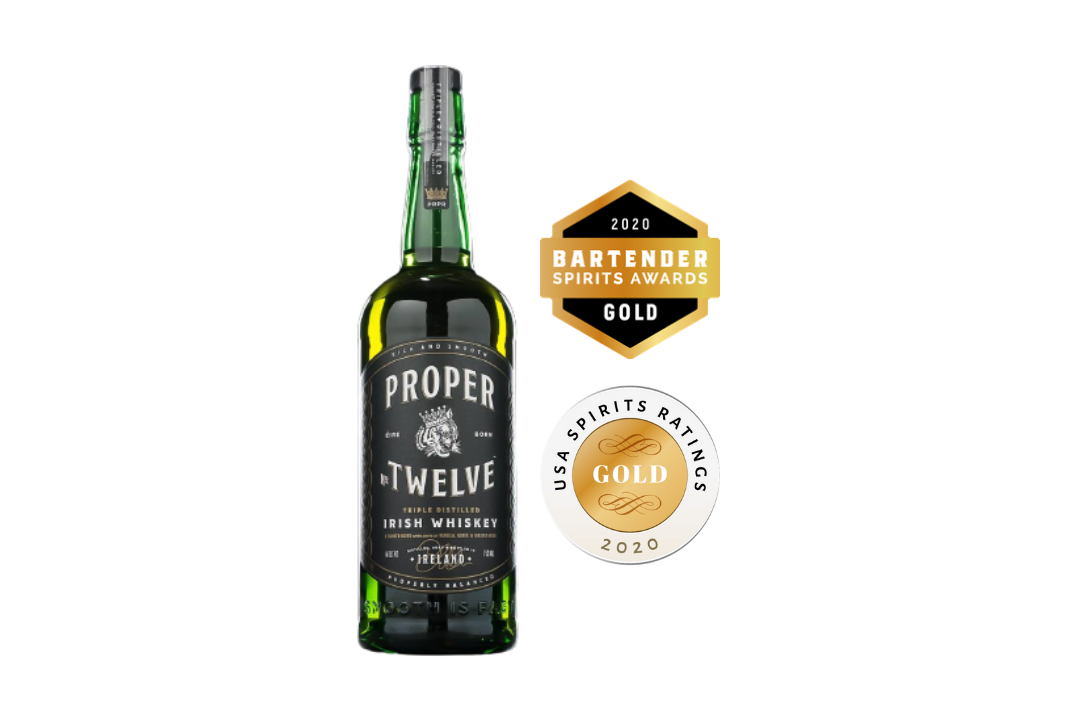 Starting off the list is the Proper No. Twelve Irish Whiskey from Ireland's favorite son, Conor McGregor. The MMA superstar is a winner everywhere he goes and it was no different with his whiskey. Rich and unctuous, Proper No. Twelve has notes of corn and caramel. Super smooth on the palate with great intensity, Conor with his brand Eire Born Spirits has honored Crumblin 12 in Dublin with this excellent whiskey. Gold medals at the 2020 USA Spirits Ratings and the 2020 Bartender Spirits Awards shows just how good the whiskey truly is. A great whiskey from a proper Irishman!
Bushmills Black Bush
If the pride of Ireland was ever to be found in a bottle, it would be the Bushmills Black Bush whiskey. It is made from a marriage between an exceptionally high amount of malt whiskey with a lighter grain whiskey. The dark color draws you in right from the first pour. Its long list of accolades includes being the highest awarded Irish Whiskey at the 2020 USA Spirits Ratings scoring 97 points. This score also propelled it to win the Whisky of the Year and Best in Show by Country awards. It is a great base for the Shamrock Sour among other whiskey cocktails that will impress the guests.
Proclamation Blended Irish Whiskey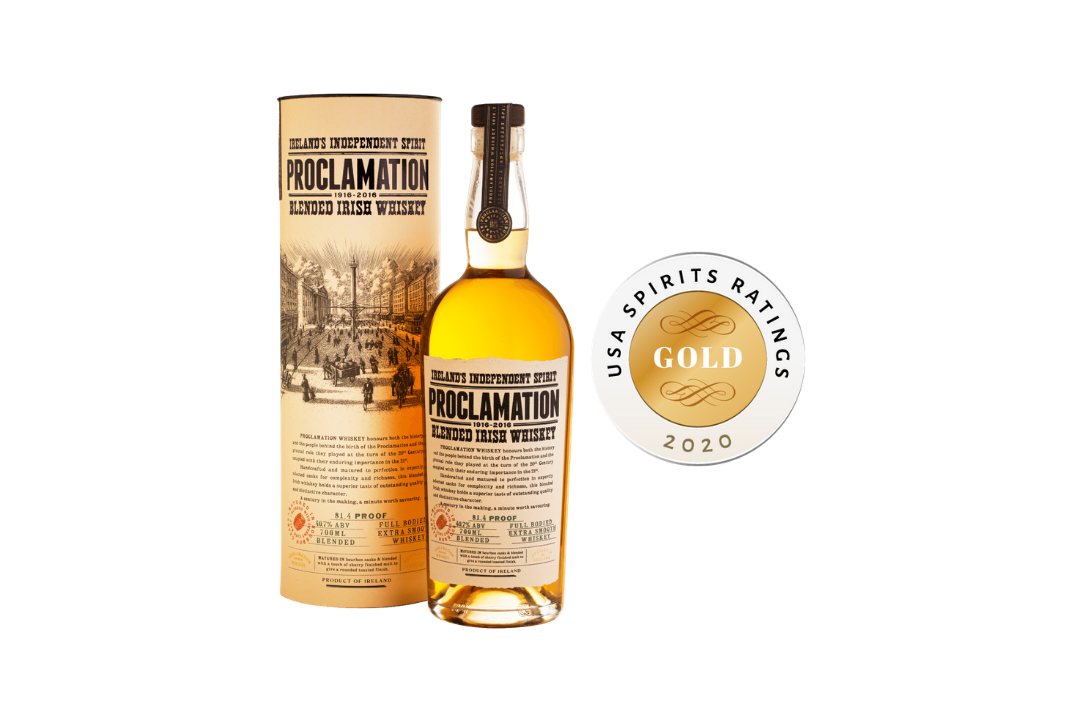 The original blend from Inis Tine Uisce Teoranta's brand Proclamation Whiskey, the Proclamation Blended Irish Whiskey was awarded a gold medal at the 2020 USA Spirits Ratings. The first reveal on the nose is the Williams pear. It is closely followed by an abundance of apricot and creme brûlée notes. The palate is loaded with notes of brioche, freshly baked pastry, and macerated yellow fruits. Smooth and creamy with a mellow finish, the Proclamation Blended Irish Whiskey can be enjoyed on the rocks or as a part of the Whiskey Clarke.
The Irishman Single Malt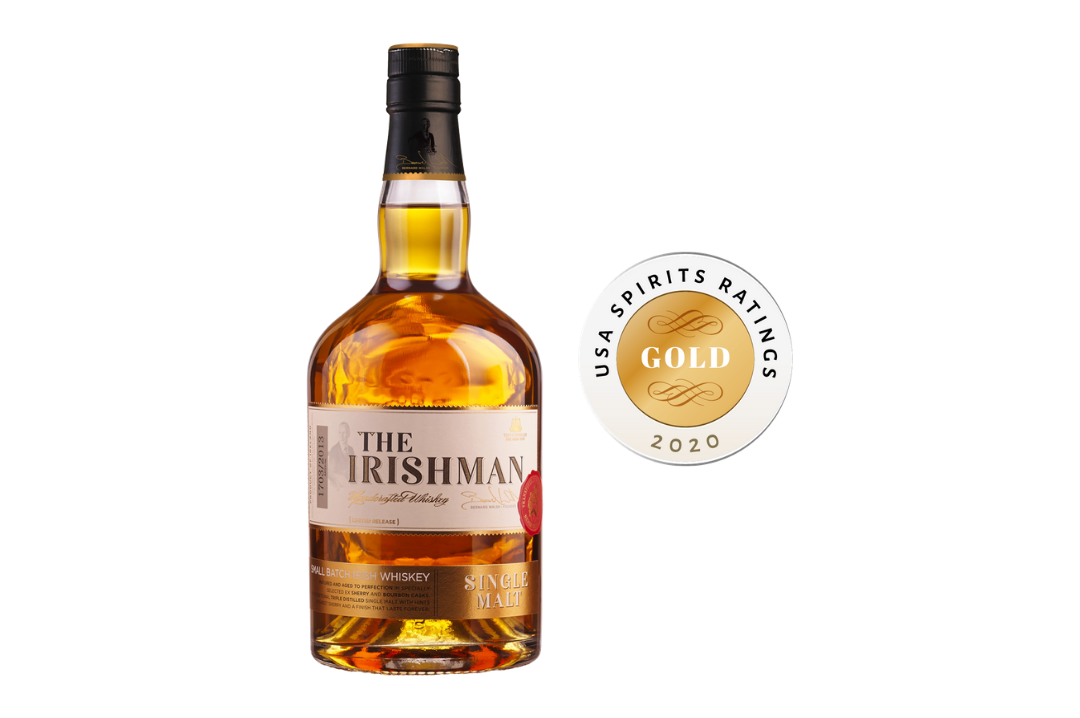 Walsh Whiskey's crown jewel, The Irishman Single Malt boasts an impressive medal haul across the USA and Europe. A classic Irish Malt, this whiskey is triple distilled and aged in Oak Bourbon and Oloroso Sherry Casks to give it exceptional flavor and complexity. Delicate honied malt aromas make up the nose while the taste is dominated by a fruity sweetness and fig notes. A top draw Irish Whiskey that stakes a claim to be one of the finest in the world.
Rebelcity Irish Whiskey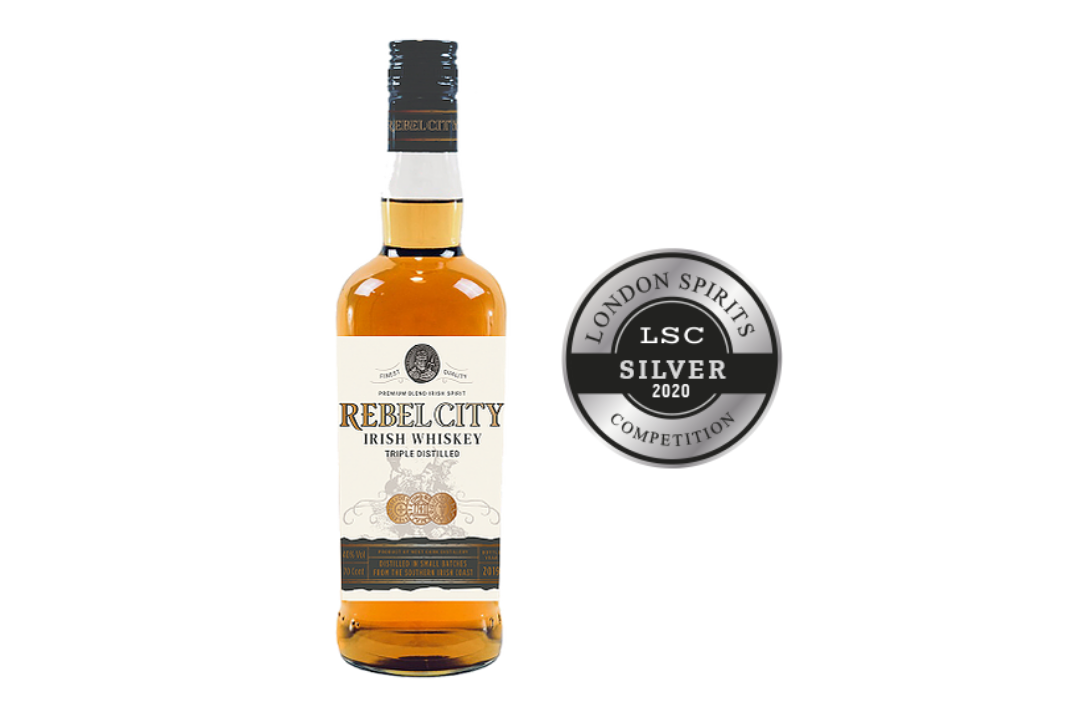 Recognized worldwide for its taste with a delightfully pale-gold color, Rebelcity Irish Whiskey is a smooth, pure and flavorful whiskey. Lemongrass and lime notes dominate the nose with the taste having a defining malt character. A firm and smooth palate with a toasty character and an underlying sweetness make this 2020 London Spirits Competition winner a true testament to Irish craftsmanship.
West Cork Bourbon Cask Irish Whiskey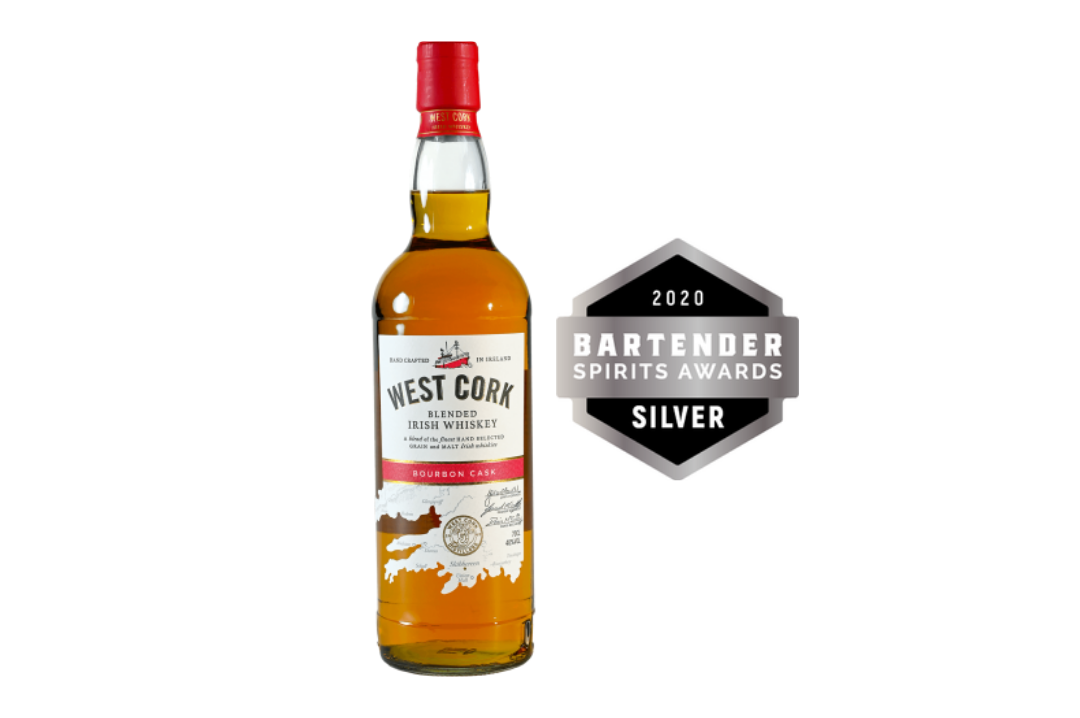 A delicate blend of grain and malt matured in Bourbon casks with citrus notes forms the West Cork Bourbon Cask Irish Whiskey. The nose has slight citrus and cracked pepper aroma. Citrus, apple, and nutmeg add a lingering sweetness to the whiskey's taste making it a very smooth and approachable whiskey. The finish of this global winner has a hint of vanilla to it.
Ha'Penny Irish Whiskey Four Cask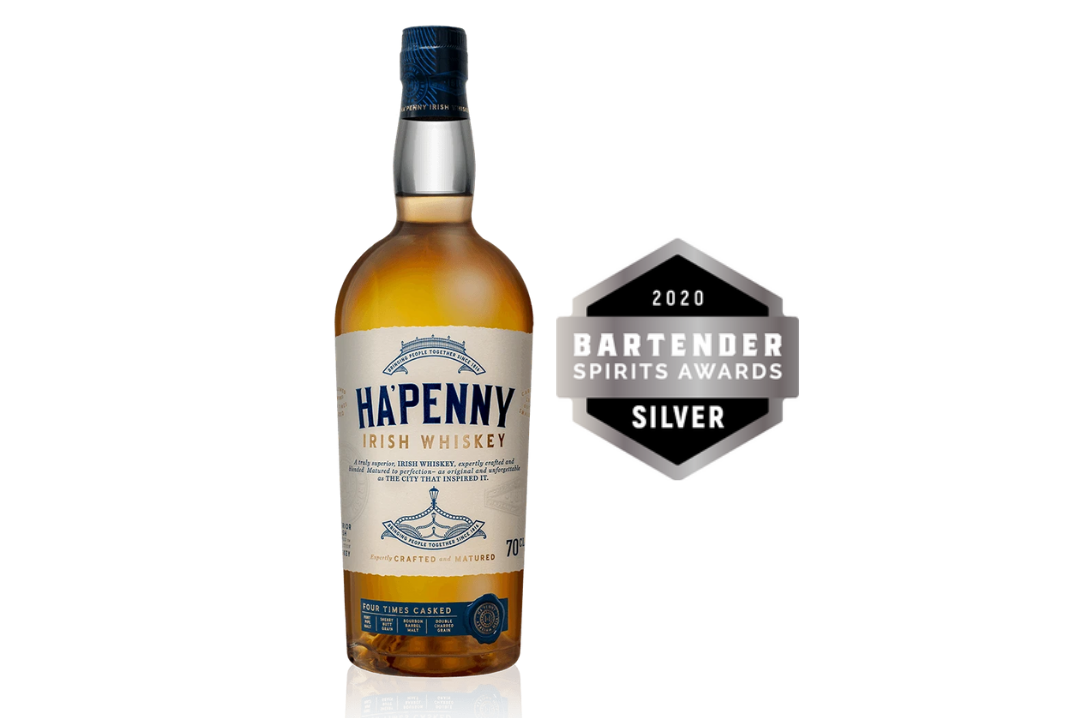 A blend of four different casks and two styles of whiskey the Ha'Penny Irish Whiskey Four Cask is bottled at 43% ABV. It has a rich aromatic nose of oak wood spice. Dried berries with notes of tropical fruits, vanilla, and cinnamon. The palate is dry but rounded with notes of dried apricot, demerara, crème caramel, hints of orange citrus, and dark fruits. The lingering oak spice finish adds another layer to a whiskey that is sweet with a nice amount of citrus backing it.
Kirker & Greer Shamrock Irish Whiskey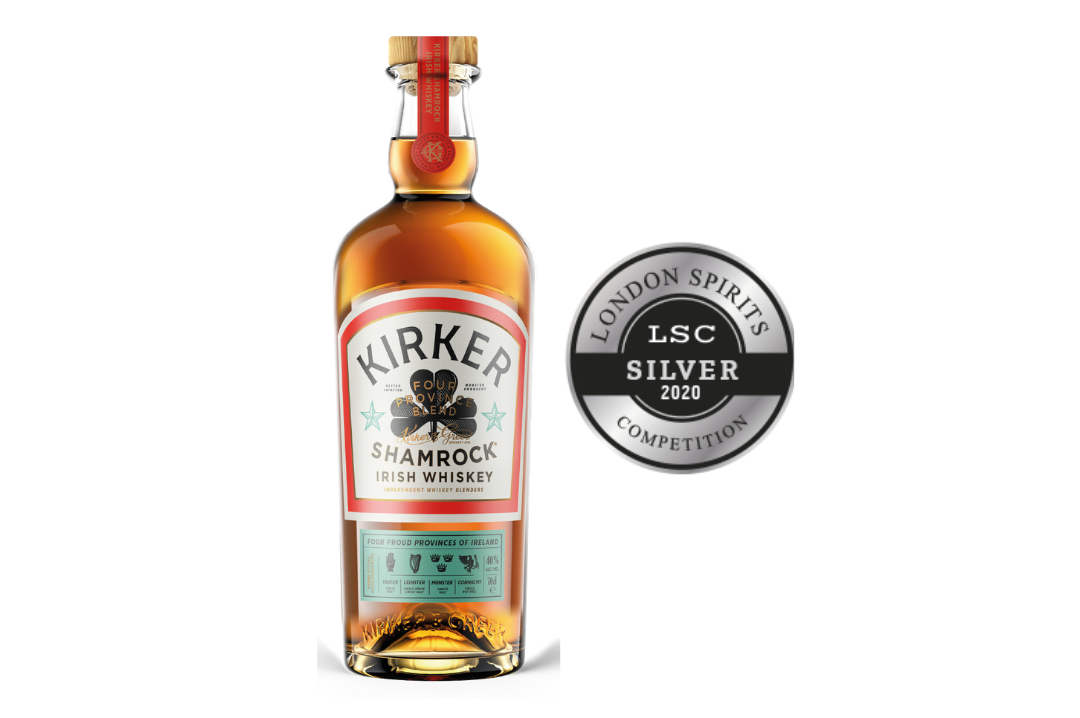 A marriage between three Irish whiskey styles from four provinces of Ireland, the Kirker & Greer Shamrock Irish Whiskey is a great blend of Irish whiskey heritage. A light touch of peated malt, triple distilled single malt, and Leinster single grain lend the whiskey an exceptional canvas. It is also a great base for several cocktails that you can mix up.
Single Cask 17 Year Old Single Malt Irish Whiskey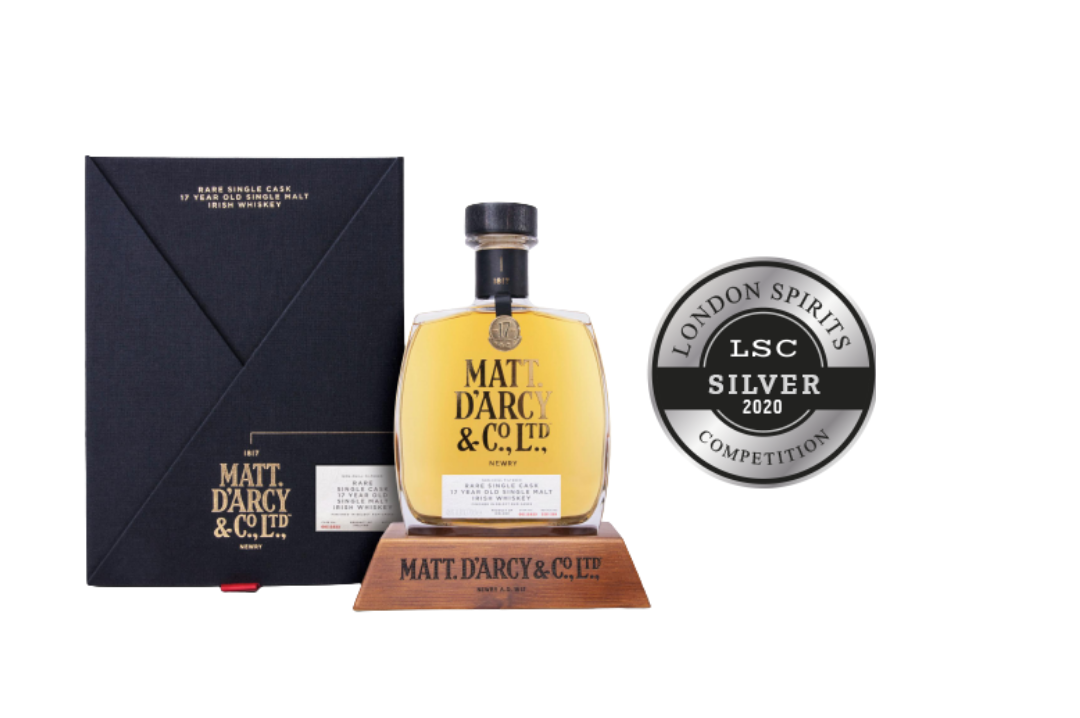 A captivatingly unique whiskey, the Single Cask 17 Year Old Single Malt Irish Whiskey is a homage to the distillery's founder Matt D'Arcy. The whiskey has spent 12 years in a rum cask which makes its mark on the palate. The nose contains notes of vanilla sweetness, honey, pepper, and spices. In the taste, you will find notes of honey, apple, almonds, cinnamon, and plum. It also has a great after-taste that definitely elevates the whiskey.
The Sexton Single Malt Irish Whiskey
A long way away from being a traditional Irish single malt, The Sexton Single Malt Irish Whiskey is created by Alex Thomas, one of the few female master blenders. Marked by the soul of Northern Ireland, The Sexton's tasting notes include dried fruit, honeycomb, and nuts. Rich and caramelized, The Sexton Single Malt Irish Whiskey is a very smooth whiskey to sip on. Best enjoyed on the rocks.
Header Image: The Irishman Whiskey, Source: Facebook