Pair your burgers just right
Look no further, because no matter what burger you're devouring, we have a drink for you!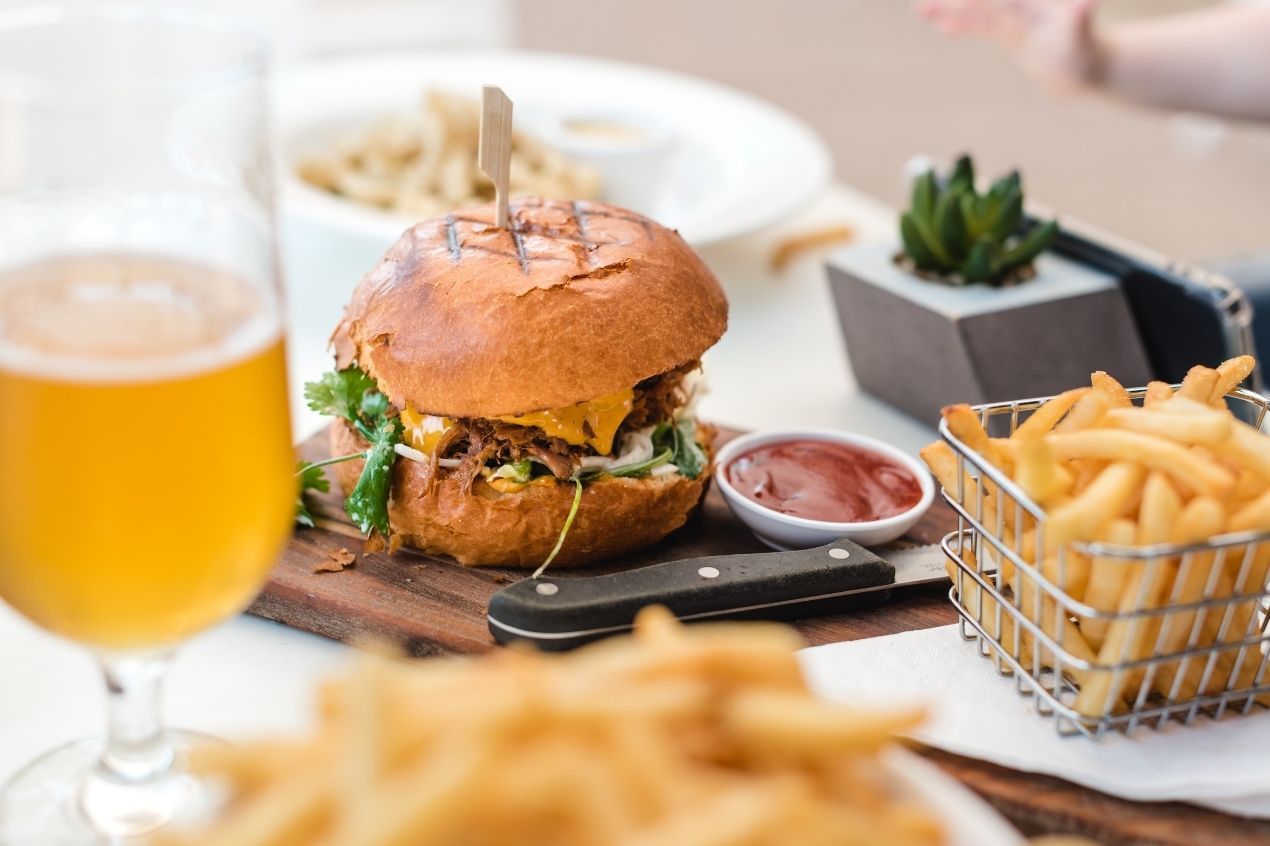 Meaty, cheesy, or veggie; no matter the burger, sometimes you just want to dig into the mess. . With grilling season here, nothing serves our taste buds better than a delicious burger and the right drink to pair it with.
So the next time you're grilling, don't forget to pick the right tipple to tag it with.
Classic Beef Burger with Mahou Cinco Estrellas Session IPA
Rich, meaty and speckled with fat, a classic beef burger is loaded with flavors and lots of umami. Add onions, lettuce, pickles and tomatoes with a slice of cheese and sprinkle of salt and you have a burger that can be gobbled down in no time. To pair with such a classic burger, you need a beer that is equally as intense as the burger's flavor combination.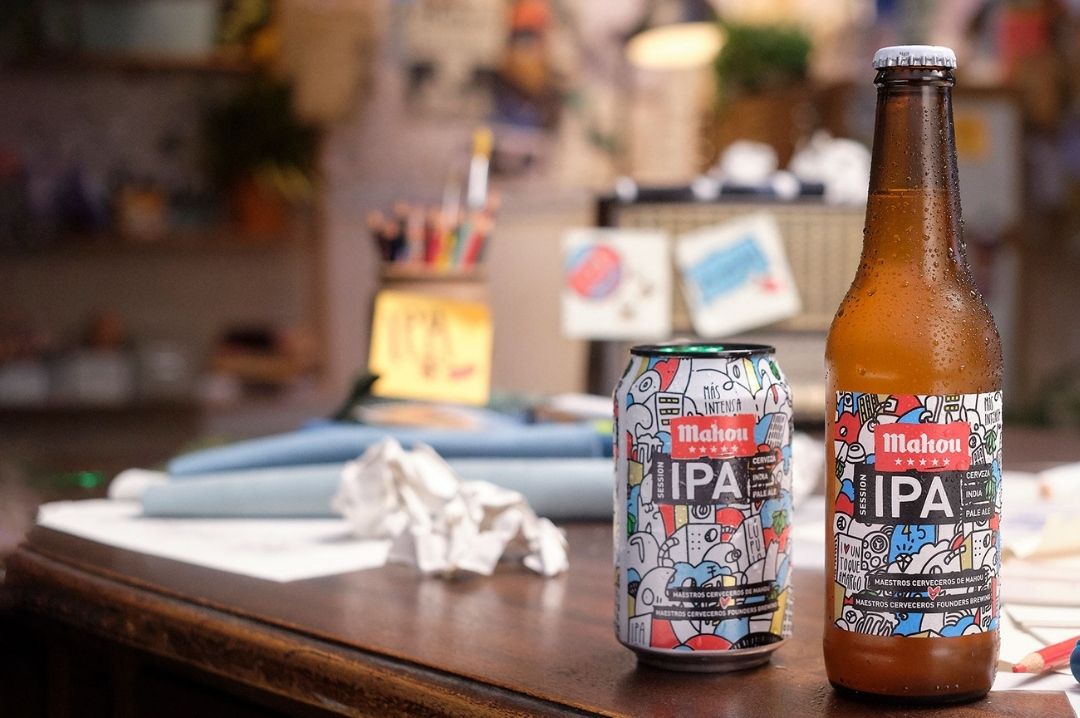 Mahou Cinco Estrellas Session IPA, source: Website
There comes the Mahou Cinco Estrellas Session IPA, a Spanish beer with a taste to match. A golden beer with a creamy and lasting head, and a characteristically mild and subtle flavor with a fruity aroma. The beer was awarded a gold medal at the 2021 London Beer Competition.
Cheeseburgers with Ehlers Estate Portrait
Often classically paired with iced tea as the tannins act as a palate cleanser, a classic cheeseburger pairs equally well with a cabernet sauvignon or a cabernet sauvignon and cabernet franc blend. For such a burger one needs a wine that has a good structure and tannins and acts as a palate cleanser. The Ehlers Estate Portrait is a great option to pair with cheeseburgers for all of these reasons and it's obviously good taste.
Bison Burger with Bourbon Cocktails
The bison burger is a juicy, hearty burger bursting with flavor. Lower in fat compared to beef, the bison burger is also a relatively healthier burger option. The meat's flavor profile allows you to go crazy with seasoning, making the burger spicy if preferred this way. If you were to pair it with just one type of drink, we would suggest you pair it with a bourbon cocktail.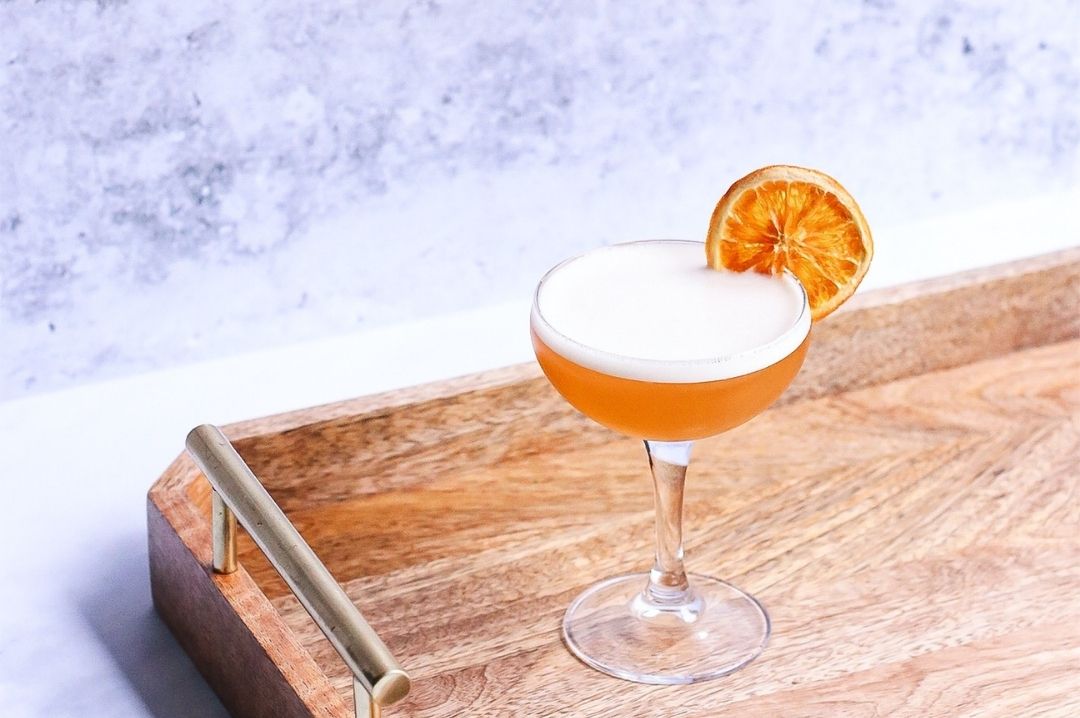 Whiskey Sour, source: Geraud Pfeiffer
When it comes to a bourbon cocktail, only the finest bourbons from Kentucky can be used. The perfect cocktail to pair with a bison burger is the Whiskey Sour from Woodford Reserve distillery.
BBQ Chicken Burger with Insane Mane
The barbecue sauce marinade with a tender, lean chicken patty with a lot of sweet and smoky flavors are already making our mouths water. The juicy onions and perhaps a side dish of corn will add pizzazz to the meal. With such a burger, it is important to get the right beer pairing, one that complements the flavors of the barbecue sauce to perfection. The caramelized sugars in the sauce pair well with an Amber Ale like the Insane Mane from White Lion Brewing, a winner at the USA Beer Ratings. Flavorful with a variety of malts and richness balanced with Cascade and Mosaic hops make the Insane Mane a great beer to enjoy with a soft BBQ chicken burger.
Angus Burger with Crianza
A hamburger made using beef from the Angus cattle, the Angus burger is a premier burger type several fast-food chains advertise. To enjoy an Angus burger topped with melted gruyere cheese with a side of fries, caramelized onions, and a dill pickle, you should opt for a great Rioja wine. And it doesn't get any better than the Crianza from Bodegas Ontanon.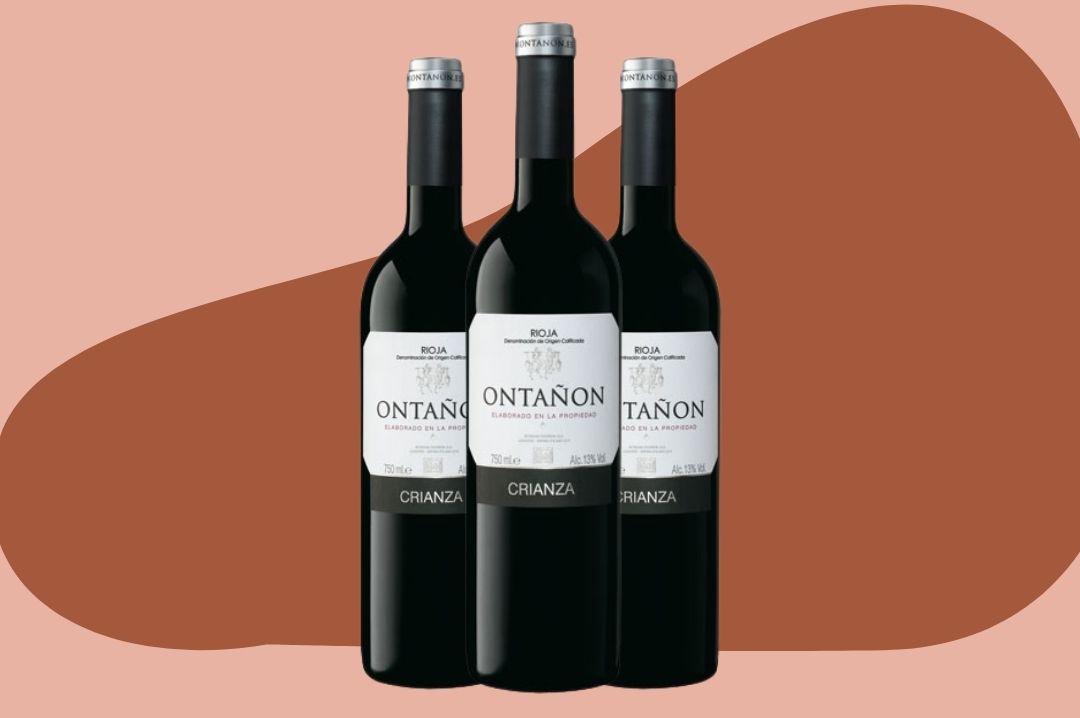 Crianza, source: Website
A gold medal winner at the 2020 Sommelier Choice Awards, the Crianza is a complex and powerful fruity wine that is perfect for pairing with an Angus burger. The savoriness of the burger is complemented by the richness of the full-bodied wine.
Fish/Salmon Burger with Pfriem Pilsner
The oiliness of a fish makes it very challenging to pair it with a beer. The beer has to cut through the oiliness of the burger but also allow the flavors of the burger to shine. It has to have salinity that binds all the flavors together to make the combination work. One such beer that you can pair with a fish or salmon burger is the Pfriem Pilsner. The fluffy foam, a touch of lemon zest, the spiciness, and the honey with the crisp and refreshing finish all blend together to give you the perfect taste with a fish burger. burger.
Veggie Burgers with Viognier
Veggie burgers can vary widely in terms of their flavors and richness, so it's hard to just pick a couple of specific varieties that will match. One great option is a great white wine that will go well with the little spice or sweetness of the burger, like a Viognier.
Maker Wine Company Viognier, source: Website
A great choice is the 2019 Maker Viognier from Maker Wine Company. The delicate florals and fresh fruit aromas backed up by mouth-watering guava, apricot, and citrus pair well with a veggie burger of any kind.
Turkey Burgers with a Pinot Noir
A lighter meat burger option is a turkey burger with a layer of cheese and crunchy lettuce. Although a few varietals pair well with a turkey burger, we would opt for a great pinot noir. It is on the lighter side of acidity which will complement the slight saltiness of the cheese topping. If you are to select a great pinot noir, opt for the 2017 Chehalem Mountain Vineyard Pinot Noir. The bright acidity, savoriness, and youthful mouthfeel with its lingering finish complements the taste of a turkey burger well.
Header Image: Photo by Melissa Walker Horn