The Top 50 Spirits in the World Today!
Leading bartenders, bar managers and mixologists bring an ensemble of drinks that will add a whole lot of spirit to your next sipping session.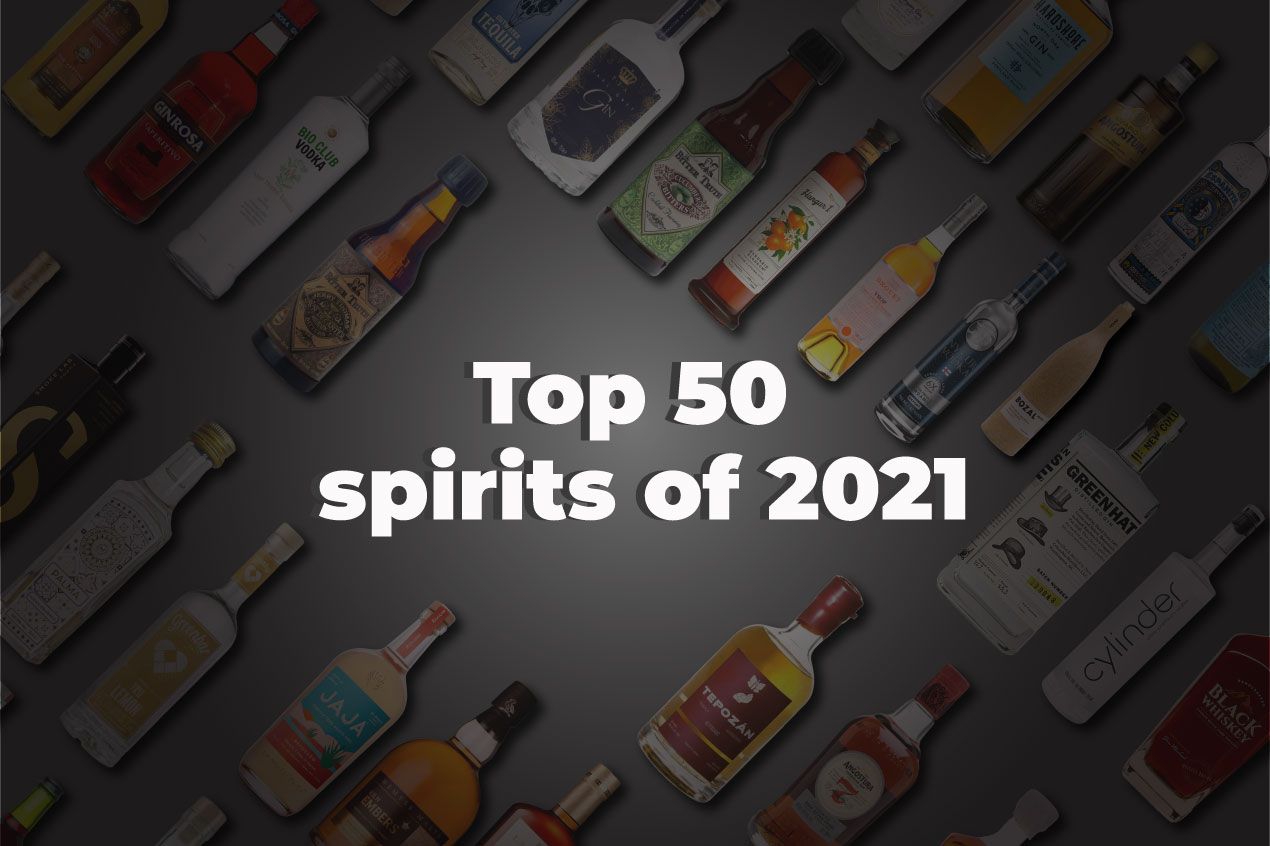 Spirits from all over the world were shipped to San Francisco to be sipped and judged by the most elite Bartenders on the US shores. These top bartenders, who know the US drinks industry in and out came together to rate spirits on their mixability (how well the spirit can be blended in various cocktails); balance and versatility (the flavors and aromas of the spirit); taste and mouthfeel (the sensation the spirit brings upon sipping it); packaging (how well the consumers will perceive the spirit from its looks) and value (if the price and the quality of the drink are in sync).
45 countries participated in a truly global competition with whiskey, gin, and vodka being the top three spirits entered and the USA, Mexico, and France being the three countries with the most number of entries. Scores were awarded to all these spirits based on the five aforementioned parameters and these were the 50 spirits that stood out and delivered to the judges' expectations the most.
1. Uncle Nearest 1820 Premium Single Barrel Whiskey
98 points
Inspired by Nearest Green, the first and foremost African-American distiller the world never knew, the Uncle Nearest 1820 Premium Single Barrel Whiskey was the marquee spirit of the 2021 Bartender Spirits Awards. The single barrel whiskey's pleasing nose of roasted corn and oak along with the richness on the tongue made it the highest-scoring double gold medal winner at the competition. In order to be a candidate for the 1820 Premium Single Barrel, the whiskey has to be aged for a minimum of 11 years, have a cask strength of above 108 and each one is hand-picked by the founders. The process brought the Uncle Nearest brand the Spirit of the Year and Whiskey of the Year awards.
2. Drouet VSOP Grand Champagne Cognac
97 points
The Ulysse cuvée, a tribute to Patrick Drouet's great grandfather, the Drouet VSOP Grand Champagne Cognac is a blend of old cognacs and the hard work of several generations of winegrowers. On the nose, the double gold winner has complex fragrances of hazelnut, vanilla, and 'rancio', a typical aroma developed by finely aged cognacs. Smooth, rounded, and full-bodied on the palate with a sweet, long finish. The balance on the cognac is so good that it feels like every drop is loaded with seamlessly integrated flavor.
3. Jean Fillioux Cognac Grande Champagne La Poyade
97 points
A complex and perfectly balanced cognac expression, the Jean Fillioux Cognac Grande Champagne La Poyade is a rather young cognac compared to its counterparts. The notes of spring flowers lend a great personality to a cognac that has aromas of fresh fruits exploding on the palate. The flavors of apricot, greengage, and grapes along with subtle notes of almond round up a cognac that is made by a family of master blenders for generations. The Best Spirit by Value award winner at the 2021 Bartender Spirits Awards.
4. Green Hat Citrus Floral Gin
97 points
Lively and fresh with lemon peel and grapefruit combined with botanicals of cherry blossom, rose petals, lemon, and sweet orange, sipping the Green Hat Citrus Floral Gin is like taking a walk in a freshly tended garden. The Gin of the Year awardee is a basket of spring botanicals, finishing off with a cheerful burst of creamy orange and a touch of juniper. Distilled in Washington, the Green Hat Citrus Floral Gin was the top-scoring gin at the competition.
5. Cylinder Vodka
97 points
Stelios Stavrianos' Vodka of the Year winner combined a bartender's experience and a producer's dream of giving the world a great vodka. The result was Cylinder Vodka, a gluten-free vodka, distilled six times and filtered four times. Made with organic ingredients and in small batches, Cylinder Vodka is smooth on the mouth and packs a lot of punch. The flavors and the quality are packaged in a sleekly designed bottle that brings it all together absolutely brilliantly.
6. Nykur Premium Organic Vodka
96 points
The name Nykur comes from a Faroese folklore tale about a mystical and alluring underwater beast with a friendly nature too irresistible not to mount when he surfaced. At the 2021 Bartender Spirits Awards, the Faroe Islands added another tale to their folklore, one of the Nykur Premium Organic Vodka. A super-premium vodka made with pure Faroese water, Nykur Premium Organic Vodka has a pristine nose. Balanced, smooth and creamy with a hint of citrus on the finish.
7. Black Whiskey
96 points
Rounding off the list of the double gold winners at the 2021 Bartender Spirits Awards is the Black Whiskey from Peru. The first and the best Andean Whiskey there is, Black Whiskey is made from Andean black corn and mountain spring water that is aged to perfection in American white oak barrels.
8. Mahon Gin
95 points
The first Spanish entrant on the list, Mahon Gin is defined by its unique base spirit that's made with quality wine from Penedes. The highest scoring gold medal winner at the competition includes botanicals of juniper, along with hints of sea salt on the nose. The palate is intense with flavors of green olives, lemon peel and citrus oil.
9. Stadaconé Noir
95 points
From Spain, we come closer home with Canadian spirits making their first appearance on the list. The Stadaconé Noir is a gin that goes above and beyond continental boundaries to bring together botanicals in perfect harmony. Tasmanian berries, combava leaf (kaffir limes), coriander, cubeb pepper, galangal and others make the list of botanicals in this amazing gin. A versatile, clean, and straightforward gin with a perfectly clear color.
10. Junipero Gin
95 points
12 botanicals including juniper, aniseed, angelica root, bitter orange peel, cardamom, cassia bark, orris root, orange peel, lemon peel, grains of paradise, cubeb, and coriander are infused to make the Junipero Gin. The nose has a strong juniper core with crisp citrus notes with the palate having a big structure. It opens up in the mouth and by its finish reveals its full complexity with notes of lemon peel, cardamom and lemongrass.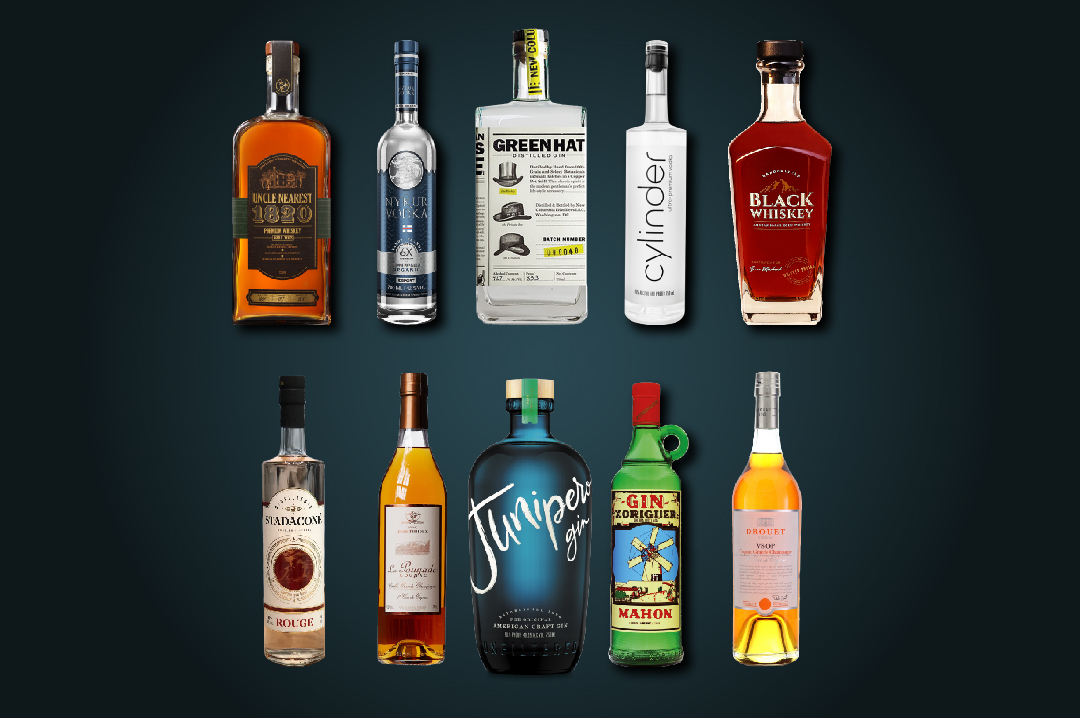 11. Bati Fijian White Rum
95 points
A complex and sweet rum, the Bati Fijian White Rum can be identified with fresh aromas of golden apples, mangoes, and over-ripe bananas. Aged for 2 years and a 100% column still rum, the highest-scoring rum from Fiji has fresh cut grass on the palate with light spice finishes.
12. Aupale Vodka
95 points
Founded in Montreal by an outdoor enthusiast and a former music industry executive, Aupale Vodka is a smooth and ultra-pure Candian spirit. Lightly spiced perfume and a subtle herbal aroma gives way to soft lemon notes. It goes down like silk. While Aupale Vodka is only available in Canada (Montreal and Quebec) right now, it will soon be available across multiple European and American cities.
13. The Sexton
95 points
Irish whiskies are a gift to the world! The Sexton, an Irish single malt, is crafted using 100% Irish malted barley and is aged for four years in sherry casks. Notes of dried fruits, nuts, and honeycomb can be found on the palate of this whiskey that has a uniquely smooth finish. A great base for a lot of classic cocktails.
14. Hardshore North Oak Barrel Rested Gin
94 points
A unique oaked expression of Hardshore Distilling's flagship spirit, the Hardshore North Oak Barrel Rested Gin is the coming together of ultra-bright and leafy botanicals. It has a subtle textured background with the botanicals being folded into mellow layers of American oak. The unconventionality of the botanicals will add an unexpected character to your favorite cocktails.
15. Nashville Barrel Company Single Barrel Rye
94 points
This 94 point scoring gold medal winner is the perfect balance for a bourbon lover and the spice-loving fans of rye. Granny apples, peaches and chocolate dominate the nose while the palate sees flavors of maple, vanilla and pepper come in.
16. Bistro Vodka
94 points
Spiritique's Bistro Vodka is a fine example of French spirit craftsmanship. It offers the authenticity and simplicity of a Parisian bistro, hence the name. The nose has a slightly nutty profile with pepper jumping out in the glass on an otherwise excellently balanced vodka.
17. O'Pinyon Gin
94 points
Local handpicked pinyon pine, juniper berries, coriander, lavender, and orange peel are the botanicals present in abundance in the O'Pinyon Gin. It is a 100% grain-based American gin with an Eastern Sierra flair and a citrus backbone.
18. Amaro Di Angostura
94 points
Trinidad and Tobago's essence is captured beautifully in the latest innovation from Angostura Limited. The deep amber-colored liqueur offers aromas of cinnamon and dark chocolate. Lush, exotic and beautifully balanced, the Amaro Di Angostura can be enjoyed over ice or as an addition to a delicious cocktail.
19. Españita Anejo Tequila
93 points
Designed to be sipped and savored, the Tequila of the Year winner, Españita Anejo Tequila has superb purity. Succulent aromas of honey oak, citrus tree wood, almond nougat and caraway make up the nose. The flavor of the tequila is luscious with notes of fresh grass, vanilla, toasted marshmallow, along with notes of sassafras and apple. A smooth and long finish on tequila that delivers!
20. Harahorn Small Batch Gin
93 points
Norwegian distillers Det Norske Brenneri produce only 300 litres at a time of the Harahorn Small Batch Gin. Perfect for mixed drinks and cocktails, it contains botanicals of juniper, wild blueberries, rhubarb, seaweed, angelica root, wild marjoram and more. The aroma is clean with juniper and citrus and the palate containing fruits and spices.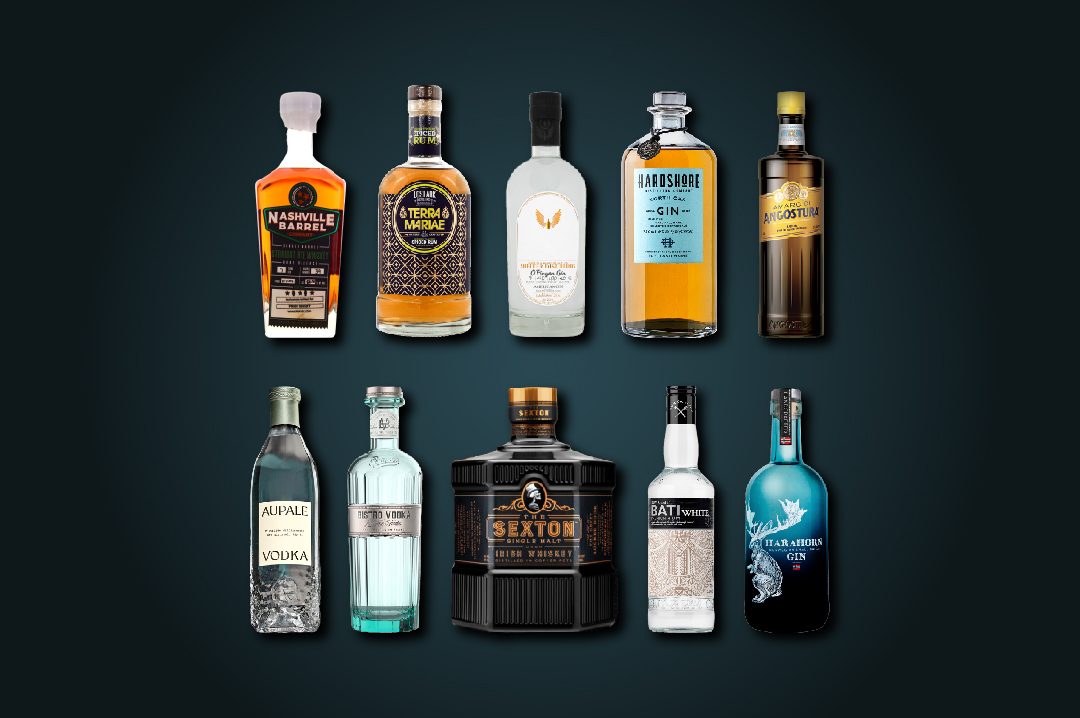 21. Terra Mariae Spiced Rum
93 points
The Rum of the Year winner from Lost Ark Distilling Company, the Terra Mariae Spiced Rum has layered notes of caramel, vanilla, cinnamon, nutmeg and orange peel. The rum breaks the mold of a traditional commercially available spiced rum with a low amount of sugar allowing the rum to gain a thick syrupy feel. An intricate and sophisticated rum of the highest order.
22. Palma Vodka
93 points
Mallorca's finest, the Palma Vodka is a distinct and refreshing vodka with a sweet start and a peppery finish. The nose is fresh, with soft vanilla and gentle black peppercorn notes. The palate is pleasant with hints of lemon peel and the mouthfeel warm and silky. The unique flavor of Flor de Sal Salt brings the essence of the Mediterranean Sea.
23. Murray McDavid Peatside Blended Malt
93 points
Sweet char, fruits, and smoked kippers on the nose with lush fruits, oak spice, and peat on the palate make up the Murray McDavid Peatside Blended Malt. This Blended Malt comes with a luscious twist compared to their other peated malts. The malts spend the first half of their life in bourbon casks and mature in two first-fill Pedro Ximènez Sherry hogsheads for its final years.
24. Barrel Rested Gin
93 points
A part of End of Day Distillery's Castaway Series, the Barrel Rested Gin contains juniper, notes of cardamom, rose hips, citrus, oak and hints of lemongrass. The beautiful golden color, the perfect balance of the botanicals, and the smooth finish of the Barrel Rested Gin were all the reasons for it grabbing 93 points from the judges.
25. Bio Club Vodka
93 points
Superlative American grains are distilled six times and infused with layers of honey and selected natural botanicals to create the Bio Club Vodka. This vodka from Natural Spirits USA LLC is a refreshing and rich drinking vodka with a remarkable, smooth finish.
26. Jerry Thomas Decanter Bitters
93 points
Based on a 19th Century recipe by Professor Jerry Thomas , the Jerry Thomas Decanter Bitters is very fruity and bitter. Citrus and dried fruit aromas unite with flavors of cloves, Angostura bark and cinnamon to create a spicy and bitter flavor. A homage as characterful as the man behind it.
27. Smoke Lab Aniseed Flavored Vodka
93 points
Indian distilling company, the NV Group brought the Smoke Lab Aniseed Flavored Vodka to American shores. The vodka is a refreshing mix of fennel and licorice. On the mouth it's a creamy and sweet vodka, with the entire combination sure to draw you back to the vodka.
28. Greenbar Lemon Vodka
93 points
A bright, juicy, and vivid vodka, Greenbar Distilling's Greenbar Lemon Vodka tastes like real fruit. The distillery zests 2000 ripe Eureka lemons per batch which is the secret behind its taste. Enjoy it as a part of a Tom Collins, Vesper Martini or enjoy it with a soda.
29. Ginrosa
93 points
From Specialty Cellars comes the Ginrosa, an Italian liqueur with great balance. The bitter is very nicely balanced and has a complex palate that will shine as a mix with any cocktail or served on ice.
30. Vermont Gold Vodka
93 points
The very essence of Vermont are its maple trees. The Vermont Gold Vodka bottles this essence, being distilled from the sap of maple trees. Along with maple, there are notes of white pepper. There is great structure on the palate with a bright and clean finish.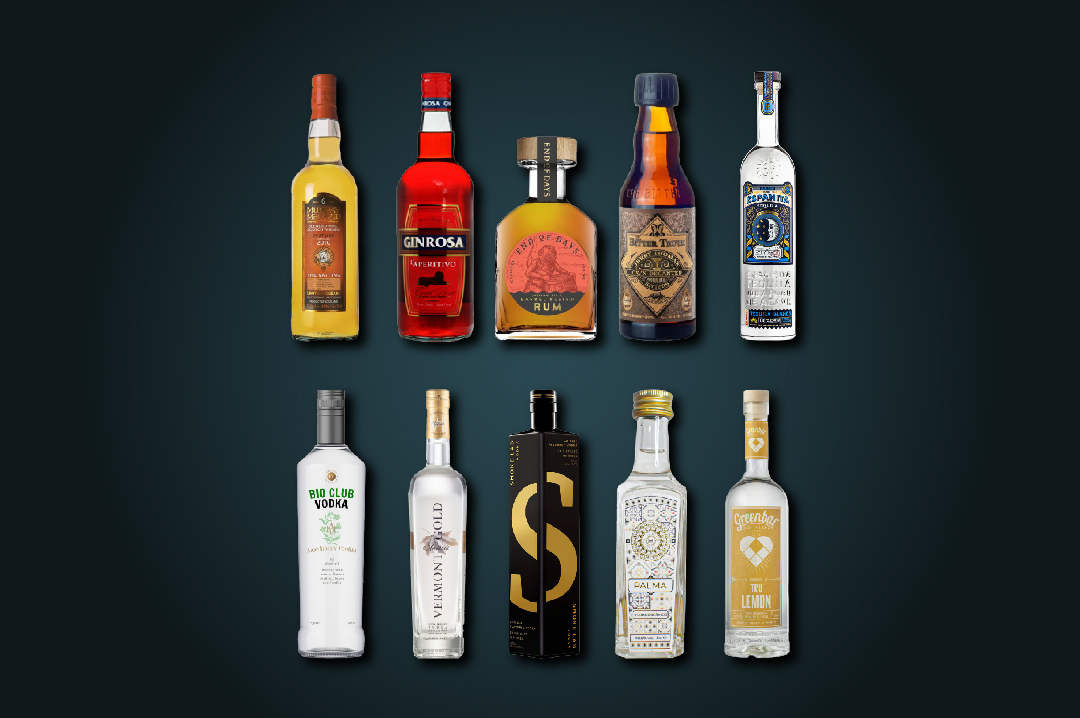 31. Embers Whisky Single Barrel and Single Malt and American
93 points
Shelter Distilling's Embers Whisky Single Barrel and Single Malt and American is a blend of Scottish tradition and Alpine waters. Aged 12 months in an American expression of Islay scotch, the nose of the whisky has pineapple, orange peel and spice notes. This whisky is a rich, smokey and lustrous award-winner.
32. Linden Leaf Singularity Organic Molecular Vodka
93 points
An organic vodka tuned to deliver a clean flavor and silky mouthfeel, Linden Leaf Singularity Organic Molecular Vodka has subtle notes of vanilla on the palate. Flavors of lemongrass and citrus linger on the finish of this gold medal winner from Linden Leaf Botanicals Ltd.
33. Angostura 7 Year Old
93 points
A rum from Trinidad and Tobago, the Angostura 7-Year-Old is packed with mouthwatering flavors like maple, chocolate, toffee, and honey. The full-bodied taste finishes off on the note of a classic rum. A rum that would be great in a cocktail.
34. Jaja Tequila Reposado
93 points
Aged for six months in American oak barrels, Jalisco-made Jaja Tequila Reposado has notes of vanilla, caramel, and oak. Using volcanic water sourced from the distillery's spring water, the tequila is made of a proprietary blend of highland and lowland agave which adds great complexity to its flavor profile.
35. Lo-Fi Aperitifs Sweet Vermouth
93 points
The first of the two Lo-Fi Aperitifs on the list, this one is a herbaceous mix with flavors of ripe cherries on the nose. On the palate, baking spices come through intensely in an aperitif whose botanicals will make for a great mixer.
36. Lo-Fi Aperitifs Gentian Amaro
93 points
Ripe cassis with notes of hibiscus dominate the nose of this Lo-Fi Aperitifs' Gentian Amaro. The palate is balanced with a tinge of bitterness that goes together brilliantly with the subtle sweetness of the aperitif and is found on the finish as well.
37. Chakra Ascension
93 points
Carefree Spirits Distillery's Chakra Ascension is a smooth and clean vodka with a light sweetness that comes from the toasted oats. Rich and round with a creamy finish, the Chakra Ascension also has aromas of grass and citrus.
38. Larsen Aqua Ignis
93 points
The first ever cognac to be aged in steam-toasted barrels, the Larsen Aqua Ignis releases the most complex and finest aromas. A delightful cognac with intense aromas of vanilla, toasted bread, mocha, and brioche, the Larsen Aqua Ignis finishes on a long and silky note. The name consists of Latin words for water (Aqua) and fire (Ignis).
39. Tepozan Reposado
93 points
A round and generous reposado, El Tepozan Tequila's Tepozan Reposado is a plush and lasting reposado. Roasted lemon, guajillo pepper, achiote, vanilla and flan dominate the nose with round and generously spiced oak, brown sugar, and pineapple sage on the palate. There's coriander and clove on the finish and the tequila is perfect to be enjoyed neat or on the rocks.
40. Basil Hayden's Dark Rye
93 points
Two flavorful whiskies and a touch of port tastefully converge in a one of a kind whiskey from Beam Suntory, the Basil Hayden's Dark Rye. deep, rich amber in color with oaky notes, dark berries and molasses on the nose. The taste is a complex blend of caramel, dried fruits, and oak with back notes of spice. A terrific blend of a Kentucky Rye and Candian Rye with a touch of Californian Port.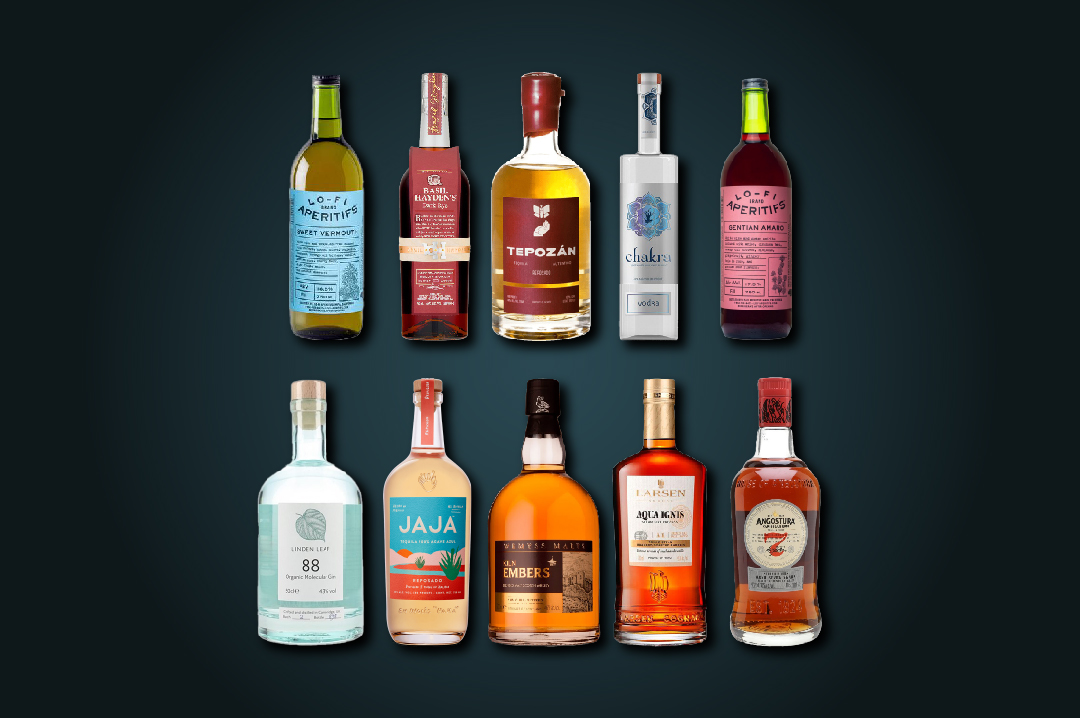 41. Hangar 1 Mandarin Blossom
93 points
A mandarin orange blossom is incredibly fragrant and provides a delicate intensity. Two things you will find in abundance in the Hangar 1 Mandarin Blossom vodka. Honey, rosewater and satsuma notes can be found on the mouth of the vodka, which contains flowers only picked at the height of their bloom. A beautiful and aromatic vodka.
42. Bozal Ensamble Mezcal
92 points
Agave varieties indigenous to the hillsides and regions of Oaxaca, Guerrero and Durango produce exotically intense flavors. The Bozal Ensamble Mezcal has a slightly smoky yet herbaceous undertone at the center of the palate. A light and easy sipping mezcal with a complex, lingering finish that will surprise you.
43. Blackstorm Ultra Premium Vodka
92 points
Crystal clear, light and clean, the Blackstorm Ultra Premium Vodka is a small-batch vodka from California. Distilled and filtered six times, the premium vodka is well rounded leaving a smooth mouthfeel that will be a great addition to any mixologist's arsenal. Lakesha Foreman and her team have brought a great vodka to the world.
44. Cutwater Tequila Blanco
92 points
The Black Skimmer bird or the Rayador served as the inspiration for the Cutwater Tequila Blanco. Jalisco's 100% blue agave is slow cooked in traditional brick ovens and double distilled in traditional stills to make the Cutwater Tequila Blanco. The blanco has a slightly grassy aroma which gives way to heavy sweet notes of cooked agave.
45. Palma Oak Aged Spiced
92 points
A twist on Mallorca Distillery's original gin recipe, the Palma Oak Aged Spiced is a complex and full flavored gin that pushes the boundaries of tradition. The gin contains notes of vanilla, cinnamon and cloves that are added in stages which brings the resulting sweetness and spice to the gin.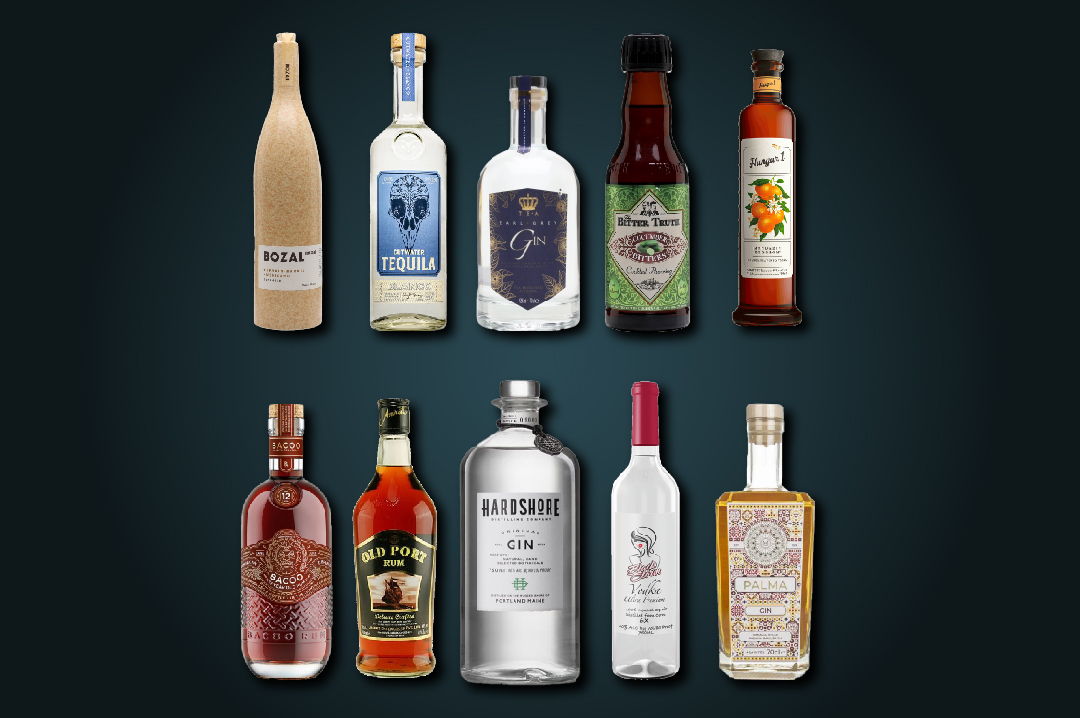 46. Hardshore Original Gin
92 points
The second spirit from Hardshore Distilling to make the list, the Hardshore Original Gin is made with only five botanicals. Bright and distinctive with notes of fresh rosemary and mint up front, the gin is also supported with orris root, coriander and Tuscan juniper. A 92 proof gin that is surprisingly complex considering the less number of botanicals that it's made with.
47. Amrut Old Port Rum
92 points
100% Indian sugarcane molasses are used to produce this gold medal winner. The bright copper color is followed by a nose of pistachio brittle and spumoni ice cream. The palate is medium to full bodied with a silky mouthfeel and a long, nutmeg, and bubblegum spice accented finish. Amrut Old Port Rum is a fun, flavorful, and exotic dark rum.
48. Cucumber Bitters
92 points
A light and inviting savory bitter from The Bitter Truth, Cucumber Bitters is a peppery spirit with earthy-fruity aromas. It has a light bitterness with herbal notes of rosemary and thyme along with hints of fleur de sel. Try it with a range of cocktails and you can see why these bartender turned judges rated it so highly.
49. Earl Grey Tea Flavored Gin
92 points
Distilled from Treecraft Distillery's white wheat-based spirit, the Earl Grey Tea Flavored Gin is a warm and spicy winner. There's a hint of nutmeg and cinnamon to the gin which also includes notes of bergamot orange paired with sweet and bitter oranges creating a strong citrus flavor.
50. Bacoo Dominican Rum
92 points
The list is capped off with a 12-year-old rum from the Dominican Republic. The bronze-colored spirit has aromas and flavors of toasted fig bread, chocolate pistachio toffee, and creme brulee. The nuances of caramel and butterscotch will draw you in and once that happens it will be pretty difficult to let go of having a sip of the Bacoo Dominican Rum every now and then.
Choosing the right spirit for a party is a tough job. Choosing it to sip individually or with a small company can be even tougher ensuring everyone's tastes and preferences are met. With this list of 50 great spirits from around the world, always know that you are pouring the right drink on every occasion.