Uncle Nearest 1820 Single Barrel Gets Best Whiskey Award
2021 USA Spirits Ratings crowns Uncle Nearest 1820 Premium Single Barrel Whiskey as the 'whiskey of the year'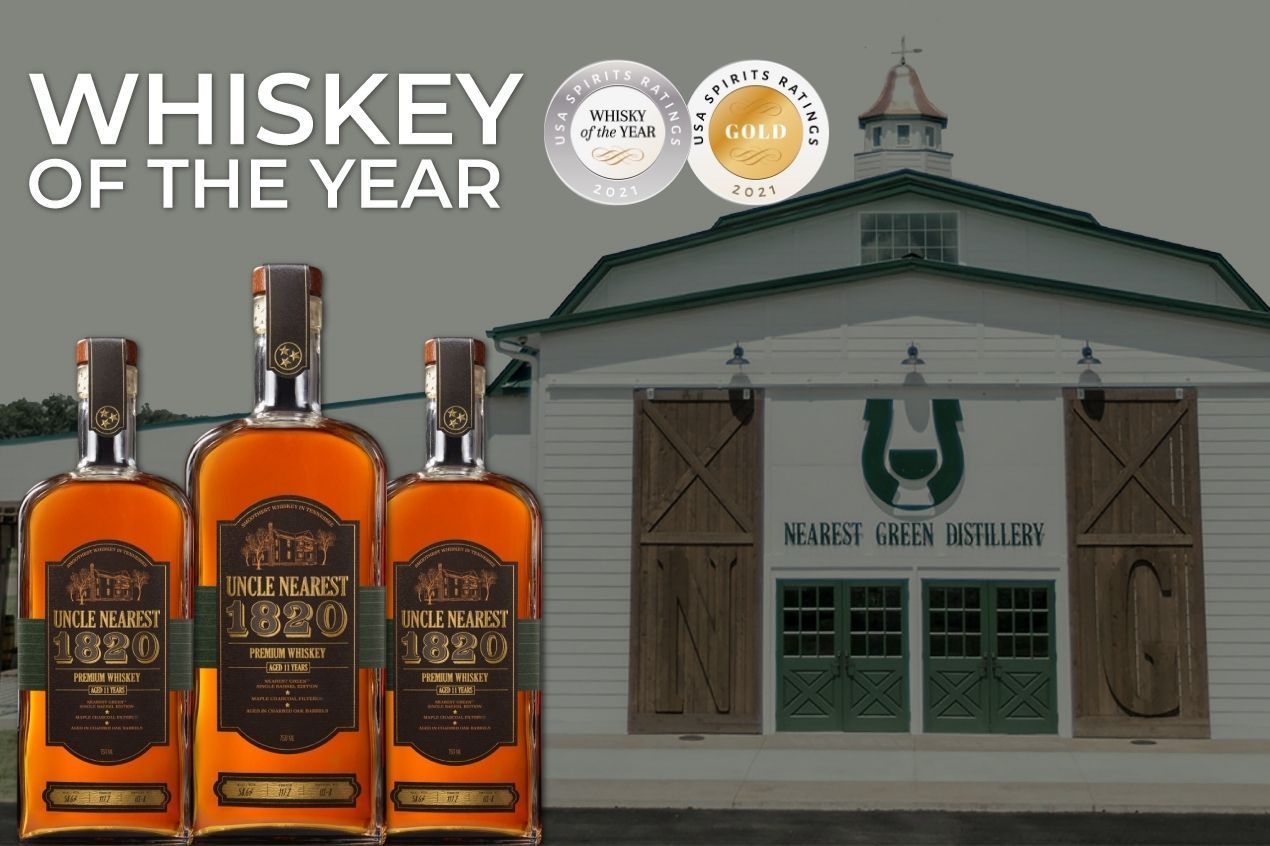 The Uncle Nearest whiskey brand honors the legacy of Nathan Green (Uncle Nearest), recognized as one of the first Black master distillers in the United States as well as the person responsible for teaching Jack Daniel how to distill. It was a story that, until recently, had somewhat fallen away from the records of American whiskey history, but is now rising again.
At the fourth annual USA Spirits Ratings, spirits came from all around the world and competed on the basis of their quality, value for money, and packaging. At the competition, the judges crowned Uncle Nearest 1820 Premium Single Barrel Whiskey as the 'whiskey of the Year', earning 97 points and a gold medal. The judging panel included Tim Marson MW (the Senior Spirits Buyer at Wine.com), Jeff Feist (Category Lead for Spirits & More at BevMo), Orcun Turkay (Corporate Director of Food and Beverage for Shaner Hotel Group), and other preeminent retail buyers, bar managers, mixologists, and hospitality experts.
More than 49 countries participated in the 2021 competition making it the most diverse competition so far for USA Spirits Ratings. The top countries to enter were the United States, France, Mexico, United Kingdom, and the top categories were whiskey, tequila, gin, vodka, and rum.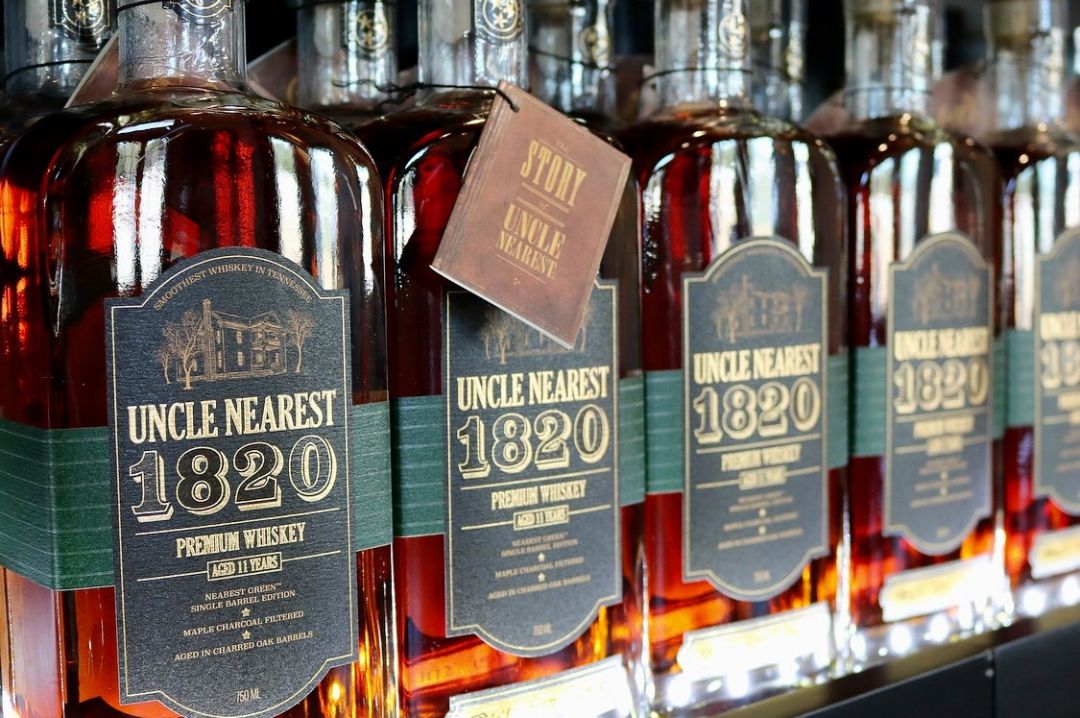 Uncle Nearest 1820 Premium Single Barrel Whiskey, source: Facebook
The 1820 Premium Single Barrel Whiskey also known as 2021's whiskey of the year, has a lovely aroma of honeycomb, dark chocolate-covered raisins, candied orange peel, and coffee beans. On the palate, it has flavors of rich caramel, vanilla, and baking spice.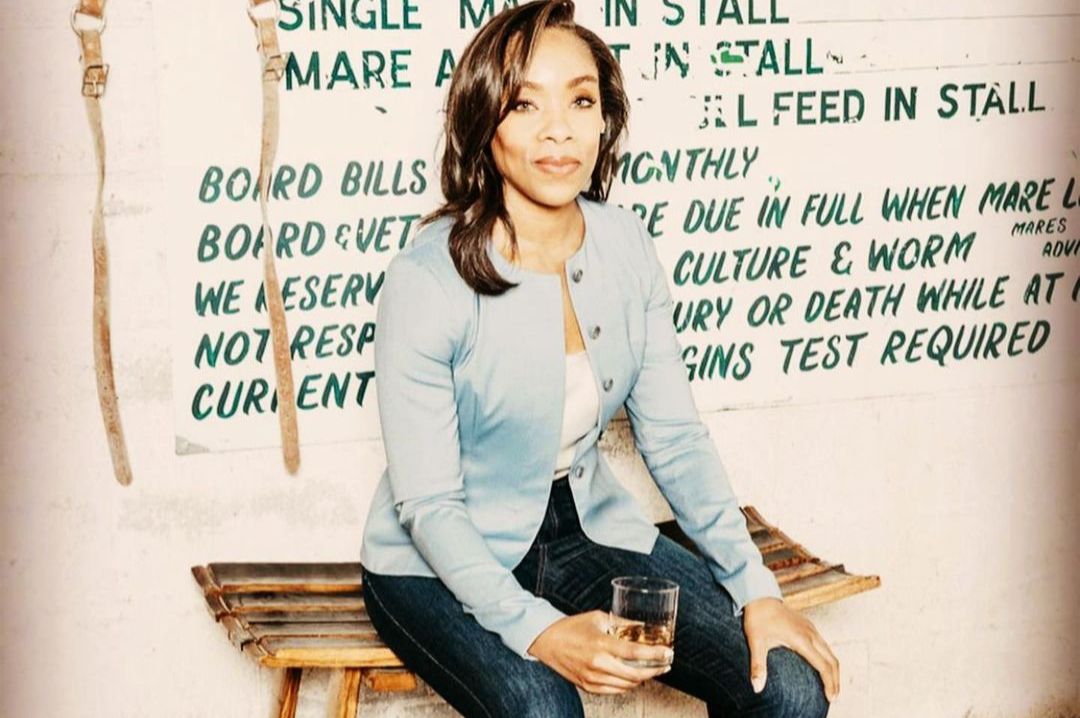 Fawn Weaver, founder, and CEO of Uncle Nearest, Inc., source: Instagram
Much of the consideration that goes into what we know of Green now can be attributed to Fawn Weaver, a female African American author, and entrepreneur that decided, after learning the story of Daniel's mentor, to take it upon herself to bring more of his tale to light. Not only has she and her team done that in the ensuing years, but she's also built a strong whiskey label in the process and helped to strengthen diversity in the industry.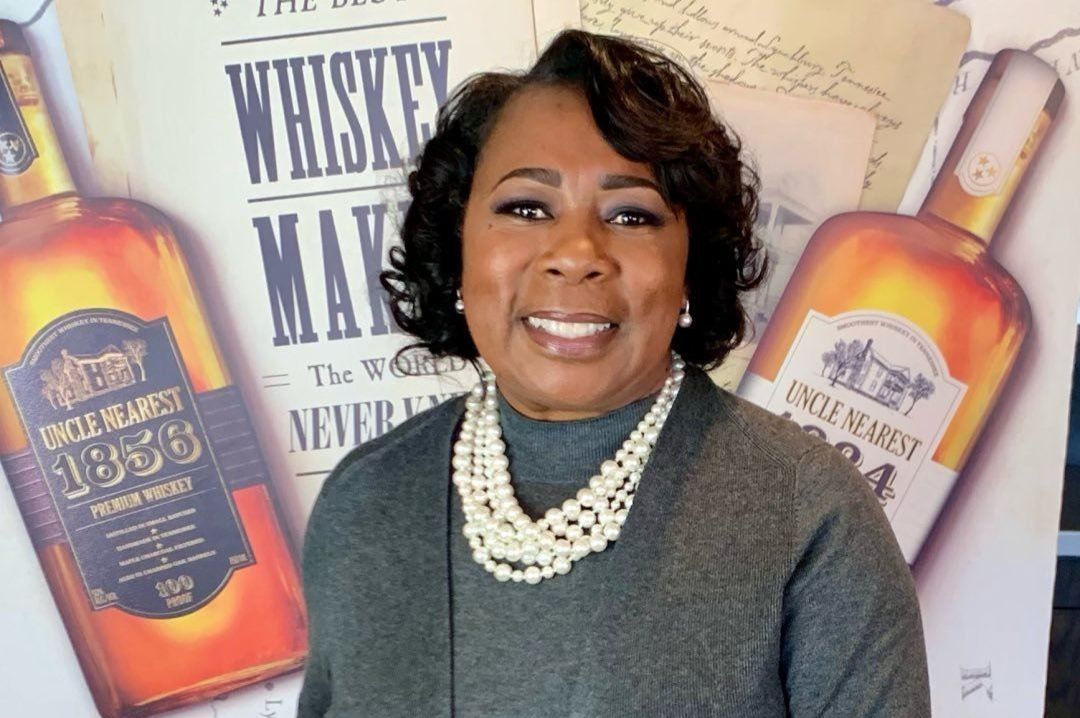 Victoria Eady Butler, the great-great-granddaughter of Nearest Green, source: Facebook
Victoria Eady Butler might be a new face in the world of spirits, but being the great-great-granddaughter of Nearest Green, we can say that whiskey is in her blood. Brought on by Weaver to keep the Nearest spirit alive, Butler is the Master Blender of the award-winning Uncle Nearest Premium Whiskey brand, where she oversees the blending process of its 1884 Small Batch Whiskey and the selection of all 1820 Single Barrels.
Butler is also one of the members of Uncle Nearest's executive team and is at the forefront of the Nearest Green Foundation - a non-profit organization that provides scholarships to Nearest Green's descendants that are funded, in part, by the sales of Uncle Nearest Whiskey. She also blended the very first batch of the 1884 Small Batch Whiskey, which launched in July 2019. After the immense success of the first two batches, Butler was appointed as Master Blender in November 2019.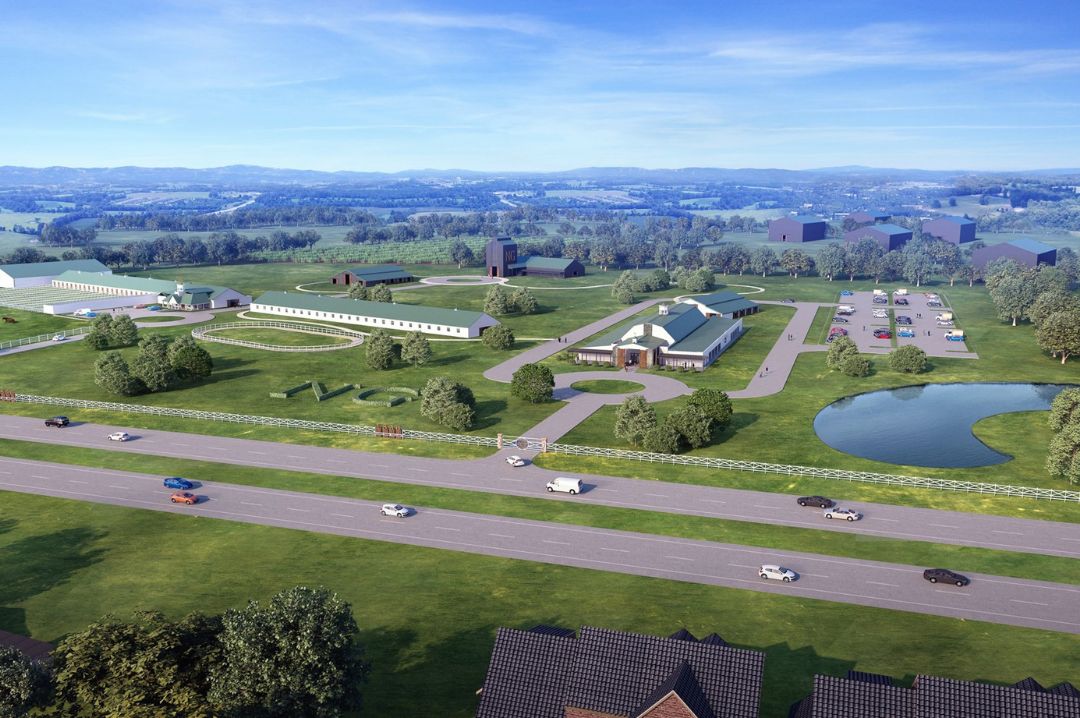 Aerial view of the 270-acre property, source: Facebook
The distillery is located at the hills and hollows above Lynchburg, Tennessee, and is spread across 270 acres of land. It is the birthplace of Tennessee whiskey. The story of its birth traveled quietly for nearly two centuries and was kept alive through recollection of kin and neighbors in the area. Uncle Nearest (Nathan Green) was truly the godfather of Tennessee whiskey.
His story went missing, untold for quite some time.? It's complicated. But what is important is that the truth has finally found the light. Nearest was born in 1820, and in the mid-1800s he began to work on a farm in Tennessee. Nearest Green was a slave there and later a free man. The farm belonged to a man named Dan Call. He had a little side hustle, a whiskey distillery and Nearest Green was the one doing the distilling. The whiskey he made was unique in its smoothness and people said it was the best they could have. But this isn't the story of a master craftsman, it is a story of friendship that developed at the farm.
During the mid-1850s a young boy came to work on Dan's farm, small for his age but wanted to work. But the constant smell of wood smoking in the mules from the distillery got his attention. His curiosity increased and he wanted to know what's going on inside. Finally, Dan took him to Nathan Green and introduced him as Uncle Nearest, the best whiskey maker he would ever know. He asked Nearest to teach everything he knew about distilling to this young enthusiast. Nearest took the boy under his wing, taught him everything he knew, and they became good friends. As the boy grew up he began to sell this special whiskey all around town and even to the soldiers fighting in the civil war. He was a natural-born salesman and entrepreneur.
In 1865, when the thirteenth amendment was finally passed, Nathan Nearest Green was a free man. The boy, a young man by now, had purchased Dan Call's distillery and named it after himself and of course, he asked his mentor, his friend, Nearest Green to be his first official master distiller. They kept making and selling great whiskeys and during this time Uncle Nearest's involvement was widely known. His family became the most prominent in the area, well respected for their talents and success. And as this business grew, the young man built a new bigger distillery on the hill above the Lynchburg land.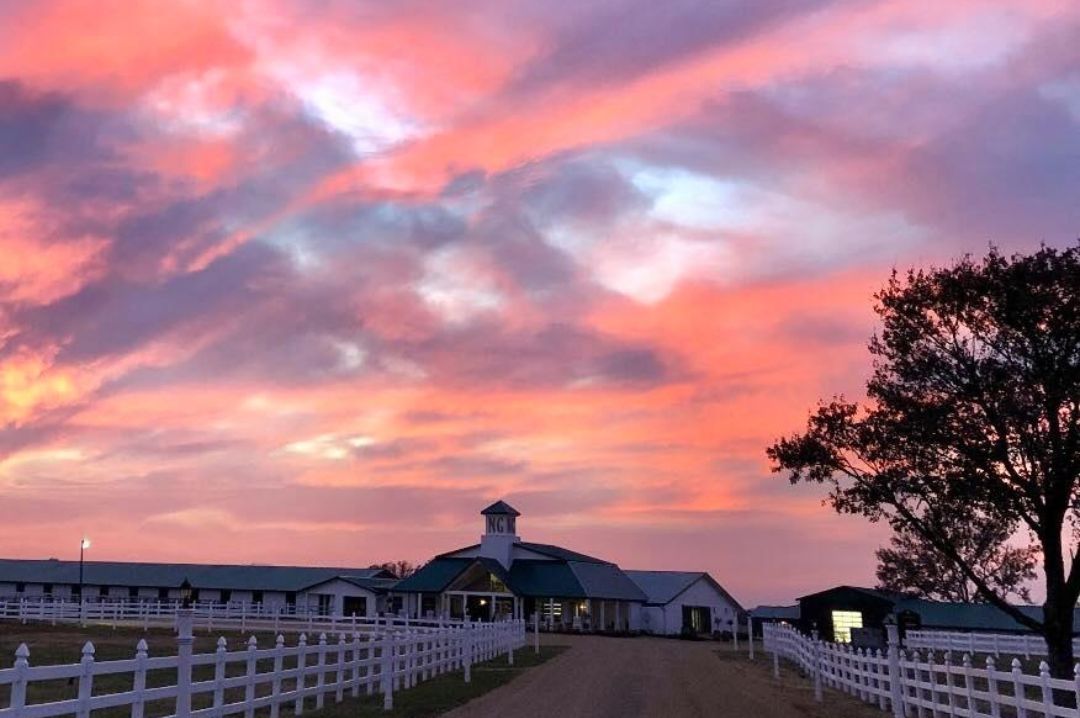 Sunset at Nearest Green Distillery, source: Facebook
By this time Uncle Nearest decided to retire from his game but his sons continued to work for the distillery. And that young boy who came to be a brilliant businessman never let his friendship and respect for Nearest Green and his family go unnoticed. Even after he became one of the most famous whiskey makers in the world. His legal name was Jasper, folks in Lynchburg still call him Uncle Jan, and you know him as Jack Daniel. And now you also know Nearest Green and his legacy. He just didn't make whiskey, he made history.
The Uncle Nearest brand, wholly owned by Uncle Nearest, Inc., an all minority-led business, encompasses an '1856 premium aged whiskey' with a blend of 8- to 14- year old, an 11-year-old minimum age '1820 premium single barrel', and a 7-year-old '1884 small batch' offering. All mellowed using the Lincoln County Process, it is unique filtering of bourbon through sugar maple charcoal. This process has been confirmed to have been brought to Tennessee by enslaved people and taught by Nearest Green to the most famous Tennessee Whiskey maker of all time 'Jack Daniel'. Uncle Nearest is distilled, aged, bottled, and hand-labeled in Tennessee.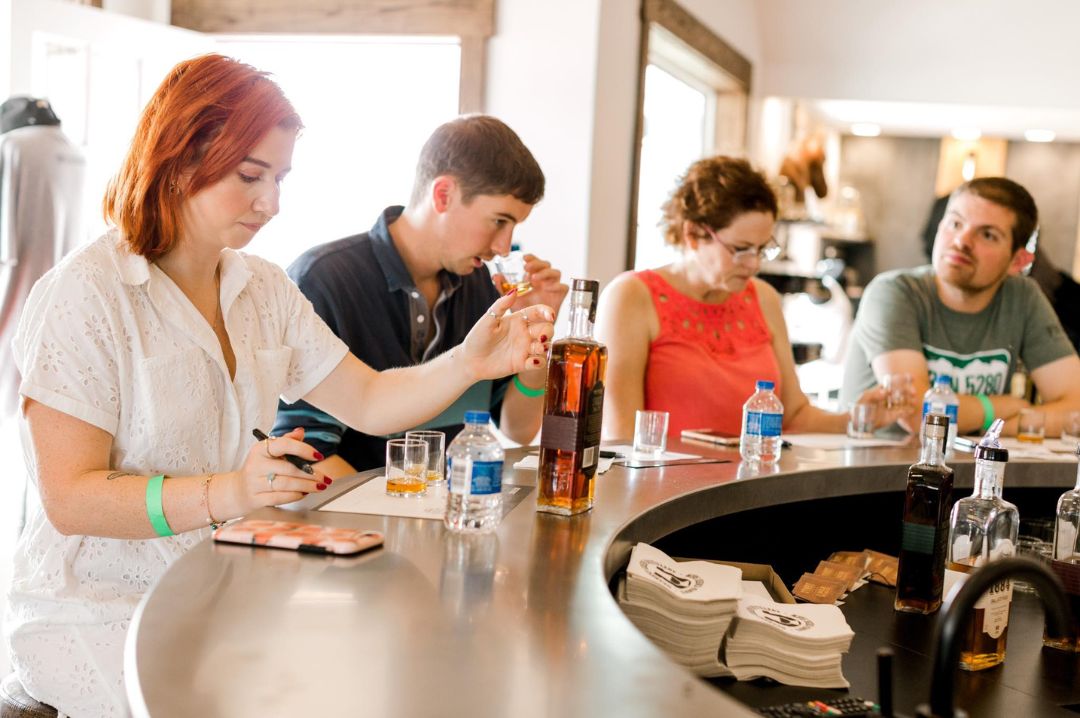 Uncle Nearest tasting experience, source: Facebook
The Uncle Nearest 1884 is the proud legacy of the Godfather of Tennessee Whiskey, Nearest Green. Each small batch comes from barrels chosen by their founders and each blend is curated by 5th generation Green descendant, Master Blender, Victoria Eady Butler. Victoria's signature can be found on the back of every bottle of Uncle Nearest 1884 Small Batch Whiskey. The bottle has won a silver medal at the competition with 84 points. It has notes of honeysuckle, vanilla, and grass. On the palate, it tastes of honey and citrus with a stone fruit finish.
The Uncle Nearest 1856 is a blend of premium aged whiskies between 8 and 14 years old. It has a caramel color with a beautiful deep golden hue. On the nose, there are baled hay and pumpkin seeds with subtle notes of ripe stone fruit and caramel corn. Bold and spicy upfront then mellows with sweet caramel and maple, like biting into an oatmeal raisin cookie. The finish is long and rich. It lingers pleasantly sweet on the palate with notes of vanilla after the spice dissipates. The whiskey won a silver medal at the competition by earning 82 points.
While the whiskey can be sipped neat or on the rocks, you can try some cocktail recipes shared by the distillery. Here is one such cocktail you may try at home.
Bootstraps and Pie by Chandler Tomayko
Ingredients:
2oz Uncle Nearest 1884
0.75 lemon juice
0.5oz apricot brandy
0.5oz pecan simple syrup
2 drops orange bitters
4 sage leaves
1 sage sprig
Add whiskey and 4 sage leaves in a cocktail shaker. Add the remaining ingredients and shake vigorously for 10 seconds. Strain the contents in a chilled glass filled with crushed ice and garnish with a toasted sage sprig.
South San Francisco Conference Center, 255 South Airport Boulevard, South San Francisco, CA 94080, United States
Register Now
South San Francisco Conference Center, 255 South Airport Boulevard, South San Francisco, CA 94080, United States
Register Now