Exploring the best whiskey bars of New York
Whiskey bars in New York never run dry on the brown, topping up your experience with a dash of fine.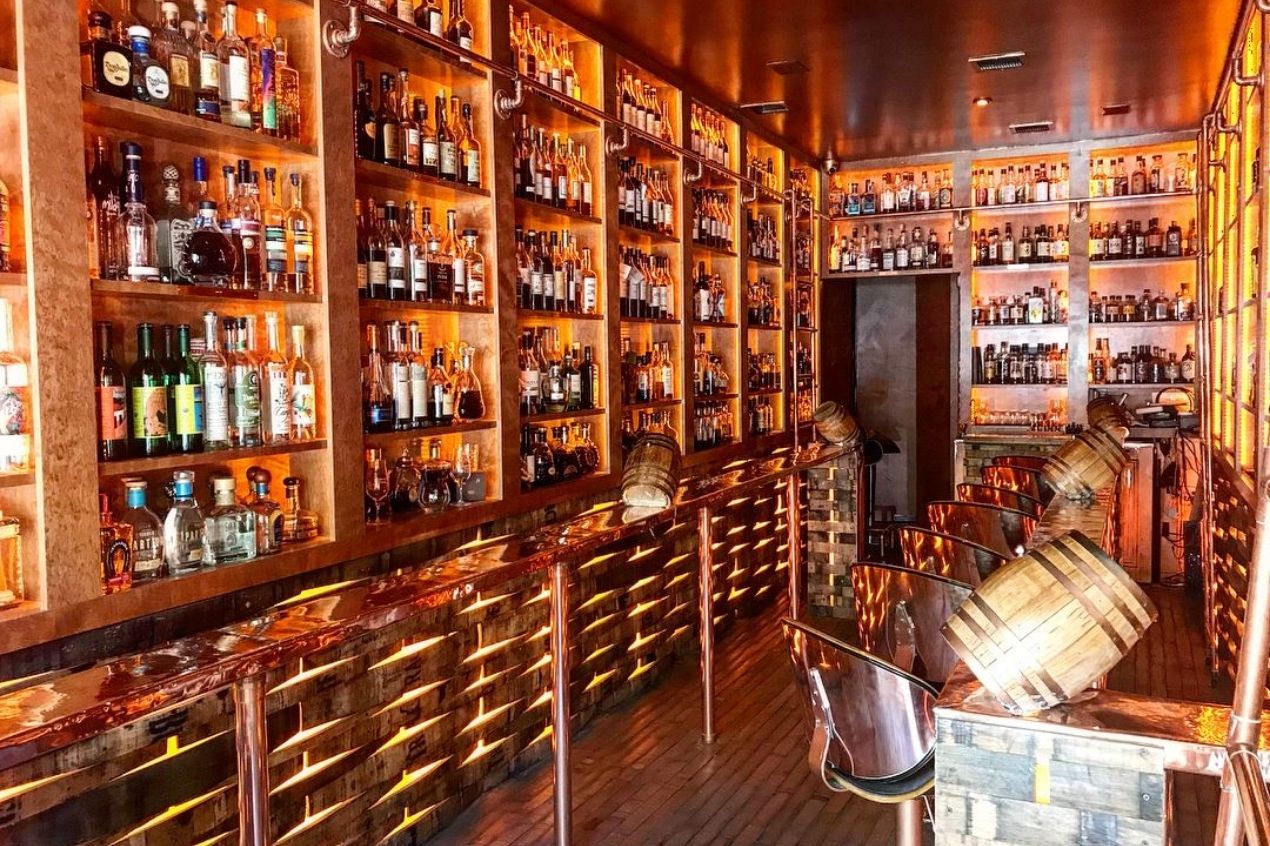 Whether you are looking for an American bourbon or a fine scotch, New York's whiskey bars will bring you the best of the lot with their overflowing collection. From crafting ambrosial whiskey cocktails to providing lessons in their whiskey school, these bars are top-notch whiskey destinations in the big apple.
Uptown Bourbon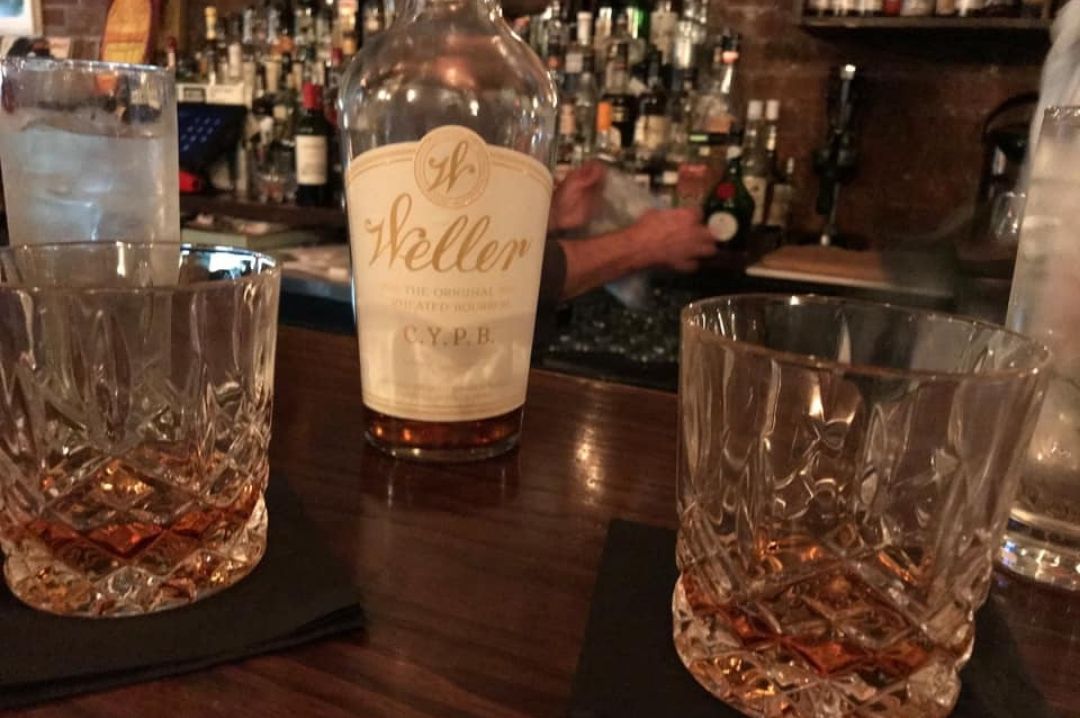 $10 whiskey deal at Uptown Bourbon, Source: Facebook
With a daily happy hour and no stop on bourbon and rye whiskies, Uptown Bourbon is a local bar quenching Manhattan's whiskey thirst. Whether you are here to watch a game of football or binge drinking with friends, an overflowing stock of whiskies and lucrative offers like $10 an ounce until it's gone are key highlights to make this one your new whiskey hub. Summer cocktails like the Sunny Spot and Blushing Beauty are on the to-go list for those looking for a refreshing drink of whiskey.
Happy hours - 4 pm to 7 am
Location - 3631 Broadway, New York, NY 10031.
Timings - Closed (Monday)
4 pm to 12 am (Tuesday to Sunday)
The Whiskey Ward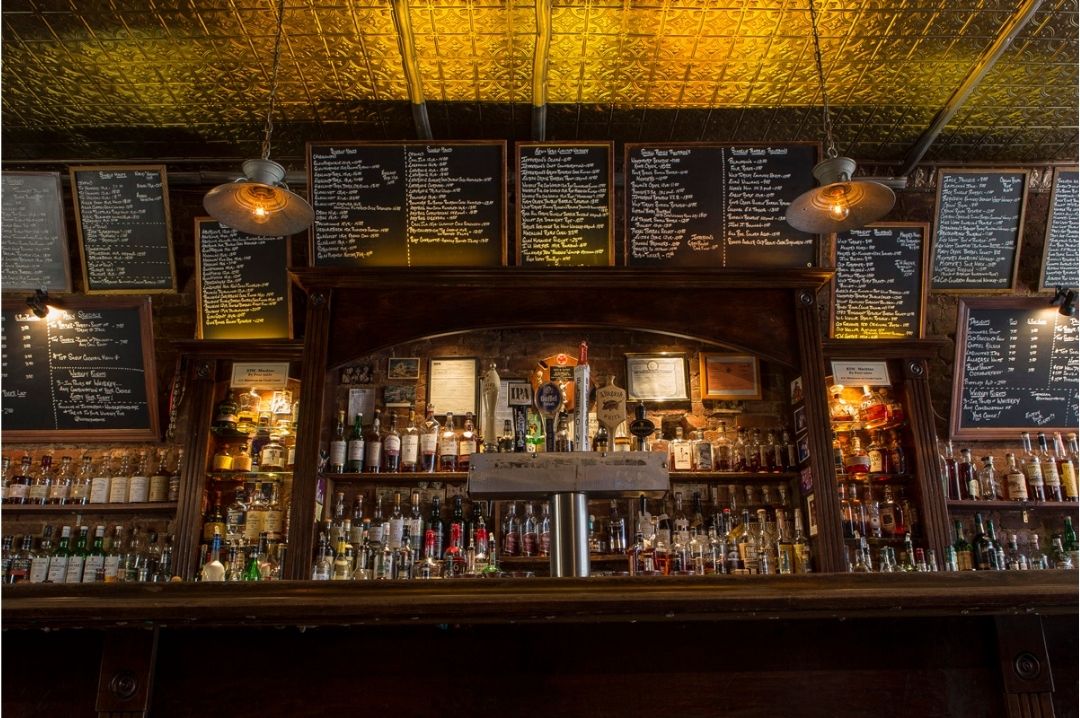 Rotating whiskey menu listed above The Whiskey Ward bar, Source: Website
Located on the Lower East Side, The Whiskey Ward has been a gem for whiskey enthusiasts for over 21 years. The bar offers a wide rotating menu of over 500 whiskeys from around the world. And did we mention The Whiskey Ward's infamous whiskey flights? You get to choose three whiskeys from their collection, from ryes to Japanese whiskeys, to Canadian whiskeys, and more. You can also opt for one of the many cocktails on the menu. We recommend the Guardian *Angel* Sour made with Angel's Envy Bourbon~Port Cask Finish, aperol, agave, and fresh lemon juice.
Location - 121 Essex St, New York, NY 10002.
Timings - 5 pm to 2 am (Sunday to Thursday)
5 pm to 3 am (Friday to Saturday)
The Flatiron Room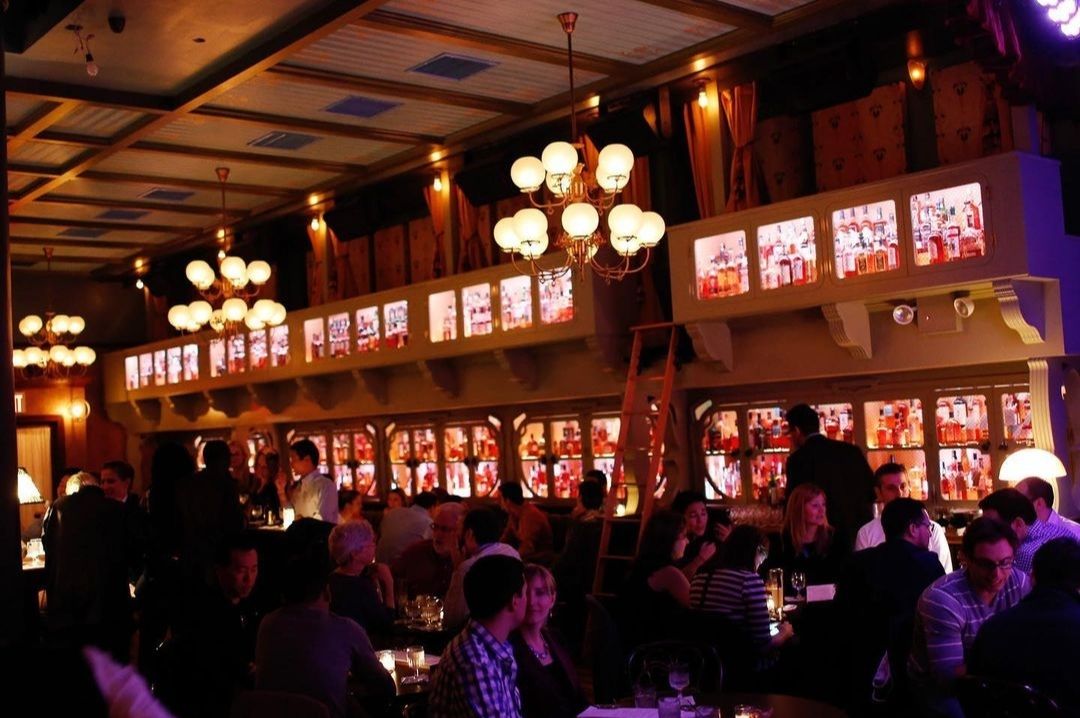 Whiskey filled walls at The Flatiron Room, Source: Instagram
Recognized as the best whiskey bar in America by Travel & Leisure magazine, The Flatiron Room has over 1000 whiskies to choose from. They also have a Whiskey School that organizes tasting events and spirits classes for those looking to learn more about the art of whiskeys and bourbon. Try our personal favorite, The Triumph cocktail made with Eagle Rare Private Barrel Bourbon, Pedro Ximénez Sherry, chocolate bitters, and orange peel. Not only is the whiskey selection great, but the dim lights and jazz music creates the perfect ambiance for some banter over a glass of your favorite rye. You can also buy a whiskey bottle of your choice and save it for future imbibing.
Dress code: Turn up in smart business casuals with collared shirts and well-kept jeans for men. No flip flops, shorts, or hats are permitted.
Location - 37 W 26th St, New York, NY 10010.
Timings - Closed (Monday)
5 pm to 2 am (Tuesday to Saturday)
5 pm to 12 am (Sunday)
Whiskey Trader Bar & Lounge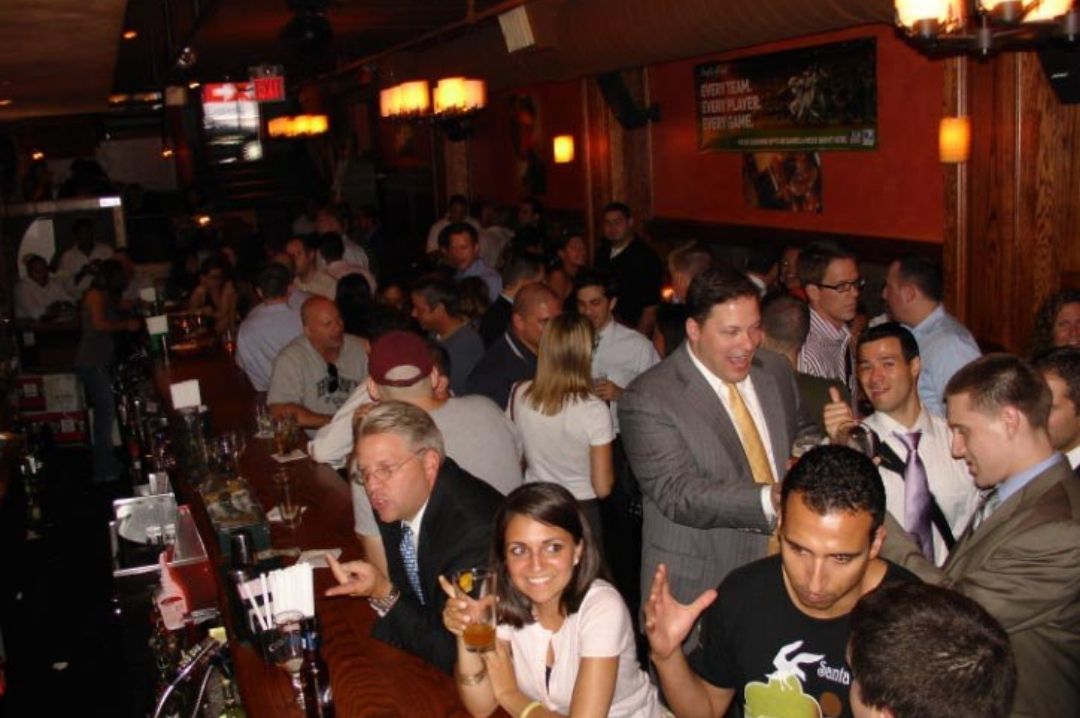 Jam-packed fun at Whisky Trader Bar & Lounge, Source: Facebook
Enjoy a trade of more than 50 whiskies at the Whiskey Trader Bar & Lounge where you will find rye, bourbon, Irish, and single malt options. Drawing the crowd with its dimly lit ambiance and free popcorn, the waterhole has quite a few whiskey cocktails worth sipping on such as the Long Look Back made with Bulleit Rye Whiskey, Santori Japanese Whiskey, and Beaulieu stirred with organic agave & bitters. The cozy lounge room on the main level is where you can relax by the fireplace. But if you are in for some extra fun, flex your skills in the underground game room.
Location - 71 W 55th St, New York, NY 10019.
Timings - 11 am to 2 am (Sunday to Tuesday)
11 am to 3 am (Wednesday to Saturday)
Caledonia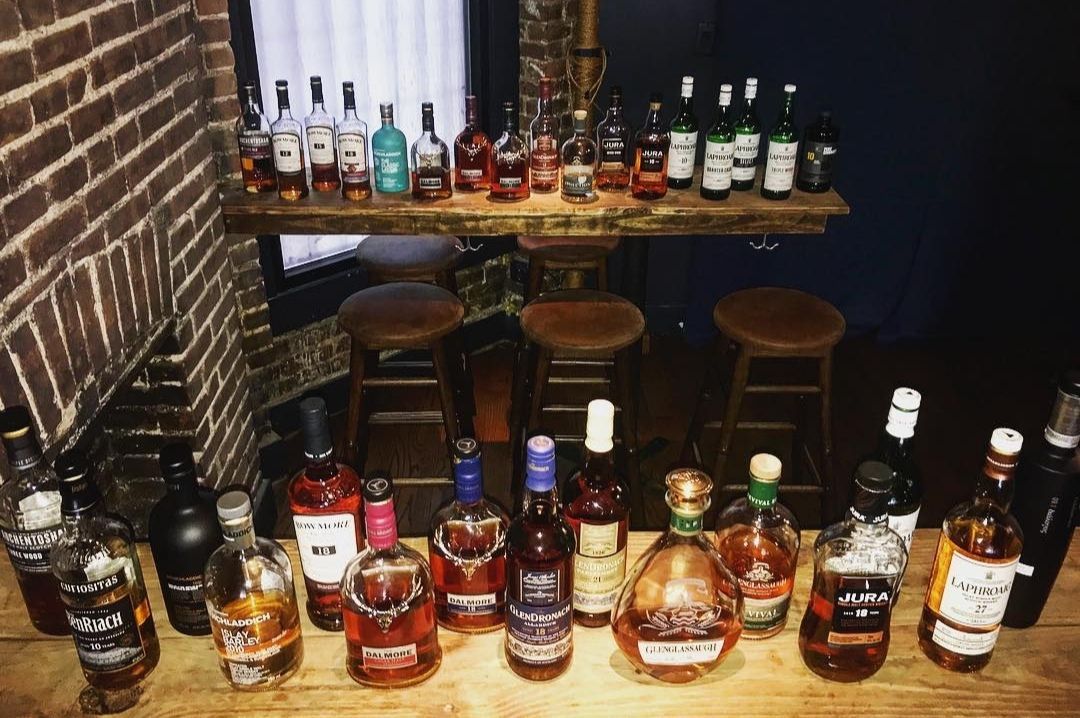 Whiskey tasting session at Caledonia, Source: Instagram
The Caledonia on Upper West Side is a den for Scottish whiskies, presenting options such as the Highland Park and Glendonarch in the locker. Submerge yourself in delectable whiskey tasting sessions where you will not only find Scotch, but also Irish, Japanese, and American whiskies. Caledonia offers a complimentary whiskey from the bar when you order a dish between 7.30 pm to 8.30 pm. Keep an eye out for another Caledonia on the Upper East Side of New York in case you can't get enough of a Scottish whiskey pub.
Happy hours - 4 pm to 7 am
Location - 424 Amsterdam Ave, New York, NY 10024 (Upper West Side).
1609 2nd Ave, New York, NY 10028 (Upper East Side).
Timings - 5 pm to 2 am (Monday to Thursday)
5 pm to 4 am (Friday to Saturday)
5 pm to 12 am (Sunday)
Death & Company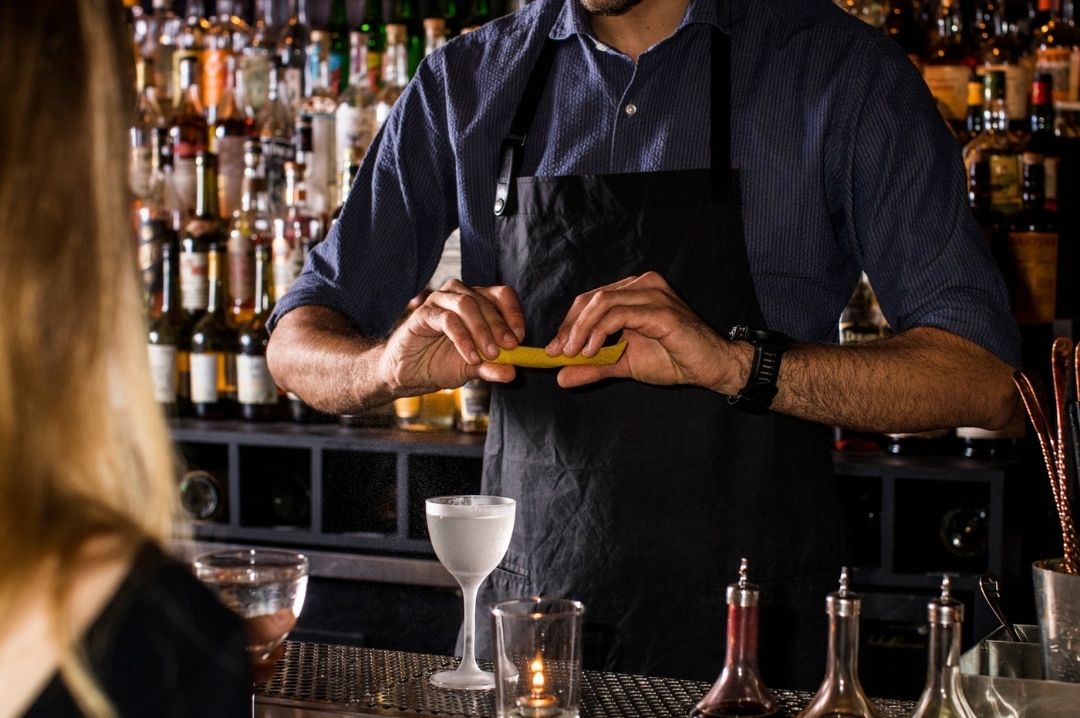 A cocktail in the making at Death & Co, Source: Facebook
We couldn't leave out Death & Co despite not being a proper whiskey bar because of the whiskey options it has in the mix. Not only that, the bar also offers unique whiskey cocktails such as the Kensei made with Suntory Toki Japanese Whisky, Amrut Indian Single Malt, passion fruit, lemon, and ristretto. The Velvet Thistle cocktail is made with Longrow Single Malt Scotch, Gonzalez Byass Palo Cortado sherry, and choya umeshu is another must-try from the award-winning bar.
Location - 433 E 6th St, New York, NY 10009.
Timings - 6 pm to 1 am (Monday to Sunday)
Copper & Oak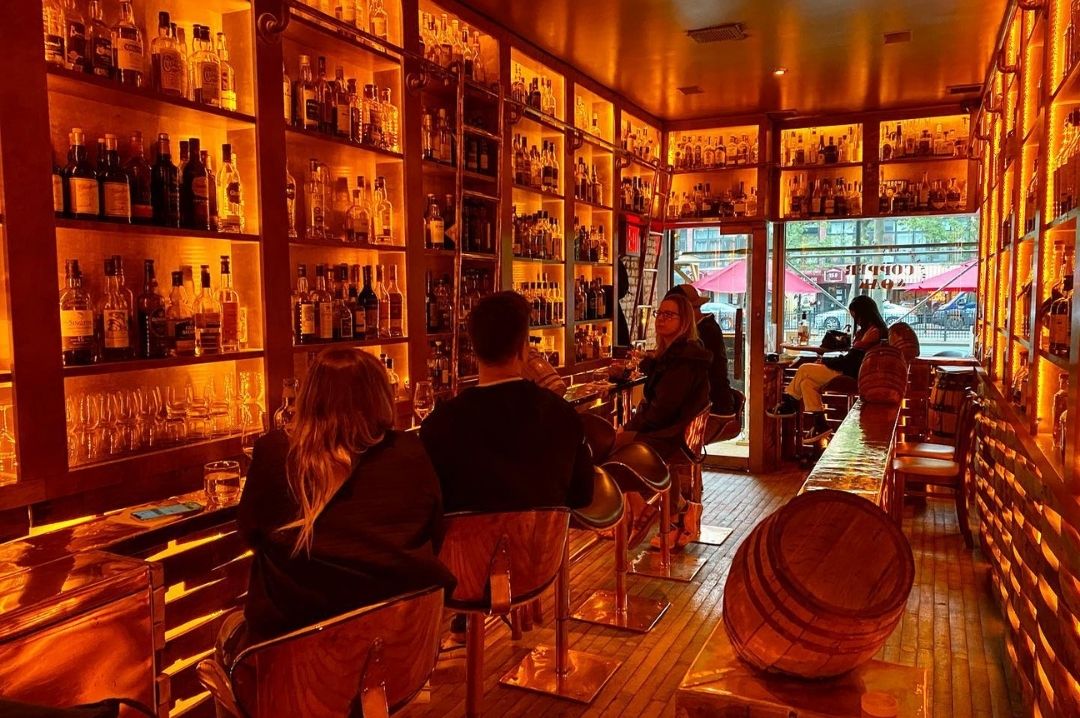 A glowing bar at Copper & Oak, Source: Facebook
A bar for anoraks, Copper & Oak's enormous whiskey options will make you gaze at wonderful bottles all day. Sit at the bar that basks in the golden color of more than 600 spirits surrounding it, as you choose your tonic. Due to the vast whiskey menu list, we are sure you will find your pick and if not, this is the place to keep coming back to the Lower East Side and try until you meet your match.
Looking to gather your whiskey friends? Host a tasting event for upto 20 guests, giving entertaining lectures and five 1 oz whiskies of choice for tasting at the Copper & Oak bar.
Price: $100 per person (tax and tip included).
Location - 157 Allen St, New York, NY 10002.
Timings - Closed (Sunday to Wednesday)
4 pm to 1 am (Thursday to Saturday)
Whisky Tavern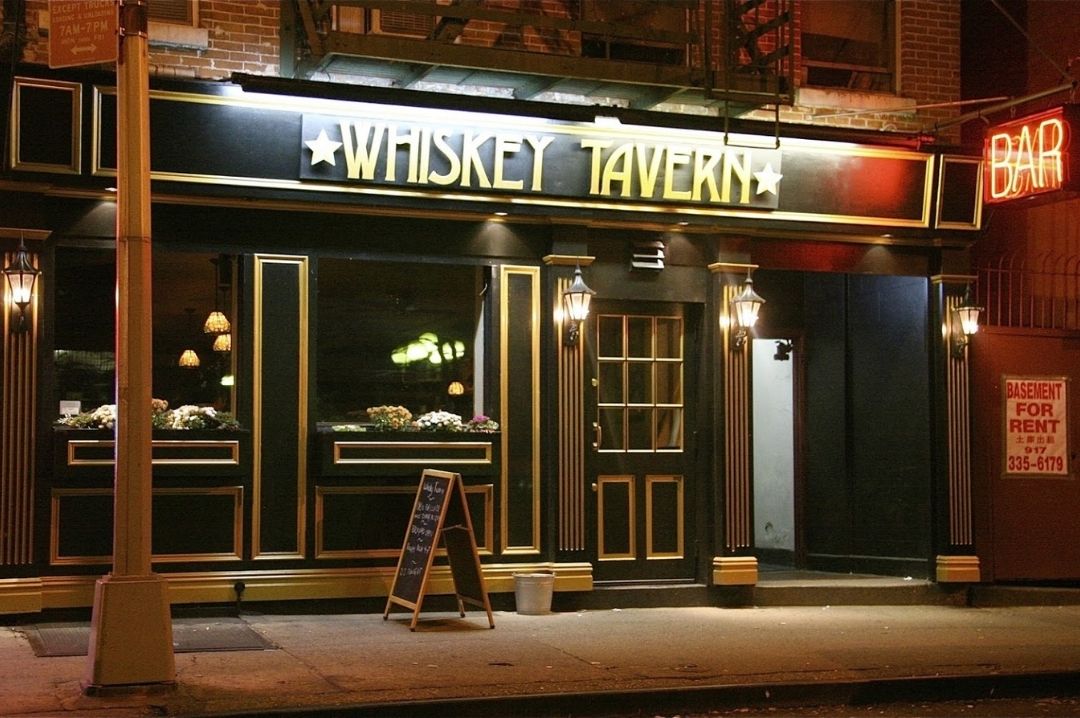 The Whisky Tavern, Source: Website
Choose from a range of rye, American, bourbon, Japanese, and other whiskies at the Whisky Tavern on Baxter Street. The Johnnie Walker Blue is the costliest option you can avail of at $46, while the range falls to a low $10 with Evan Williams. Don't forget to have a look at the sumptuous food menu consisting of chicken wings, tacos, fried pickles, salads, pizzas, and more to go with cocktails such as the Grand Tom's Lemonade, Spicy Margarita, Michelada, and others. The communal wood tables and bench seats make the place a tavern where you will find people crowding the bar after work hours.
Happy hours - 4 pm to 7 pm
Location - 79 Baxter St A, New York, NY 10013.
Timings - 12 pm to 2 am (Sunday to Wednesday)
12 pm to 4 am (Thursday to Saturday)
Header image - Copper & Oak, Source: Facebook