Natural Wine Bars in NYC
Searching for a wine bar that serves natural wine? There are plenty you can choose from in New York City.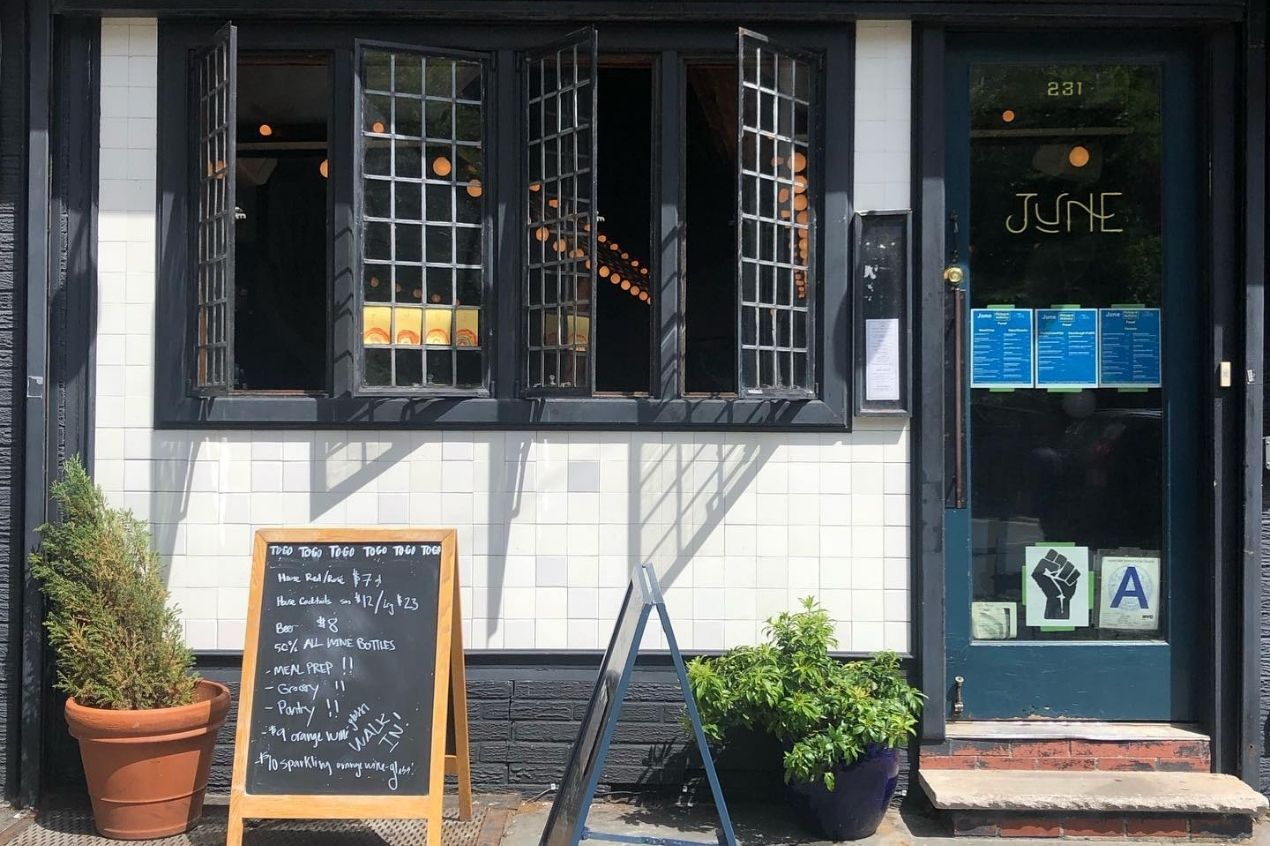 Although the method of making natural wines is anything but new, they have seen a huge explosion in popularity in recent years. Your local bar might have a bottle or two of natural wines tucked away, but the Big Apple offers an array of spots that pay tribute to natural wines, and we have just the right ones for you.
232 Bleecker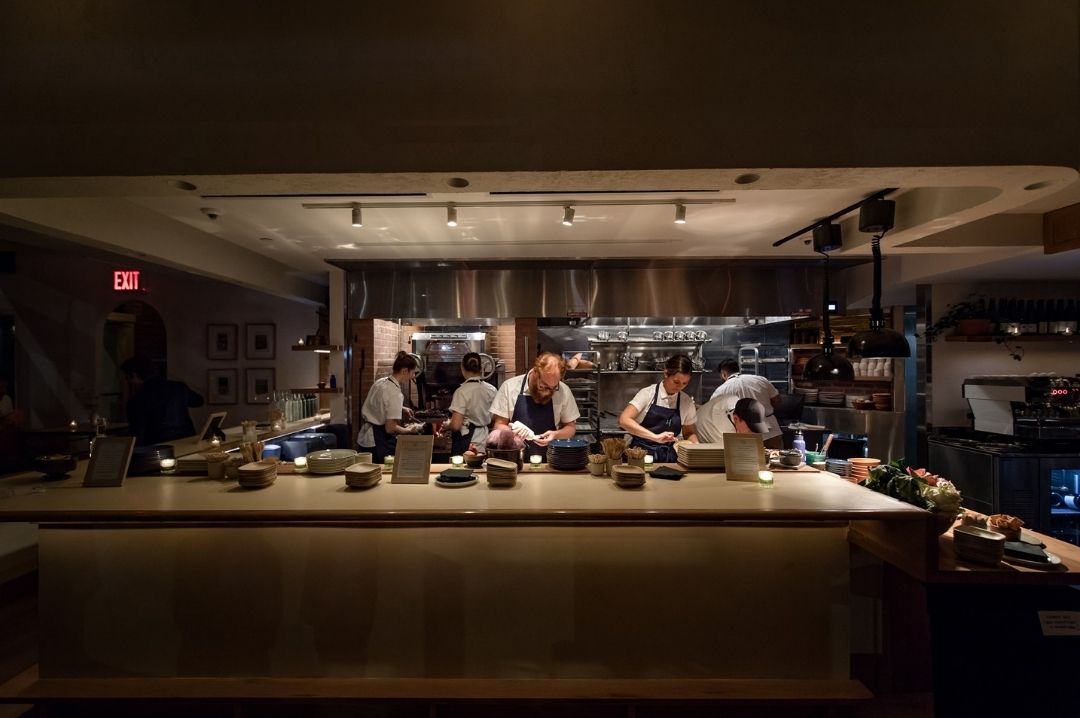 232 Bleecker, source: Facebook
A neighborhood restaurant by chef Suzanne Cupps serving vegetable-forward dishes in a historic West Village location. 232 Bleecker's wine list spans regions around the globe, with a strong focus on smaller farmers, growers, and producers. The majority of wines on the list are either farmed sustainably, biodynamically, or organically. However, the bar also has some bigger names on the menu that are loved by the team. The Domaine de l'Ecu Faust Chardonnay, a tart and elegant orange wine with notes of orange peel, apricot, fig, apple, quince and sweet spices is one of the top recommendations at 232
Bleecker.
Location - 232 Bleecker St, New York, NY 10014
Timings -
5 pm to 9:30 pm (Tuesday to Friday)
12 pm to 9:30 pm (Saturday)
12 pm to 8:30 pm (Sunday)
Closed on Monday
Chez Ma Tante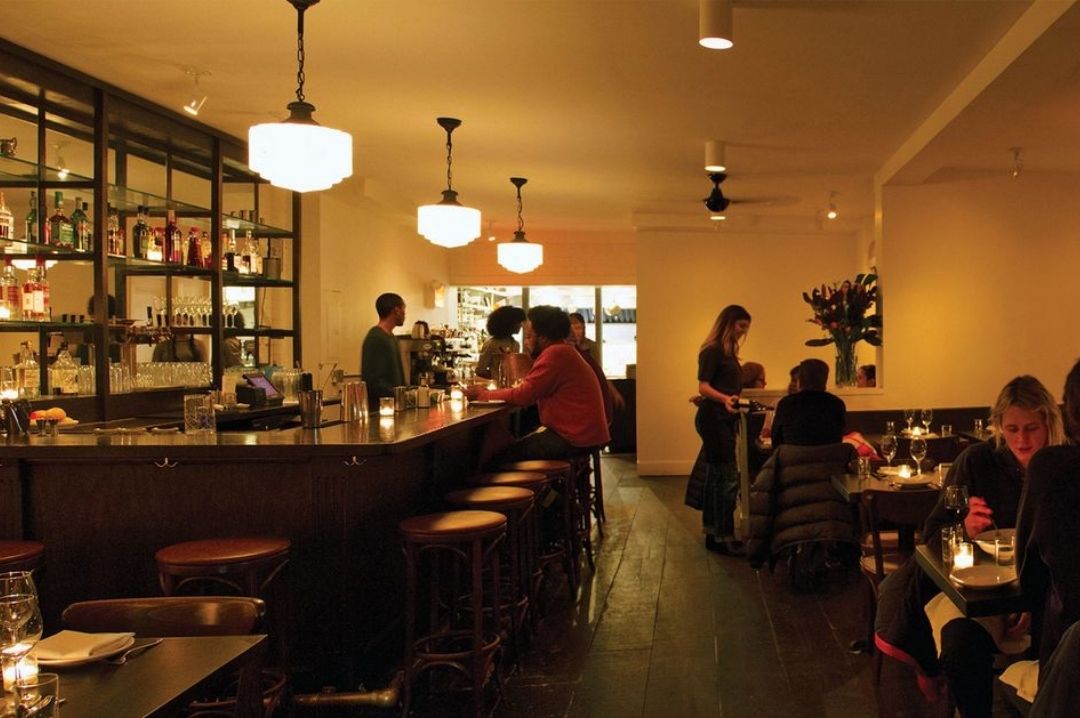 Chez Ma Tante, source: New York Magazine
Named after a Montreal hot-dog shack, Chez Ma Tante is a neighborly spot with minimalist white walls, dark wood tables, and an uncluttered bar. The food menu is a nod to European-Canadian cuisine and the extensive wine list sports a variety of natural wines with an emphasis of providing patrons with the best value. The duck breast with turnips and tarragon is a crowd-pleaser at the resto-bar. Pair this dish with a bottle of 'Super MSG!', a Rhone-Style blend of Mourvedre, Counoise, Syrah, and Grenache by Washington's Fausse Piste.
Location - 90 Calyer St, Brooklyn, NY 11222
Timings -
5:30 pm to 10 pm (Monday to Friday)
10 am to 3 pm, 5:30 pm to 10 pm (Saturday & Sunday)
Coast and Valley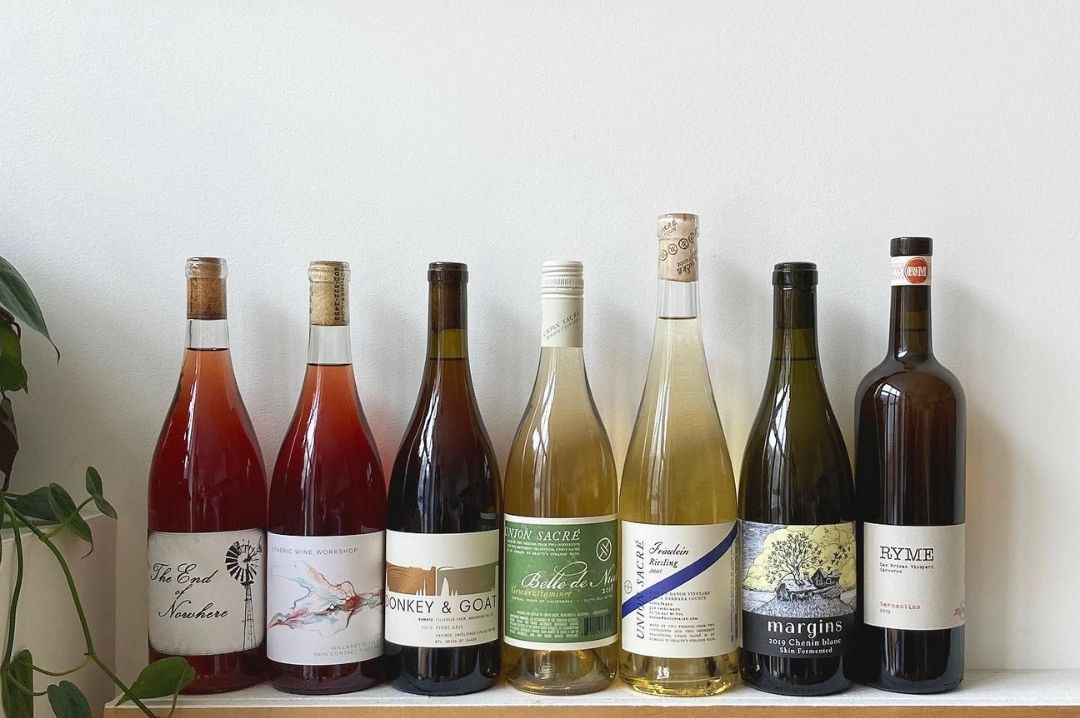 Natural wines at Coast and Valley, source: Facebook
With a focus on wines from California, Coast and Valley offers a Californian wine experience in New York. The wine list is a large one, boasting everything from rare Cabernet Sauvignon to award-winning Pinot Noir to small-production orange wines to rosé, and everything in between. The wine bar features an airy, open floor plan, designed by award-winning architect Kimberly Ackert and her team at Ackert Architecture with a stunning wine bottle lighting installation by lighting designer Derek Porter. Try the poached chicken paired with a bottle of the Mendocino region's 2018 Donkey & Goat Filigreen Farm Pinot Gris Ramato; a natural wine that is dry and intensely floral orange with notes of cranberry and grapefruit.
Location - 587 Manhattan Ave, Brooklyn, NY 11222
Timings -
5 pm to 10 pm (Tuesday to Sunday)
Closed on Monday

The Fly
Wine bar at The Fly, source: Instagram
A chicken restaurant on Classon Avenue in Brooklyn, NYC showing off a wide list of coastal and island wines like those by Carmelo Santana from the Canary Islands. The Fly's coastal wines pair impeccably with the array of chicken dishes on the menu. The wines are bright and mostly low ABV, so you can indulge in a few more glasses than usual.
Location - 549 Classon Ave, Brooklyn, NY 11238
Timings -
5 pm to 10 pm (Tuesday to Saturday)
Closed on Sunday and Monday
Frenchette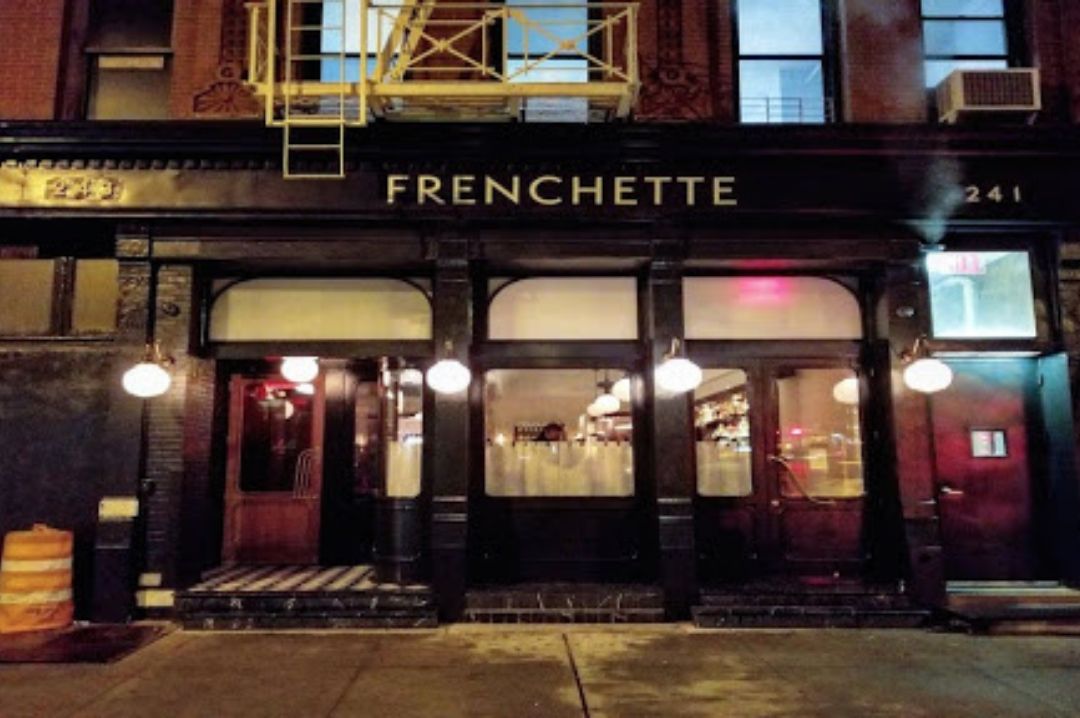 Frenchette, source: Jet Set Report
A contemporary bistro serving French standards, natural wines, and daily specials menu. Enjoy their rotisserie chicken served with drippings-soaked baguette slices and their impressive list of biodynamic, organic, and natural wines recommended by in-house sommelier Jorge Riera. Savor a bottle of Cuvee La Danseuse Vin de France which is made by Tony Bainbridge in France's Loire Valley. This is a pink, finely bubbled, naturally-bottled Methode Ancestrale Grolleau Noir, a local French grape.
Location - 241 W Broadway, New York, NY 10013
Timings -
12 pm to 8 pm (Tuesday to Saturday)
Closed on Sunday and Monday
The Four Horsemen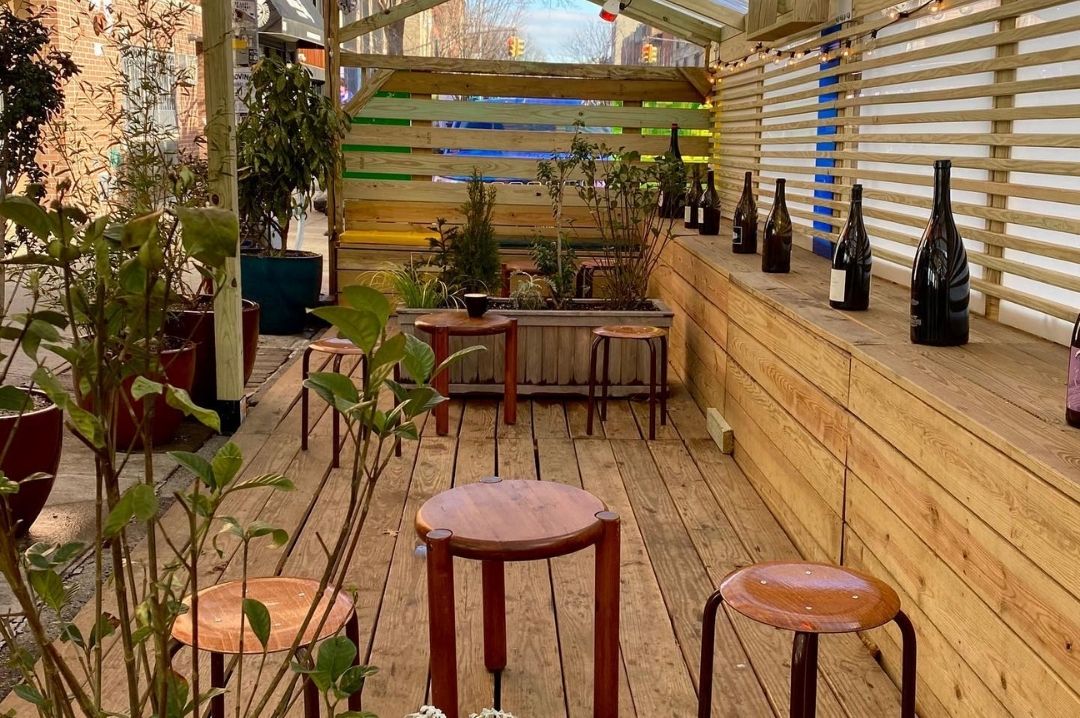 The Four Horsemen, source: Facebook
A natural wine bar and restaurant known to be the closest thing Brooklyn has to an authentic European wine bar. The Four Horsemen is mainly famous for being co-owned by LCD Soundsystem frontman James Murphy. Wine Director and partner at the bar, Justin Chearno's favorite wine of the moment is Judith Beck's Bambule, a pinot noir from Gols in Burgenland, Austria. The wine is praised for having a lot of fresh raspberry and cherry with secondary notes of tar, oak, toast and yeast. If you pop by during lunch time, then be sure to try the fresh sesame burrata. It will keep you licking your fingers all day.
Location - 295 Grand St, Brooklyn, NY 11211
Timings -
5 pm to 10 pm (Monday to Thursday)
11 am to 10 pm (Friday to Sunday)
Glou + Glick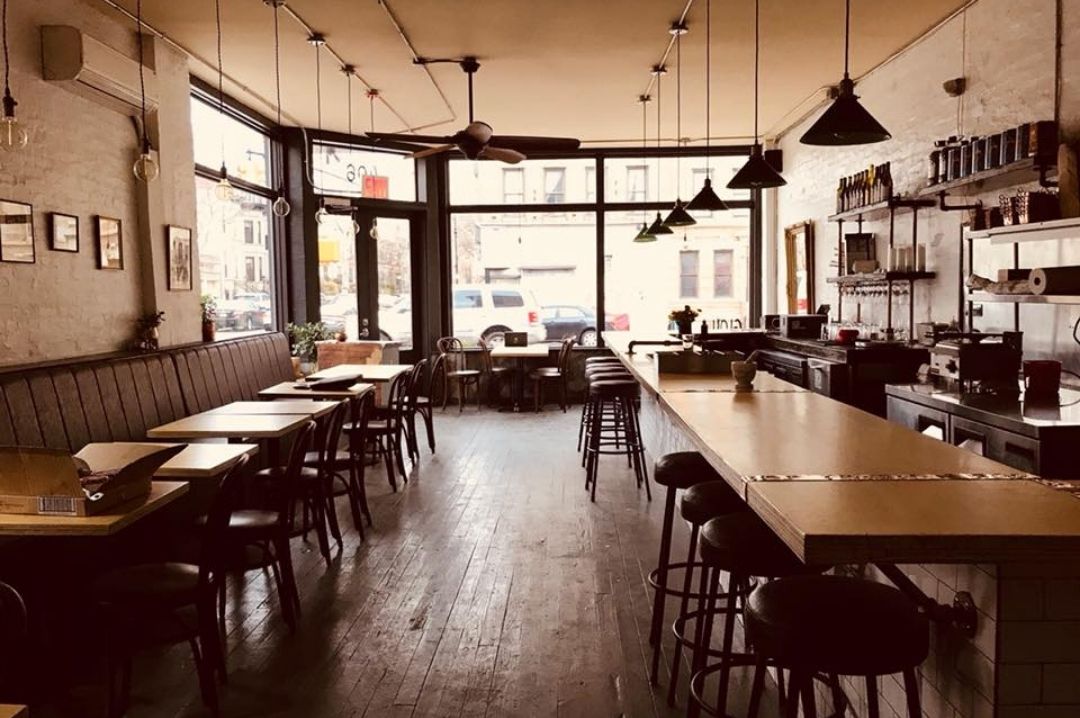 Glou Wine Bar, source: Facebook
Glou + Glick is a great neighborhood wine bar located east of Prospect Park. The name Glou came from the term "glouglou" for wines that are extremely drinkable. The focus of the bar is mostly on French natural wines like La Grange Tiphaine Trinque âmes Sauvignon, which the team describes as a green grass, white chalk, lemon alum, ruby red grapefruit pith. Pair this bottle with dishes like escargot or the lamb terrine. Glou also offers plenty of pours from $9 to $12 per glass for your enjoyment. Fun fact, they don't actually have a written wine list. However, there are many bottles displayed around the place for you to choose from. We recommend asking the sommelier for a top-notch wine.
Location - 406 Rogers Ave, Brooklyn, NY 11225
Timings -
12 pm to 8 pm (Tuesday to Saturday)
Closed on Monday and Sunday
June Wine Bar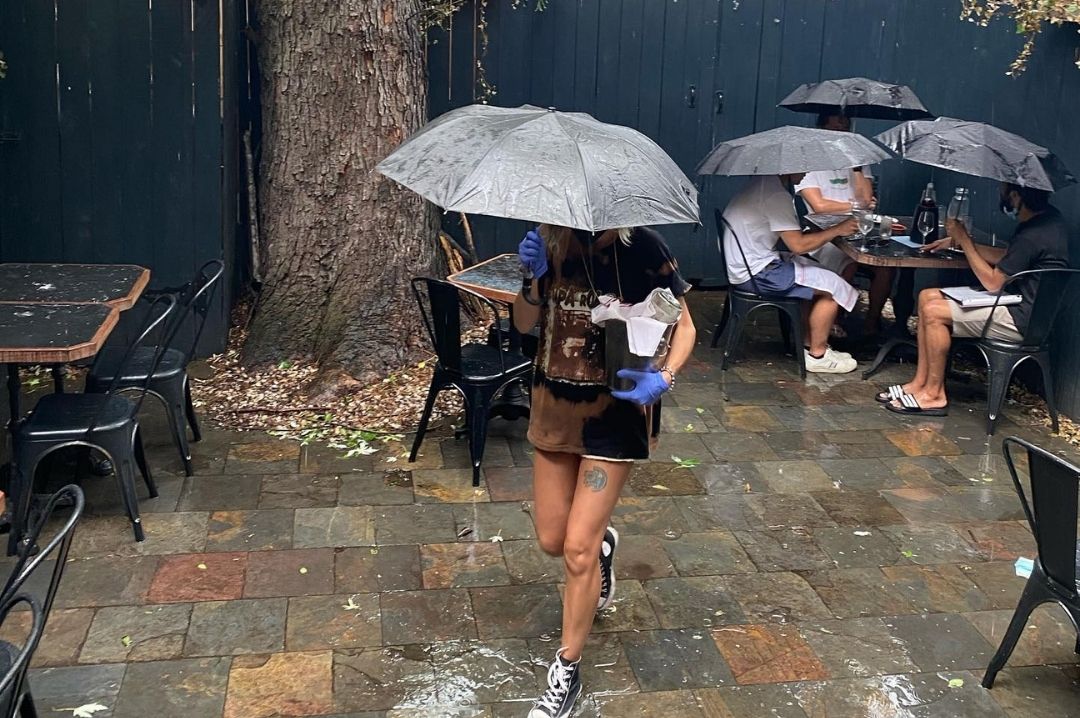 June Wine Bar, source: Facebook
This cozy charmer specializes in European natural wine and locally sourced dishes. We love the asparagus tempura. Enjoy your pours at its long marble bar, comfy booths, or back patio when the sun's out. The La Grange De L'oncle Charles Alsace Field Blend, a top-tier recommendation by Lena Mattson, is offered by the glass, quartino, or bottle. You can also sign up for their wine club, where the bar will send you a selection of bottles every week for $60 only.
Location - 231 Court St, Brooklyn, NY 11201
Timings -
3 pm to 10 pm (Monday to Friday)
2 pm to 10 pm (Saturday and Sunday)

Header Image, June Wine Bar, source: Facebook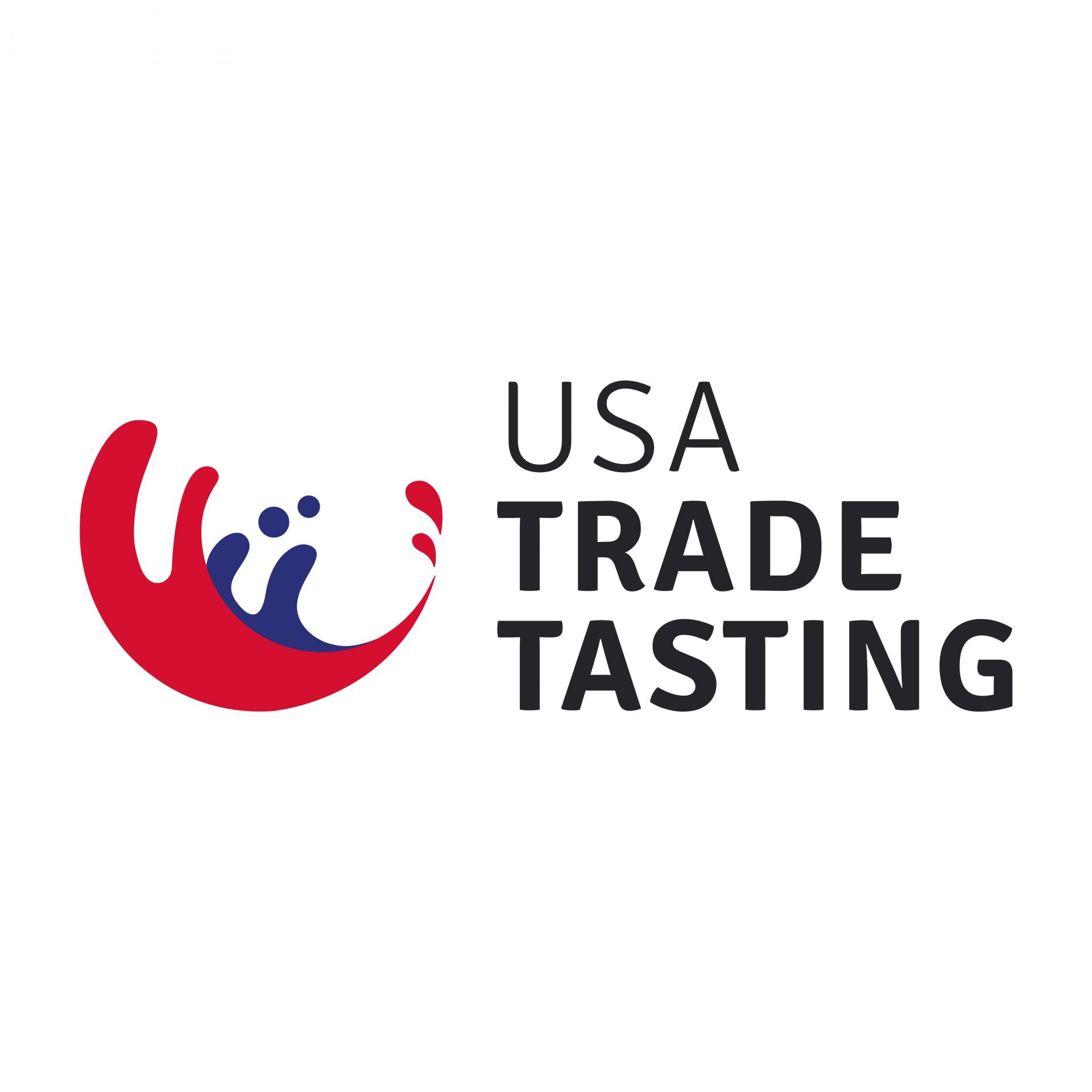 Morgan MFG, 401 N Morgan St Suite #204A, Chicago IL 60642
Register Now
South San Francisco Conference Center, 255 South Airport Boulevard, South San Francisco, CA 94080, United States.
Register Now
South San Francisco Conference Center, 255 South Airport Boulevard, South San Francisco, CA 94080, United States
Register Now