New York's finest zero ABV drinking spots
Refresh yourself with chilled coolers, sodas, and mocktails as you take one off from the alcohol night-outs in New York.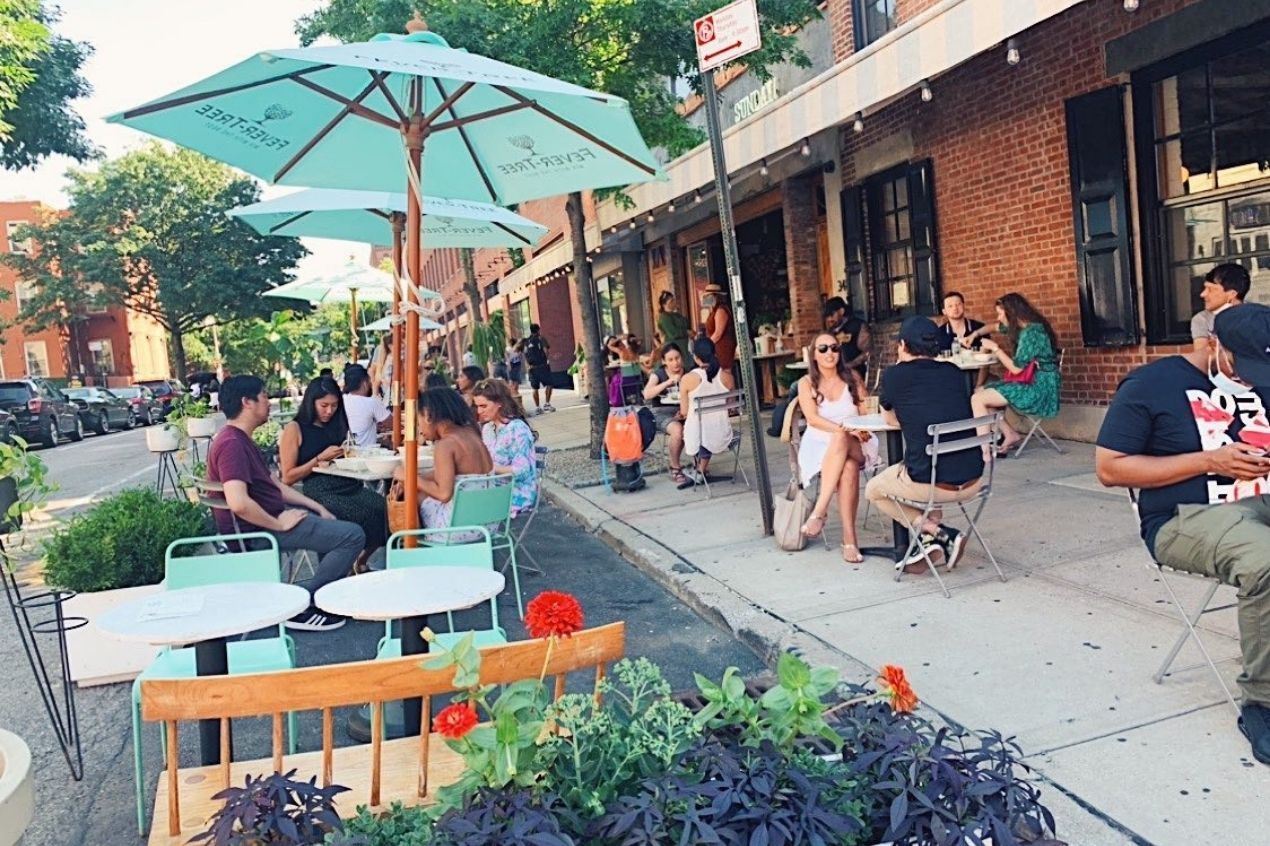 While New York boasts of lush cocktail dens, it is also home to some mouth-watering non-alcoholic cocktails that are rising high with the tide. From alcohol-free bars to those offering a mix of both (alcohol and non-alcoholic cocktails), we have scouted the best places to quench your mocktail thirst in the big apple.
Sunday in Brooklyn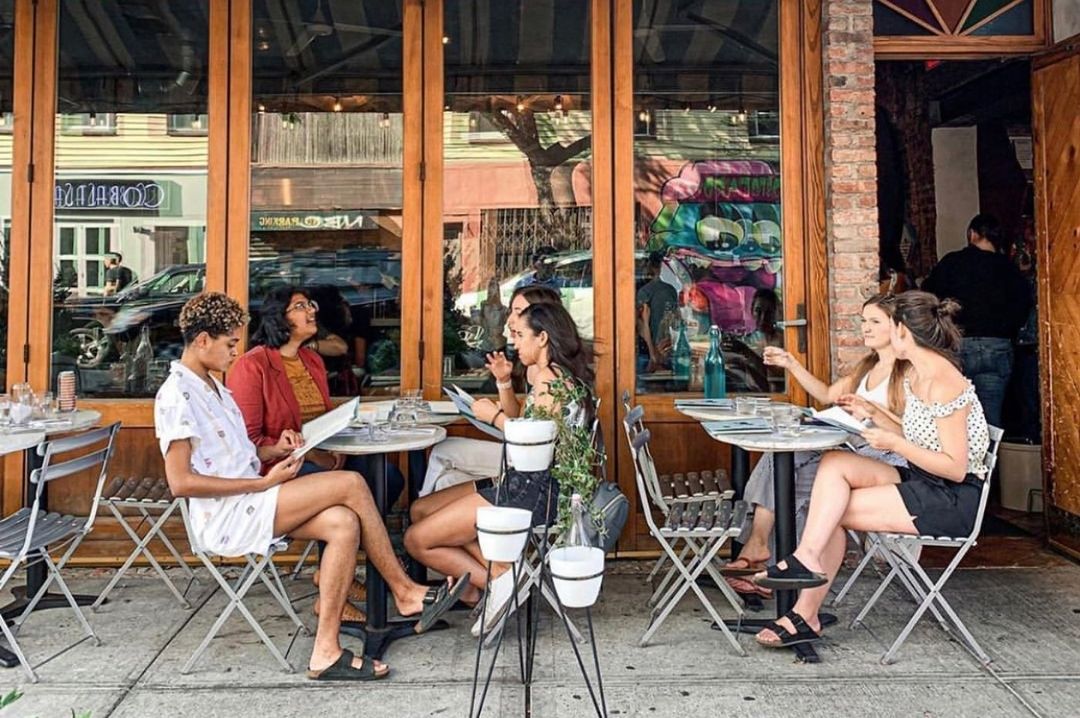 Sunday in Brooklyn outdoor patio, Source: Facebook
With a separate menu for brunch and dinner cocktails, Sunday in Brooklyn is an ideal spot to laze on a sunny afternoon. Their zero-proof cocktails are crafty additions to the American-style diner menu.
Try your hands on the Mango Daisy made with Seedlip Grove, mango, pomegranate, lime, and tajin salt for a tropical punch. If you are looking for something more fruity, then the Strawberry Buck made with Ritual Whiskey Alternative, strawberry, soy, ginger, and lemon is the one to go.
Find a spot at the three-story rustic space, accommodating seating options on the rooftop garden, outdoor patio, and private dining rooms. The non-alcoholic Green Apple Margarita and Poppy Mai Tai are among other zero-proof cocktails available at the bar.
Happy hours - 3.30 pm to 7 pm.
Location - 348 Wythe Ave, Brooklyn, NY 11249.
Timings - 10 am to 3.30 pm, 5 pm to 10 pm (Sunday to Thursday)
10 am to 3.30 pm, 5 pm to 11 pm (Friday to Saturday)
The Fat Radish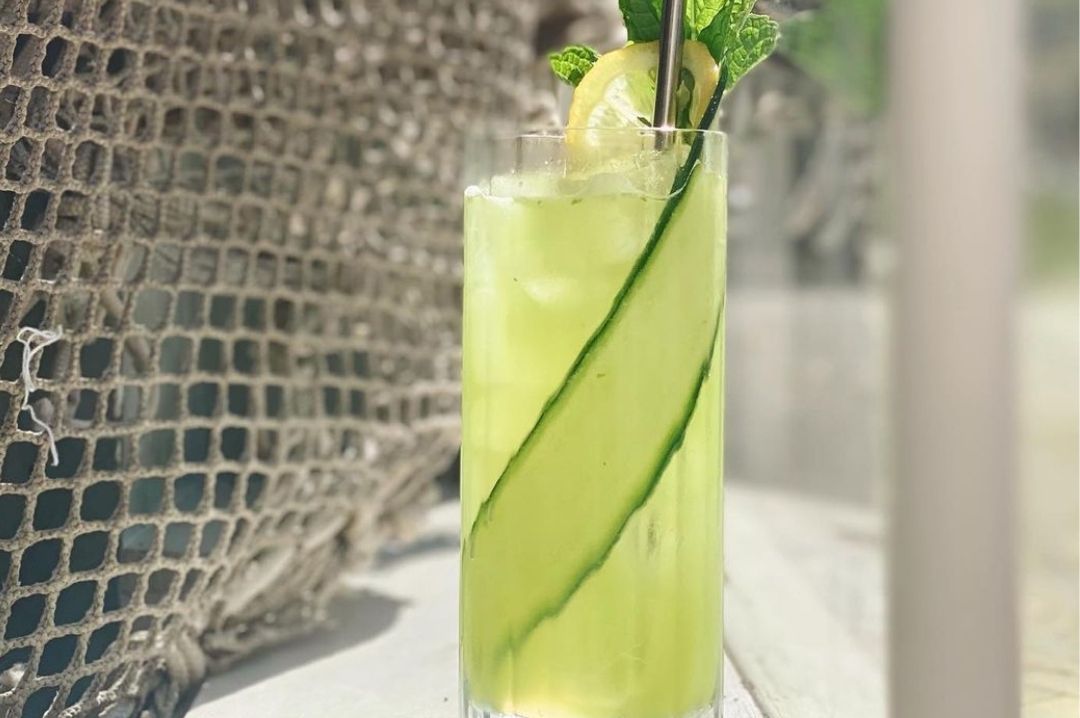 Garden Oasis non-alcoholic cocktail, Source: Instagram
Catering to veggie lovers with solid cocktails and plant-based dishes, The Fat Radish has been in business on the Lower East Side for more than a decade. Choose from a list of non-alcoholic cocktails concocted from non-alcoholic spirits company, Seedlip's range. You will get a taste of this spirit in three different flavors that are used in making house drinks such as the Garden Oasis, Cranberry Fizz, and Honey Pear Cooler. As you sip on the refreshment in the pop-out brick interior walls sitting on one of the wooden chairs, a range of dishes are sure to catch your eye from salads, duck fat fries, sandwiches, burgers, and more.
Location - 17 Orchard St, New York, NY 10002.
Timings - 5.30 pm to 10 pm (Sunday to Tuesday)
5.30 pm to 11 pm (Wednesday to Saturday)
Listen Bar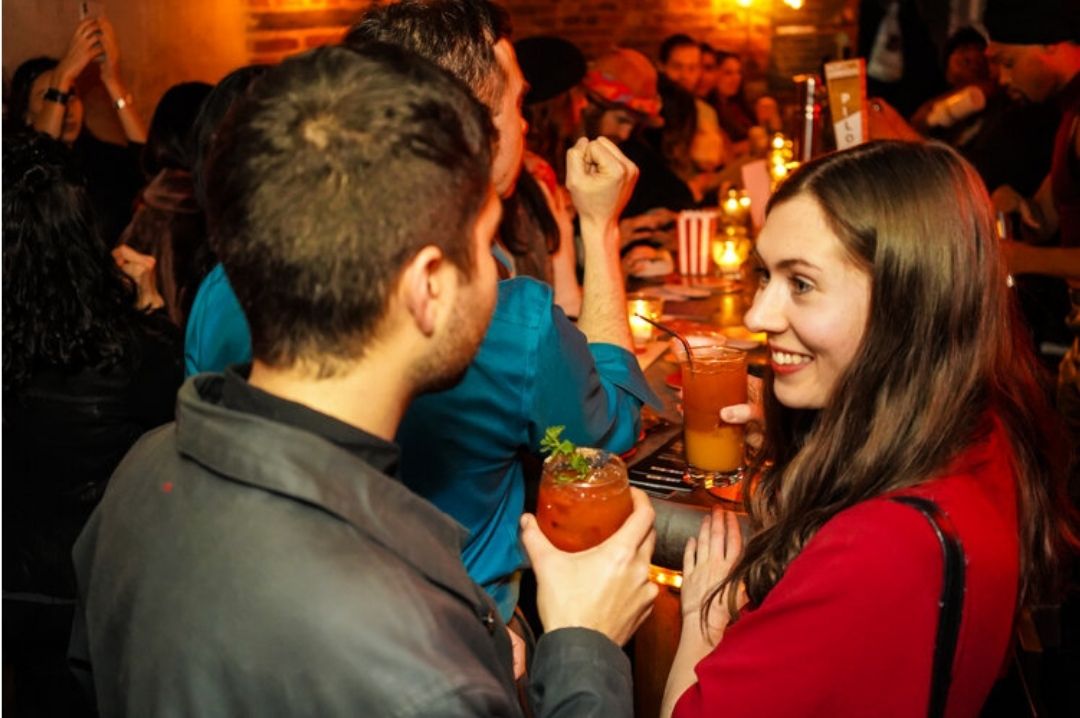 Listen Bar, Source: Website
Visiting this highly acclaimed alcohol-free bar is a no-brainer if you are looking to have a fun night in New York. To rewrite nightlife without alcohol, founder Lorelei Bandrovschi opened doors of Listen Bar where music artists can bartend and play their music in the background. The most notable highlight of the bar is Snoop Dog asking to get a drink named after himself.
Listen Bar takes multiple factors into accounts such as the nutritional value of the drinks, fun and freaky events like dominatrix lessons, sex toy truth or dare, speed dating, daredevil wheel of fortune, and more. Diverting attention to their drinks menu, non-alcoholic cocktails like the Dollar Slice, Spicy Titties, Ghost Me Maybe, She Pretty, Actual Sunshine, and Me, A Houseplant run the show at the bar.
Apart from all these activities, the bar hosts monthly booze-free events, alcohol-free cocktail courses, and private virtual parties. Despite being AF (Alcohol-Free), the bar's two-third footfall comprises booze drinkers who can also choose some exciting options like the hot Good Cuddle and the frozen CoCo Matcha.
Location - 3 Bleecker St, New York, NY 10012.
Timings - 4 pm to 2.30 am (Monday to Sunday)
Getaway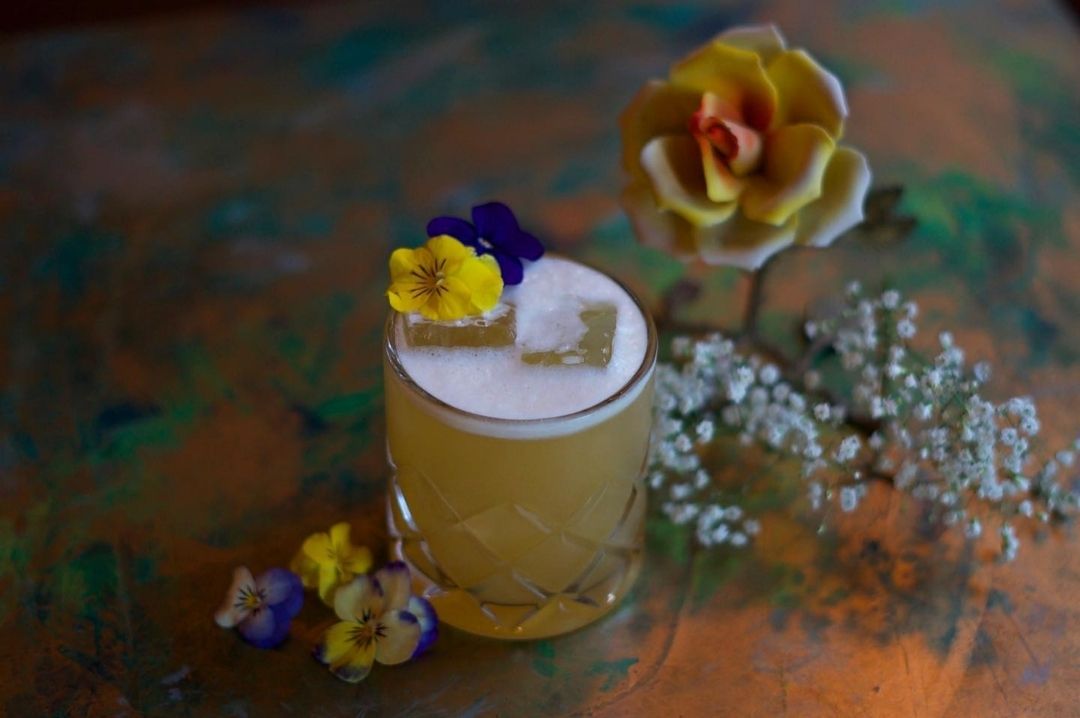 Autumn in New York non-alcoholic seasonal cocktail, Source: Facebook
Whether you are having a hangover or looking to avoid one, Getaway is the spot the hit in New York for some coffee or non-alcoholic drink varieties. With non-alcoholic beers, wine, and spirits, the bar in Greenpoint welcomes zero ABV drinkers of all kinds. Choose from their range of soft drinks such as the Miracle Seltzer, Bruce Cost Ginger Ale, Abita Root Beer, Tarta Sweet Balsamic, and Lagunitas Hop Seltzer. Endow yourself in the simple yet lavish interiors as they serve everything 0% ABV. Make sure you catch seasonal non-alcoholic cocktails that spring to life such as the Autumn in New York with the ever-changing seasons.
Happy hours - 5 pm to 7 pm (Tuesday to Friday)
Location - 158 Green St, Brooklyn, NY 11222.
Timings - 7.30 am to 2 pm (Monday to Thursday)
7.30 am to 10 pm (Friday to Sunday)
The Dead Rabbit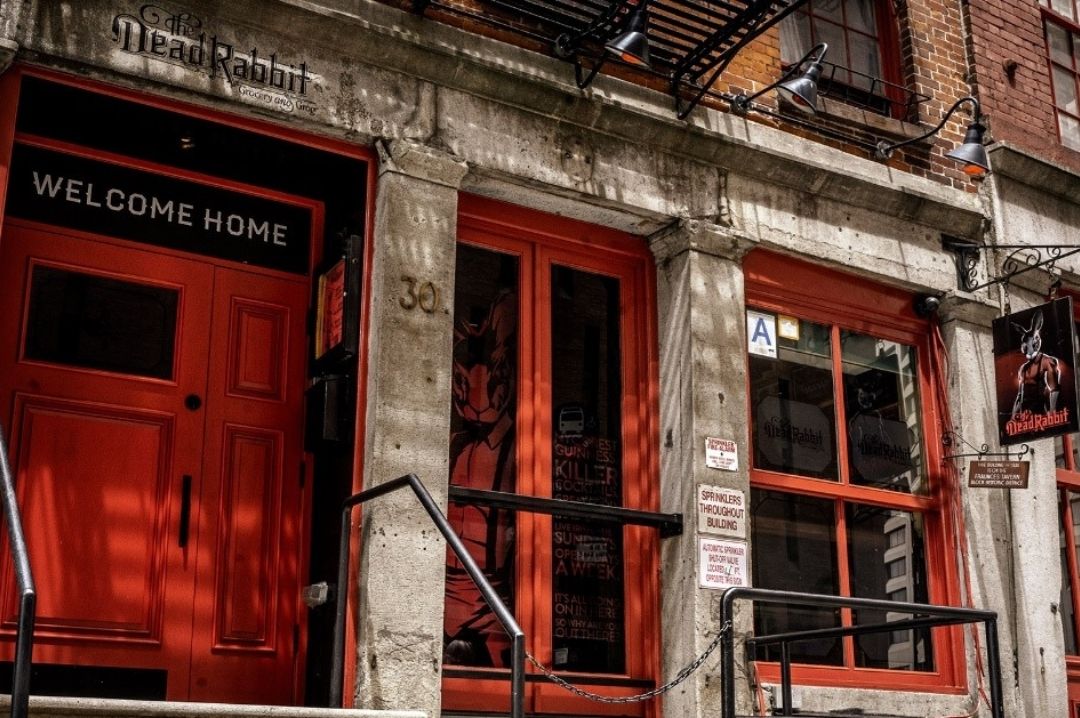 The Dead Rabbit entrance, Source: Facebook
Twice named bar of the year, The Dead Rabbit is a cocktail-making den with excellent wooden furnishings, photo frames hanging on the walls, a well-organized taproom on the ground level, and a cocktail parlor on the second floor.
Aside from its awe-inspiring cocktail menu, the bar has a bunch of non-alcoholic cocktails such as the Death Warmed Up made with apple cider, butternut squash, spiced butter, and quince. TLC, Quite the Contrary, and virgin Irish coffee sum up the non-ABV list. Having originated in 2012, The Dead Rabbit has hopped for success with the vision, determination, and hard work of Sean Muldoon and Jack McGarry.
Location - 30 Water St, New York, NY 10004.
Timings - 4 pm to 2 am (Monday to Thursday)
4 pm to 3 am (Friday)
12 pm to 3 am (Saturday)
12 pm to 2 am (Sunday)
abcV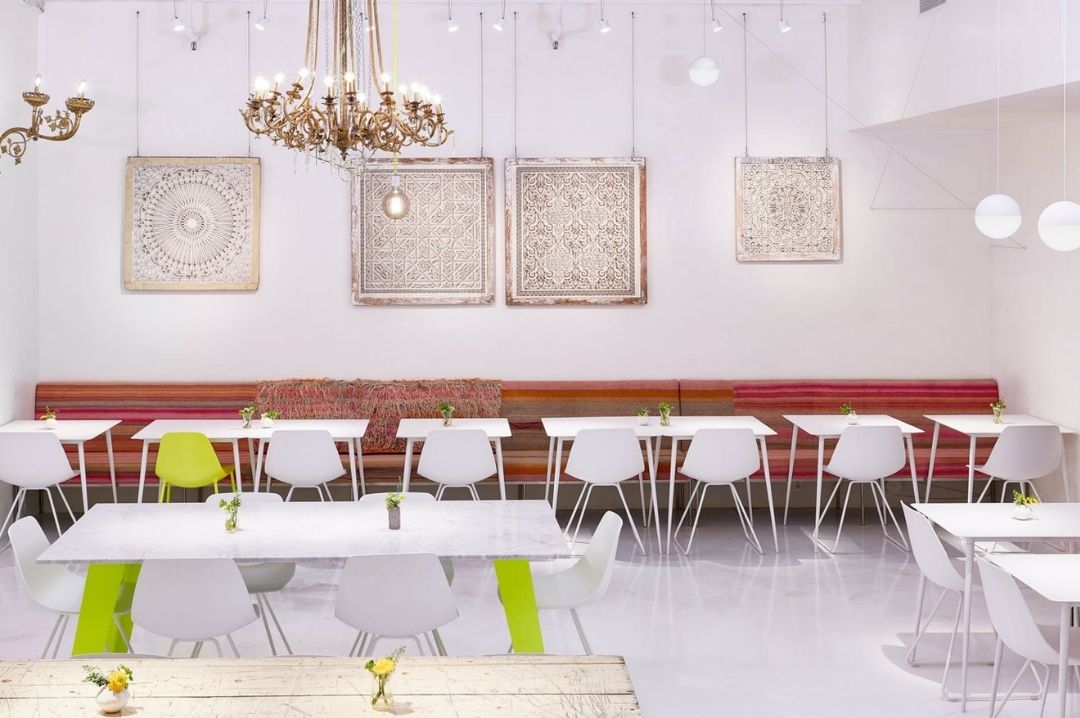 abcV, Source: Website
Running on housemade sodas, tonics, and syrups, abcV uses an organic approach to make bee pollen shakes, juices, and elixirs. The red (beet, strawberry, and honey crisp apple) and green (kale, cucumber, spinach, celery, and lemon) juices lead the line for freshly squeezed beverages, while the Kin Spritz non-alcoholic cocktail made with Rhodiola, hibiscus, and citrus makes way for booze-free cocktails. If you are looking for something light and fizzy, lemon-thyme and ginger lime soda will do the trick. Other healthy soft beverage options include apple cider and organic young Thai coconut water.
Location - 38 E 19th St, New York, NY 10003.
Timings - 12 pm to 3 pm, 5 pm to 10 pm (Monday to Friday)
11 am to 3 pm, 5 pm to 10 am (Saturday to Sunday)
The Orchard Townhouse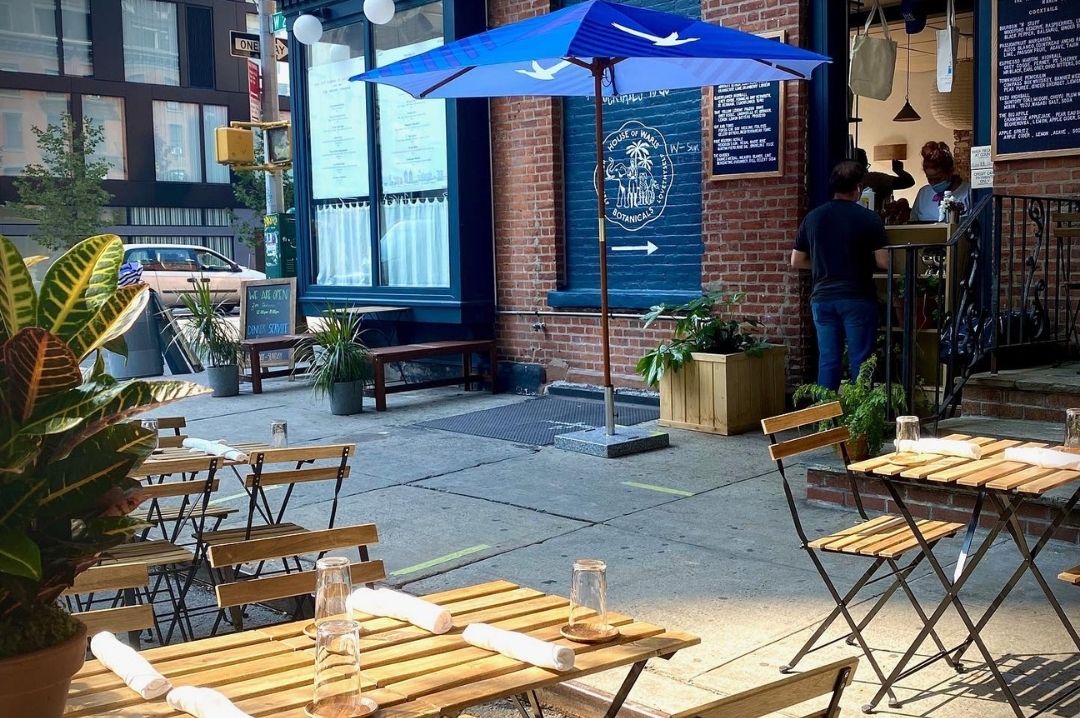 The Orchard Townhouse, Source: Facebook
Sitting right behind The Fat Radish, The Orchard Townhouse is another AF drinks hotspot in New York City. Featuring vegetable-based dishes and simple takes on classics, the four-story townhouse will treat you with refreshers like the Cucumber Cooler made with Seedlip Garden, cucumber, saline, salt, and pressed lime.
Try the Sparkling Citrus Punch made with house-made grenadine, lemon, and sparkling water for a shot of freshness, or you can go for one of the Fever-Tree sodas. The Turmeric Tonic and Mandarin Spritz are great options while abstaining from high-proof spirits at the wooden bar topped with marble.
Location - 242 10th Ave, New York, NY 10001.
Timings - Closed (Sunday to Monday)
12 pm to 10 pm (Tuesday to Saturday)
Header image - Sunday in Brooklyn, Source: Facebook
South San Francisco Conference Center, 255 South Airport Boulevard, South San Francisco, CA 94080, United States
Register Now
South San Francisco Conference Center, 255 South Airport Boulevard, South San Francisco, CA 94080, United States
Register Now