Enjoy these Unique Takes on the Classic Negroni in NYC
Eager to experience new twists on the classic Negroni? Visit these 5 restaurants in New York City this Negroni special week that can fulfill your wish!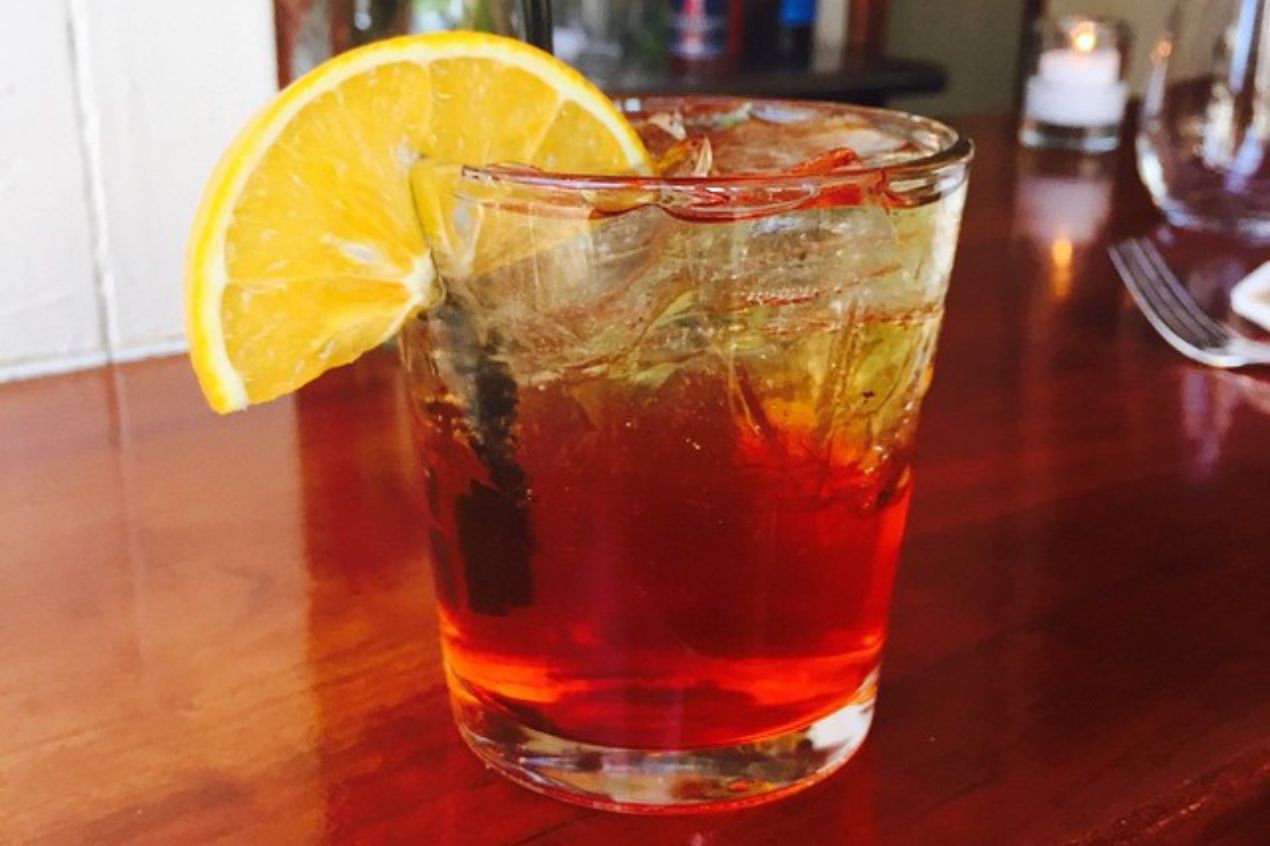 This coming week is all about the Negroni! Move over Margaritas, say goodbye to Aperol Spritz, and bid farewell to Sex on the Beach. Today Negroni has become the new Gin Martini! It has found its successful way into the New York City cocktail culture, unlike any other drink. So, why not mark the beginning of fall with a Negroni tasting trip around the city in honor of Negroni Week, which runs from September 12th through September 18th?
Grab your girlfriends for happy hour and enjoy the most innovative twists on this American classic in the city's bars and restaurants.
Dagon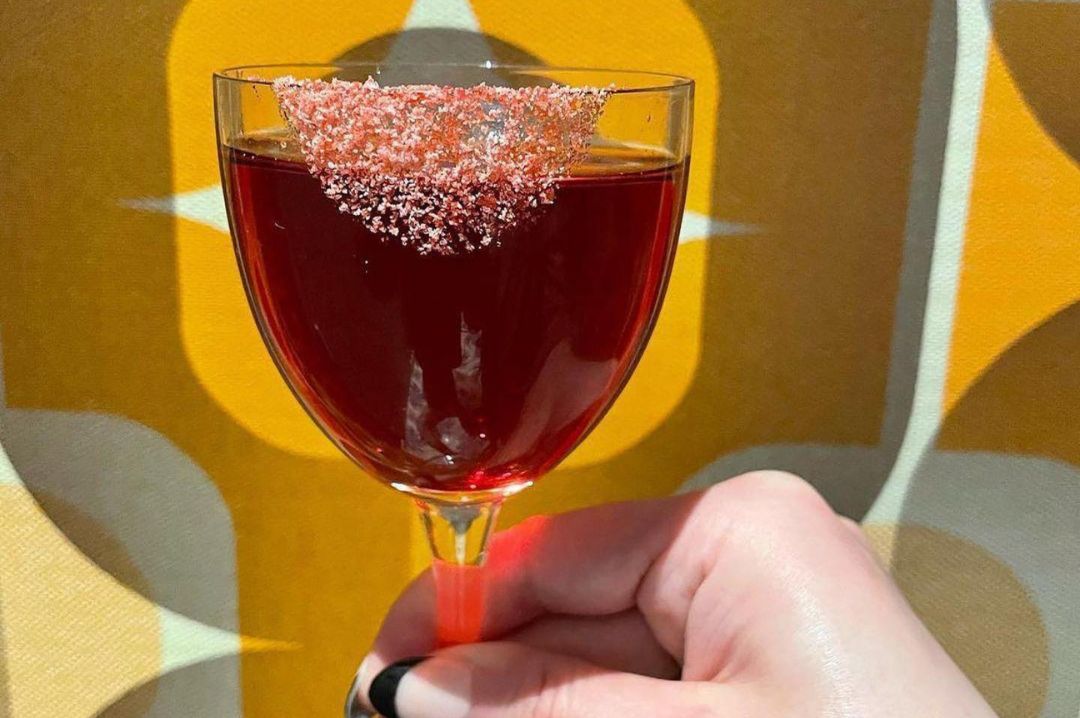 Image Source- Dagon
Dagon's PERSIANegroni, a twist on America's favorite cocktail, is blended with gin, Dolin Rouge, and poignant pomegranate. The Negroni is served in a Nick and Nora martini glass. This amazing flavorful Negroni is breaking all the rules. You might get many haters who will criticize the presentation as it defeats the purpose of calling it Negroni, but in the city that never sleeps, there are no high-end rules. To balance the intense flavors, Campari dust is applied to the glass rim.
Address:
2454 Broadway
New York 10024
Contact:
(212) 873-2466
A.R.T Soho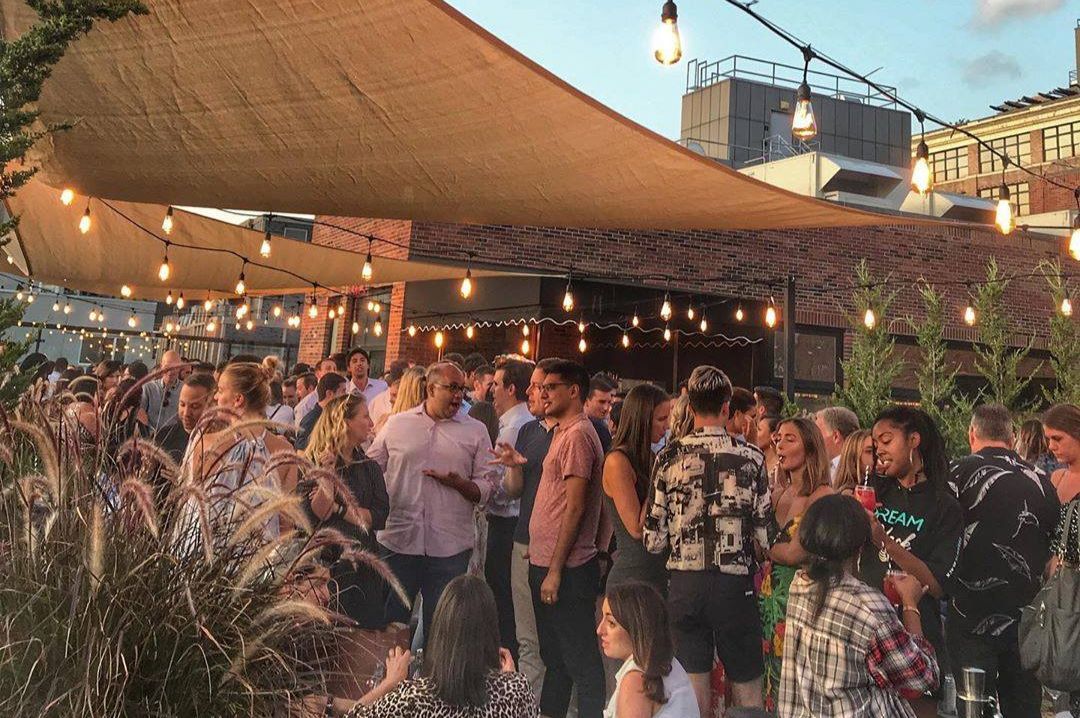 Image Source- Arlo Soho
A tropical Negroni that swiftly whisks you away to St. Barths' beaches? Count me in! The Strawberry Negroni from A.R.T SoHo is a vacation in a glass. It uses Bombay Sapphire gin and Campari. This strawberry-infused twist on the classic Negroni adds a beautiful layer of summer flavor that contrasts amazingly with the bitter, citrusy bite of Campari. To give the drink a rich and complex sweetness the gin is mixed with Balsamic, Martini & Rossi Rosso, and strawberry. The combination allows the gin and strawberry flavors to shine making it a smooth cocktail. This beverage will motivate you to take an additional "treat yourself" day because it is garnished with strawberries.
A strawberry infusion is an ideal method to soften the bitterness and make the strong Campari flavor a little more approachable if you are new to Negroni. But, this fruit-forward riff will be enjoyed even by seasoned Negroni lovers and those who already love Campari!
Address:
231 Hudson Street
New York, NY 10013
Contact:
212.342.7000
Little Owl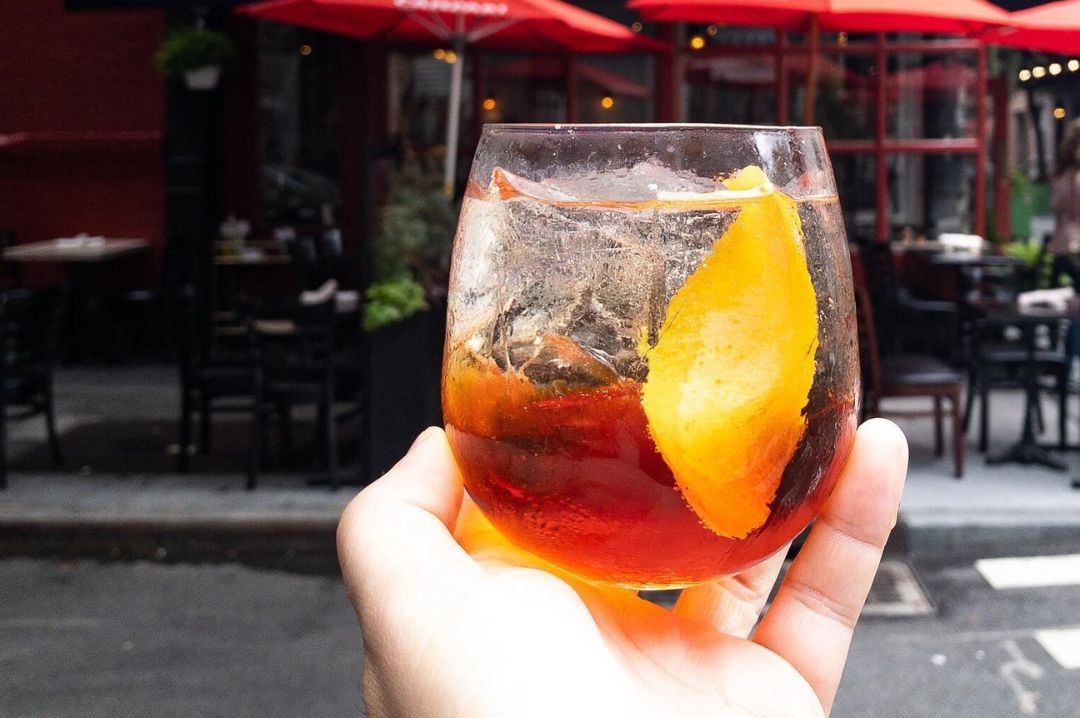 Image Source- Little Owl
You can say that Sparkling Negroni can be the baby of an Aperol Spritz and a Negroni. Damn, would it be basic- Just Kidding! Little Owl transforms the traditional Negroni into an Aperol Spritz by mixing Prosecco with Cappelletti, Vermouth di Torino, and orange. The finished product is amazingly light and perfect for relishing the last few days of summer.
Address:
90 Bedford St.
New York 10014
Contact:
212-741-4695
Arlo Midtown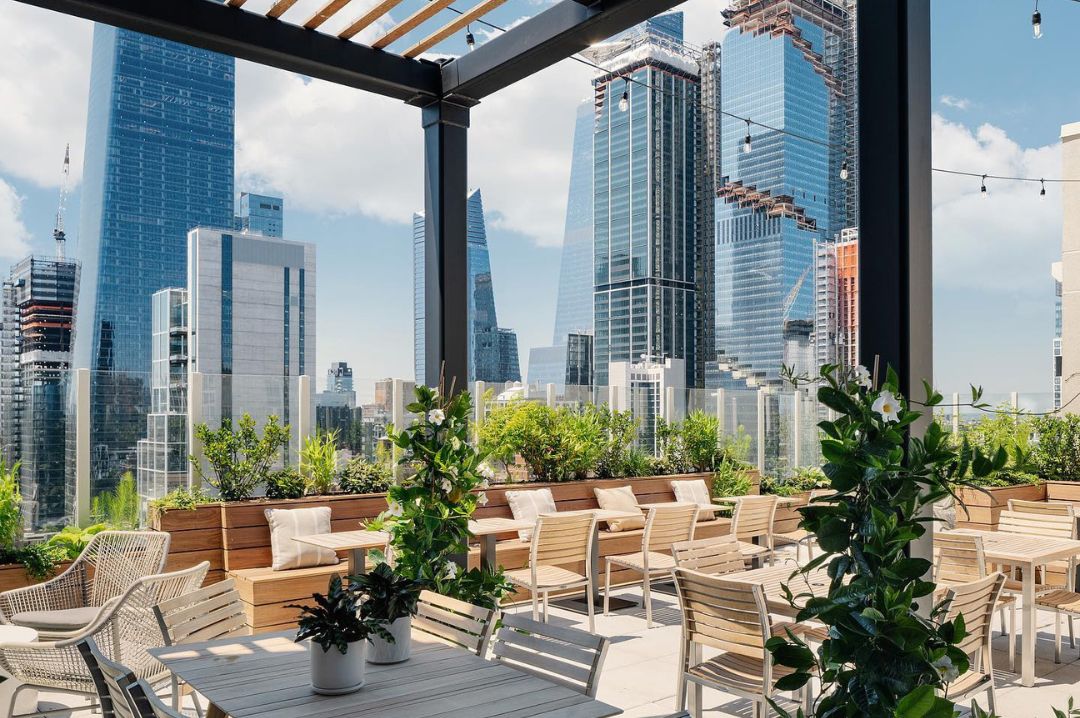 Image Source- Nearly Ninth NYC
If you are a fan of tradition and does not like the twist in your drink then Nearly Ninth is the place for you. You can enjoy their perfect classic Negroni along with their other classic cocktails. The drink is made with Bombay Sapphire gin, M&R bitters, and Dolin rouge vermouth. The botanicals in the Bombay Sapphire create a complex harmony in the mouth along with the vermouth giving it a sweet taste. The M&R gives the drink a zesty flavor making it more delicious. This classic Negroni will definitely offer you a true New York experience.
Address:
351 W 38th Street
New York 10018-2914
Contact:
212.343.7000
Lucciola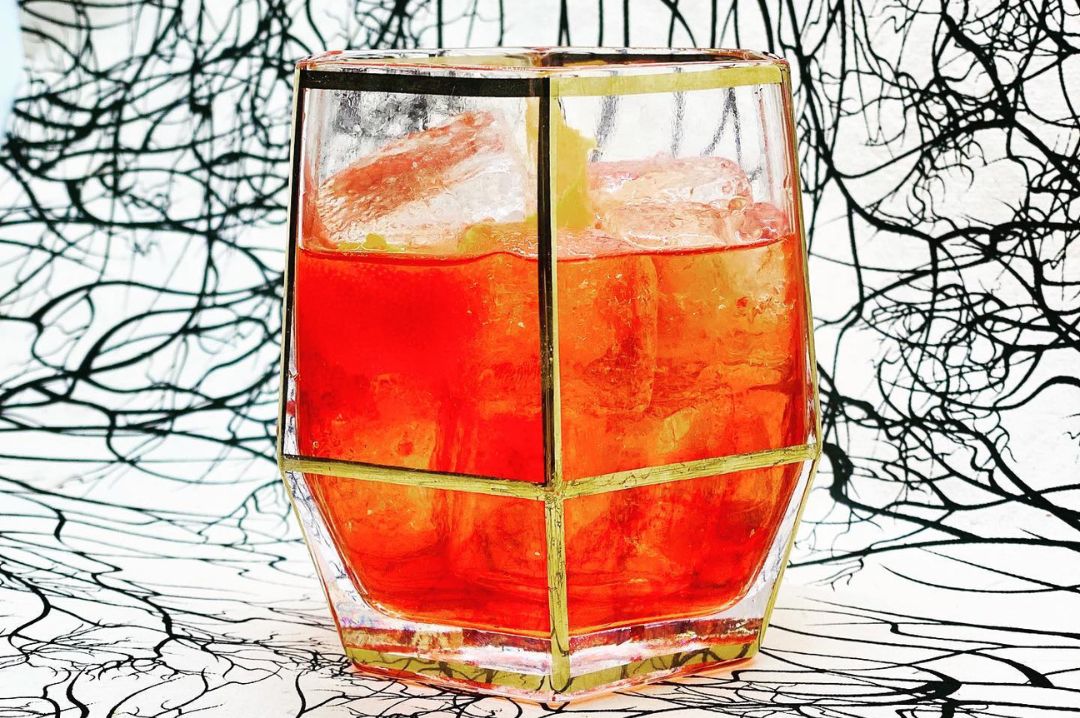 Image Source- Lucciola
The Negroni served by Lucciola is unlike any other Negroni that you have drunk or heard of before! The Lucciola Negroni might sound a bit intimidating but you cannot deny the fact that we won't mind a bit of cheese with our booze. Lucciola's version of Negroni mixes every item necessary for the classic drink with a Parmigiano Reggiano. You can be a bit skeptical about the drink but don't worry the cheese is only dusted on the rim and slightly shaved on the top. You can experience the salty, sweet, bitter, and savory taste of the drink in just one sip, along with an explosion of umami notes.
Address:
621 Amsterdam Ave
New York 10024
Contact:
(347) 536-1335
Written by Aparna Dutta, Beverage Trade Network
Header Image Source : Little Owl
South San Francisco Conference Center, 255 South Airport Boulevard, South San Francisco, CA 94080, United States.
Register Now
South San Francisco Conference Center, 255 South Airport Boulevard, South San Francisco, CA 94080, United States
Register Now