Explore Williamsburg's Best Bars & Restaurants
Set foot in Williamsburg's best bars that are worthy of your time.
Williamsburg bars are responsible for the bulk of Brooklyn's glittering drinking scene. Whether your goal is to hop out for a casual drink, indulge in a party scene, or enjoy a date night, Williamsburg has you covered. From bustling beer gardens to elegant tap houses and honky-tonks, get your friends together to hit up one of these bars.
Fresh Kills Bar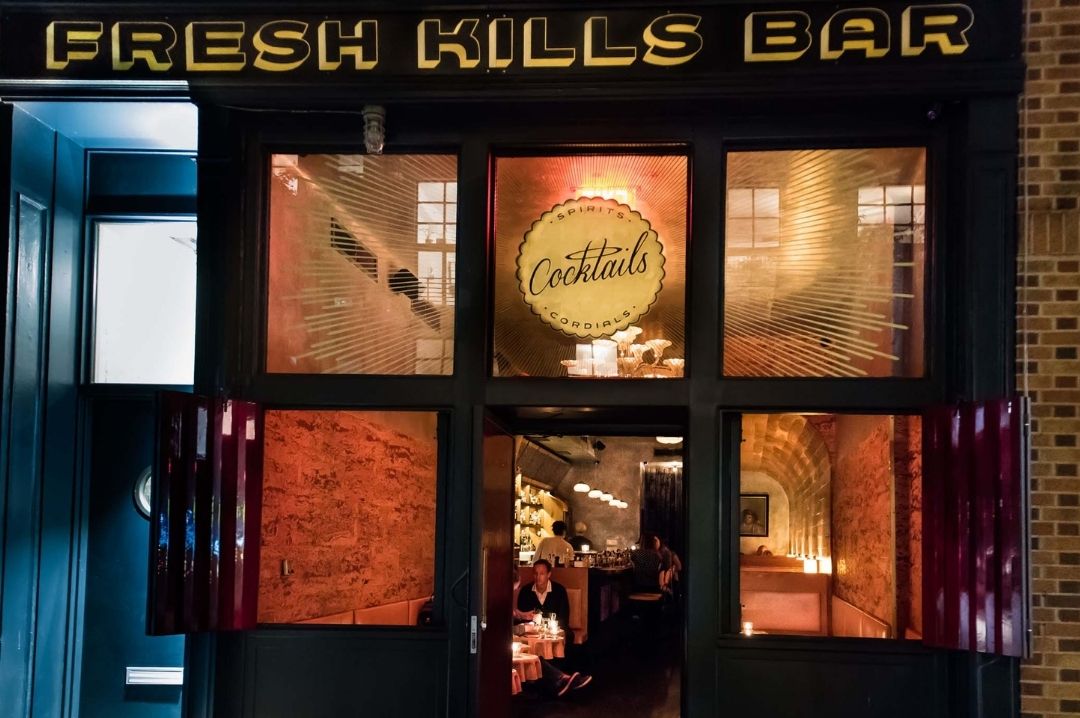 Front of Fresh Kills Bar, Source: Website
For all the cocktail lovers in the house, Fresh Kills Bar is just for you. The bar serves you expertly crafted cocktails with fresh ingredients, housemade syrups, hand-cut ice, and quality booze. Fresh Kills runs a great happy hour on a daily basis with $10 cocktails and $5 wine. Pop in for a refreshing Queen's Park Swizzle, Water Lily or any one of their other signature drinks. You'll have to taste it to know what's in it.
Happy Hours - Daily (5 pm - 7 pm)
Where - 161 Grand St, Brooklyn, NY 11249, United States.
Hours - Mon - Fri (5 pm-2 am)
Sat-Sun (2 pm - 2 am)
Rocka Rolla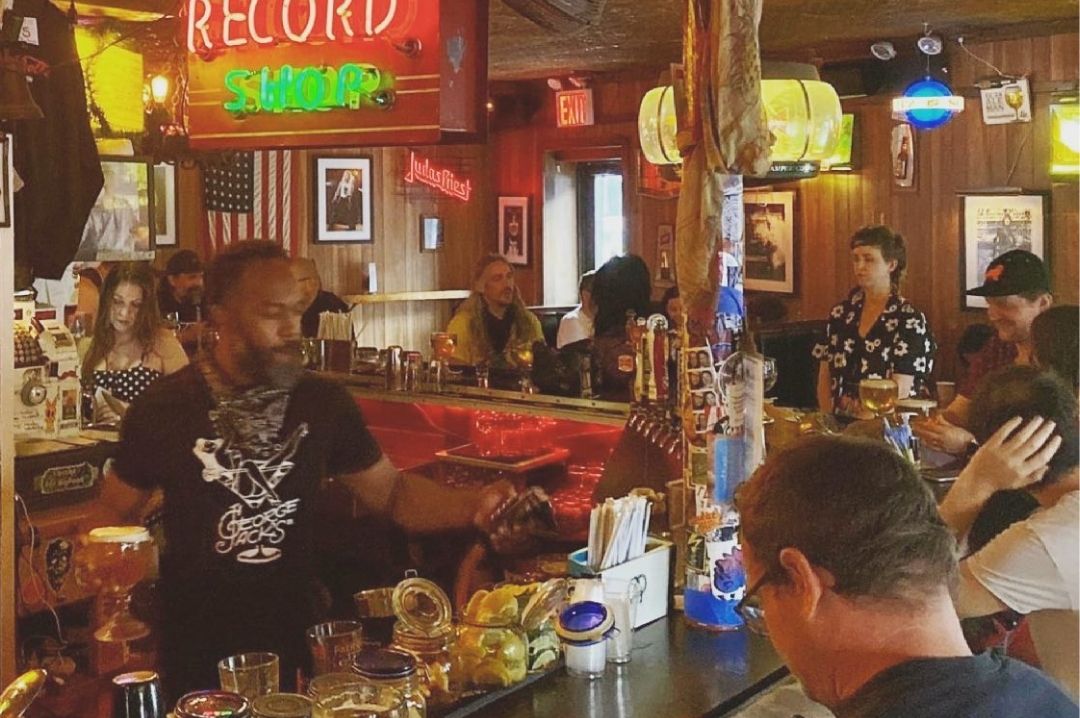 Bartender serving patrons at Rocka Rolla, Source: Facebook
Rocka Rolla is a rock 'n' roll themed bar and has all the fun parts of a dive bar. Listen to Judas Priest while drinking from their giant beer goblets. Given the large space, backyard, and pool table, it is also a great spot to roll through with a group. If this doesn't convince you, then hold on, the place offers a hard-rocking joint with jukebox tunes, old-school signs, pinball & outdoor grill grub too. Rocks Rolla is recommended for everyone who likes hard-rock, heavy-metal and cheap beers.
Where - 486 Metropolitan Ave, Brooklyn, NY 11211, United States.
Hours - Mon-Sun (12 pm - 4 am)
Ainslie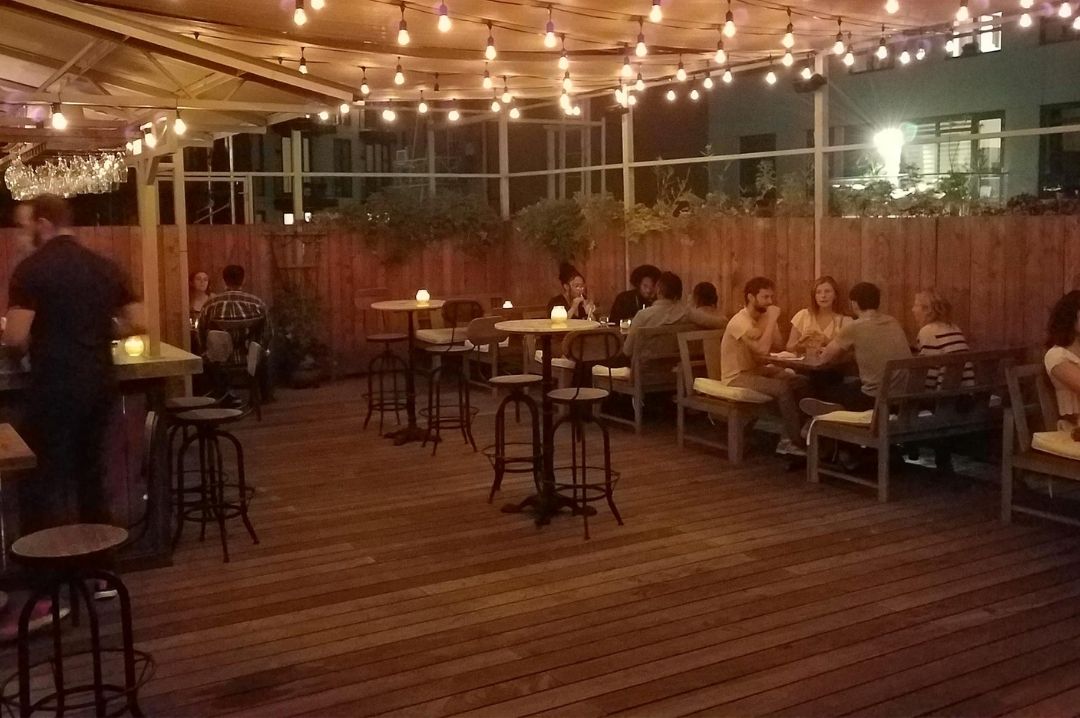 The rooftop bar at Ainslie, Source: Website
With The Michelin New Plate Award 2021 for Good Cooking, Ainslie offers delicious Italian-American dishes, an extensive drinks list, and a vibrant atmosphere on three levels of indoor and outdoor dining which includes a wine bar, 70-seater beer garden, heated sidewalk cafe and a roof deck bar along with some light music. The drink list features hand-crafted cocktails and mocktails, 20 wines by the glass-like Dr. Loosen (Riesling) 2021's Wine of the Year by Sommeliers Choice Awards, Chateau Guilhem (Merlot) and 16 rotating craft beers like Forst Italian Lager, Stella Belgian Pilsner and many more. Walk-in with your friends or family and enjoy the spirited vibe with their very own signature house cocktail, the Ding Ding Ding, made with mezcal, poblano, pineapple, acai, hibiscus, and lime.
Where - 76 Ainslie St, Brooklyn, NY 11211, United States.
Hours - Mon - Thu (5 pm - 11 pm)
Friday (4 pm - 12 am)
Saturday (11 am - 12 am)
Sunday (11 am - 10 pm)
Sunday Brunch (11 am - 4 pm)
Lucky Dog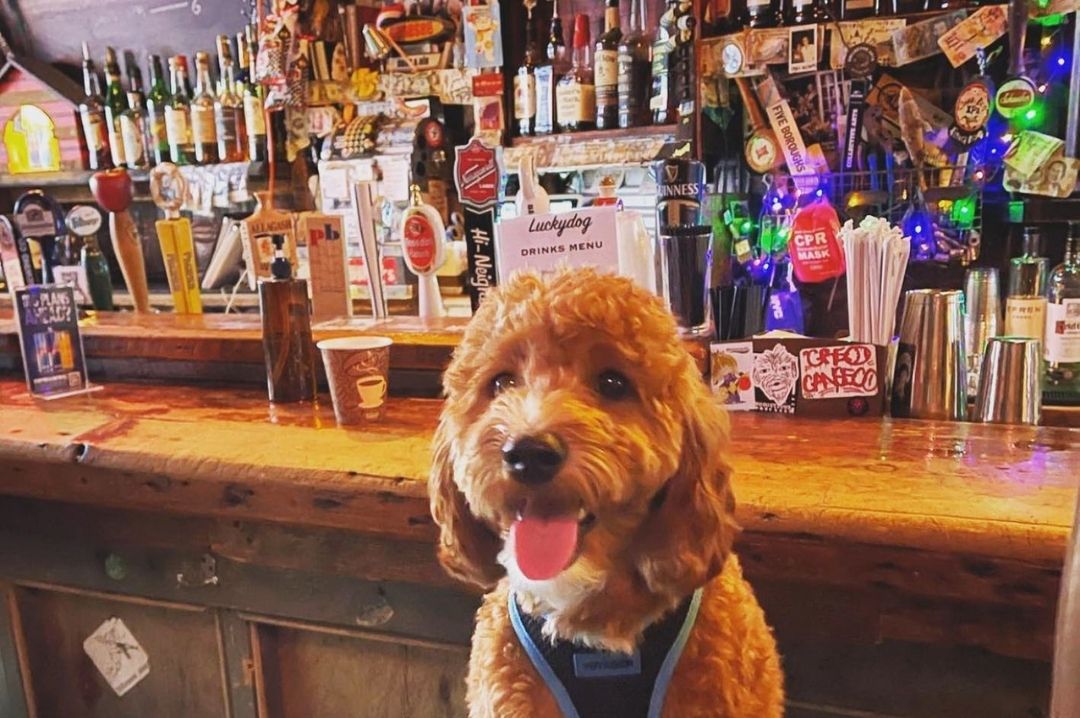 Doggo at Lucky Dog's Bar counter, Source: Facebook
Lucky Dog is a dive bar on Bedford Ave where you'll pretty much always see a canine. It isn't just a name, you may actually bring in your furry friends with you. The place offers 20 beers on tap including Allagash and Ommegang, and a full bar that keeps customers happy, while dogs hop off-leash in the brick-tiled courtyard. Space is tight inside, but a jukebox spinning classics by Bob Dylan and George Jones and a long shuffleboard table offer comfort. Most people just come here for the good beer selection, the nice backyard, pinball, and the laid-back vibes.
Where - 303 Bedford Ave, Brooklyn, NY 11211, United States.
Hours - Mon-Sun (12 pm - 4 am)
The Woods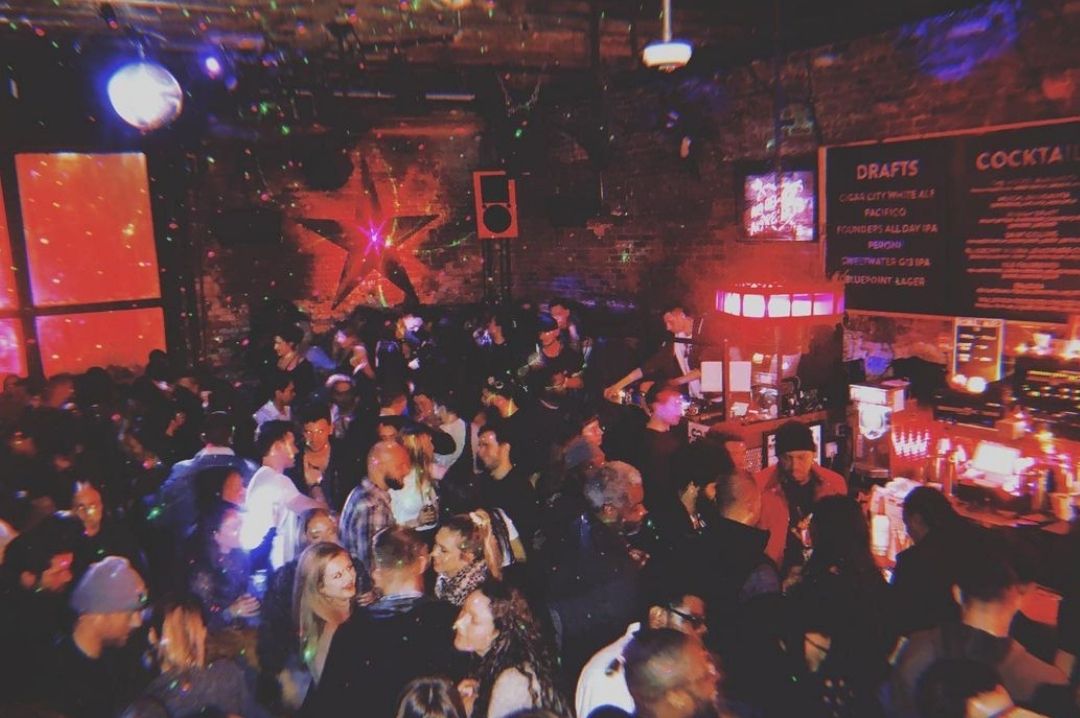 Crowd gathering at The Woods, Source: Instagram
If all you want to do is drink something relatively cheap and dance with someone you just met, The Woods is here for you. Come for their happy hours where they offer $5 Margaritas plus music you can dance to in a dedicated space. The site has a big backyard where you will usually find a taco truck parked. Walk-in with your friends, grab a table and eat some delicious tacos, burritos and down it with a glass of beer of course!
Where - 48 S 4th St, Brooklyn, NY 11211, United States.
Hours - Mon - Tue (Closed)
Wed - Fri (4 pm - 4 am)
Saturday (1 pm - 4 am)
Sunday (2 pm - 12 am)
Happy Hour - daily till 8 pm
Night Of Joy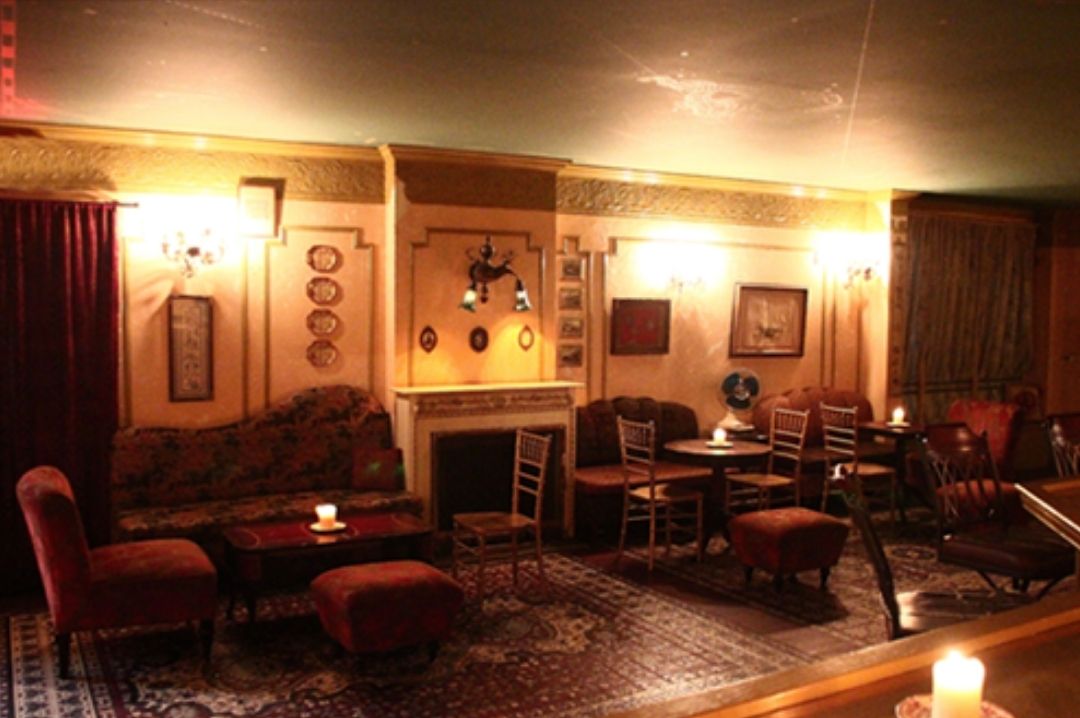 Sitting area inside The Night of Joy, Source: Website
The Night of Joy brings all the comfort and cosiness of your living room to its sitting spaces. This bi-level taphouse offers a Victorian vibe with laid-back boozing, throw pillows and an antique-looking lounge. They have well-priced, simple cocktails like a citrusy orange-blossom lemonade with rum which feature herbs and house-infused spirits. The Night of Joy also has a roof patio that opens seasonally in spring, summer and fall. Pop in for some fresh lime frozen margaritas in assorted flavours, beers like Sixpoint and Kronenbourg, and organic French wines.
Where - 667 Lorimer St, Brooklyn, NY 11211, United States.
Hours - Mon - Tue (Closed)
Wed - Thu (5 pm - 2 am)
Fri - Sat (5 pm - 4 am)
Sunday (5 pm-2 am)
Ba'sik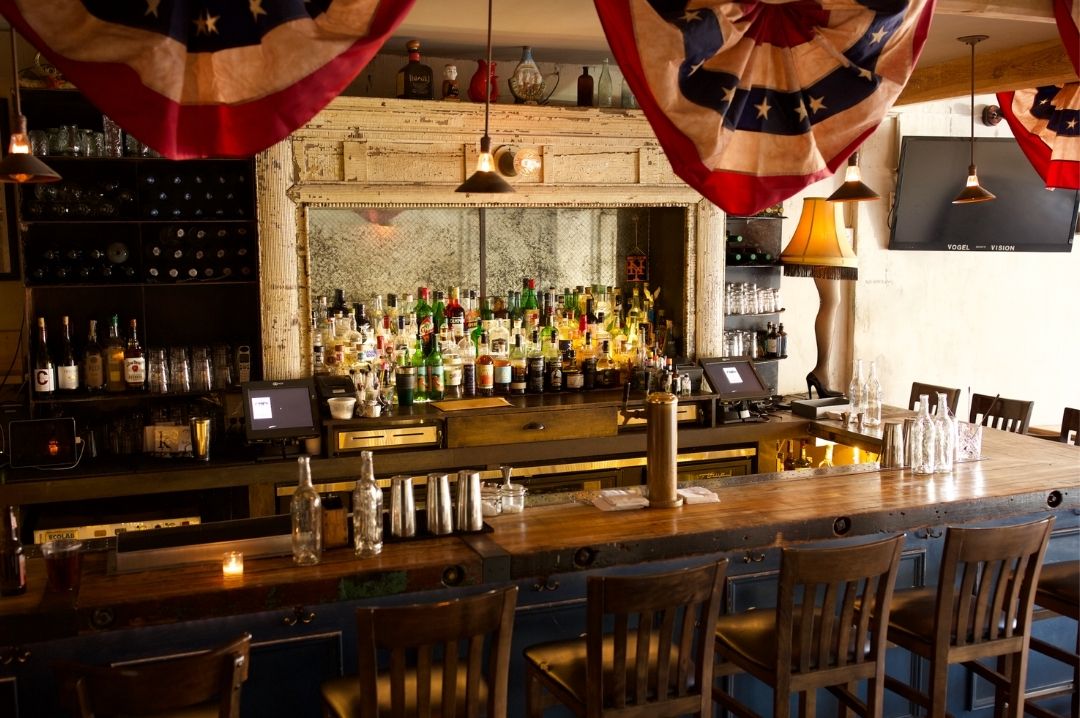 Bar counter at Ba'sik, Source: Website
Ba'sik, a Williamsburg bar that marks the "back to basics" concept. The public house creates an atmosphere that makes it a welcoming neighbourhood option for drinks, a light yet satisfying meal or a late-night snack. The place has a small bar with a minimalist design but a surprising selection of fizzy cocktails like Poppa's Pride (bourbon, mint, lemon, ginger, soda, bitters), Holy Water (tequila, serrano pepper, lime, soda), Disco Rodeo (vodka, watermelon, agave nectar, lime, salt), and many more. Munch on a kale salad or a chilli dog or even a deviled duck egg out on the patio. And if it's warm outside, you may sit in the backyard. It's bigger than you expect and perfect for a first date.
Where - 323 Graham Ave, Brooklyn, NY 11211, United States.
Hours - Mon - Fri (5 pm - 12 am)
Sat-Sun (2 pm - 12 am)
The Commodore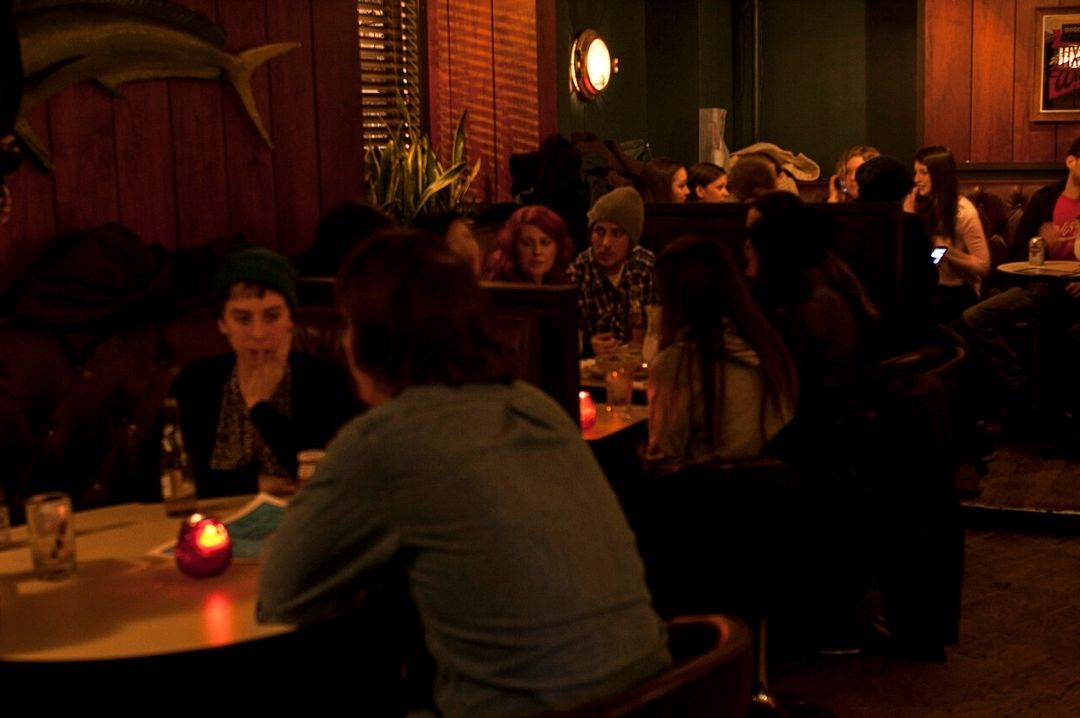 The Commodore, Source: Website
If you're wandering around Metropolitan Ave just head on over to The Commodore and enjoy sipping on their delicious Pina Coladas. This no-frills spot delivers strong drinks, salty food and a lively atmosphere that draws legions of fans. The kitchen churns out crispy, crackly fried chicken and pillowy biscuits with honey butter that pair well with your can of Schlitz.
Where - 366 Metropolitan Ave, Brooklyn, NY 11211, United States.
Hours - Mon-Sun (12 pm - 11 pm)
Skinny Dennis
Bar counter at Skinny Dennis, Source: Website
In the heart of Williamsburg, Brooklyn lies a honky-tonk themed bar Skinny Dennis. The bar features 18 draft beers like Brooklyn Lager, the classic Stella Artois, Sixpoint, and signature cocktails like One Pound Margarita, Tito's Lemonade and many more. They have great happy hour deals where they offer $1 off draughts & cans and $3 wells. Skinny Dennis has been home to some of the best live country and roots music, offering high-quality musical entertainment 7 nights a week. Take note of the little blue-and-white paper cups which people are carrying around, these contain the world-famous Willie's slushy, an alcoholic coffee beverage that does its rounds around the bar.
Happy Hours - Mon - Fri (noon - 7 pm)
Where - 152 Metropolitan Ave, Brooklyn, NY 11211, United States.
Hours - Mon-Sun (12 pm - 4 am)
St. Mazie Bar & Supper Club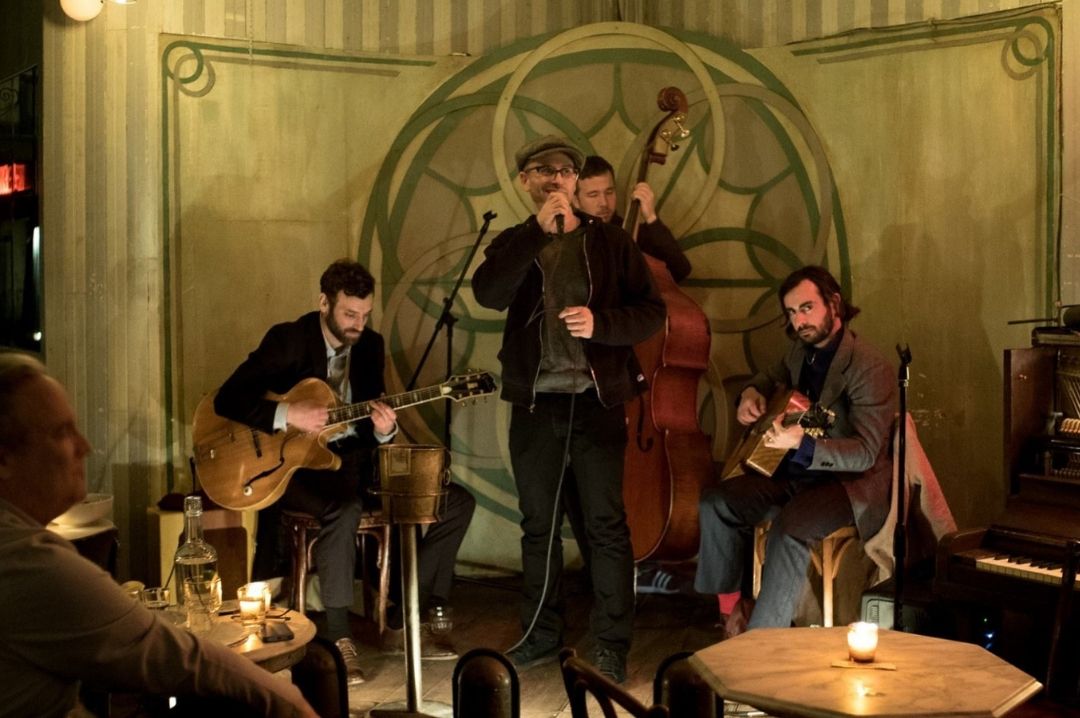 Live performance at St. Mazie's Jazz Bar, Source: Website
Wondering where you can get good food, live music and drinks? Pop into St. Mazie and be part of the action The public house features a weekly live music calendar where you can find your favourite artist for the night. The place is known for its live Jazz and restaurant bar. You can book the space for private events or large group parties too. If you are not into jazz then just walk into their back patio and enjoy oysters and inexpensive cocktails like The Brown Derby, The Gypsy, and many more.
Where - 345 Grand St, Brooklyn, NY 11211, United States.
Hours - Mon - Fri (6 pm - till late)
Sat & Sun (5 pm - till late)
Pokito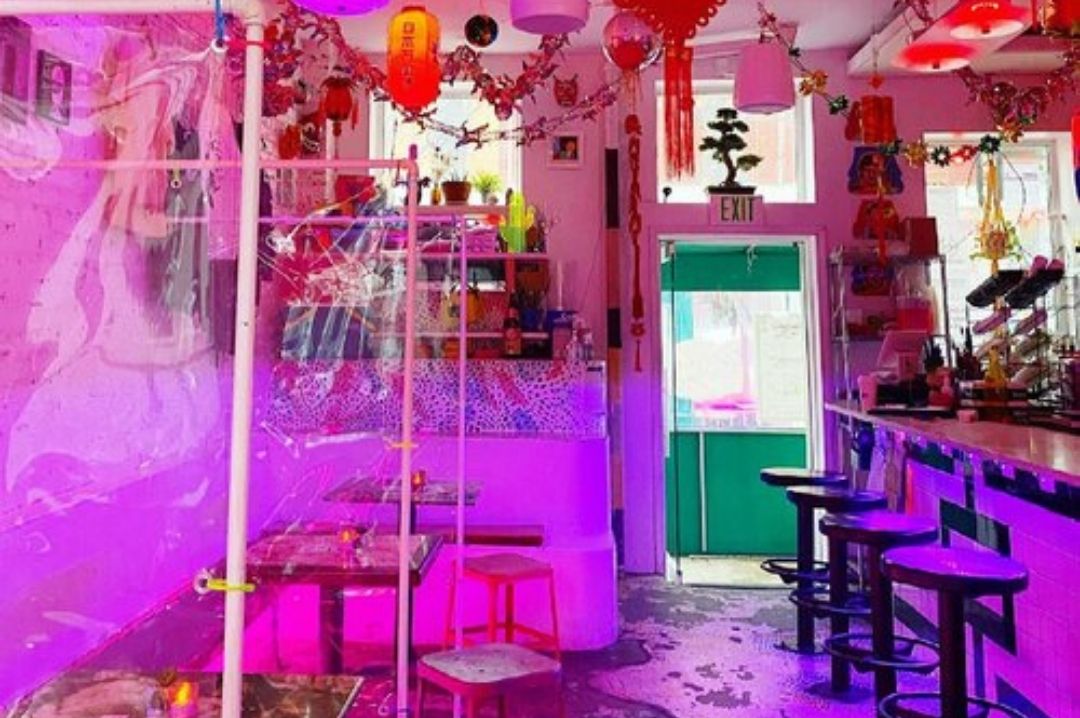 Inside patio at Pokito, Source: Website
Pokito is a small unassuming restaurant bar in South Williamsburg that is popularly known for its happy hours. During their happy hours, Pokito serves up $8 cocktails including the Muy Bueno (made of rye, ginger, lemon, honey, and orange bitters), the Rick Ross (made of Thai chilli infused tequila, pear, cinnamon, and lemon), and the Lolita (made with butterfly pea flower-infused vodka, lavender and lemon). Other happy hours deals include $2 off frozen cocktails, Sake for $8, Tecate for $4, and Mikkeller Raspberry Blush for $6 and many more such drinks. They have both indoor seating and an outdoor patio where you can hang out with your group and enjoy the drinks.
Happy Hours - Wed-Fri (5 pm -7 pm)
Where - 155 S 4th St, Brooklyn, NY 11211, United States
Hours - Wed - Fri (5 pm- 2 am)
Saturday (2 pm - 2 am)
Sunday (2 pm - 12 am)
Header Image: Luckydog Bar, source: Facebook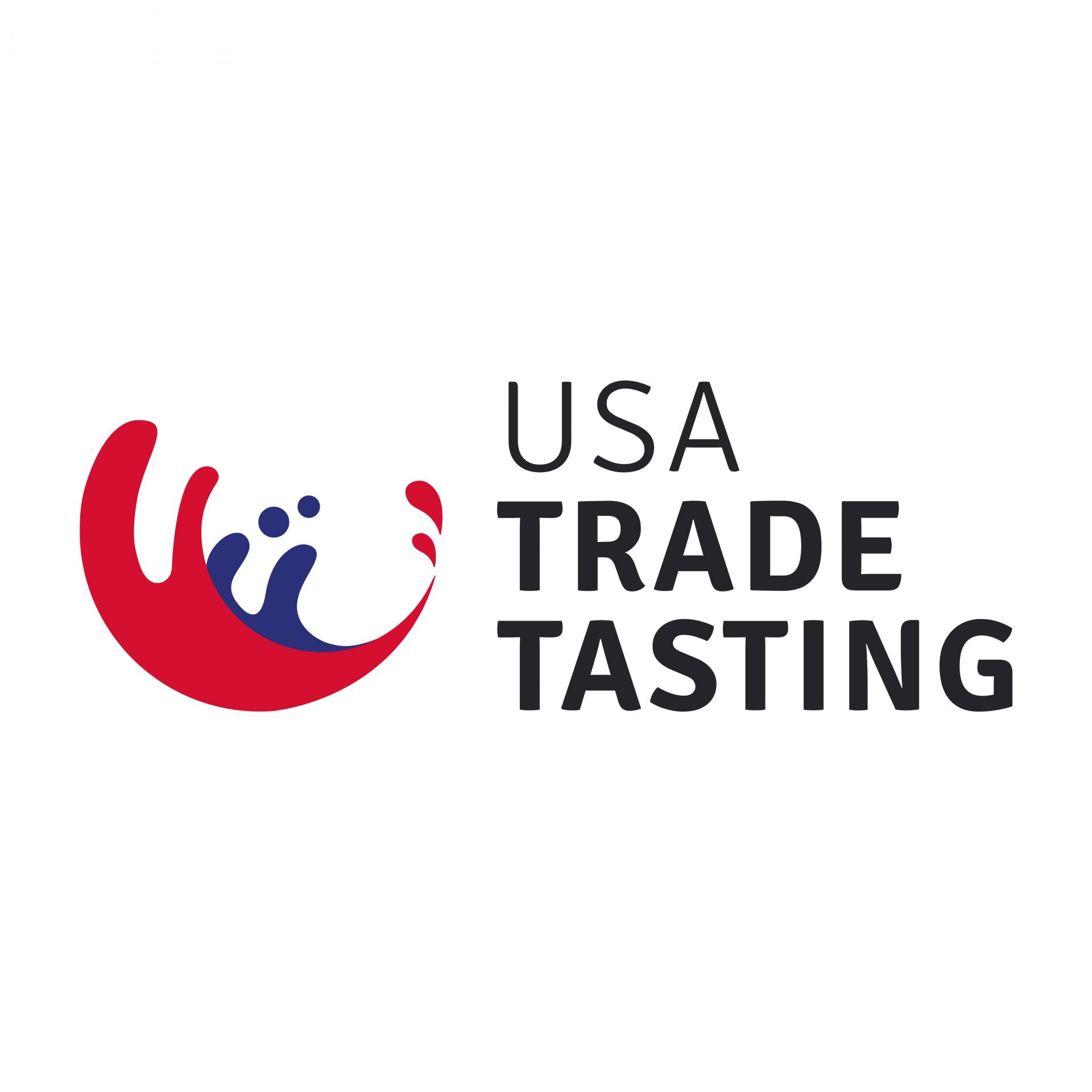 Morgan MFG, 401 N Morgan St Suite #204A, Chicago IL 60642
Register Now
South San Francisco Conference Center, 255 South Airport Boulevard, South San Francisco, CA 94080, United States.
Register Now
South San Francisco Conference Center, 255 South Airport Boulevard, South San Francisco, CA 94080, United States
Register Now