Hidden Cocktail Dens on the Lower East Side
Explore the Lower East Side bars including cocktails dens, themed bars, and Michelin guide recommendations, and make these your regular ones.
For bar-hoppers in New York, the Lower East Side is the promised land. The area has all the staple elements with its balance of high and low culture. You will find everything from high-priced cocktail bars, old-school dives, music venues to casual bars making the neighborhood one of the most unique drinking areas in Manhattan. Here's a breakdown of everywhere you need to go, from dusk to dawn.
169 Bar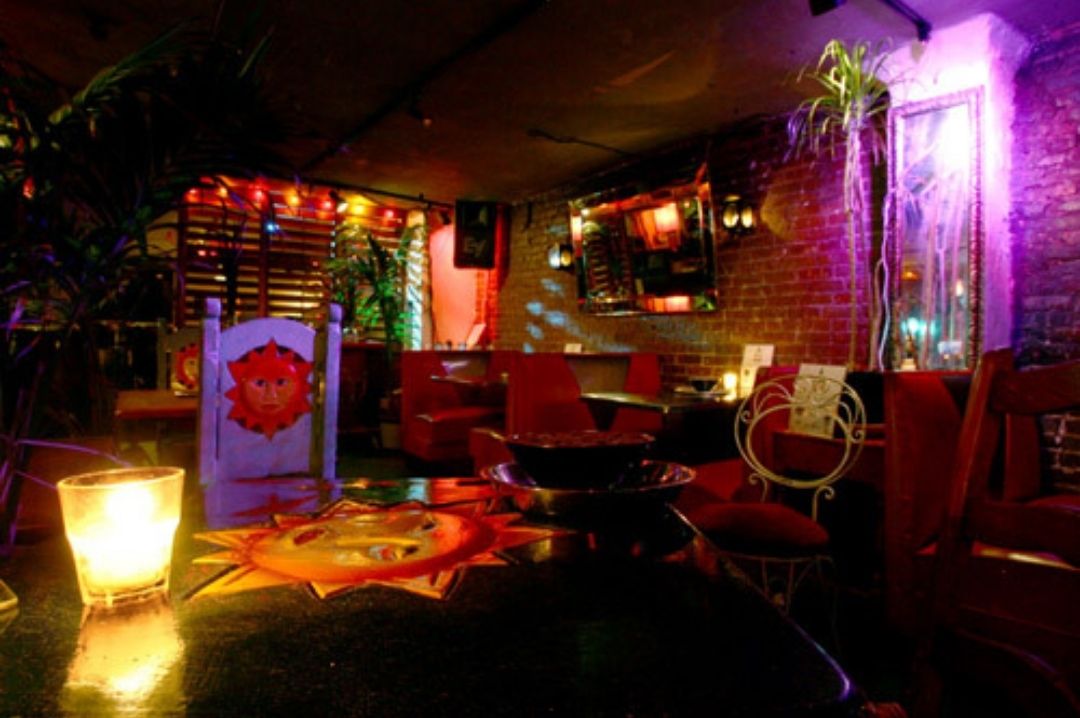 Inside 169 bar, source: website
Formerly known as the "Bloody Bucket", 169 Bar is one of the last original bars. In 2006 when Charles Hanson took over the place, he completely renovated it with modern decor. There is a T-Rex mounted above the fireplace and a leopard-print pool table in the back. If you're looking for OTT with character thrown in, you'll find it here. The bar is home to the original 'Pickle Martini', created in 2008 by Charles Hanson when he infused cucumber and vodka. Happy hours get you $1 off the can and draft beers, $2 off everything else, and $3 beers and shots. The kitchen has a menu of oysters, borscht & dumplings. Get the best during happy hours or pop in during regular hours for a good time.
Happy hours - Mon-Sun (11:30 am - 7 pm)
Where - 169 E Broadway, New York
Hours - Mon-Sun (11:30 am - 4 am)
Attaboy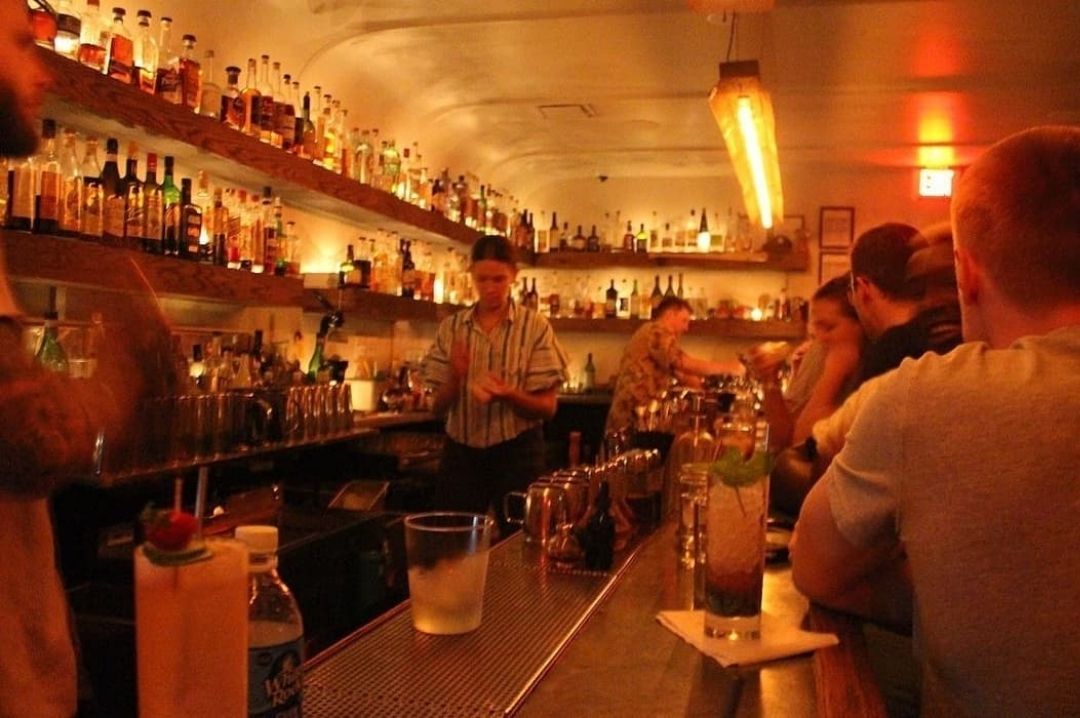 Bar counter at the Attaboy, source: Instagram
Attaboy is everyone's favorite cocktail bar hidden in plain sight on an obscure bit of Eldridge Street. Operated by two guys, Sam Ross & Michael McIlroy, who are the alumni of 'Milk and Honey', opened by legendary late Sasha Petraske in 1999. The bar has an indoor sitting as well as a heated patio. Things here are chiseled back to the key elements: there is no cocktail menu, so tell the bartender how you're feeling and the flavors you favor and they'll capably take it from there. Although there are a couple of drinks you will want to try. 'The Penicillin', mad with Ross's scotch, and honey creation is one of the best scotch cocktails invented, while 'Paper Plane', a bourbon and bitters drink, is another bonafide classic. Try them both – separately. Attaboy doesn't take reservations, seats are allotted on a first come first serve basis, so don't be late.
Where - 134 Eldridge St, New York
Hours - Mon-Sun (6 pm - 4 am)
The Flower Shop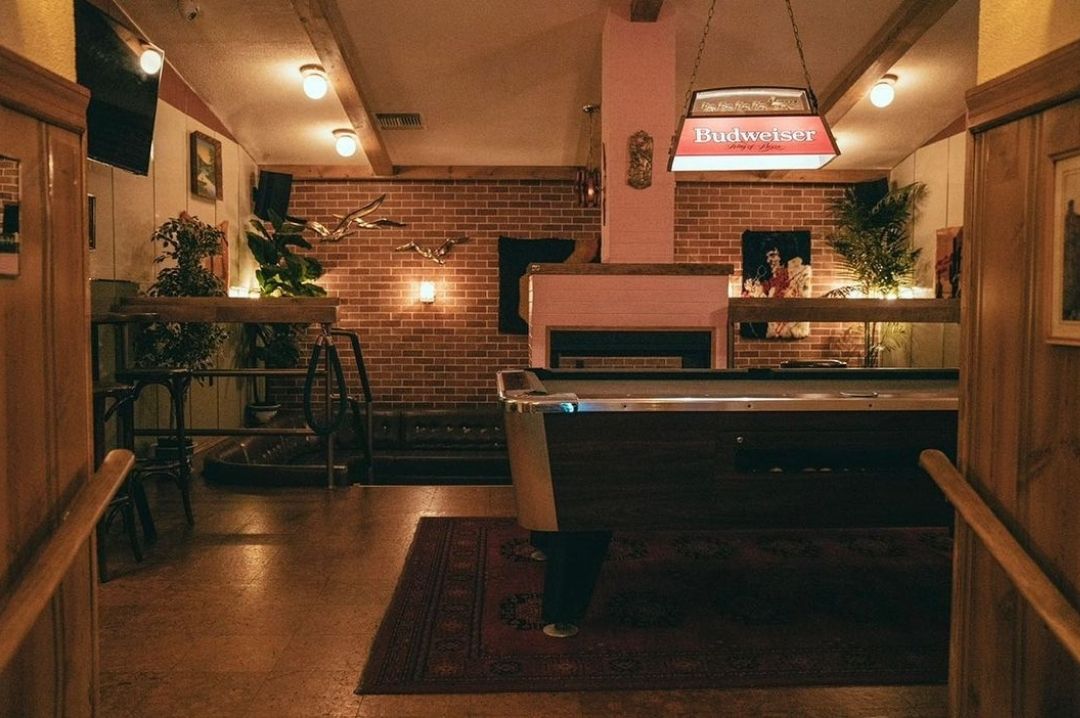 Pool Table at The Flower Shop, source: Instagram
The Flower Shop is a 70's themed bi-level bar located on the Lower East side of the town. There is a dining room upstairs and a lounge down below. Take your drink and play some shots at the pool table. The food menu is a standard mix of fried buttermilk chicken, steak tartare, little gem salad, and fish and chips. These are all recommended by the Michelin so there is nothing standard about the fare. The bar menu offers a handful of draft beers like Miller Lite, Stella Artois, and cocktails like a frozen margarita and cucumber gimlet. You cannot leave without trying the cold brew martini; a vodka martini that gets a mocha makeover with cold-brew coffee and coffee liqueur.
Happy hours - 5 pm - 6 pm
Where - 107 Eldridge St, New York
Hours - Tue-Sat (5 pm - 2 am)
Black Crescent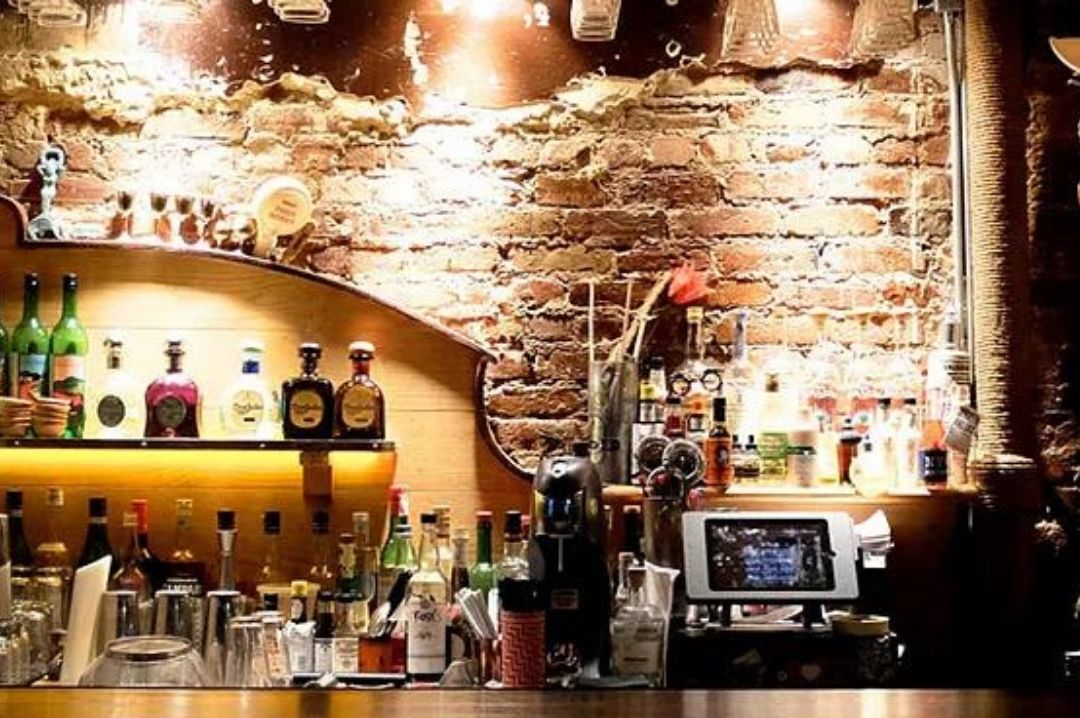 Service counter at the Black Crescent, source: website
Black Crescent is an Oyster & Cocktail Bar, providing the Lower East Side with a sea-to-table culinary experience. It's a good spot to go when you want to grab a drink and a snack instead of dancing and/or doing sake bombs. Along with oysters, they serve small seafood plates like octopus and ceviche. The happy hour deal provides some really cheap beers and classic cocktails along with dollar oysters. If you're ever wandering through this side of the town then pop in and order a plate of the oysters and down it with the 'Black Crescent is Burning', a house classic cocktail made with house-blended whiskey, sweet vermouth, and bitters. Take your friends and co-workers or a first date to make a great impression.
Happy hours - Wed-Sun (4 pm - 6 pm)
Where - 76 Clinton St, New York, 10002
Hours - Wed-Sun (4 pm - 2 am)
The Back Room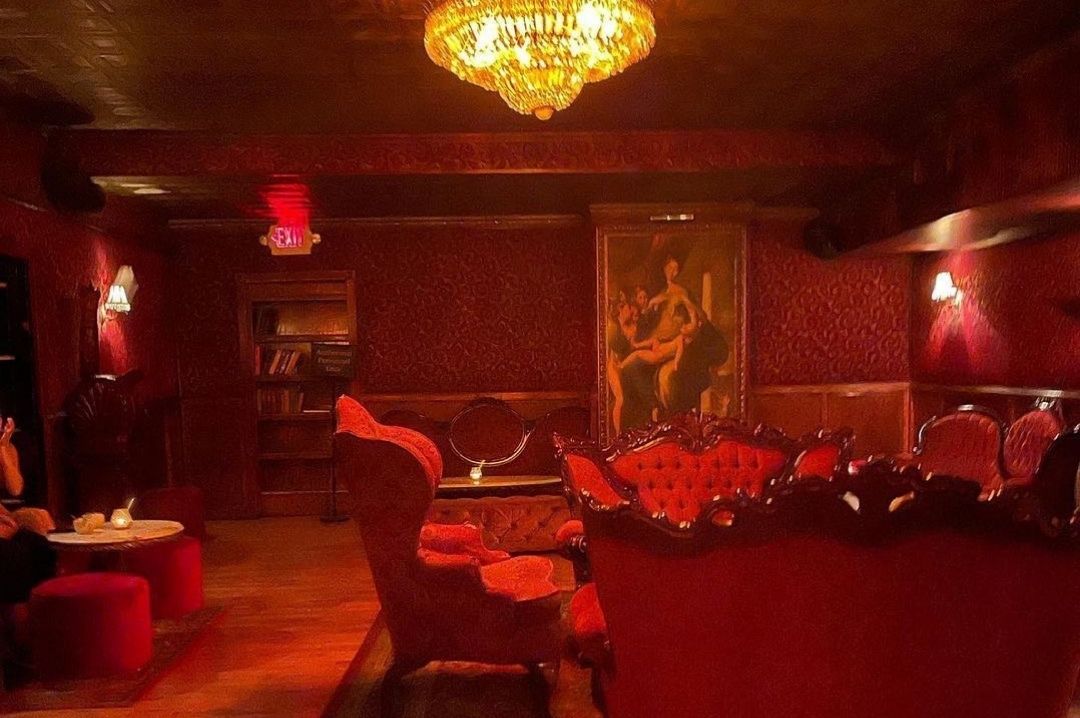 Sitting area at The Black Room, source: Facebook
The Back Room is one of only two speakeasies in New York City that operated during Prohibition and is still in existence today. It is a tucked-away spot, with a hidden entrance down a back alley. Its Prohibition-era theme is executed through a number of humorous little touches: cocktails served in teacups and beer bottles wrapped in paper bags. The decor is a fusion between a speakeasy vibe and 1920s ballroom opulence. If this isn't enough to excite you then know that Back Room has featured in many productions, including HBO's "Boardwalk Empire, New York Speakeasy Tour" and NBC-TV's "Secrets of New York".
Where - 102 Norfolk St, New York, 10002
Hours - Mon-Sun (6 pm - 4 am)
Bar Belly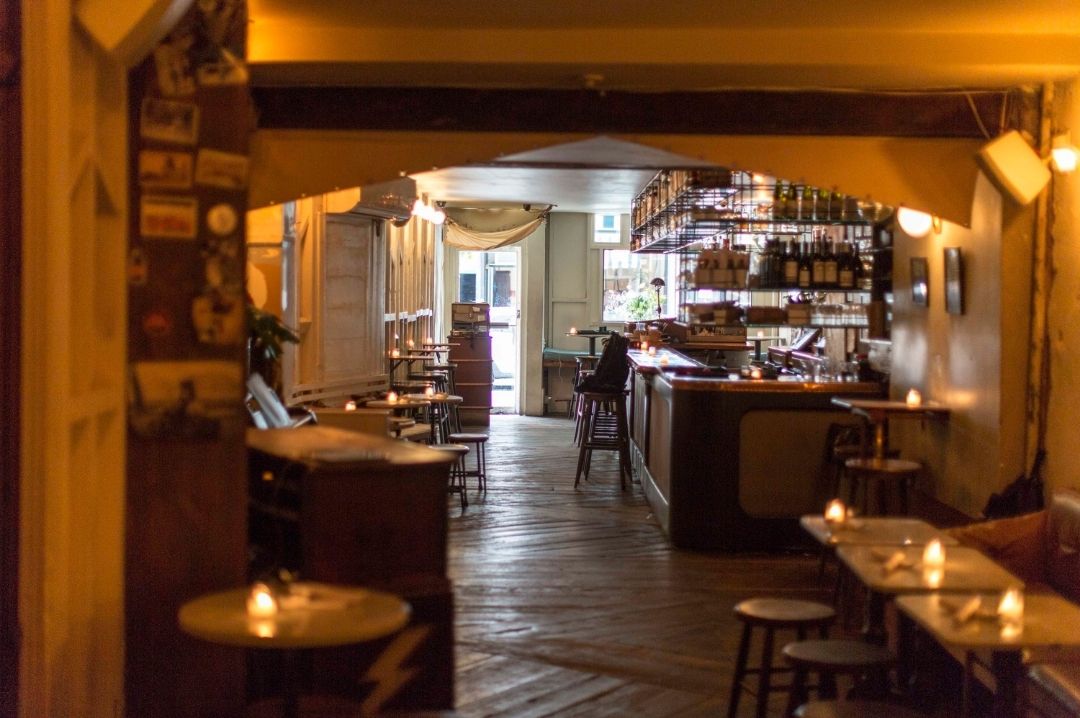 Interior of the Bar Belly, source: website
With the change of time and season, the bar is formerly known as 'Lead Belly' is now unveiling its new chapter as 'Bar Belly'. The kitchen is inspired by seasonal, modern British cooking and is focused on farm-to-table practices and local sourcing. Speaking of specialty cocktails you must try 'Roxanne', made with Wodka vodka, lime, grapefruit, Fiero bitter, falernum, lychee, and sage, or the 'Luana Passion Potion' which has Plantation 5 rum, Busnel Calvados, lime, coconut, passion fruit, date, allspice, and Laphroaig 10 Scotch. Besides oysters, which are $1 during happy hour, they also serve sumptuous small plates like lamb meatballs and octopus. Between the live music, oysters, and specialty cocktails, Bar Belly is a pretty ideal early-in-the-game date spot.
Happy Hour - Mon-Sun (4 pm - 7 pm)
Where - 14 Orchard St, New York, NY 10002
Hours - Mon-Tue (5 pm - 1 am)
Wed-Sat (4 pm - 2 am)
Sunday (4 pm - 1 am)
The Whiskey Ward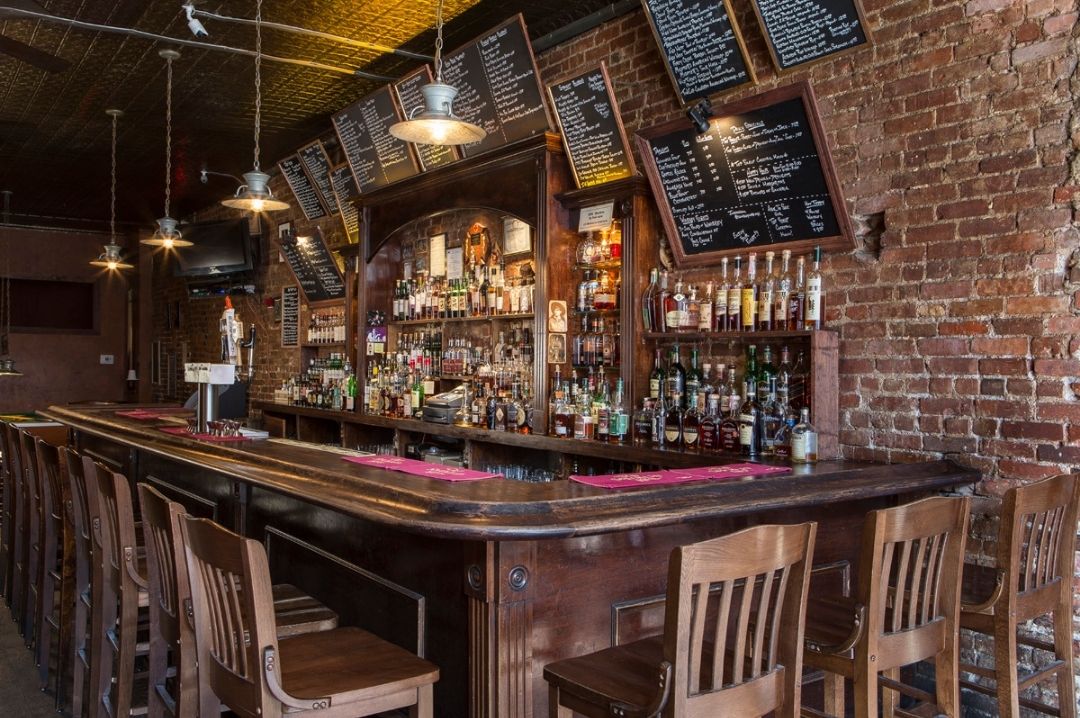 Bar counter and stools at The Whiskey Ward, source: website
The Whiskey Ward has been a Lower East Side gem for 18 years and counting. With over 300 hand-selected whiskeys, this is a local favorite with a laid-back vibe. The place is known for its Whiskey flights, a must-try for both the novice & whiskey-phile. Munch on the peanuts offered up to soak up your drink. If whiskey is not your thing then don't worry they have a full bar offering classic & signature cocktails like the 'Dark and Stormy', made of Gosling's rum, fresh lime juice & "Q" ginger beer or the 'Guardian *Angel* Sour' which has Angel's Envy bourbon, port cask finish, Aperol, agave, and fresh lemon juice. From the kitchen, you must try the house specialties like the roast duck rubbed with Sichuan spices or braised pork.
Where - 121 Essex St, New York, 10002
Hours - Mon-Thu (5 pm - 2 am)
Fri-Sat (5 pm -3 am)
Sunday (5 pm - 2 am)
Header image, source: Bar belly
South San Francisco Conference Center, 255 South Airport Boulevard, South San Francisco, CA 94080, United States
Register Now
South San Francisco Conference Center, 255 South Airport Boulevard, South San Francisco, CA 94080, United States
Register Now