New York City is Home to 6 Top Bars- World's 50 Top Bars
Drinking Enthusiasts must take note: the top bars in New York City have been announced by The World's 50 Top Bars.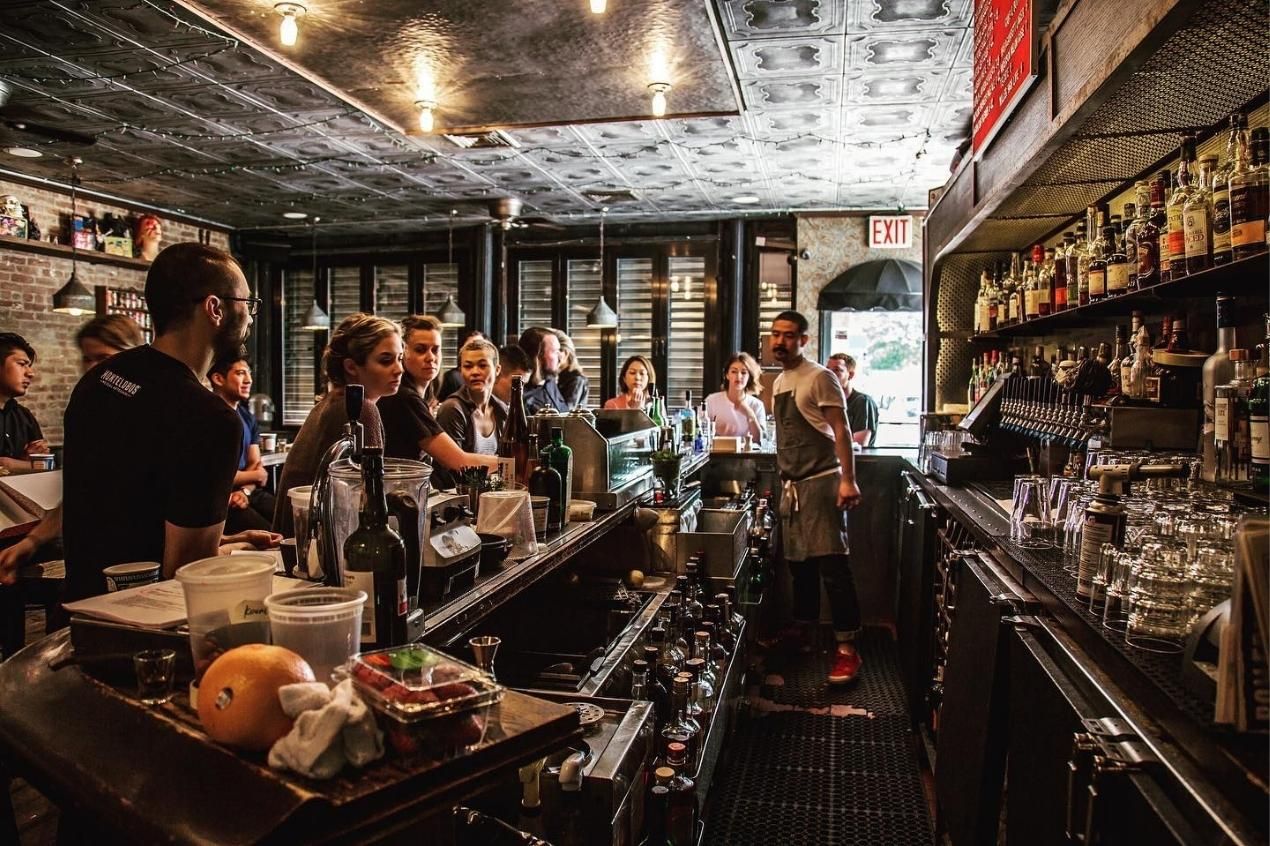 New York nightlife does not require any introduction. The City That Never Sleeps is the ideal destination for nightlife enthusiasts. It is vibrant, brilliant, and full of extraordinary times just waiting to happen. It's full of great bars to fit your every mood and some of the best rooftop locations in the city - a great way to start or end your evening in style.
So, the World's 50 Top Bars have chosen the top bars in the city that you can visit. The list offers the ultimate guide to the best bars and drinking destinations.
The World's 50 Top Bars is the drinks industry's most renowned and awaited event of the year as it brings the best bartending talent from across the world under one roof. It also shows a live countdown culminating in the announcement of The World's Best Bar.
Let's look at the top bars listed by World's 50 Top Bars.
#6 Double Chicken Please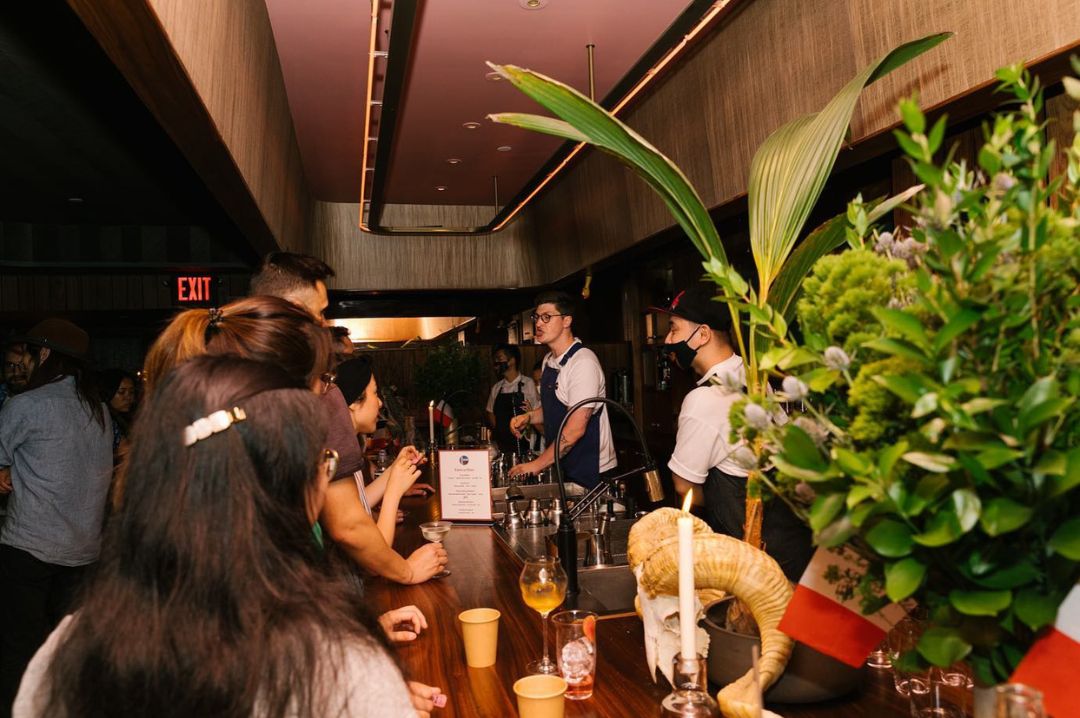 Image Source- Double Chicken Please
Just like its name Double Chicken Please founders GN Chan and Faye Chen provide a dual concept in their posh, class New York City restaurant. When entering you can see an exposed brick wall, filaments, finely crafted furnishings, and fittings. The front room pays homage to the Lower East Side neighborhood's soda shops of yesteryear.
Double Chicken Please began as a wandering concept in the VW wagon and concentrates on the deconstructing, redefining, and rebuilding of cocktails and cuisine in the spirit of hacking design. You can enjoy some premium tastes in a casual setting, get their iconic, delicious chicken sandwich, and fast-paced tap cocktails like the #1 (tequila, white cranberry, lavender, cacao, amaro).
But when you enter the exquisite back area, the drinks take a twist. Here the idea is the present solid foods as liquid drinks, like Mango Sticky Rice (mango rum, sticky rice pu'erh tea wakame, cold brew coconut) and Cold Pizza (Parmigiano Reggiano, burnt toast, tomato, basil honey, egg white). Chef Mark Chou prepares bites that are more traditional in appearance but excellent in flavor, like a delectable chicken liver mousse with caramelized shallots, ruby port, and coffee butter.
Address:
115 Allen St, New York
NY 1000
#9 Katana Kitten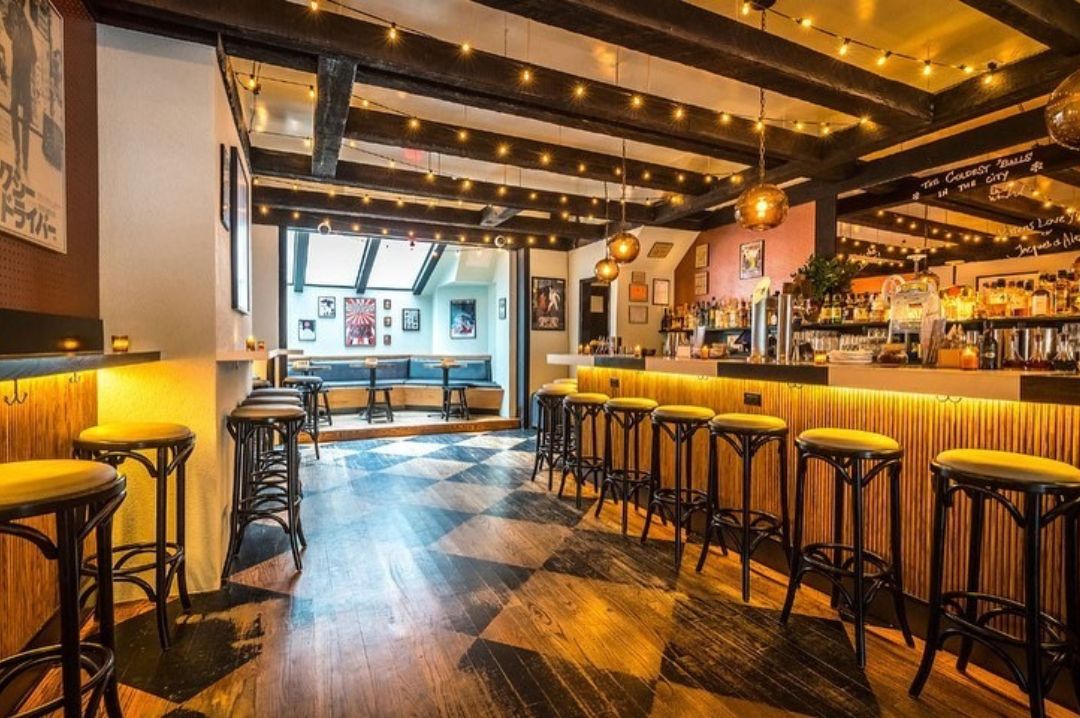 Image Source- Katan Kitten
Masahiro Urushido, Katana Kitten's 'director of deliciousness,' is a legend. Despite his numerous honors, including North America's 50 Best Bars Altos Bartenders' Bartender 2022, he is committed to hospitality. Visitors are welcomed respectfully as they descend from the streets of New York City into his underground Japanese dive bar. Upon entering, guests are immediately immersed in an authentically '80s party.
You can enjoy drinks like Highballs like the Slowpitch Paloma (tequila, Pocari Sweat, Thai chili, lime zest) and meguroni #2 (iichiko saiten shochu, genever, aged umeshu, caffo red bitter, kinome) that are inspired by Asian flavors. You will also get Japanese variations on classics, like the iconic Hinoki Martini (vodka, gin, fino sherry, junmai daiginjo and hinoki tree essence).
Address:
531 Hudson St, New York
NY 10014
#22 Attaboy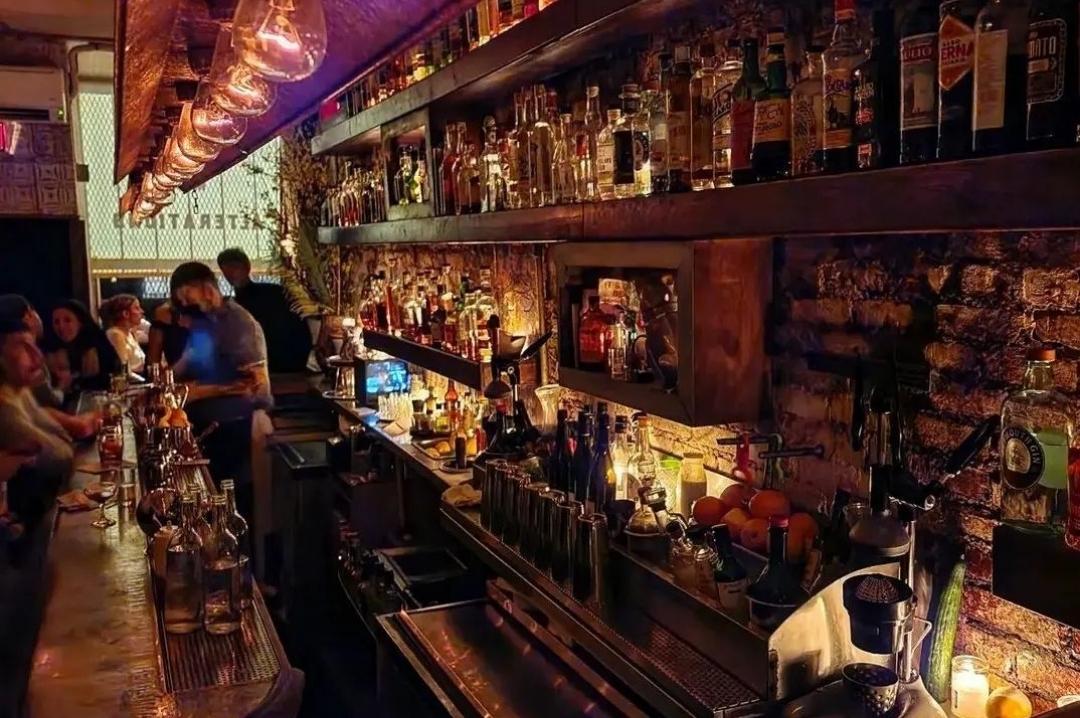 Image Source- Attaboy
Expect no billboard outside Attaboy and no menu inside the New York City bar. In reality, the limited inside space has the feel of a friendly neighborhood tavern. But, in the cocktail world, this is sacred territory. Milk & Honey, Sasha Petraske's famous speakeasy, was initially housed in this space.
Following Petraske's untimely death, his proteges Sam Ross and Michael McIlroy relaunched the space as Attaboy. Behind the bar, the team invented some of the most iconic beverages of the modern period.
Along with McIlroy's famed Manhattan variation, the Greenpoint (rye, green herbal liqueur, vermouth), you will also get Ross' Penicillin (Scotch, lemon juice, and ginger-honey syrup) and Paper Plane (bourbon, Italian orange bitters, amaro, and lemon juice) on the menu.
Address:
134 Eldridge St, New York
NY 10002
#34 Overstory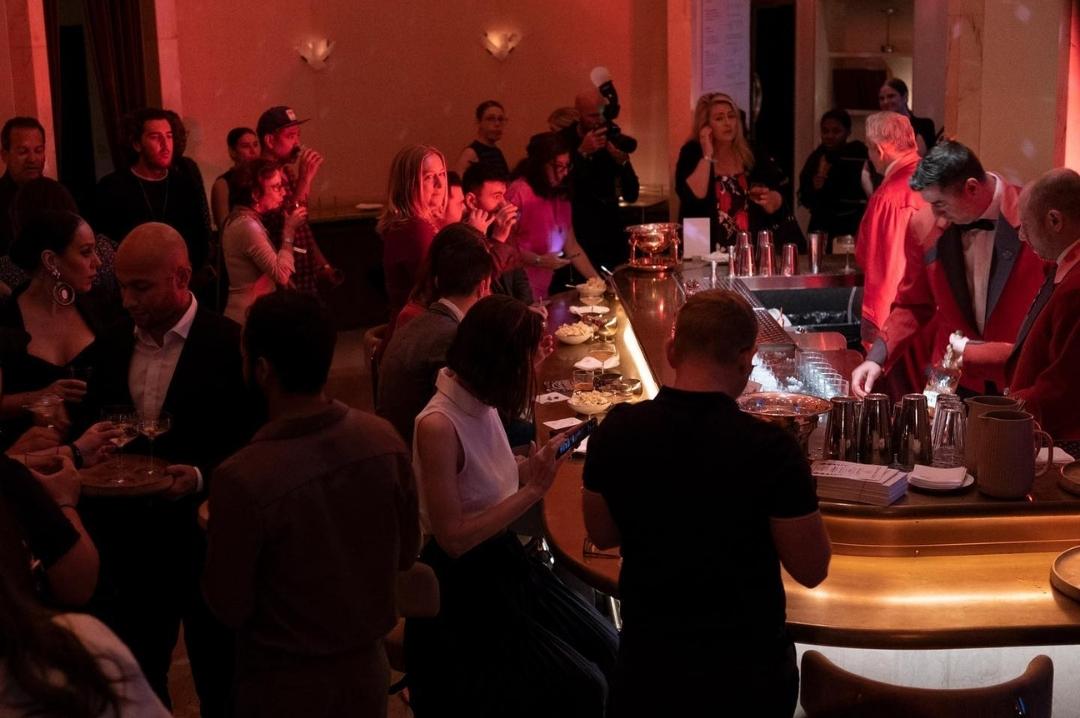 Image Source- Overstory
The Overstory is a literal paradise for refined sensibilities. Deco interiors create an ultra-luxe retreat, matching the lounge's 64th-floor position above a Wall Street skyscraper. Outside, a wraparound patio offers one of the most stunning views in New York City. The cocktails are a collaboration between Crown Shy's chef-owner James Kent and Jeff Katz, and they maintain the duo's high standards. Harrison Ginsberg's cuisine is also a tribute to Gotham.
You can enjoy cocktails like In The Clouds (whiskey, Earl Grey, vanilla, champagne, clarified milk) and Golden Bird (rum, coffee, turmeric, pineapple, ginger, and soda) that reinterpret classic formulae using carefully selected ingredients and new processes.
The list is strong on agave distillates and whiskies, both of which can be found in Overstory's excellent rare spirits section. Guests seeking something lighter can choose from a huge No Buzz selection or sip on bubbles from the bar's world-class cellar.
Address:
70 Pine St 64th Floor, New York
NY 10005
#36 Dante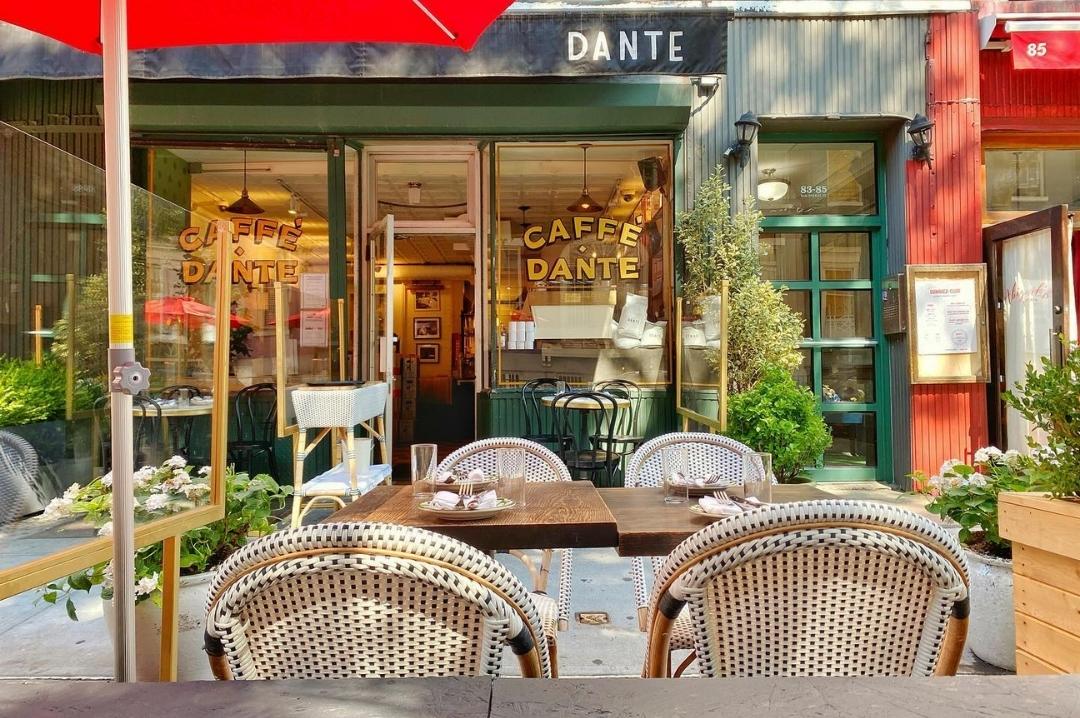 Image Source- Dante
Dante, 2019's World's Best Bar, is tucked within the narrow streets of New York City's famed West Village. Dante's idea is straightforward: the bustling room is a picture-perfect Italian café. But, the institution's attraction is multilayered. When you taste Dante's exceptional Negroni, you can easily understand how the small café popularized as the now-seminal drink in the United States.
Similarly, its famous Garibaldi, a vibrant combination of Italian bitters and fluffy, juiced-to-order oranges, has become a worldwide sensation. A broad selection of Amari and aperitivos complement the renowned drinks.
The cuisine emphasizing freshly chosen and prepared antipasti complement the sips. You can also enjoy traditional dishes like Grilled Arctic Char with heirloom frisée salad, pink grapefruit and summer citrus, and parsley pesto.
Address:
79-81 MacDougal St, New York
NY 10012
#47 Employees Only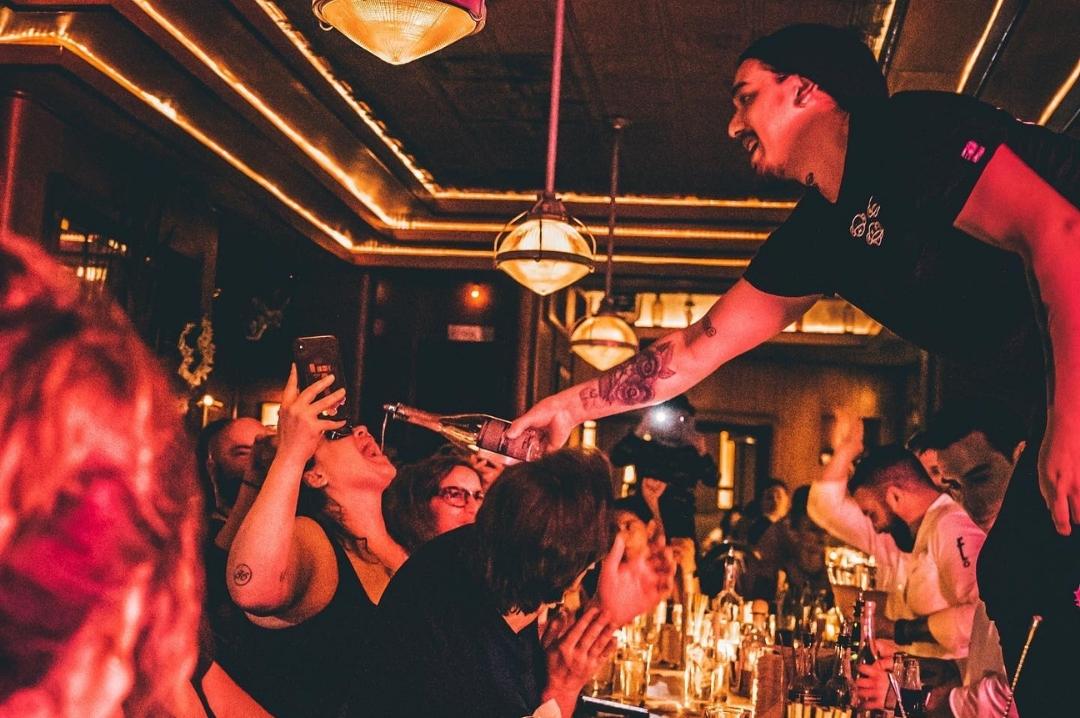 Image Source- Employees Only
For nearly two decades, the famed Employees Only has been a gem in New York City's cocktail crown. Pass through a tarot card reader's store and into a cocktail temple from the Golden Age. You can see white-jacketed servers effortlessly whisking glittering silver platters of Manhattans and Martinis into the air in a busy Art Deco dining club.
Enjoy modern classics like the Mata Hari (brandy shaken with chai-infused vermouth and pomegranate juice) and Ready, Aim, Fire (mezcal, fresh lime juice, and house-made honey-pineapple syrup with dashes of spicy bitters) made by bar director Steve Schneider.
You can also enjoy some delicious vintage whiskies. The food is also equally sumptuous. Truffled grilled cheese, oysters on the half shell, and bacon-wrapped lamb chops are among the menu's highlights. You must definitely make a reservation if you plan to have dinner.
Address:
510 Hudson St, New York
NY 10014
Written by Aparna Dutta, Beverage Trade Network
Header Image Source- Katana Kitchen
South San Francisco Conference Center, 255 South Airport Boulevard, South San Francisco, CA 94080, United States.
Register Now
South San Francisco Conference Center, 255 South Airport Boulevard, South San Francisco, CA 94080, United States
Register Now