Plunging into New York's finest Dive Bars
Looking for cheap drinks? These dive bars have what you need in a place you want to hang out at.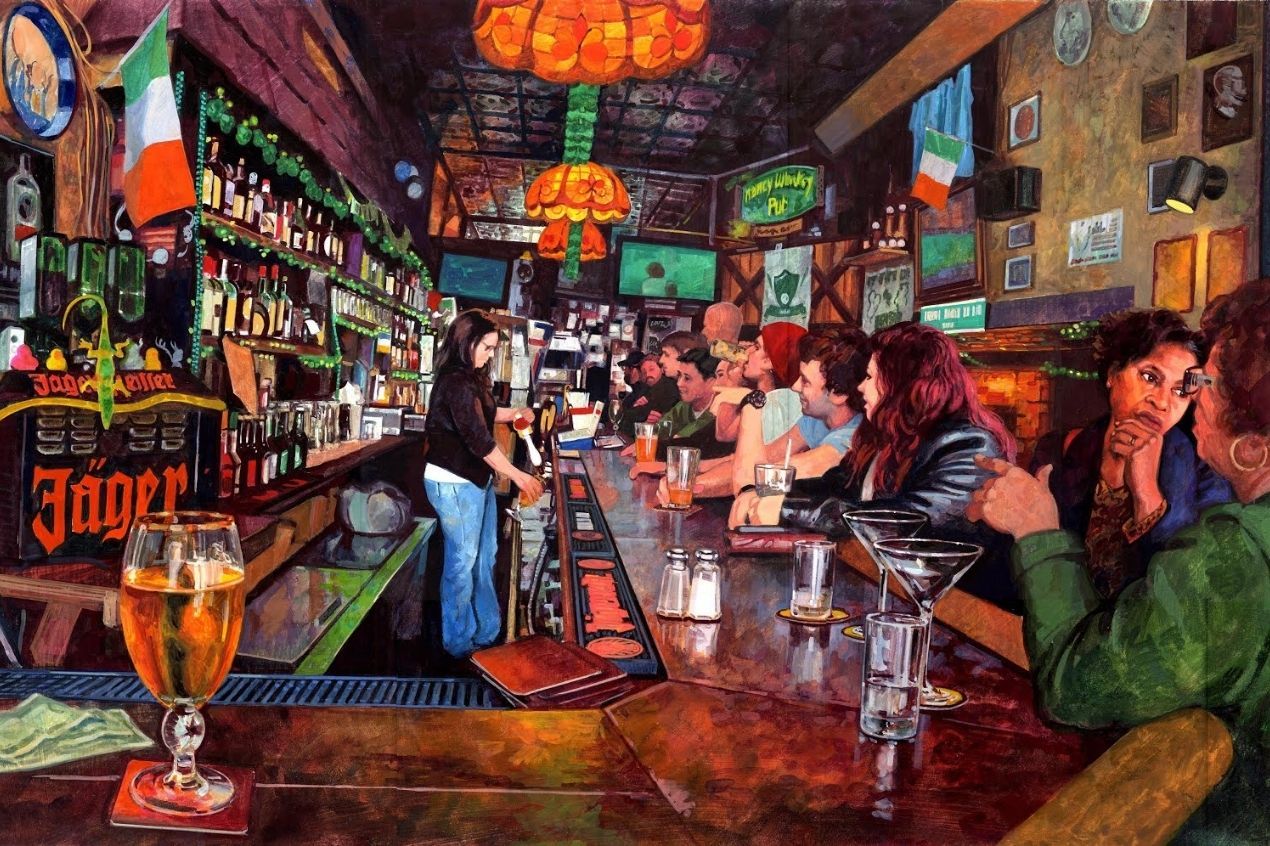 While New York City offers a wide range of fancy bars, it is also home to numerous dive bars which are cheap alternatives for drinkers with light pockets. With New York fully opened up, let's get back to neighbourhood bars that give us reasons aplenty to walk in and stay.
Here is a list of dive bars around New York City that you must try this year.
The Alibi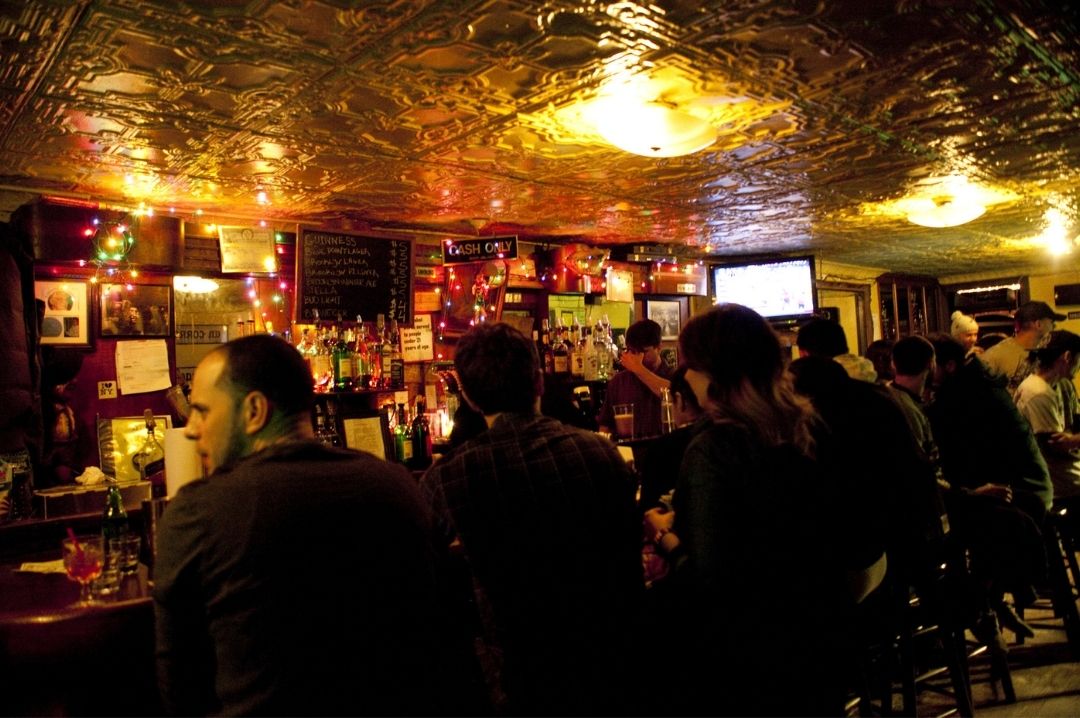 A lively bar counter at The Alibi. Source: Timeout, photo by Hannah Mattix
The Alibi is an old school bar that is fueled by loyal regulars of Fort Greene. It features an arcade games corner and hosts weekly pool tournaments. We doubt anyone can match their $3 Bloody Mary offer in the vicinity. They have a light food menu consisting of handmade breads, pizza and a mozzarella bar for cheese lovers.
Hours- Mon-Thu (4 pm- 1 am)
Fri-Sat (4 pm- 2 am)
Sunday (4 pm- 1 am)
Where - 242 Dekalb Ave, Brooklyn, NY 11205.
Duff's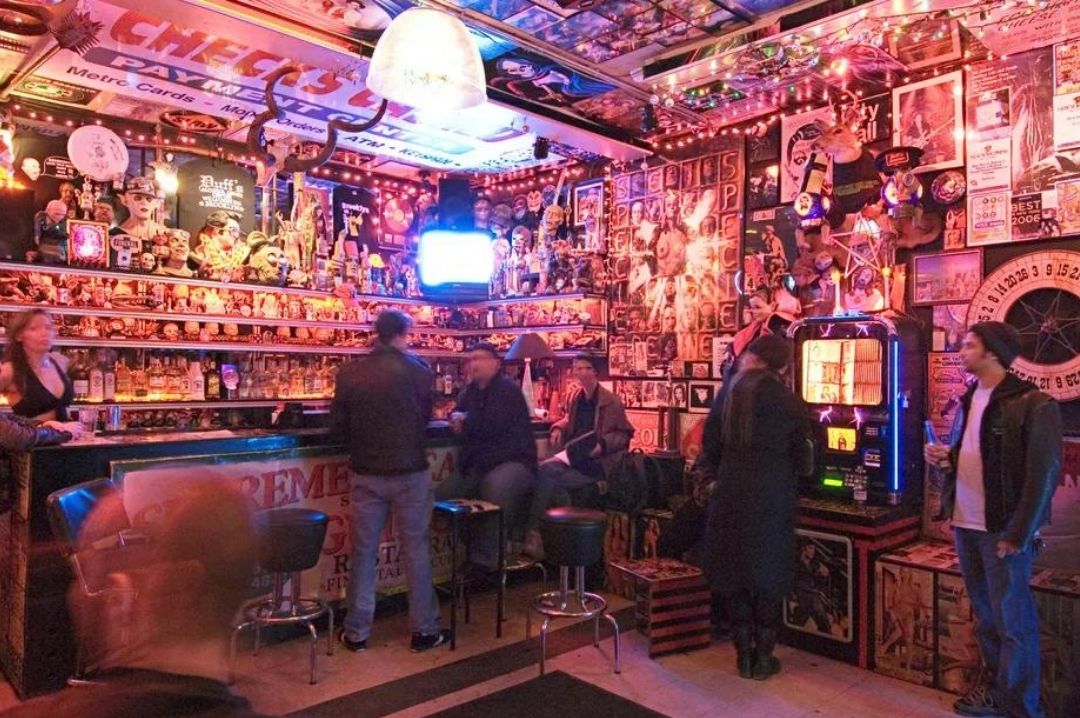 Red themed lights at the Duff's. Source: New York Magazine, photo by Evan Sung
Duff's is a heavy metal bar with potent graffiti and band posters on the inside. The red-themed interior is paired with discarded PBR cans, an electric chair, a coffin, and skulls which elevate the mood for metalheads. It is known for reasonably cheap drinks and the active promotion of Save the Music Foundation which strides towards generating music opportunities at schools.
Hours- Mon-Sun (6 pm- 4 am)
Where- 168 Marcy Ave, Brooklyn, NY 11211.
Rudy's Bar and Grill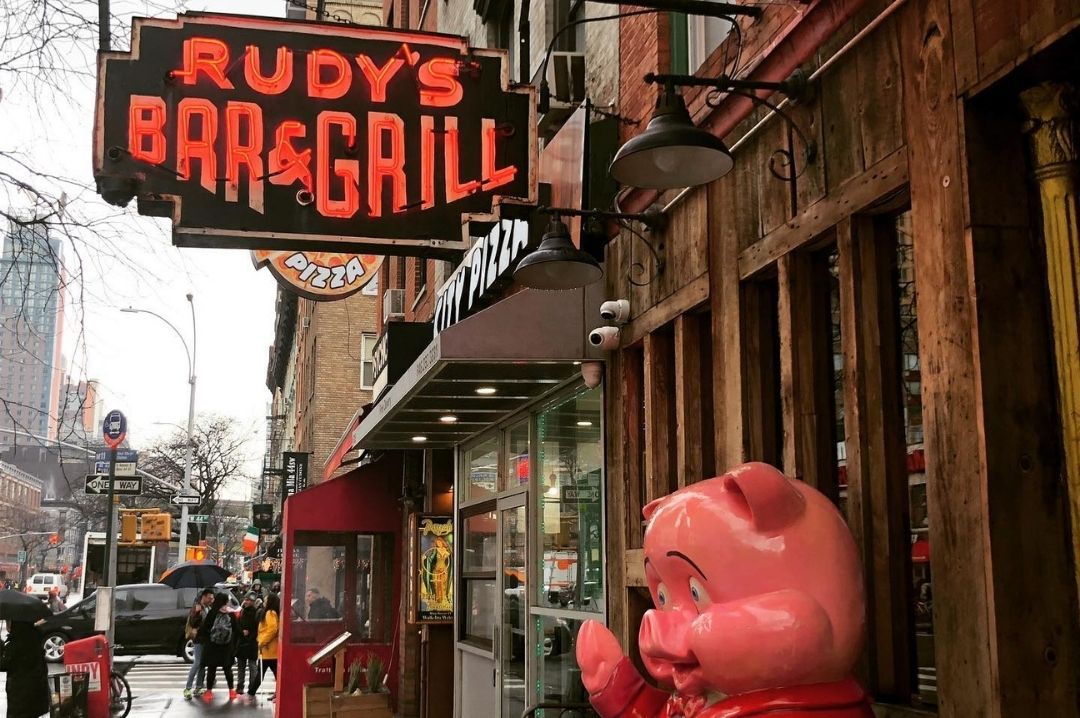 Rudy's Bar and Grill. Source: Instagram
Located in Hell's Kitchen, Rudy's $8 pitchers, free hot dogs and feisty alcoholic combo deals immediately make the bar a people's favourite. Some notable celebrities spotted in the bar include Paul McCartney, Julia Roberts, and Halle Berry. Rudy's Bar and Grill is a pit stop for cheap beer options that include IPAs, pilsners, and all-time favourites such as Budweiser, Stella Artois and Hoegaarden.
Hours- Mon-Sat (8 am- 4 am)
Sunday (12 pm- 4 am)
Where- 627 9th Ave New York, NY 10036.
Nancy Whiskey Pub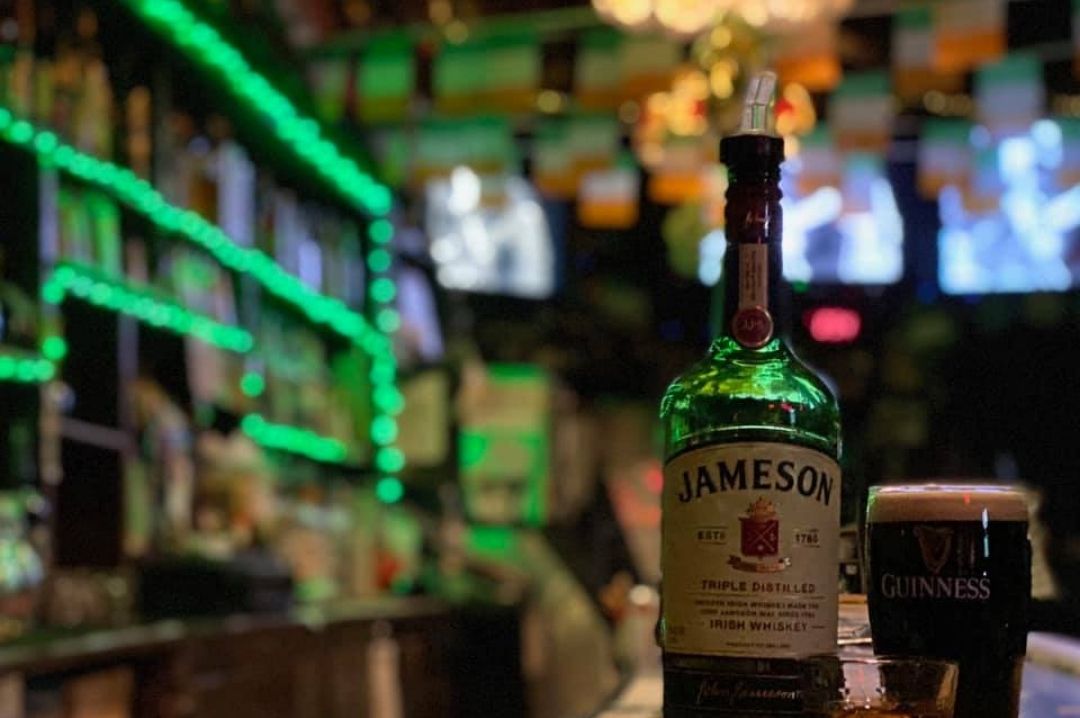 St. Patrick's Day special at the Nancy Whiskey Pub, Source: Facebook
Don't be fooled by its slender entrance. The Nancy Whiskey Pub has an underground section endowed with a patio and shuffleboard to add to the main bar which gets crowded from the incoming rush of the Tribeca neighbourhood. The pub has plenty of classic whiskeys to choose from such as Jameson, Jim Beam, Jack Daniels, Glenfiddich and many more to go with freshly baked pizzas, burgers, sandwiches and chicken/shrimp baskets.
Hours- Mon-Sat (11 am- 4 am)
Sunday (12 pm- 4 am)
Where- 1 Lispenard St, New York, NY 10013.
169 Bar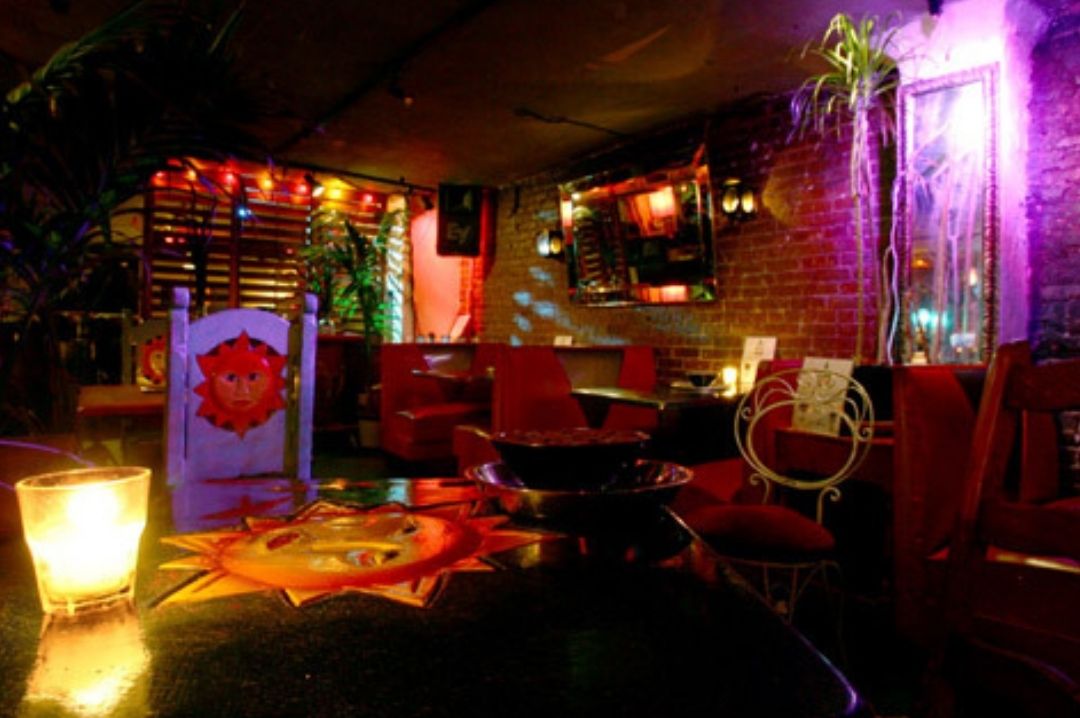 Colorful interiors of the 169 bar, Source: 169 Bar New York City
Formerly known as the 'Bloody Bucket', the bar stands with over a hundred years of history in Manhattan. It offers both indoor and outdoor seating arrangements, jazz music to groove with, and oysters for snacking. Interestingly, the 169 Bar claims to be the proud inventor of the pickle martini and the first in the world to come up with table ordering. Their diverse drinks menu includes both hot and frozen cocktails, beer, cider, and mulled wine. We highly recommend the frozen peach daiquiri for a refreshing punch.
Happy hours time: Mon-Sun 7.30 pm onwards
Hours- Mon-Sun (11.30 am- 4 am)
Where- 169 E Broadway, New York, NY 10002.
Milano's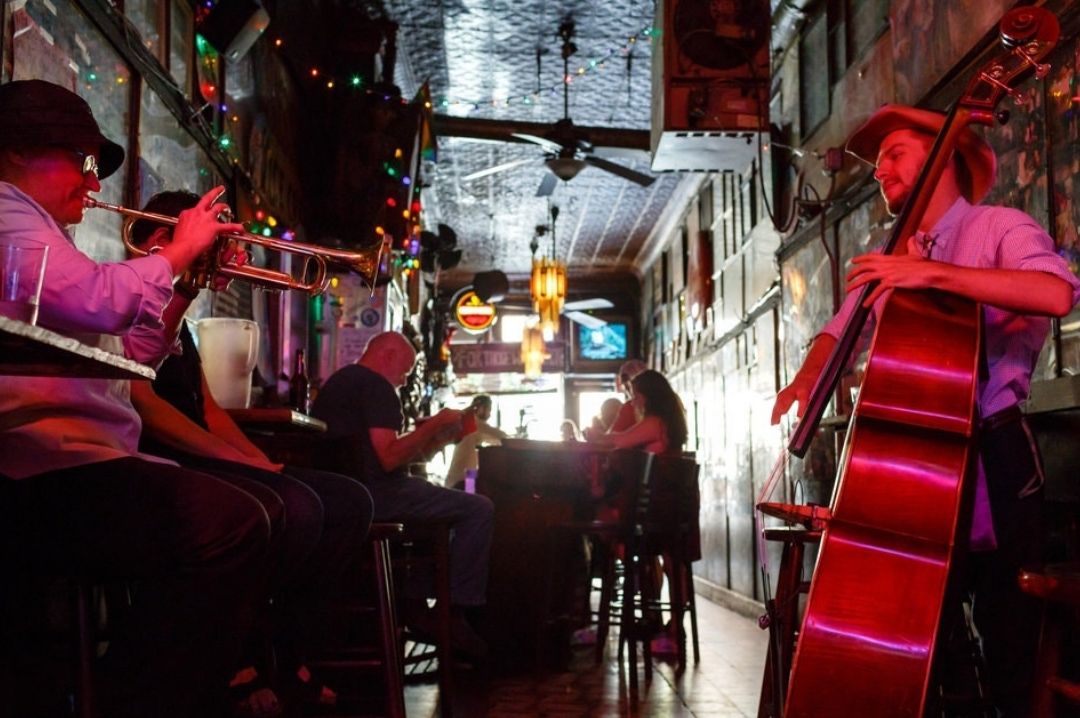 A trumpeter and a bassist playing at the Milano's Bar, New York. Source: The New York Times
Established in the 1880s, Milano's is one of New York's oldest bars. Apart from being dark and gloomy, the bar exhibits Frank Sinatra memorabilia, movie posters and patron family pictures. The bar is a perfect hangout spot for friends with different alcohol preferences, offering draught beers, wines, cocktails, and whiskeys to sip slow.
Hours- Mon-Sat (8 am- 4 am)
Sunday (10 am- 4 am)
Where- 51 E Houston St, New York, NY 10012.
Dublin House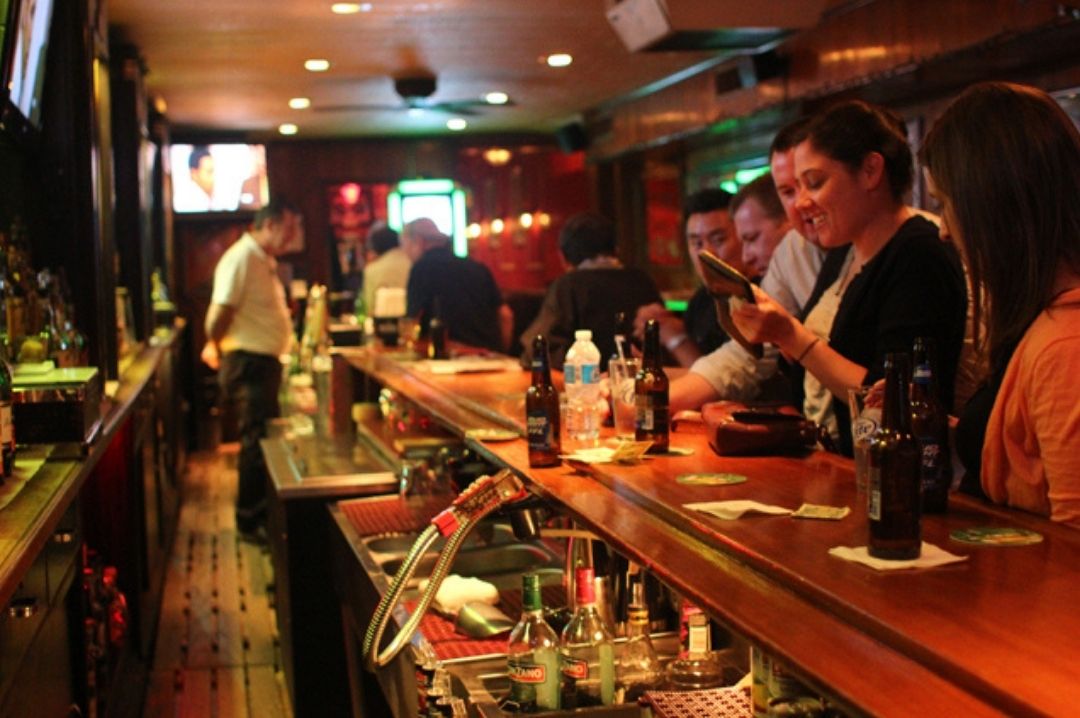 Smiles all around the Dublin House. Source: Dublin House
If you want to indulge yourself in the true culture of Irish pubs, Dublin House is the place to be. Grab yourself a pint of Guinness and enjoy a game of darts with your friends like the Irish do. The drinks menu is made up of assorted beers such as Corona, Miller, Amstel, Heineken, Carlsberg and Hoegaarden. In addition, various mules, classic cocktails, and warm cocktails are also available. They also screen NFL matches for sports enthusiasts who like to experience the thrill of ups and downs in a pub.
Hours- Mon – Fri (10 am- 4 am)
Sat-Sun (9.30 am- 4 am)
Where- 225 W 79th St, New York, NY 10024.
Lucy's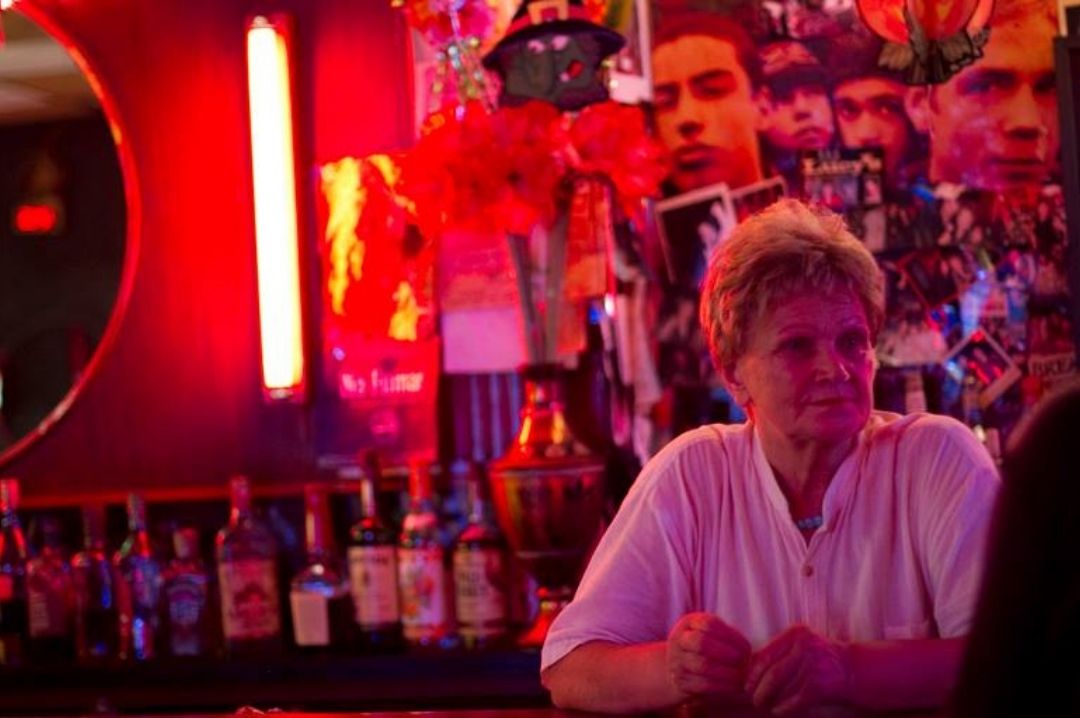 Owner of Lucy's bar. Source: Facebook
The origin and history of this bar revolves fascinatingly around its owner, Lucy Mickevicius. She orchestrates the ambience by serving a wide array of drinks (mainly beer), pocketing 8 balls at the pool table and attracting weekend guests who ramp up the noise levels. The bar shuts down once a year when Lucy makes a trip to her homeland in Poland.
Hours- Mon-Sun (5 pm- 2 am)
Where- 5105, 135 Avenue A, New York, NY 10009.
Dive 75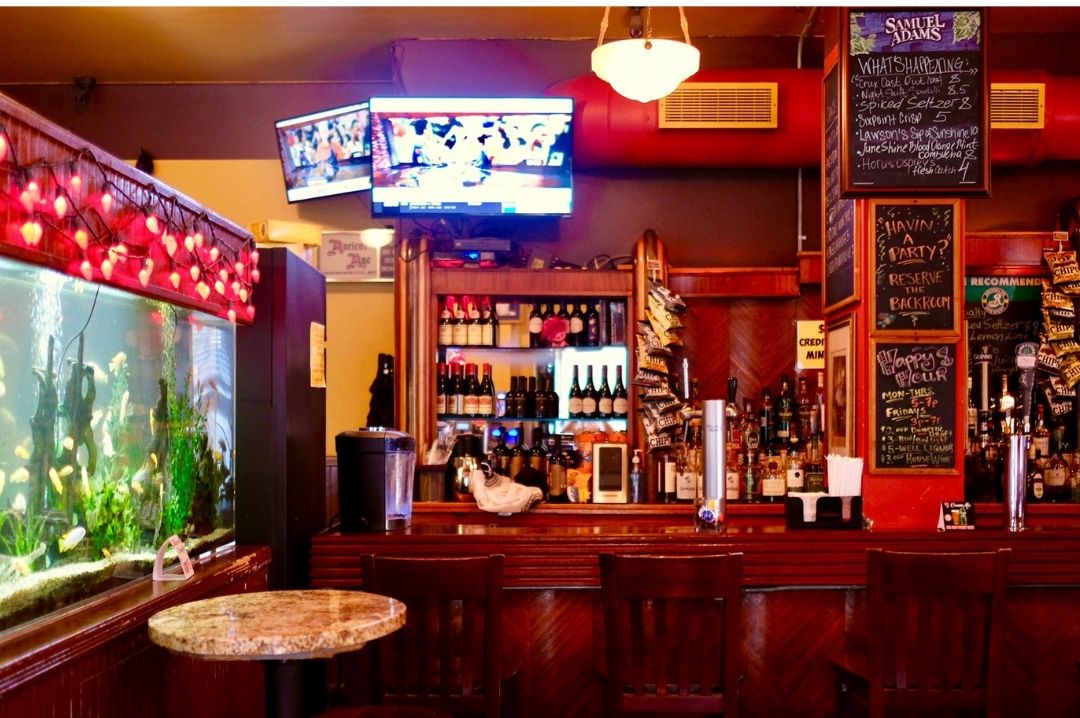 Dive 75's fish tank by the bar. Source: Facebook
There are quite a few "Dive" bars scattered across New York under the same ownership, one of the most popular ones being the Dive 75. Dive 75 caters to people who like to sip alcoholic beverages and munch food over board games. They have a vast collection of games like chess, Jenga, battleship and Twister, and at the same time offer candy, an internet jukebox and a fish tank to gaze upon. Their tap beer menu includes classics and crafts, along with a wide offering of hard seltzers and ciders too.
Hours- Mon – Fri (4 pm- 4 am)
Saturday (2 pm- 4 am)
Sunday (4 pm- 4 am)
Where- 101 W 75th St, New York, NY 10023.
Doc Holliday's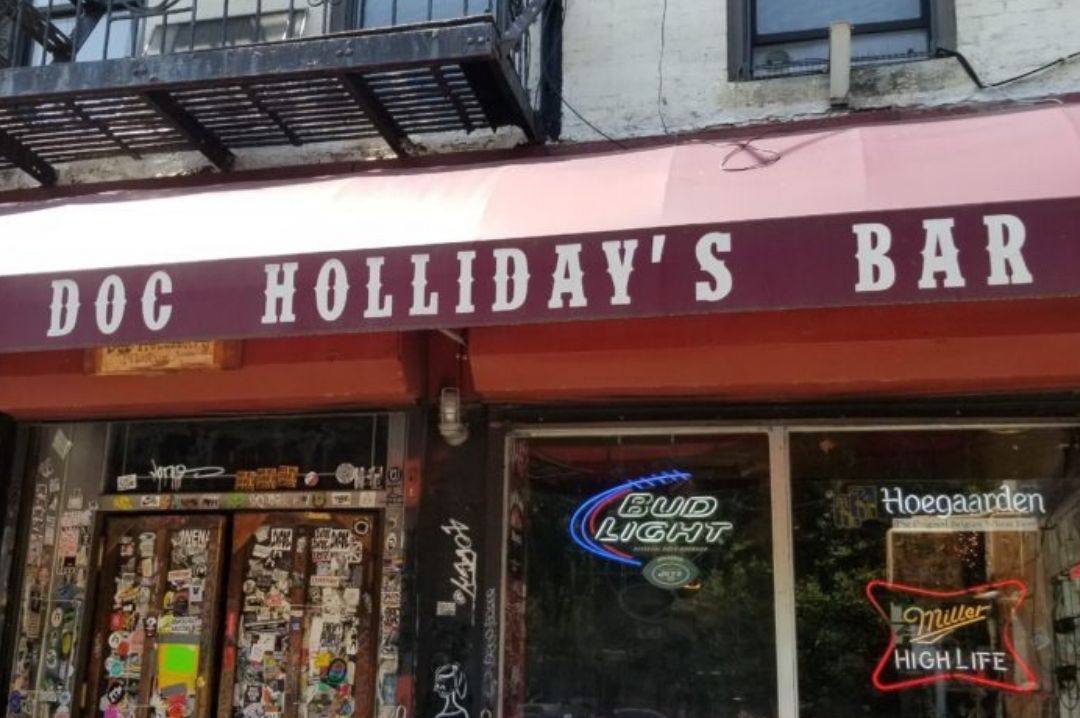 Entrance to Doc Holliday's Bar. Source: Ask a New Yorker
The bar primes on switching personalities during night and day. Despite being a bit loud, Doc Holliday's provides satisfactory dining services. The sparkly bar pumps tap beers like Guinness, Stella Artois and Bud Light, opening doors for people searching for a fun and enjoyable night out, fitting their budget.
Hours- Mon – Thu (3 pm- 12 am)
Friday (3 pm- 2 am)
Saturday (12 pm- 2 am)
Sunday (1 pm- 12 am)
Where- 141 Avenue A, New York, NY 10009.
Header Image: Nancy Whiskey Pub, Source: Facebook
South San Francisco Conference Center, 255 South Airport Boulevard, South San Francisco, CA 94080, United States.
Register Now
South San Francisco Conference Center, 255 South Airport Boulevard, South San Francisco, CA 94080, United States
Register Now