Soak In Greenwich Village's History One Sip at a Time
From listening to a live band to soaking in a bar's rich history, here are the places in Greenwich Village that will make your drink extra special.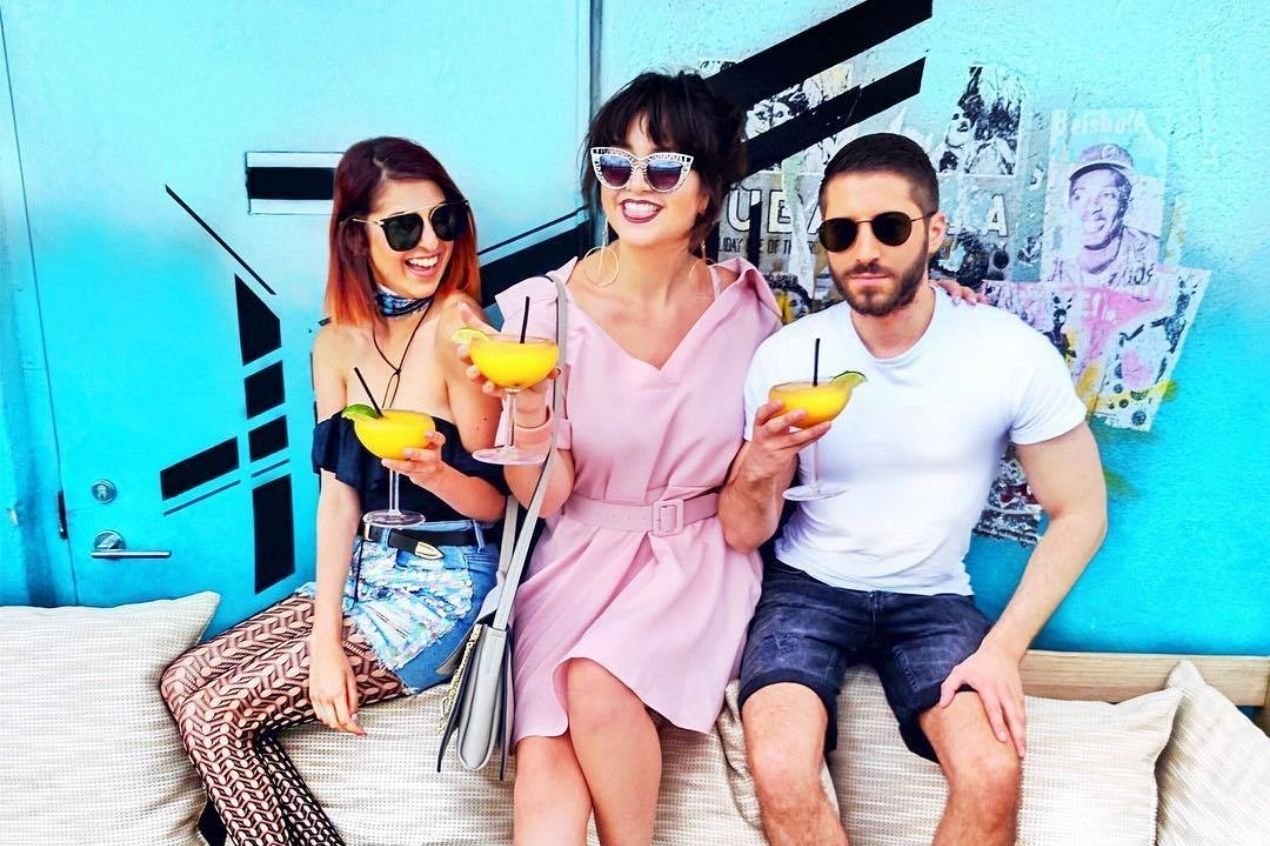 Greenwich Village has always been a big part of New York City's attractive lifestyle. From housing some of the most storied places where legends like Jimi Hendrix, Stevie Wonder and more took their first stride to reach their eventual greatness, to small bars and karaoke dens, the drinking scene in Greenwich Village is set up for memorable evenings.
It has something to offer for every drinker. Whether you are tossing up mixed cocktails or drinking beer from a tap in the afternoon, enjoying a great glass of wine after careful selection or enjoying live music with a cold brew in your hand, Greenwich Village and the bars here know how to celebrate drinks. From the many establishments running the show here are the ones that will draw you in with their charm and excellent selection of drinks.
The Up & Up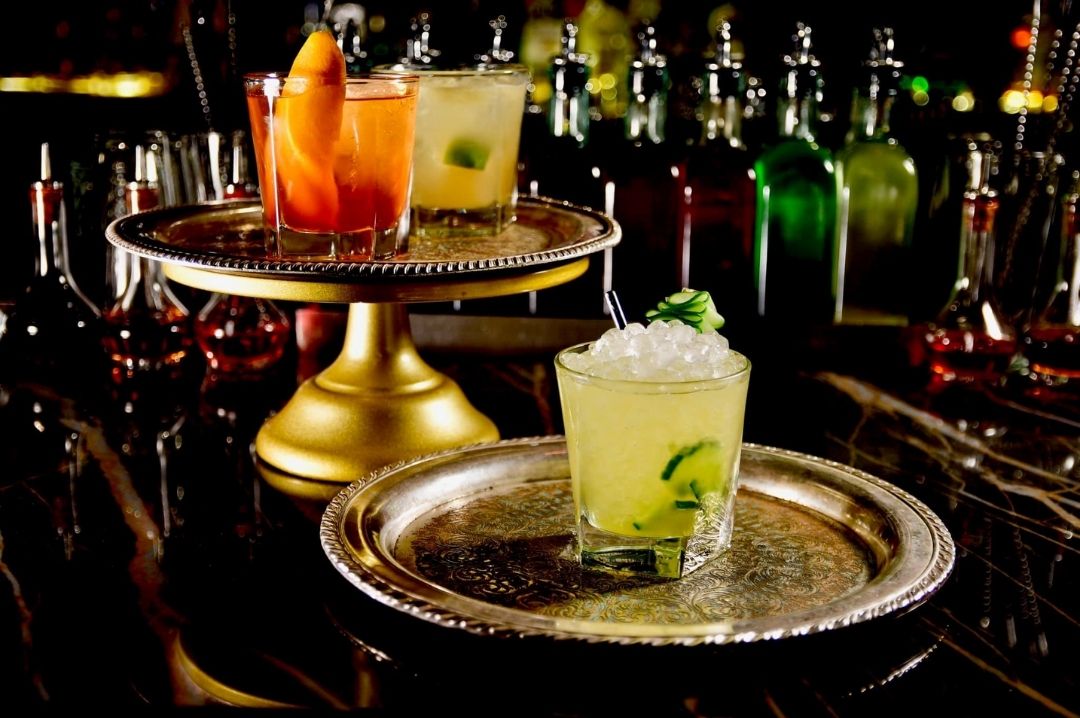 The Up & Up, Source Facebook
That bar with the illuminated sign! Matt Miacentini and his team have made The Up & Up a sought after cocktail bar destination. The stairs leading from McDougal Street walk into a historic place, the place that was home to the Gaslight Cafe, the place of birth for the Beat Generation. It is right there where you will find The Up & Up nestled today, a bar where skill and hospitality work in concert. The Up & Up is the perfect marriage of an intimate cocktail den and a social and comfortable neighborhood bar.
Try the Six Seeds, an original from The Up & Up which contains Tod & Vixen's Dry Gin, sparkling wine, pomegranate, grapefruit juice, lemon juice, cinnamon, and Peychaud's Bitters or the As Much as a Duck which made with Banhez Mezcal, Famous Grouse Smoky Black Scotch, Strega, Amaro Sfumato, lemon & lime juice, cayenne pepper, and egg white*.
Location: 116 McDougal Street, New York, NY 10012
Timings: Monday- Sunday 4 pm to 12 am
Bar Moga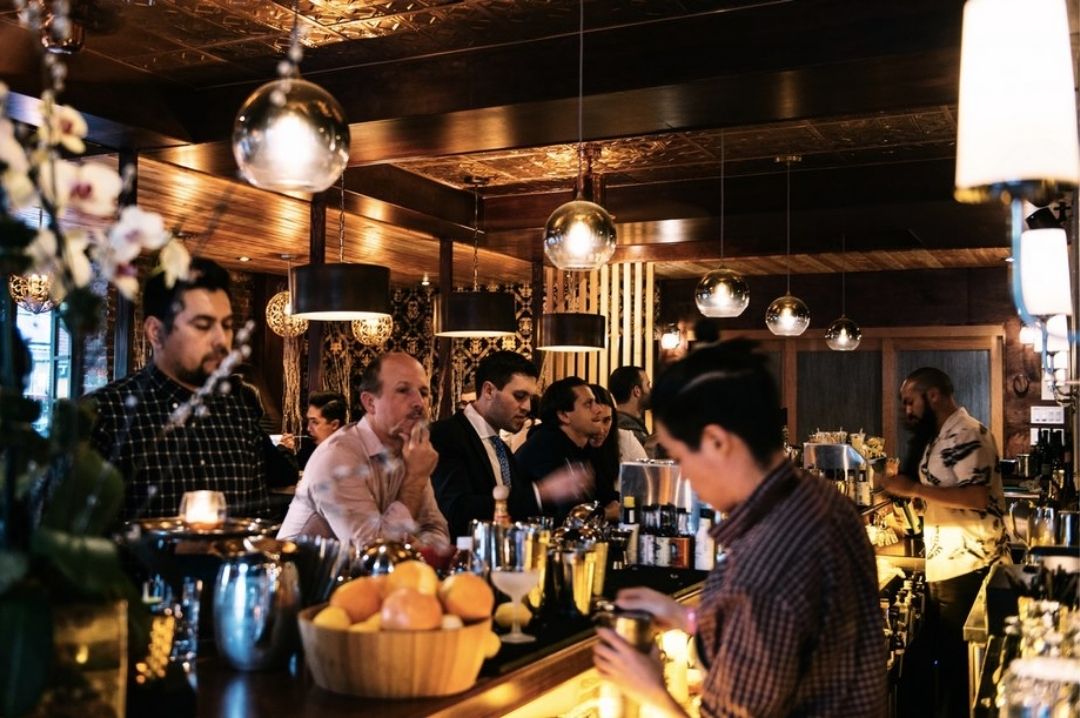 Bar Moga, Source Facebook
Modelled after a Taisho era jazz bar in Japan, Bar Moga, influenced by 'Modern Girl' is a blossoming bar in Greenwich Village. Mogas were Japanese independent-minded women in the 1920s who listened to jazz music and dressed in a westernized fashion. A Japanese cocktail bar, Bar Moga fuses East and West with the bartenders acing at blending Japanese spirits into typical American prohibition drinks. Even the food has been Japanized for a fusion taste that patrons have come to love ever since Bar Moga started operating in Greenwich Village. Decked out with tin ceilings, chandeliers and retro advertisements adorning the walls, Bar Moga is a great hangout for anyone who loves a fancy cocktail and is hungry for deliciously good food.
If you are in a state of confusion, which you will be upon looking at their menu, get the Silk Merchant which combines gin, lemon, shiso, grapefruit, Calpico, cardamom and rose. The food menu is equally as enticing with the Kogashi Duck Roast standing apart. The dish is not easily forgettable with double charred soy sauce, wine reduction and Brussel sprouts making it sing.
Location: 128 W Houston St New York, NY 10012
Timings: Wed- Fri 5 to 10 pm
Weekends- 12 pm to 3 pm, 5 pm to 10 pm
Bar Hugo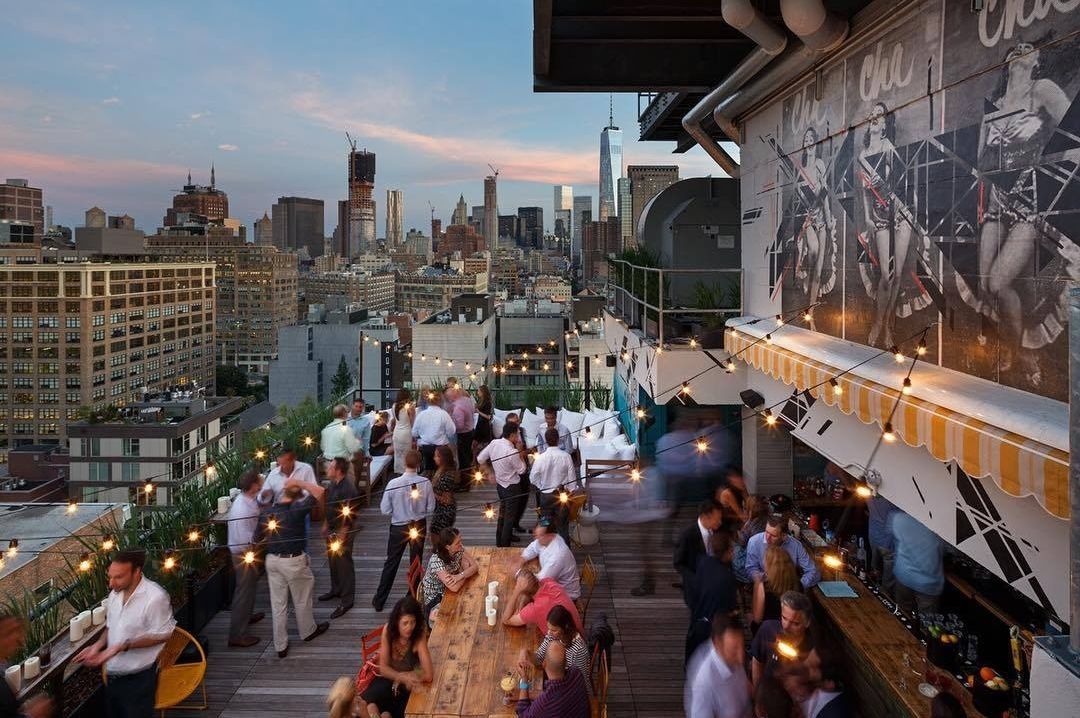 Hotel Hugo, Source Facebook
Hotel Hugo's rooftop duplex bar is the place to be on a cracking New York evening. With sweeping views of the Hudson River, Freedom Tower and the Statue of Liberty, Bar Hugo offers a great view of the New York skyline. But the good things don't just end there. It is the perfect place to host a social event with the breathtaking lower Manhattan looming in the background. Famous for a variety of cocktails including some with wines and champagnes that you should try, Bar Hugo, is a gem of the New York culinary experience. The place is wildly in demand so a prior booking might well be required, especially on the weekends. A one of a kind rooftop bar.
Location: 525 Greenwich Street, Hotel Hugo, New York, NY 10013
Timings: Everyday- 5 to 10 pm
The Malt House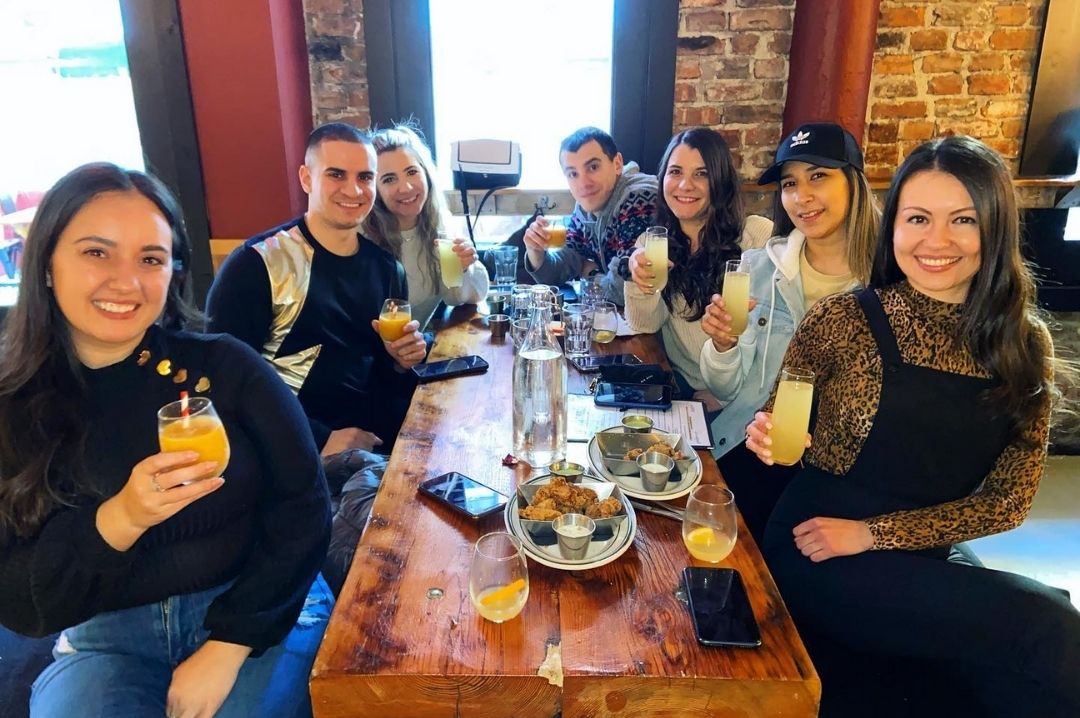 The Malt House Village, Source Facebook
Right in the heart of Greenwich Village stands The Malt House, a quintessential American Tavern craft beer & cocktail destination. With their extensive list of domestic craft beers on tap and a dozen more available by the bottle and tin, The Malt House can be called a craft beer lovers second home. Along with the beers, they also have brunch cocktails and a great food menu comprising the likes of a Wagyu home blend burger, Classic Reuben sandwich and more. A few wine and spirits options complete the package with indoor and outdoor seating available.
Their menu consists of some amazing cocktails including Eve's Bayou which is made from Redemption Rum Cask Bourbon, fresh strawberry & lemon, local NYC honey, house-made mint & elderflower lemonade. From their brunch menu, try the Brunch Burger, Croque Madame or the Koji Salad.
Location: 206 Thompson Street, Between Bleecker & 3rd Street, NY 10012
Timings: Mon- Fri 12 pm to 12 am
Weekends- 11 am to 12 am
Amélie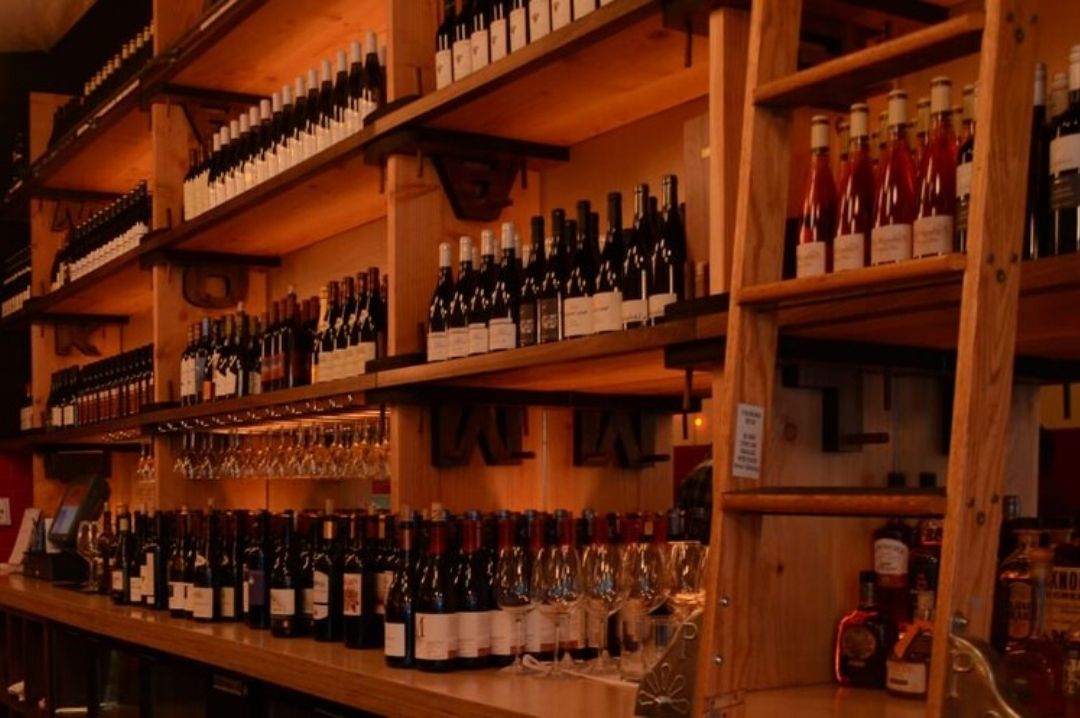 Amélie Wine Bar, Source Website
Samie Didda and Germain Michel opened this terrific wine bar in New York after finding success in San Francisco. The French natives brought their a-game to the New York outlet as well, finding success with the eclectic crowd of NYC. The 56-spot wine bar has a versatile collection of wines from around the world, something both Samie and Germain take great pride in curating. The euro-chic decor and the sensual lighting set the tone for what follows, generous pours of wine with an international flair and a great music collection perfect for the mood. Germain when they set out with establishing Amélie wanted to make wine more accessible, affordable and fun for people. They have done just that and changed the way good wine is enjoyed and consumed.
Their food menu is eclectic with each dish a shining star. Among them, you can try the Hudson Valley Duck Leg Confit, the Amelie Lamb Burger or Le Coq au Vin. Their wine collection is exemplary and we cannot really choose one wine to separate. They have got it all.
Location: 22 W 8th Street, New York, NY 10011
Timings: Mon- Tue- 4 pm to 12 am (Happy Hours- 5 to 6 pm)
Wed- Thurs- 5 pm to 12 am (Happy Hours- 5 to 6 pm)
Fri- Sun- 11 am to 12 am (Happy Hours- 4 to 6 pm, only Sundays)
The Stonewall Inn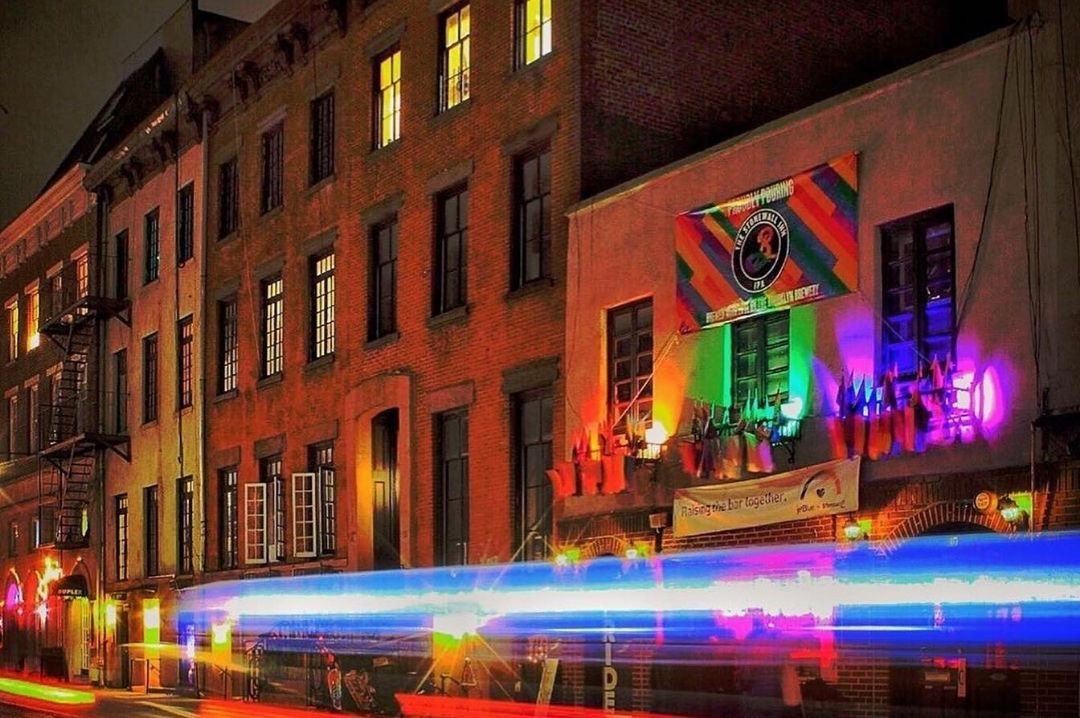 The Stonewall Inn, Source Facebook
A historic establishment in Greenwich Village, The Stonewall Inn is credited as the birthplace of the Modern Gay Rights Movement following the riots in 1969. A place where love endures and wins, The Stonewall Inn is a great place for any individual to come and enjoy the hospitality of New York City. The bar has undergone changes over the years and today is a cozy place featuring spacious interiors and a reverberating dance floor upstairs. With special events taking place from time to time, a piano bar operating from Monday to Thursdays, The Stonewall Inn is a great place to enjoy a drink in Greenwich Village.
Location: 53 Christopher Street, Manhattan New York, NY 10014
Timings: Everyday- 2 pm to 11 pm
The Uncommons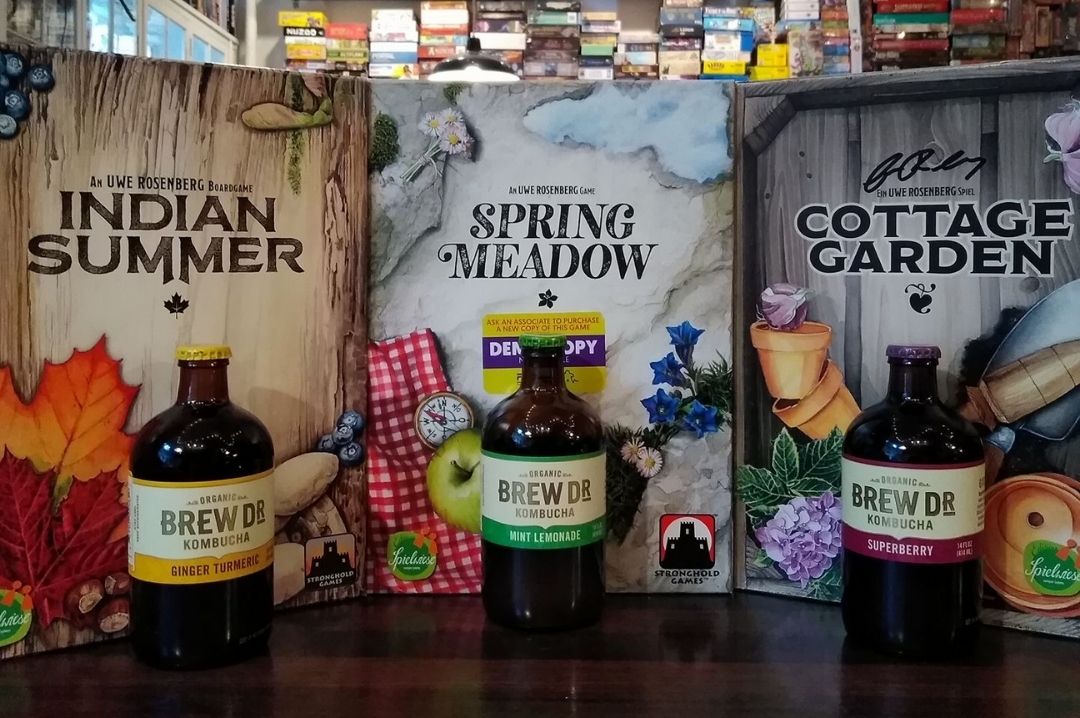 The Uncommons, Source Facebook
The place where you can enjoy the glory days of your childhood but with a pint of your favorite beer accompanying the action. Yes, Uncommons just as the name suggests has one of the most unique and charming concepts in all of New York. A board game cafe with a lineup of classics like Monopoly, Checkers and more with a thrilling menu of coffees and beers make Uncommons a one of a kind place in Greenwich Village. 8 coffees, delectable food and 24 craft beers make a great menu that will keep you full and on the edge of your seat as you look to get a win over your friend.
Location: 230 Thompson Street, New York, NY 10012
Timings: Mon- Thu 2 pm to 10 pm
Fri- Sun 12 pm to 12 am
Cafe Wha?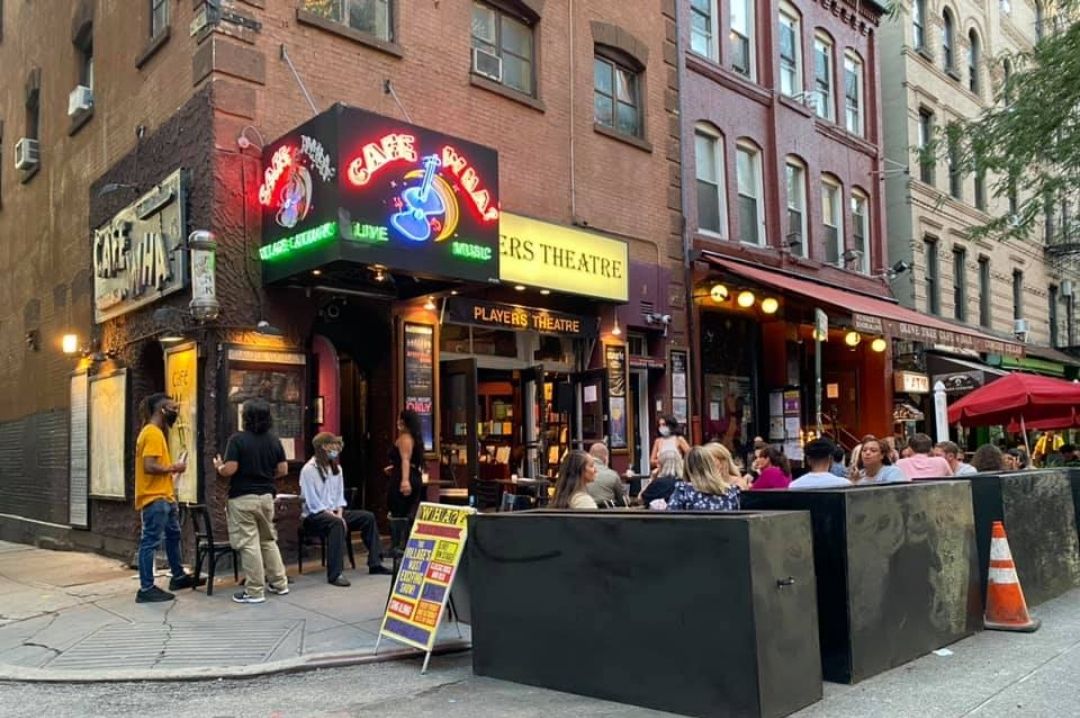 Cafe Wha?, Source Facebook
Manny Roth, owner of the Greenwich Village nightclub must not have known just how big his place was going to become one day. A stomping ground for legendary musicians like Jimi Hendrix, Bob Dylan, Bruce Springsteen, Woody Allen and many more, Cafe Wha? has become synonymous with an electric atmosphere and a good time in the Village. A tale that started in 1959 has become a stuff of legends with the best part being that it is nowhere close to done. Every night at Cafe Wha? is a party with cocktails at $16, beer and wine available to pair with lip-smacking food. Plus one never knows which musician might turn up to perform. A legendary establishment and a defining part of Greenwich Village life.
Location: 115 McDougal Street, New York, NY 10012
Timings: Thu- Sat 6 pm to 12 am
Dante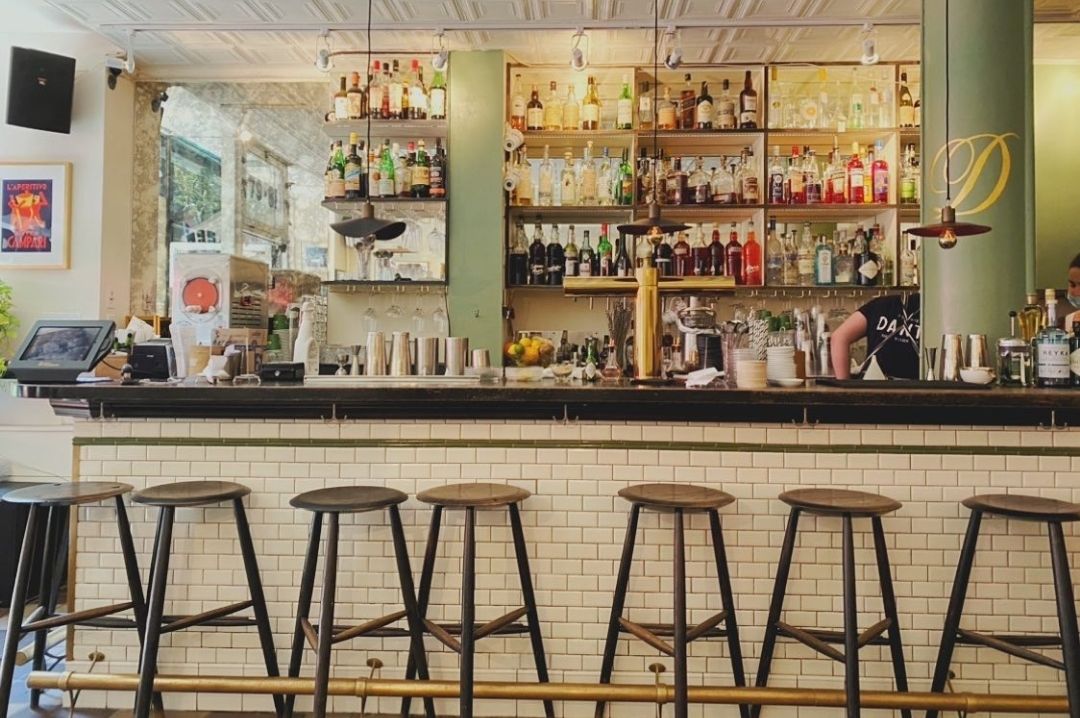 Dante, Source Facebook
Ending the list on a high with Dante, the number 1 bar in the World's 50 Best Bars list of 2019. Ever since it opened its doors in 1915, the now registered New York City landmark has been a beacon for the Greenwich Village community. In 2015, Cafe Dante was entrusted to a New York-based Australian family who has stayed true to the cafe's heritage and brought the people of New York an experience they have come to love. From signature cocktails and wines by the bottle to a menu for kids and special events, Dante is a shining example of why Greenwich Village is such a sought after drinks and food destination.
Location: 79-81 McDougal Street, New York, NY 10012
Timings: Mon- Thu- 8:30 am to 12 am
Fri- 8:30 am to 2 am
Weekends- 10 am to 12 am
Header Image Hotel Hugo, Source Facebook
South San Francisco Conference Center, 255 South Airport Boulevard, South San Francisco, CA 94080, United States.
Register Now
South San Francisco Conference Center, 255 South Airport Boulevard, South San Francisco, CA 94080, United States
Register Now