The Best Christmas Markets to drink at in New York
The best holiday markets in and around New York that offer good gifts, a great atmosphere and even greater drinks menus.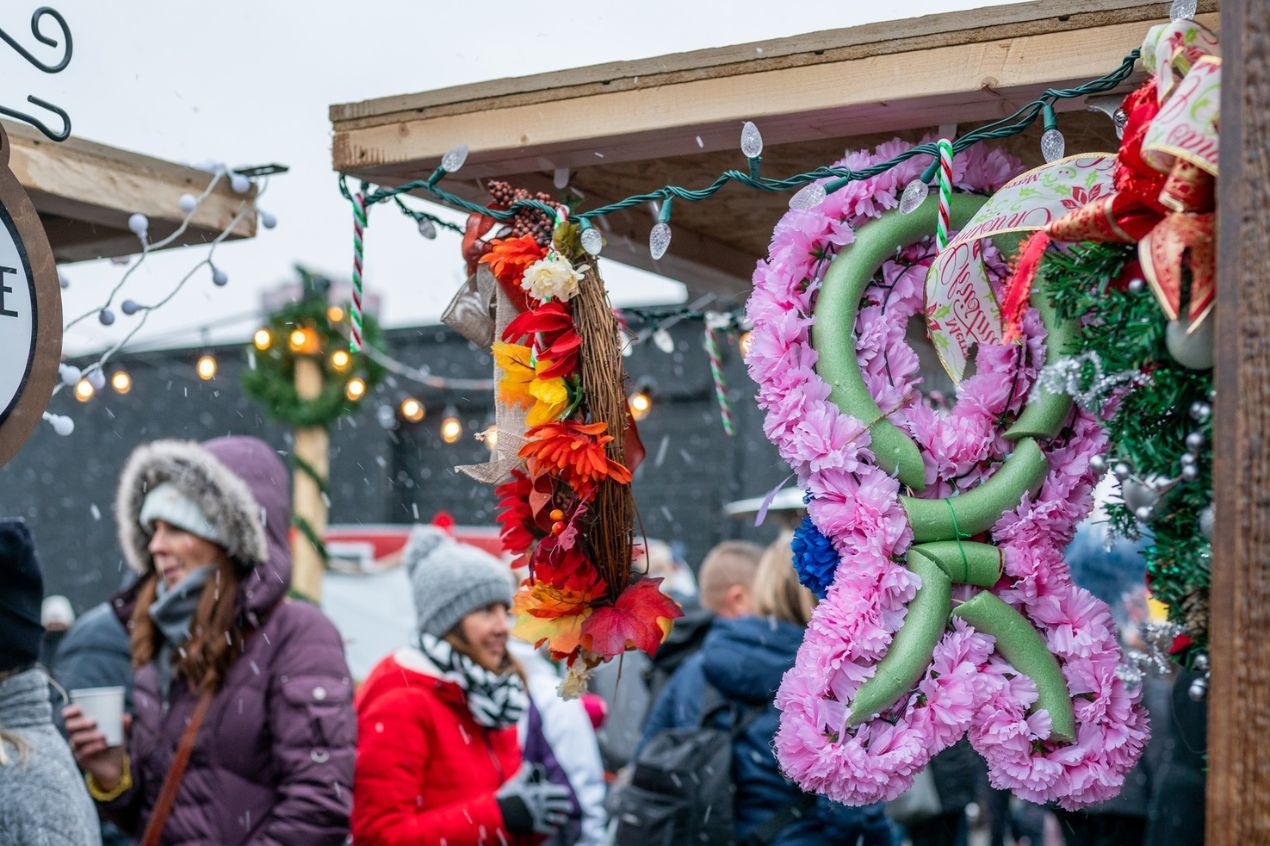 Amongst all the festivities New York is known for during the holidays, the city's Christmas markets definitely top the list. Whether you're looking to sip on winter-themed craft cocktails, mulled wine, cider, or just want to shop for artisanal souvenirs, jewelry, and more - New York's Christmas markets are here to spread the holiday cheer.
Bank of America Winter Village at Bryant Park
(29th October to 2nd January)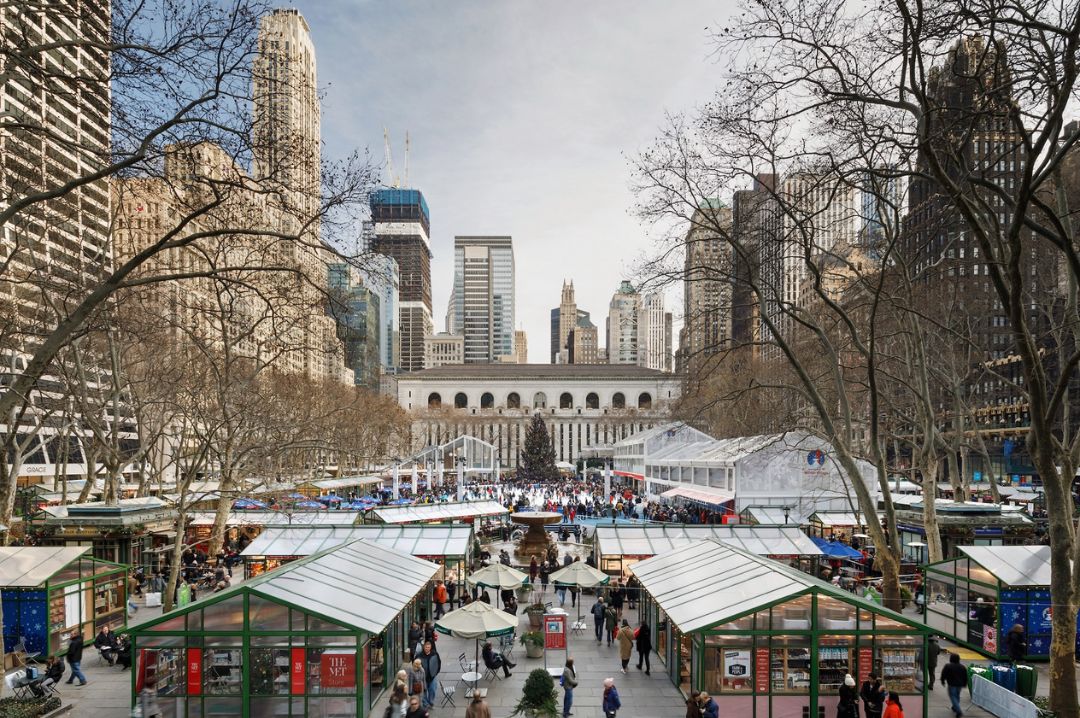 Bryant Park Holiday Market, Source Facebook
Bryant Park in Manhattan is glorious all through the year. It is during the holidays though, that the sense of wonderment goes quite a few levels above. Yes, the lighting and the ice skating rink are wildly popular, the people who run the show and bring the bites and the drinks, however, also play a major role in the winter village's success. Bank of America Winter Village at Bryant Park has once again brought holiday action in full force to New York.
There will be cozy igloos, and the Curling Café and Bar where you can enjoy a drink or two. They are both in different areas of the park, but will still offer quite a few options to sip on. At Curling Café and Bar, go in a group and family or adult packages can get you a carafe of wine or buckets of beer that can be paired with chicken tenders plus fries or mac and cheese plus fries and a cheese board with crackers and fruit. At the Cozy Igloos by Prime Video, the drinks menu consists of mulled wine, beers, and salted caramel hot apple cider.
Location- Bryant Park, 42nd Street and 6th Avenue, New York, NY 10018
Union Square Holiday Market
(18th November to 24th December)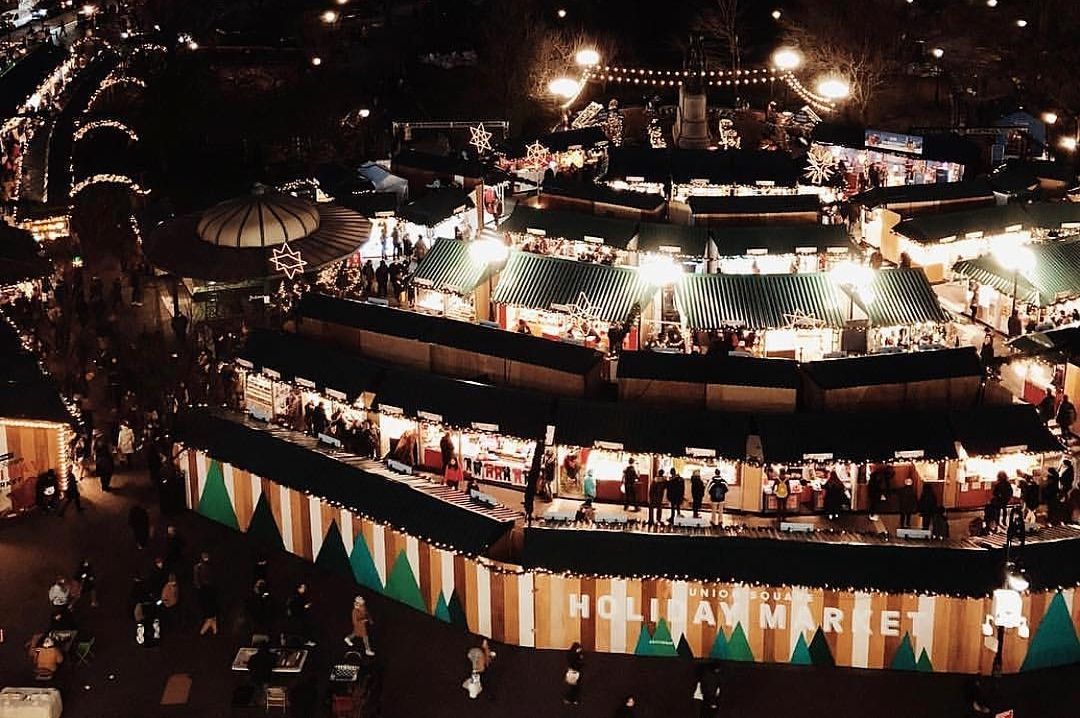 Urbanspace's Union Square Market, Source Facebook
Internationally renowned Union Square Holiday Market returns to charm New Yorkers after a forced hiatus of one year. Local craftsmen, artists and entrepreneurs will showcase their skills and products in over 160 stalls in a backdrop of festivity and merry-making. The winding aisles will surprise you, enthral you and also, tire you (because there's a lot to see, and you only have your own two feet). Don't worry though, there are plenty of stalls to refresh and replenish your energy levels.
To grab a bite at the Union Square Holiday Market, one can turn to Duck Season, Oh-K Dog & Egg Toast, Andie's Eats and more. For non-alcoholic drinks, head to Bao Tea House, Palenque Colombian Food, Cafe Toscana and many others, whether for a hot drink or an icy drink. For those looking forward to enjoying some festive tipples, get your share at German Bratwurst, and Veselka Pierogi Bar. Enjoy cold pints, mulled wine, fall cider spritz, Aperol spritz just to name a few.
Location- Union Square, 14th Street, New York, NY 10011
Holidays at Grand Central
(4th December to 24th December)
One of New York's most iconic locations, the Grand Central Terminal will be engulfed in a festive frenzy and covered in holiday glitter for a good three weeks. There will be holiday magic at every turn during the Holidays at the Grand Central festival, with gifting for days, a season of tastes and wonderment within. For those looking to shop and gift, there will be dozens of shops under the terminal's celestial ceiling showcasing a variety of products, from global lifestyle items to locally owned specialty products.
But that's not just it. The holiday season at Grand Central is a season of tastes. Replete with magnificent dining experiences, you can enjoy a glass of your favorite drinks, from craft cocktails to festive flavors. Restaurants and bars like Grand Central Oyster Bar & Restaurant, The Campbell Bar and more will bring festive tipples to Grand Central Terminal throughout the holiday season.
Location- Grand Central Terminal, 89 E 42nd Street, New York, NY 10017
Buffalo Holiday Market
(26th November to 23rd December)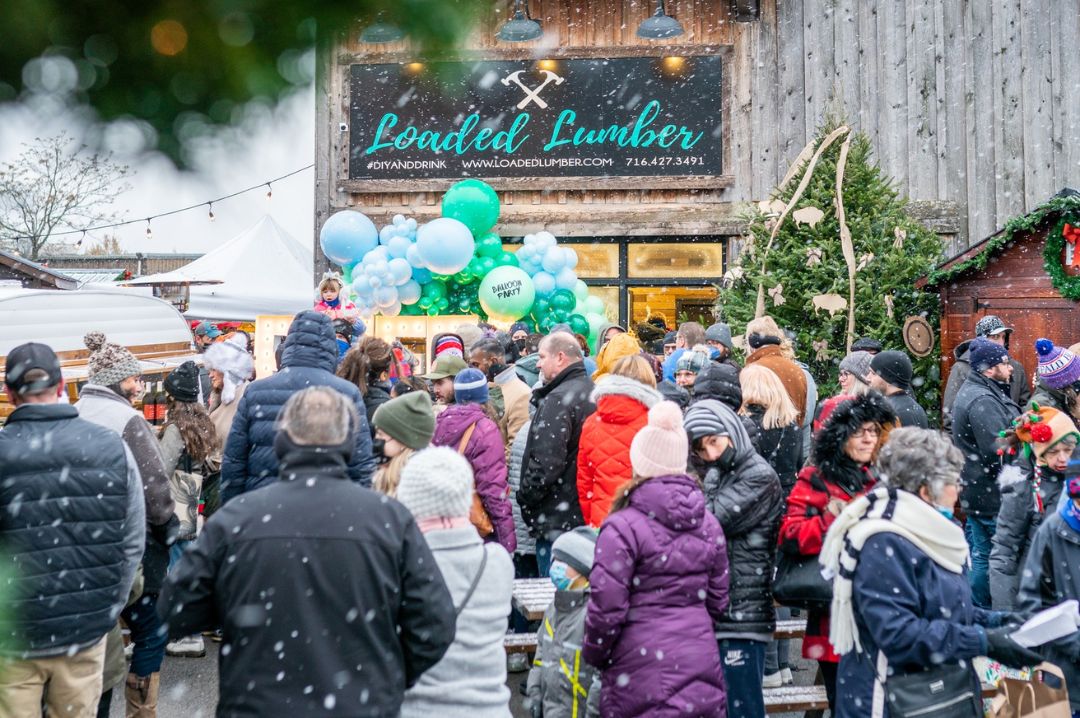 Buffalo Holiday Market by Loaded Lumber, Source Facebook
Imagine this. You are walking through Buffalo, wanting to celebrate the holidays with other New Yorkers and you find your way to the Buffalo Holiday Market. Snow-capped cathedrals, seasonal cookies, brightly lit Christmas trees and a spectacular atmosphere will get your heart beaming with joy. To add to the already amazing market spectacle, visitors can feast on products from vintage artisans, craft sellers and a host of food and drink varieties.
For those coming to the market only for the lights and the drinks, there are plenty of reasons to be happy. Each week the holiday market will be offering a signature mimosa, meaning four different mimosas through the market's duration. In addition to that, mulled wines, spirits and more will be on show, apart from hot drinks, donuts and more. A spectacular four week holiday market brought to you by Loaded Lumber Buffalo.
Location- Buffalo Holiday Market, 223 South Park Avenue, Buffalo, NY 14204
Columbus Circle Holiday Market
(29th November to 24th December)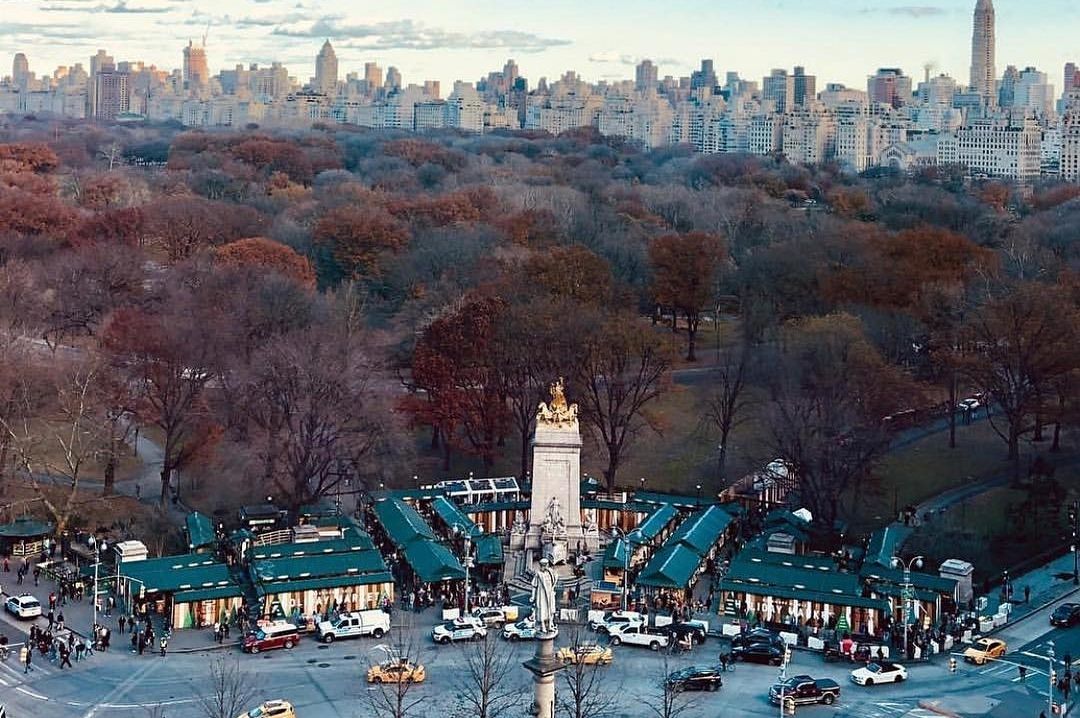 Columbus Circle Market by Urbanspace, Source Facebook
Part of the same venture that brings New York the Union Square Holiday Market, this Central Park holiday staple will once again bring together a host of lovely vendors who will engage in curious discussions with you as you look across the shops, looking at products you can add to your holiday shopping spree. There are chances you will lose yourself in the aisles of the market, looking at the art, jewelry and other crafts on display.
Once you find your way to a place that serves plates of delicious food, you will have a tough decision to make. Hot dogs, bratwursts, waffles and other sweet and savory dishes can be paired with a nice, hot cider. A pleasant market with lots to offer, Columbus Circle Holiday Market is one of the popular holiday spots you will come across in all of New York City.
Location- Columbus Circle & Central Park Street, New York, NY 10019
White Plains Holiday Market
(5th December to 19th December)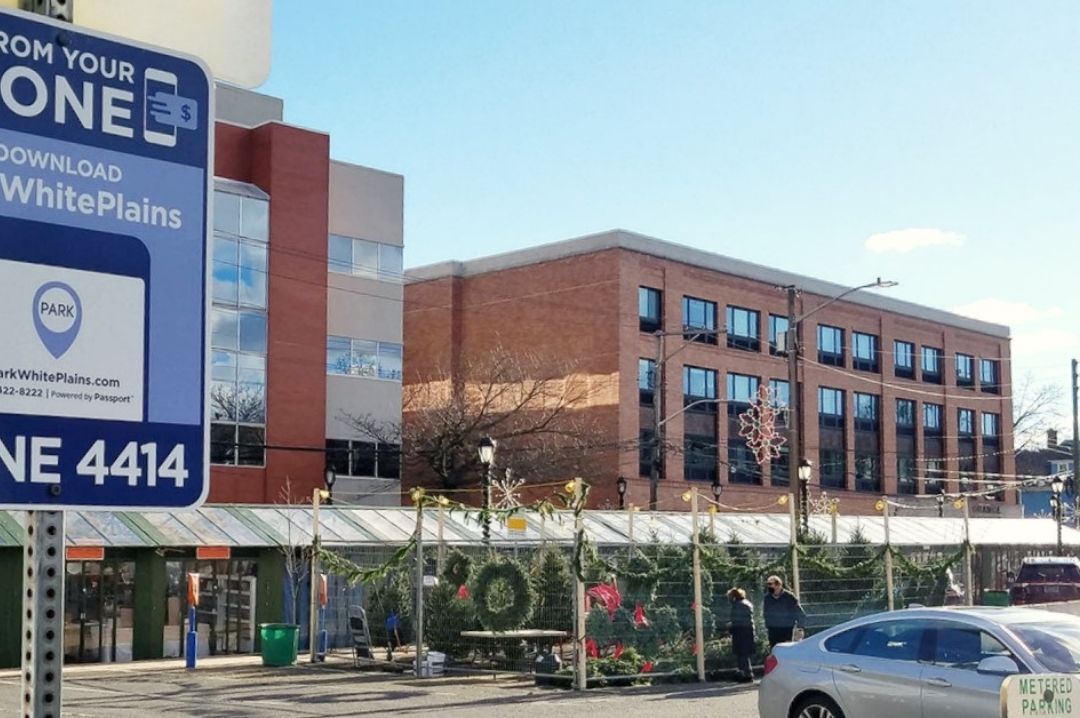 White Plains BID Christmas, Source Facebook
White Plains BID, 914PopUps, and the City of White Plains have partnered to host the annual 15-day White Plains Holiday Market. The Westchester County region holiday market will be home to over sixty vendors, who will all showcase a variety of products, including Christmas trees, holiday wreaths and unique gifts. From apparel and accessories, jewelry and plenty of craft shops, the holiday shopping experience in the heart of White Plains can be one to have a drink after.
To ensure your energy levels are high throughout (which won't be very difficult), White Plains Holiday Market will have numerous food and drink spots in place to look after your appetite. Alex Lounge Bar & Grill, Manor Sangria, and Rockland Cider Works will serve the drinks at the holiday market and look after the tipple needs of all those who come through the entrance.
Location- 235 Mamaroneck Avenue, Suite 200, White Plains, NY 10605
Header Image- Buffalo Holiday Market, Source Facebook