The Best Places to Sip and Chill around Prospect Park
Prospect Park is full of amazing places to drink. Just take a walk (or a cab) and the Brooklyn locality will punch out drinks left, right and centre.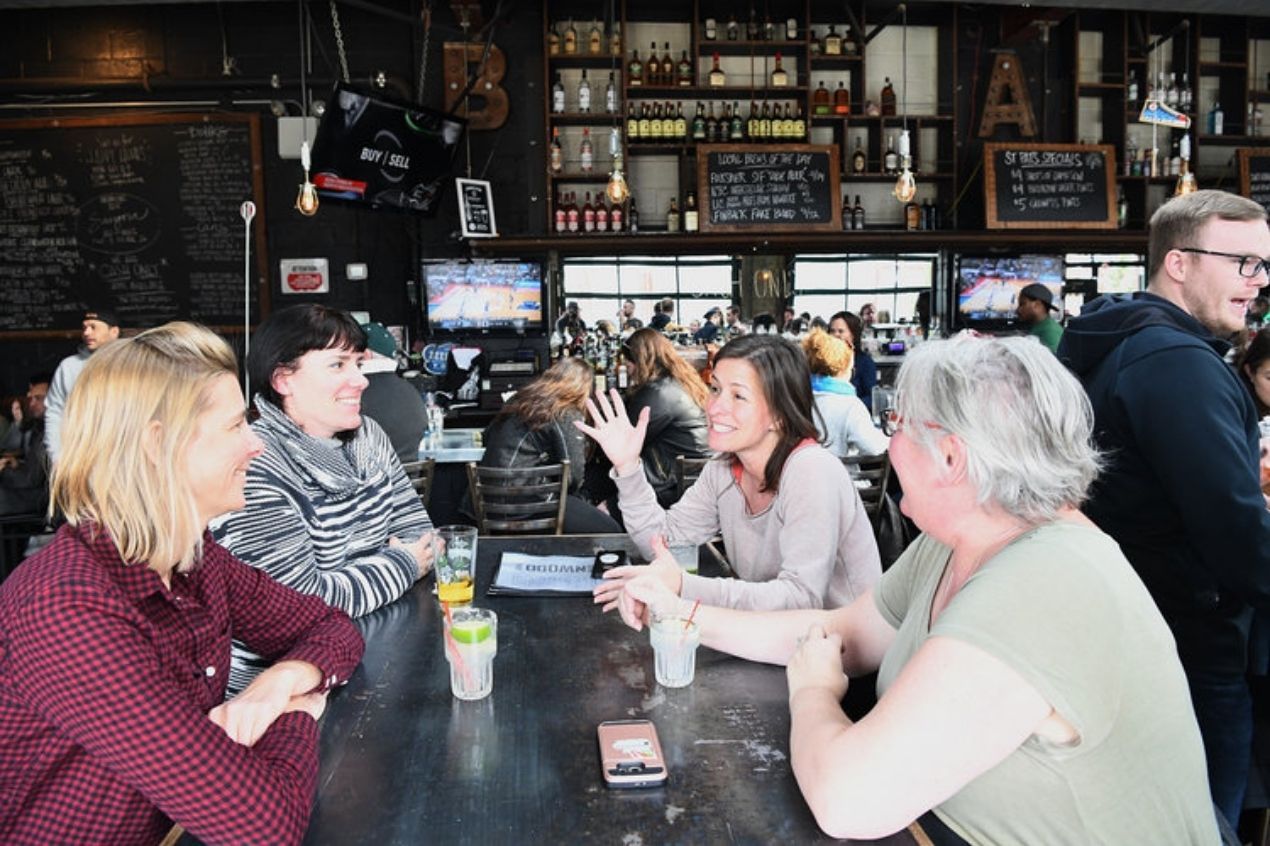 The boroughs of New York are packed with numerous places to sit down and have a drink. Prospect Park's tale is no different. Brooklyn's urban park locality has no shortage of places you can go to enjoy a pint, a nice cocktail or a glass (a bottle on occasions) of wine. Chances are some of you might already have a go-to spot in Prospect Park, but for those looking for one and those looking to try new spots, start your Prospect Park bar hopping expedition with these bars.
The Double Windsor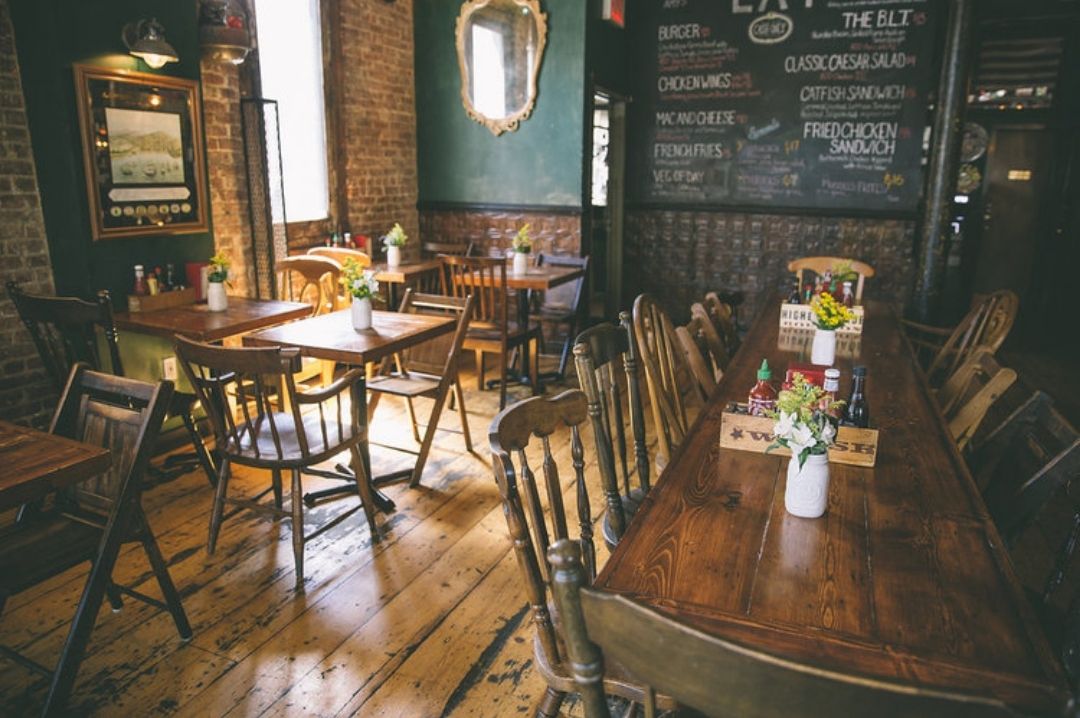 The Double Windsor, Source Website
A good old fashioned neighborhood booze joint, named as a homage to their Brooklyn neighborhood, The Double Windsor is a great prospect for anyone looking to have a pint in Prospect Park. A rotating tap list of 14 craft beers brewed internationally, locally and across the states. The bar was opened in 2009 by Eric, Jeff and Greg who have been Park Slope and Windsor Terrace residents for decades. They wanted to open a spot where locals could hang out and enjoy the atmosphere of an Irish pub with good food.
The food selection is full of daily specials and regulars, all of which are essentially locally sourced, seasonal bar food. Enjoy a buttermilk fried chicken sandwich or their preparation of the catfish.
Location: 210 Prospect Park West, Brooklyn, NY 11215
Timings:
Monday to Thursday- 12 pm to 9 pm
Friday- 12 pm to 10 pm
Saturday- 9 am to 10 pm
Sunday- 9 am to 9 pm
Freddy's Bar and Backroom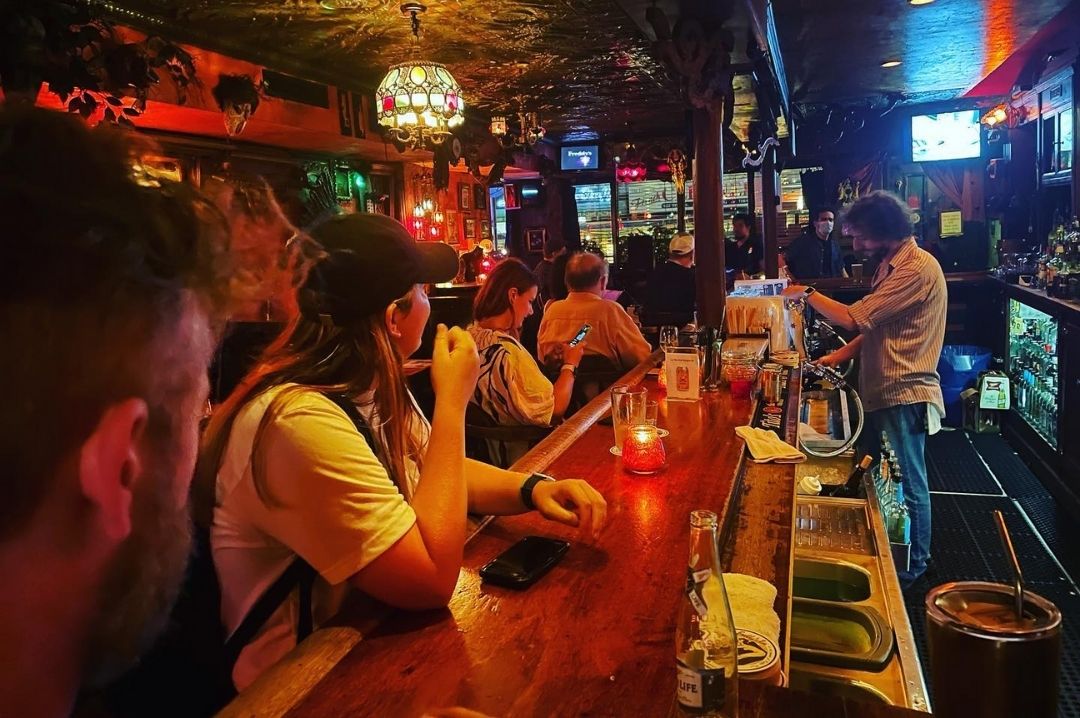 The Bar Table at Freddy's, Source Facebook
A Prospect Park institution whose history stretches back to the prohibition era, Freddy's Bar and Backroom has today become a hub for local and far-flung visitors because of its chill and comfortable vibe. The nine-decade old establishment features live music, soulful food, cozy rooms and outdoor spaces, making it a Prospect Park staple. The decor adds to the charm and complements the menu perfectly. The food menu is full of likeable bar munchies like chicken fingers, hummus and pigs in a blanket. There are also elaborate dishes like Magic Mike, Philly Cheese Steak, and more.
Freddy's happy hour consists of $5 drafts and well drinks, and $6 draft and dog. The happy hour runs from 12 to 7 pm every day. Partnering the menu and the happy hours are live performances and events that run through every month.
Location: 627 Fifth Avenue, Brooklyn, NY 11215
Timings: All week- 12 pm to 4 am
Brook-vin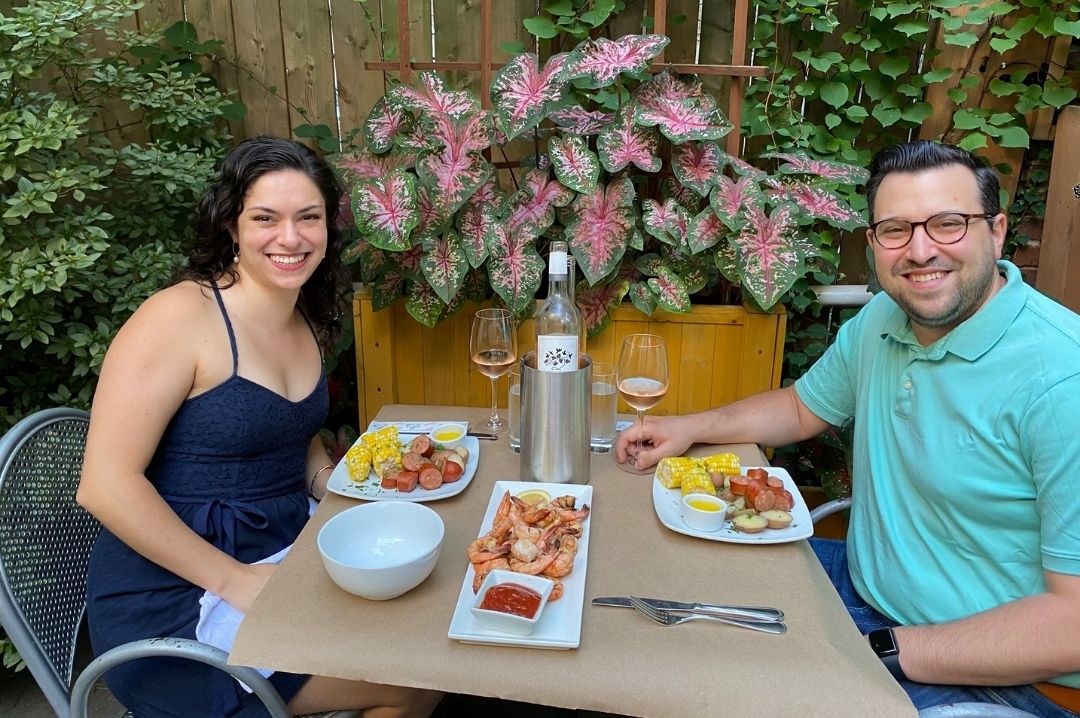 Brook-vin's Outdoor Seating, Source Facebook
Sitting at about a six-minute walk from Prospect Park is Brook-vin, an intimate wine bar. Owned by Aaron Hans, Brook-vin's bar menu has a selection of domestic and international wines, available by the glass. The wine collection features whites from countries like Italy, France, Austria, sparkling wines from Spain, wines by the bottle from New Zealand, Chile and more. Visitors can also enjoy six varieties on tap, which can be paired with shareable side plates.
There is also a small but quality list of cocktails that drinkers can turn to in case they want to try something more colorful. Brook-vin is also a great spot for happy hour catchers, with all of Monday being a happy hour day. During happy hours, drinkers can avail $5 draft beer, $8 Fado (red wine), Les Carralets (white wine) and Arrumaco (rosé wine). There is also $7 mac and cheese, adding bacon for $2.
Location: 381 7th Avenue, Brooklyn, NY 11215
Timings:
Monday and Tuesday- 4 pm to 10 pm (Happy Hours Tuesday until 7 pm)
Wednesday and Thursday- 4 pm to 10:30 pm (Happy hours until 7 pm)
Friday- 4 pm to 11 pm (Happy hours until 7 pm)
Saturday- 2 pm to 11 pm (Happy hours until 5 pm)
Sunday- 2 pm to 9:30 pm (Happy hours until 5 pm)
Greenwood Park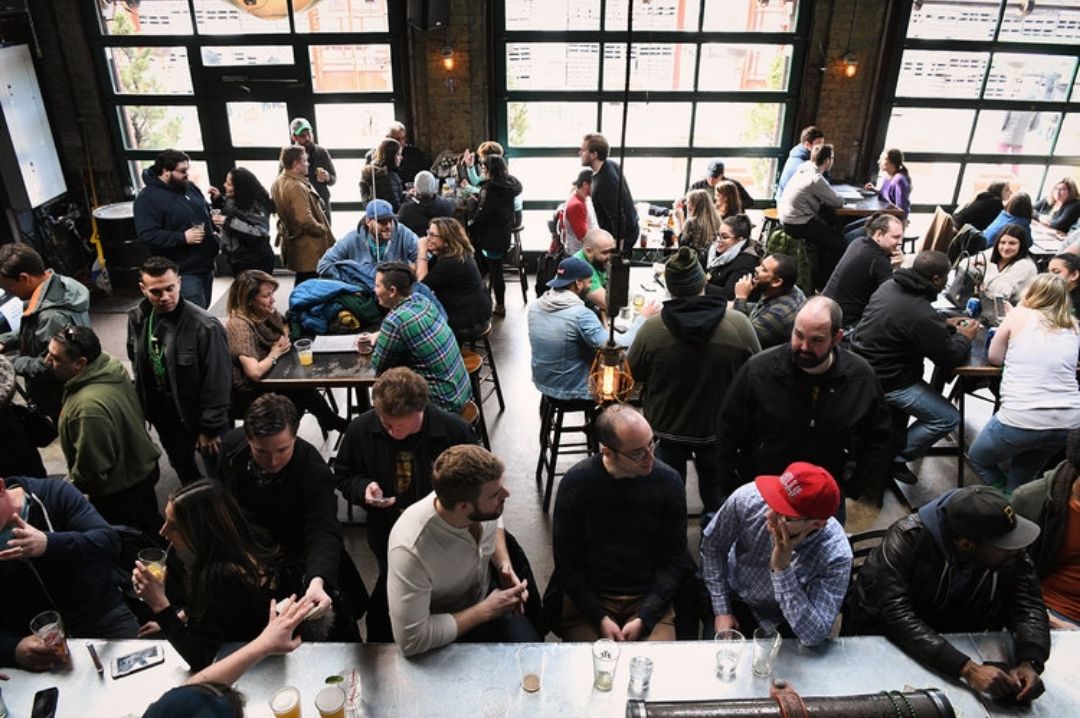 Gather around the table and have a pint, Source Website
What are your thoughts on spacious bars? Honestly, there is nothing not to love about them. Just like there's nothing not to love about Greenwood Park, a 13,000 square foot indoor/outdoor beer garden, restaurant, bar and event space. Greenwood Park has a proper ensemble menu, including 60 draft beer lines.
Greenwood Park's cocktail selection has seven cocktails like Daddy's Little Helper, John Daly and Misguided Tom. Sangria pitchers, frozen drinks, non-alcoholic choices and wines by the bottle, glass and cans complete the drinks menu. The food menu has sandwiches, pizzas, snacks and a few sweet sides. A massive place, a massive menu and a massively inclusive atmosphere.
Location: 555 7th Avenue, Brooklyn, NY 11215
Timings:
Monday to Thursday- 3 pm to 12 am
Friday to Sunday- 12 pm to 1 am
Krupa Grocery
The Outdoor Garden at Krupa, Source Facebook
One of the top places for drinks enthusiasts in Windsor Terrace, Krupa Grocery is located just a block away from the bottom of Prospect Park. Several things make Krupa Grocery a great place to drink and eat at. The backyard is gorgeous, perfect for recounting tales and making new memories. The brunch menu is top-notch, and there is a great all-day menu that's eclectic and delicious.
On the drinks side, there is a cocktail menu featuring tipples like Aperol spritz, Kruparitos & Tomatillo Salsa, Manhattan Enough and more. There are multiple options available on tap, from beers and ciders to wines and kombuchas. Krupa Grocery's menu also has a grab & go menu. The bar has also introduced wake & bake Prospect Park picnic boxes and pre-order Wednesday fried chicken.
Location: 231 Prospect Park West, Brooklyn, NY 11215
Timings:
Monday to Friday- 3 pm to 9 pm
Saturday and Sunday- 10 am to 9 pm
Prospect Park Bar and Grill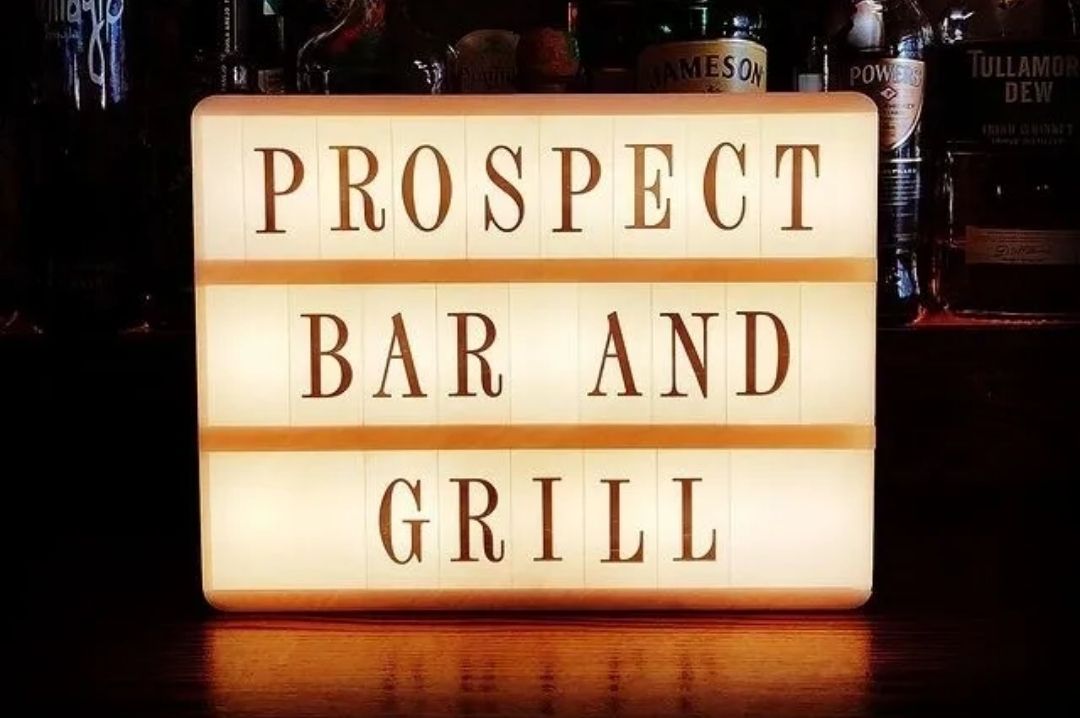 Prospect Park Bar and Grill, Source Website
The list of the best places to drink in and around Prospect Park would be incomplete without Prospect Park Bar and Grill. The neighborhood bar and grill opened its doors in 2012, serving American comfort food and a rotating craft beer selection, great cocktails and frozen drinks. The rustic indoor dining area, the beautiful patio and the global menu makes Prospect Park Bar and Grill a warm hangout spot.
The drinks menu has bottled beers and cans like Miller High Life, Bud Light and five others. The draft beer selection has 10 beers, and there's also red wine by the glass, white wine by the glass, frozen drinks and cocktails. Happy hours at Prospect Park Bar and Grill run from Wednesdays to Fridays from 3 pm to 7 pm.
Location: 545 5th Avenue, Brooklyn, NY 11215
Timings:
Wednesday and Thursday- 3 pm to 11 pm
Friday- 3 pm to 12 am
Saturday- 12 pm to 12 am
Sunday- 12 pm to 9 pm
Header Image- Greenwood Park, Source Website