Whiskey spots in Midtown: Rudys, The Flatiron Room, and more
The Flatiron Room, Whiskey Trader, Rudy's, and more come together to create a stellar whiskey scene in Midtown.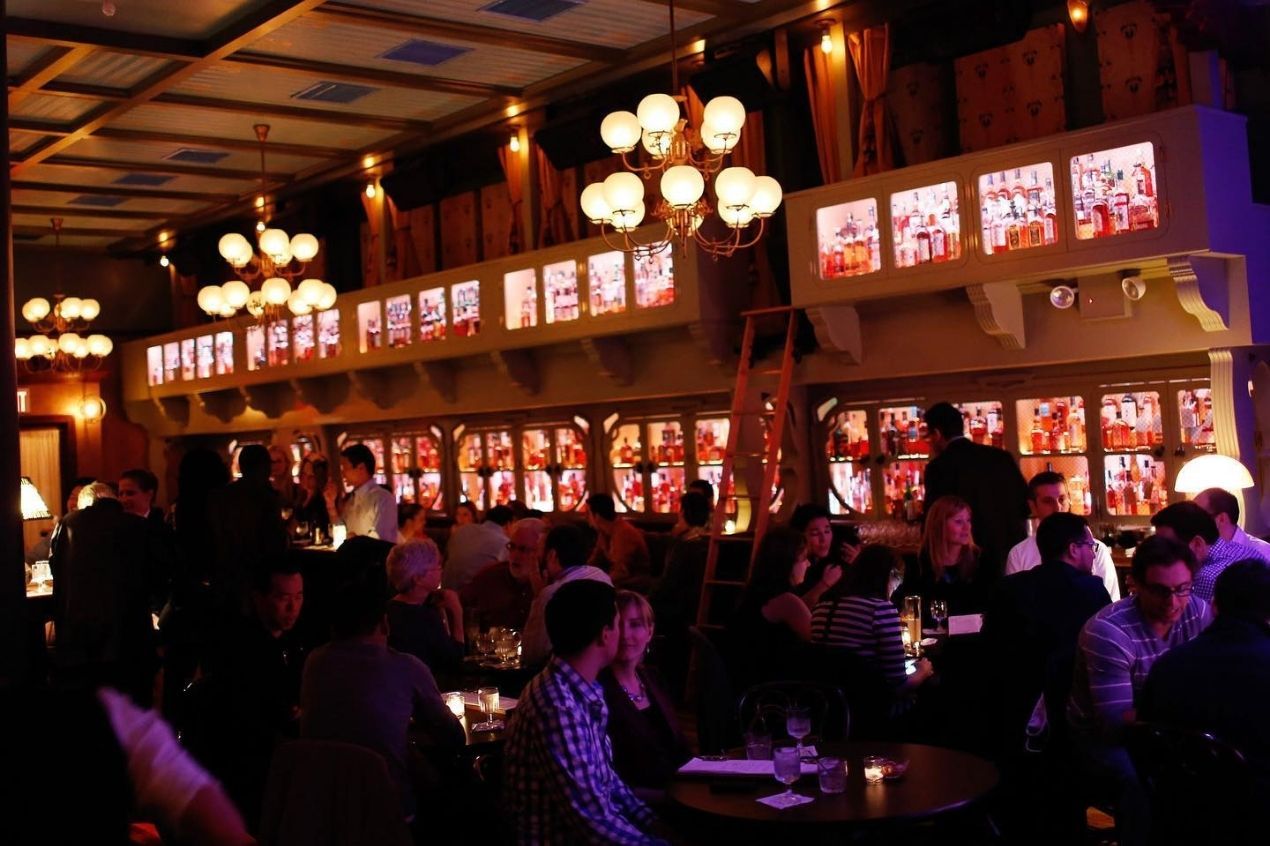 We're always scouting for a good place to enjoy a variety of whiskeys, and Midtown boasts quite a few gems. From bars boasting over 1000 whiskeys from all over the world to comfortable lounges with local classics, these bars in Midtown are a whiskey haven.
Whiskey Trader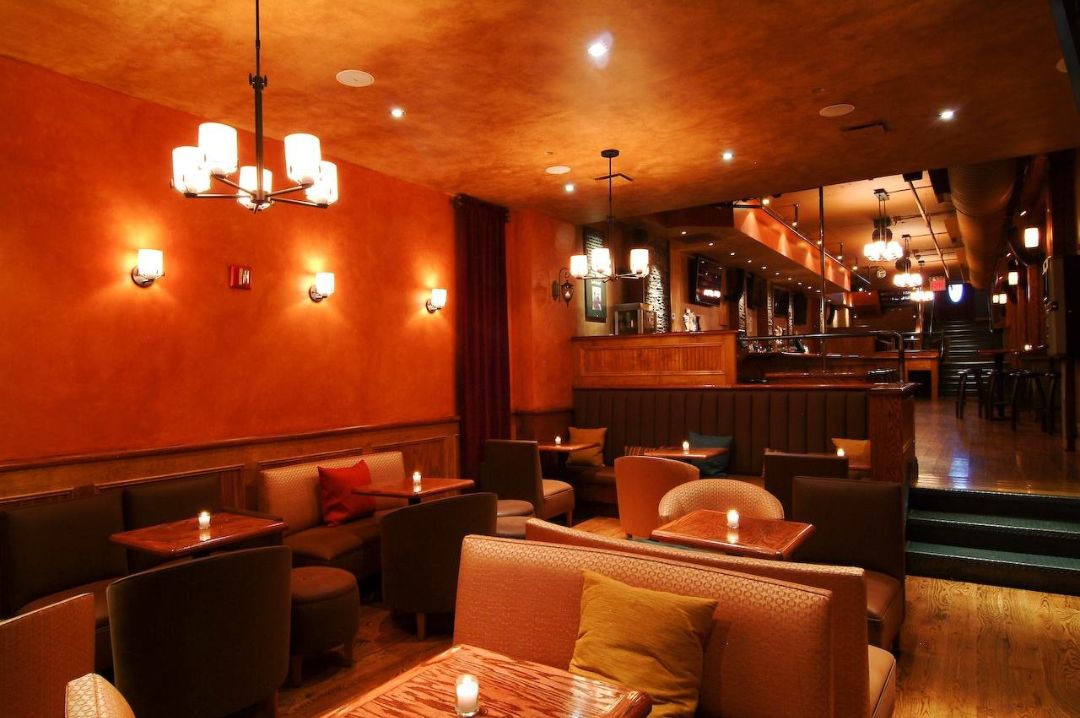 Whiskey Trader, source: Facebook
Whiskey Trader is the perfect place for club-goers and lounge-lovers. This multi-level sports bar has hip and stylish decor and features a large wooden bar. The candle-lit lounge is home to a cozy fireplace, soft sofas, a video-game nook, a jukebox, and TVs around the room.
The bar offers a handful of draft and bottled beers, classic cocktails like the old-fashion or margarita, and an extensive list of whiskeys including a variety of single malt, bourbon, blended, Irish, and rye whiskey. The place does not offer any food but you are always welcome to bring in your own food. The bar team has also curated a list of delicious cocktails to keep you hooked. Try the long Look Back, made from Bulleit Rye Whiskey, Suntory Japanese Whiskey, Beaulieu stirred with organic agave and bitters.
Happy Hours - Mon-Sun (11 am - 7 pm)
Where - 71 W 55th St, New York, NY 10019
Hours - Mon-Sun (11 am - 4 am)
American Whiskey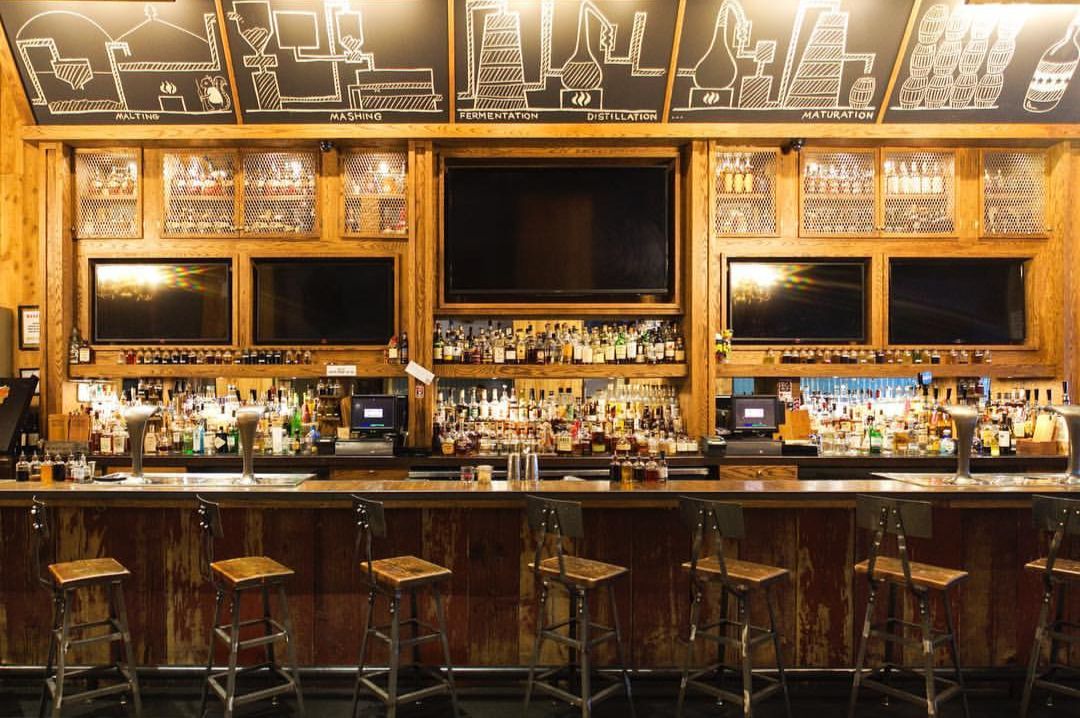 American Whiskey, source: Facebook
Located one block away from Madison Square Garden, American Whiskey is one of the largest bars in the country. The place is divided into equal parts of a rustic roadhouse, sports bar, bachelor cave, and of course, a top-notch whiskey and cocktail bar.
The bar features 12 original cocktails, about 20 bourbon- and rye-based classics, and classic American grub. With a stunning assortment of over 375 different globally sourced whiskeys, American Whiskey caters to both whiskey connoisseurs as well as interested beginners. Look out for Bourbon BBQ Ribs or the Beer Brined Chicken with the choice of drink.
Where - 247 W 30th St 5th fl, New York, NY 10001
Hours - Mon and Tue (4 pm - 12 am)
Wed-Sat (4 pm - 2 am)
Sunday (4 pm - 12 am)
Rudy's Bar & Grill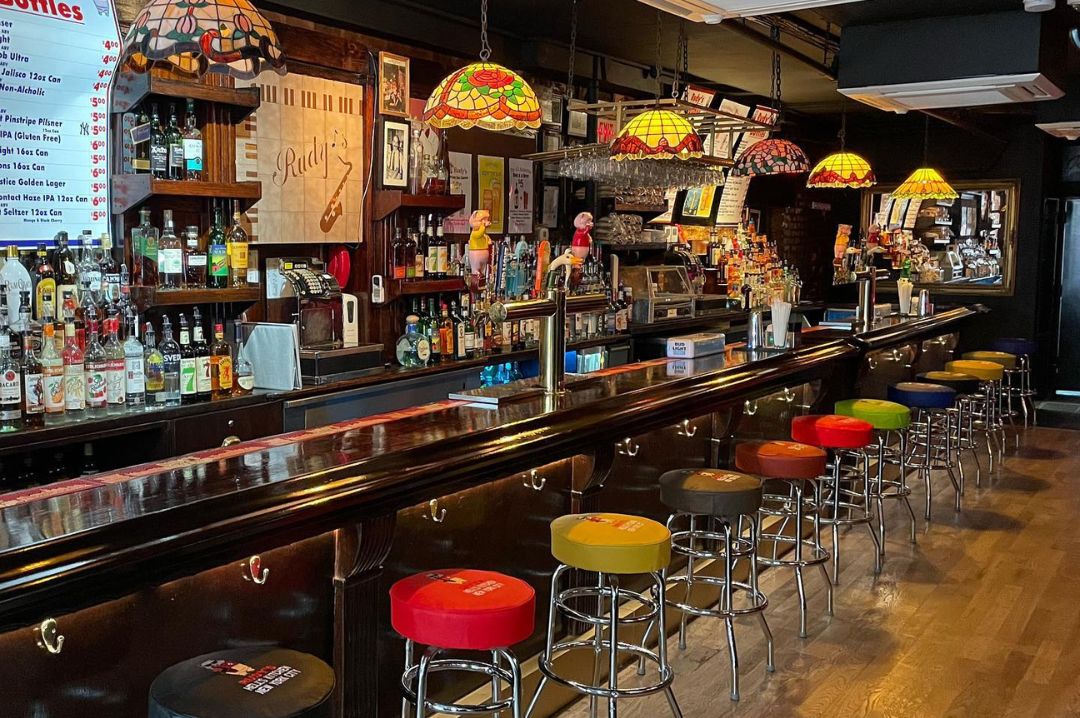 Rudy's Bar and Grill, source: Facebook
Nestled in the heart of Hell's Kitchen, Rudy's Bar and Grill is a historic dive bar that opened in 1933. When prohibition ended in 1933, Rudy's received one of the city's first liquor licenses. While locating the venue, look for a giant smiling pig statue standing outside its doors.
Inside this deliciously divey ambiance, the tavern serves cheap beers, free hotdogs, and a great selection of whiskey. Grab a pint of Rudy's Blond or a glass of Jameson Irish Whiskey and enjoy the classic cool-bop jazz packed in a jukebox.
Where - 627 9th Ave, Manhattan, NY 10036
Hours - Mon-Sun (12 pm - 4 am)
Stanford West Whiskey Bar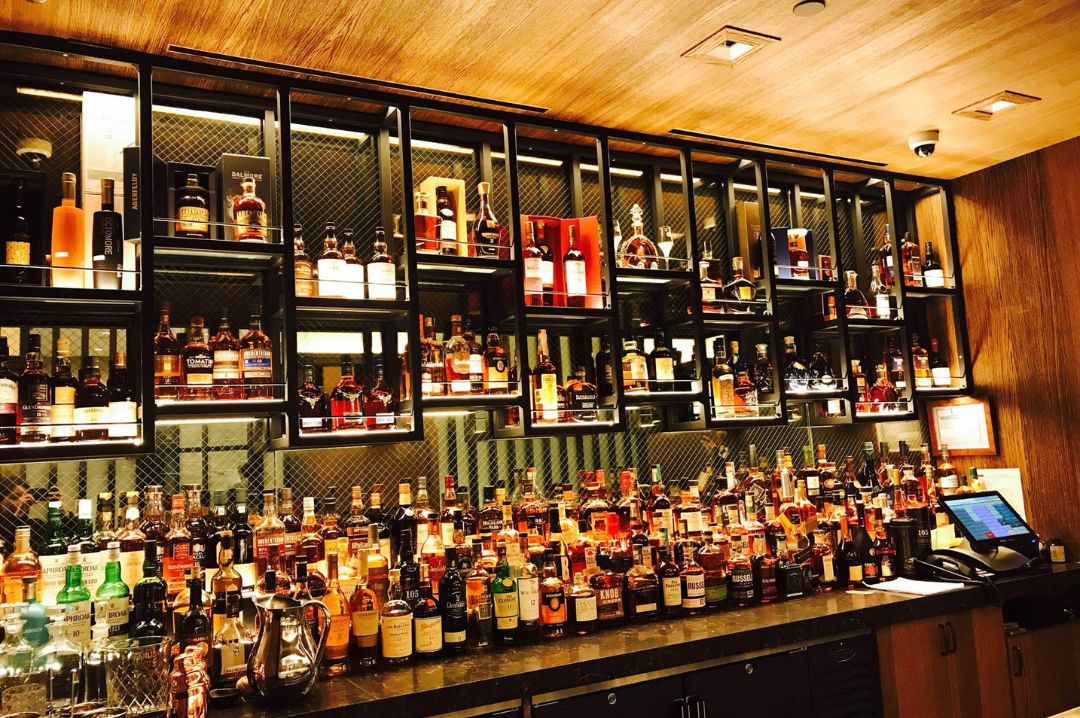 Collection of whiskey at Stanford West Whiskey Bar, source: Facebook
The brand new Stanford West Whiskey Bar, located in the heart of midtown Manhattan, entices guests into a tranquil spot away from the city noise. Their whiskey bar is ideal for casual talks, get-togethers with friends, relaxing after work, and romantic dates. With oak walls, leather sofas, marble side tables, and mix-match decor, the place creates a beautiful and inviting setting.
With a broad range of whiskey from around the world, they hope to satisfy both experienced whiskey drinkers, and those who are just getting started. In addition, they also serve their patrons craft cocktails and some classic pub grub. Join them today and get ready for a night of glitz and glam.
Where - 43 W 32nd St, New York, NY 10001
Hours - Mon-Sun (6 pm - 1 am)
The Campbell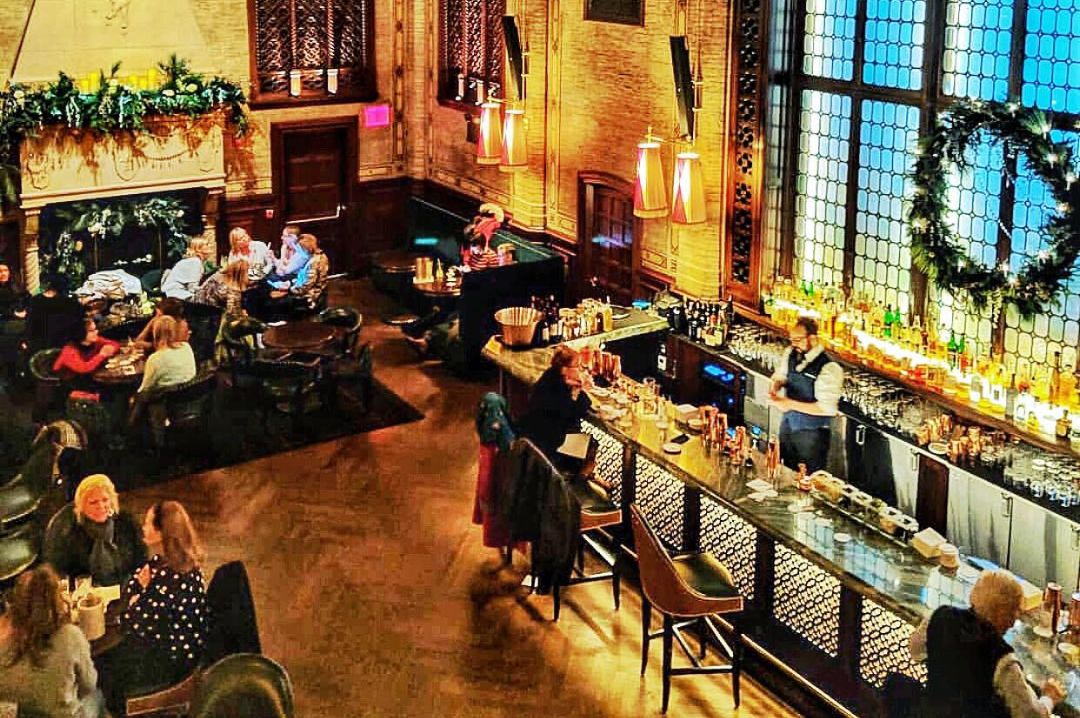 View inside The Campbell, source: Facebook
Settled in the Grand Central, The Campbell bar pays homage to the legacy of John W. Campbell. Experience drinking in custom wood, mohair, and leather furnishings in rich hunter green, midnight blue, and scarlet tones, as well as modernized quartzite accents, and strong brass finishes.
The bar boasts classic cocktails like old-fashioned and some house specials like the Bourbon Smash, made from Wyoming whiskey, blackberry, and basil. Along with this, you can also sip on beers, hard seltzer, a crazy whiskey collection, and a handful of wines. Munch on lite bites offered by their kitchen. It includes cheese and charcuterie board, roasted nuts, and more.
Where - 15 Vanderbilt Ave, New York, NY 10017
Hours - Mon-Sat (4 pm onwards)
Caledonia Bar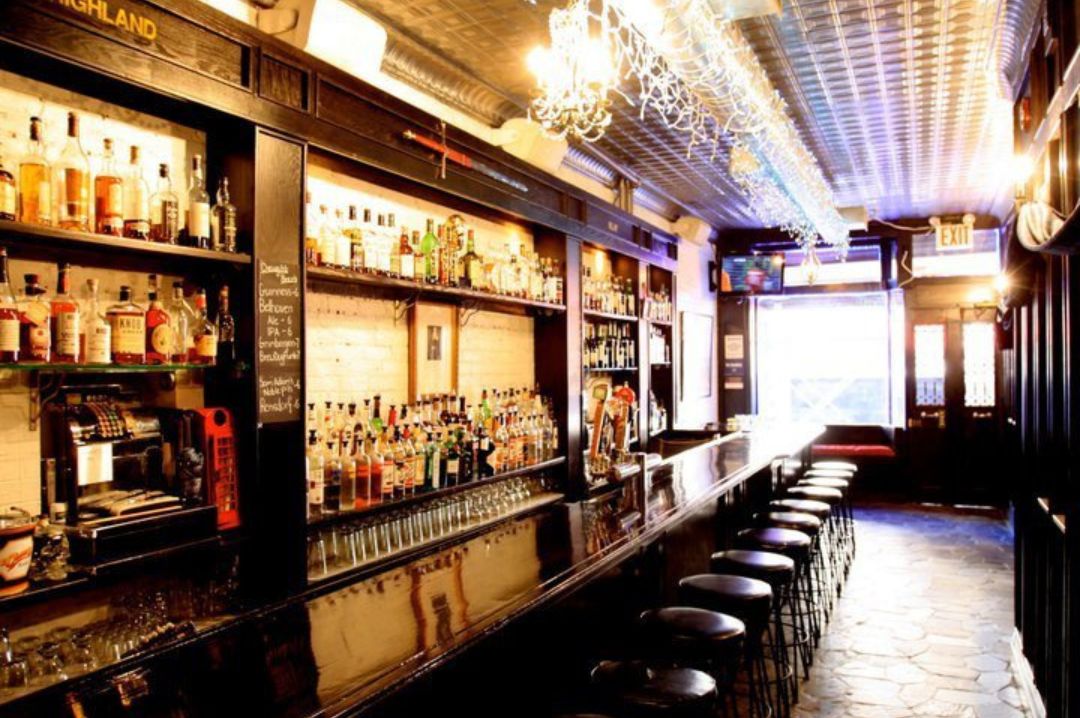 Caledonia Bar, source: Facebook
If you want a wide range of whiskey in a relaxed and unpretentious atmosphere, Caledonia Bar is just the place for you. This Scottish tavern features a fantastic assortment of whiskies from all around the world, including Scotland, Japan, Ireland, and the US. Caledonia Scottish Pub has over 150 different kinds of whiskey to pick from, so there's something for everyone.
Besides whiskey, the bar also puts forward a considerable selection of beers, some classic cocktails like Manhattan, Old-fashioned, and several bar bites like nuts, marinated olives, and more. Look out for your favorite whiskey or try the Penicillin cocktail, made from Teacher's Blended Scotch, lemon, honey, ginger, and a Bowmore 12 Float.
Where - 1609 2nd Ave, New York, NY 10028
Hours - Mon-Wed (5 pm - 2 am)
Thursday (5 pm - 4 am)
Fri-Sat (4 pm - 4 am)
Sunday (4 pm - 12 am)
The Flatiron Room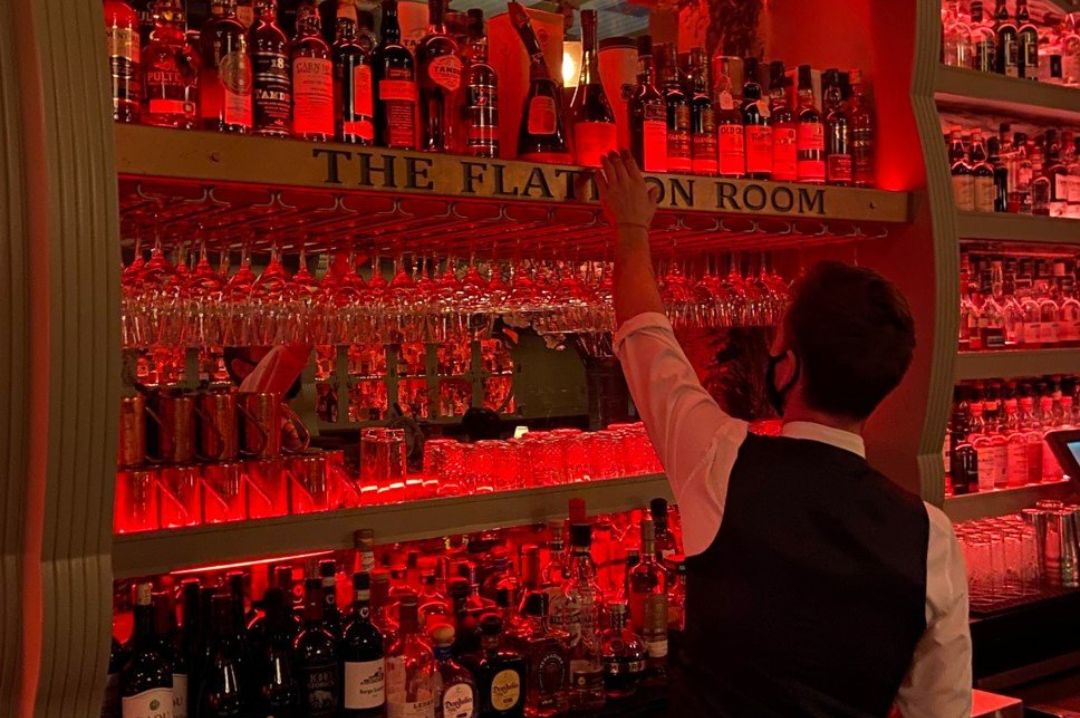 Whiskey selection at The Flatiron Rooms, source: Facebook
It might as well be a crime if we talk about whiskey and don't mention The Flatiron Room. The Flatiron Room is a whiskey bar that has won numerous awards. To complement their extensive range of whiskey from throughout the world, they provide a seasonal menu of gourmet food. Inside it is a sophisticated and relaxing venue with 1,000 kinds of whiskey, masterfully created drinks, wine by the bottle and glass, live jazz, and bluegrass every night.
We recommend trying their Flatiron Steak Frites, made with 8 Oz Angus Flatiron Cut, Truffled French Fries, Bourbon Bbq Sauce, and frizzled leeks. When it comes to something other than whiskey, we've been loving the Luis Special HSO, made with Agricole Rhum, Cruzan dark rum, pineapple and lemon juice, simple syrup, and coffee liqueur.
Where - 37 W 26th St, New York, NY 10010
Hours - Monday (5 pm - 12 am)
Tue-Sat (5 pm - 2 am)
Sunday (5 pm - 12 am)
Header image, source: The Flatiron Room Facebook
South San Francisco Conference Center, 255 South Airport Boulevard, South San Francisco, CA 94080, United States
Register Now
South San Francisco Conference Center, 255 South Airport Boulevard, South San Francisco, CA 94080, United States
Register Now