10 NYC Breweries with Outdoor Seating
One thing that can make sitting back and sipping a cold craft brew even better is doing it on a patio!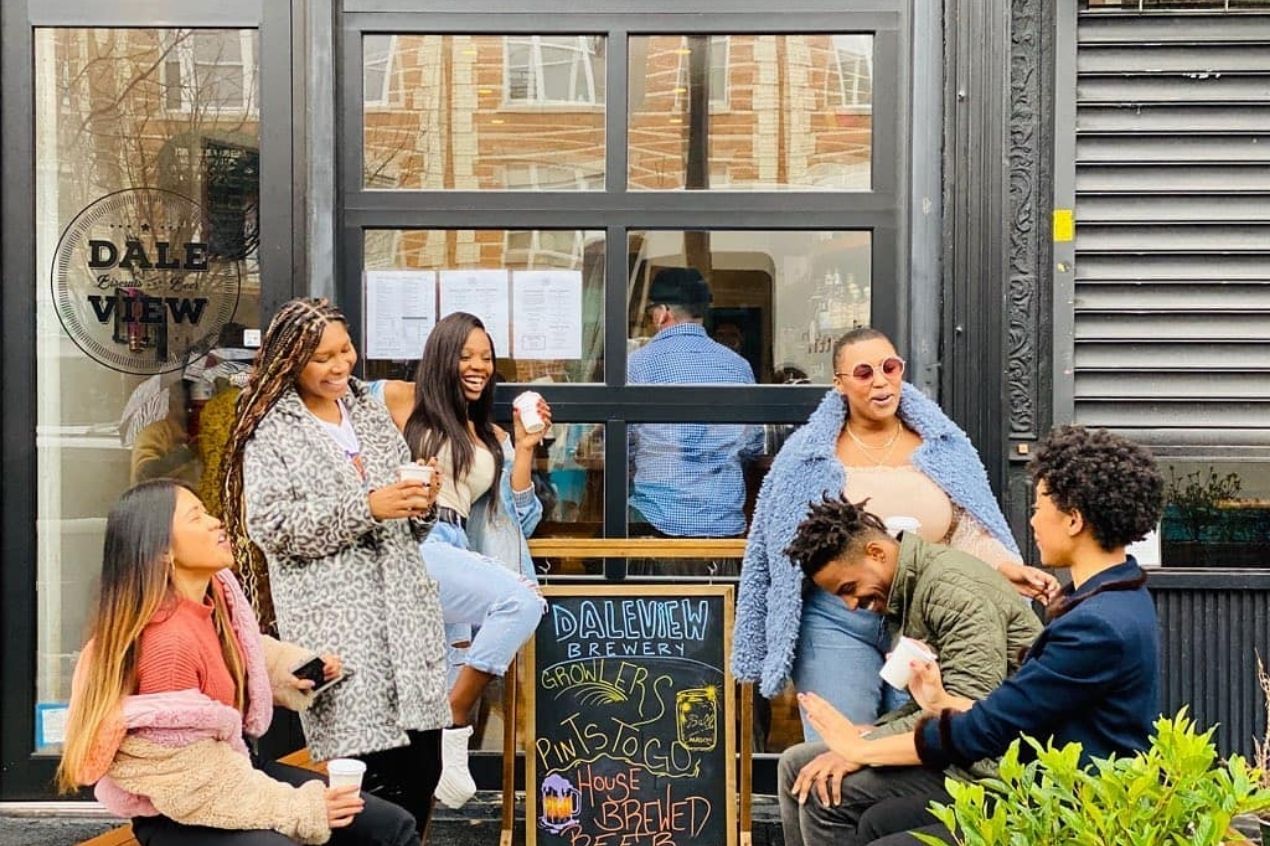 After a year of being cooped up in our apartments, the idea of carefree outdoor drinking in a sprawling beer garden is more appealing than ever. With summer getting closer, a chilled pint is a must have, and NYC has plenty of great breweries that make and serve it in-house. Want to support your favorite breweries by drinking some locally made beer on a patio? Here are 10 spots to do just that.
Talea Beer Company

Talea Beer Company, Source Facebook
Talea is the first-ever woman and veteran-founded brewery to open in NYC. Talea's beers prioritize fruit flavors over hoppy bitterness, like a 5.2% ABV gose brewed with pink Himalayan sea salt, blackberries, and coriander. This doesn't necessarily mean Talea is over IPAs - they also sell a hazy IPA made with lactose, pineapple, and a "soft, marshmallowy character." You can also find a higher-ABV sour IPA brewed with peaches and raspberries called "Raspberry Peach Tart Deco." Their massive backyard and sidewalk setup is where you can drink whatever is on tap.
Location - 87 Richardson St, Brooklyn, NY 11211, United States
Randolph Beer

Randolph Beer, Source Facebook
This brewery has two locations, one in Dumbo and the other in Williamsburg. Expect industrial taproom vibes and picnic tables out front, but book a table at Randolph Beer's Dumbo rooftop, and you'll enjoy sweeping views of the city with your suds. The brewery has about 30 beers on tap that cover its full selection and even includes a house-made hard seltzer, available in 10- and 16-ounce pours. Patrons can also order from a full brunch menu or opt for sandwiches and bar snacks later in the day.
Location - 82 Prospect St, Brooklyn, NY 11201, United States
The Jeffrey Craft Beers and Bites

The Jeffrey, Source Facebook
A high-end espresso bar by morning, the Jeffrey transforms into an upscale craft beer and cocktail bar in the evening with an advanced draught system featuring a rotation of up to 30 international and local beers. Double Dry Hopped Vapor Ringz is a must-try. Chef Nick Ryan offers an array of gastro-bites like house-made potato chips, pickled vegetables, truffle popcorn, and a full gastropub menu complete with custom burgers, paninis, and crostini. Jeffrey has something for everyone.
Location - 311 E 60th St, New York, NY 10022, United States
Gun Hill Brewing Company

Gun Hill Brewing Company, Source Instagram
This Bronx brewery is home to some of New York's more interesting beers. Sidle up at one of the taproom's indoor or outdoor seats for a taste of lesser-seen styles, including blonde ales brewed with watermelon, pink lemonade sours, and peanut butter stouts. Canned beers are available for takeout and delivery.
Location - 3227 Laconia Ave, Bronx, NY 10469, United States
Loreley Beer Garden

Loreley Beer Garden, Source Facebook
Loreley boasts a long list of draft and specialty beers; you will be sure to find something refreshing to go with your beautiful day. Gaffel Kolsch is their specialty, and we highly recommend a pint. Also, don't forget about the cocktails! If their frozen margaritas are on the menu for the day, we recommend trying one. Not only are they delicious, but they're strong.
Location - 7 Rivington St, New York, NY 10002, United States
Torch & Crown Brewing Company

Torch & Crown Brewing Company, Source Facebook
This popular Bronx brewery opened a Soho location back in May, which operated as a home base for their expansive delivery service. Now, Torch & Crown has officially opened this huge Soho space for indoor and heated outdoor dining. Along with cream ales and double IPAs, they have burgers, charcuterie, and shrimp & grits available for lunch, dinner, and weekend brunch. The Rainmaker, Melting Pot, and Urban Refuge are a must-tries.
Location - 12 Vandam St, New York, NY 10013, United States
Oculus Beer Garden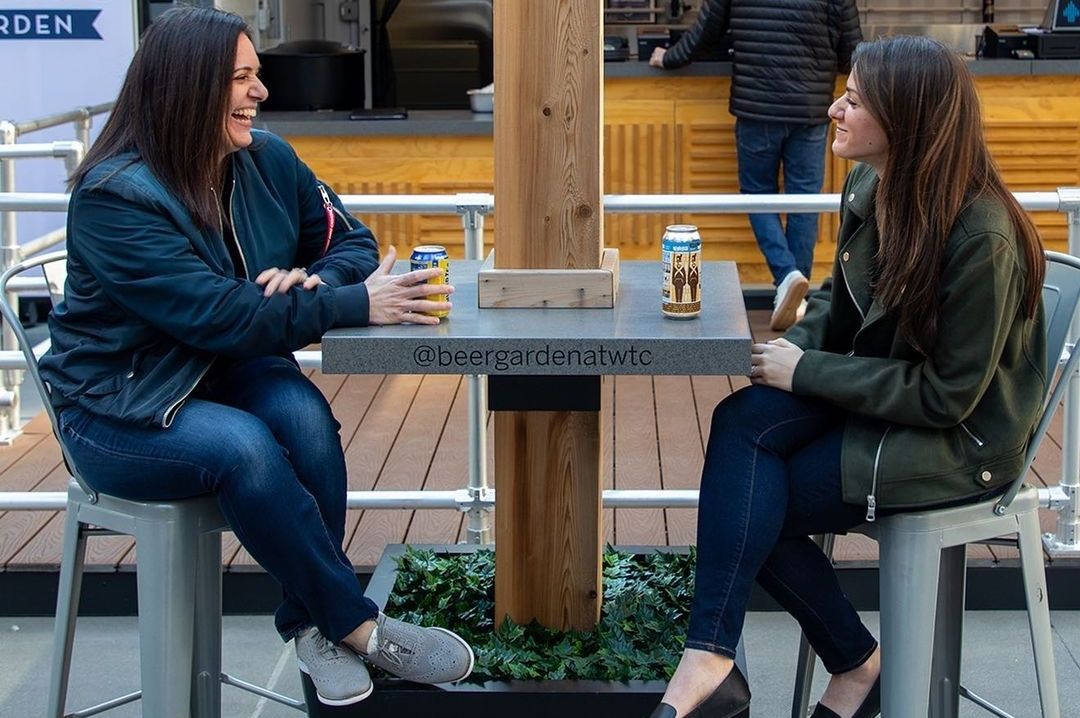 Oculus Beer Garden, Source Instagram
Now reopened for its second season, the Oculus Beer Garden is a sprawling 5,000 square foot pop-up space in the middle of the Financial District. In the shadows of the One World Trade Center and the iconic Oculus retail space and transportation hub, the beer garden carries options from local craft brewers like Coney Island Brewery's Mermaid Pilsner and Brooklyn Brewery's Bel Air Sour alongside domestic popular options like Miller Lite, Blue Moon, and more. For non-beer drinkers, there's a selection of wines from small production facilities in the Finger Lakes, and the beer garden also has a food menu that includes bratwurst from Schaller & Weber, Bavarian-style pretzels, and other snacks.
Location - 33 Vesey St, New York, NY 10282, United States
Local West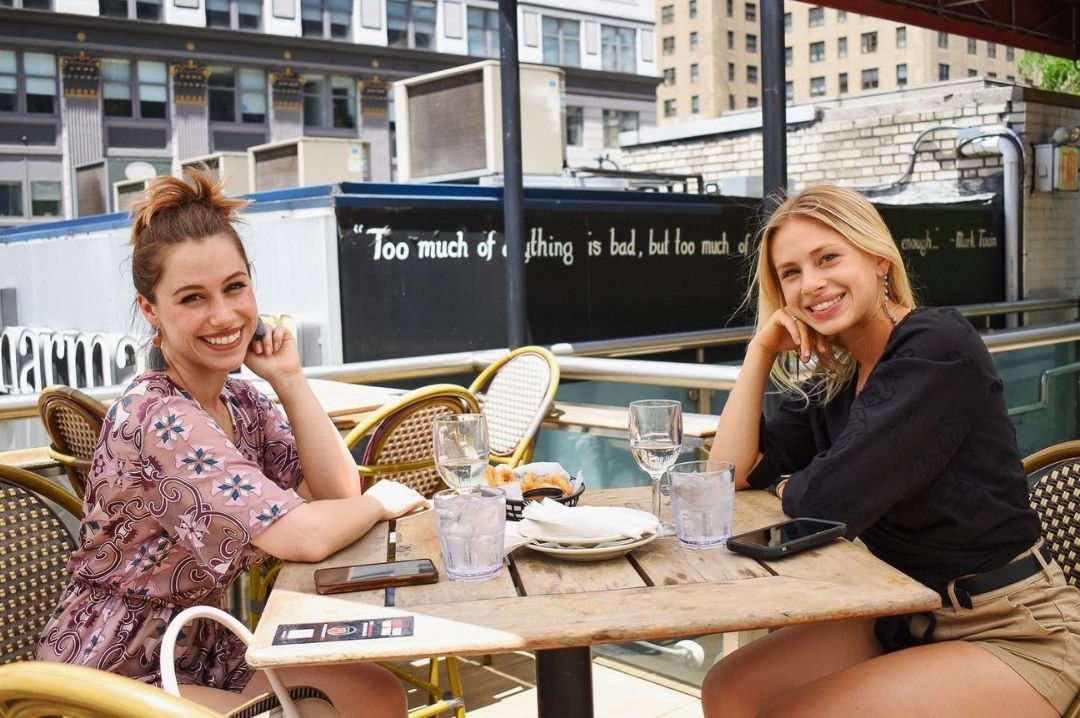 Local, Source Facebook
A hidden gem among the craziness that is Penn Station and MSG, Local west offers a vast outdoor patio nestled between two restaurants that offer indoor seating. Although the beer selection is rather tame, there is Shiner on tap served in giant beer steins for those in the mood for a refreshing Texas lager. The proximity to several major subway lines makes this a great spot for after-work drinks. Allagash White and Sip of Sunshine IPA are some of their specialties. Pop in anytime between 4 pm to 7 pm for some great Happy Hour brews.
Location - Zipcar, One Penn Plaza, New York, NY 10119, United States
The Bronx Brewery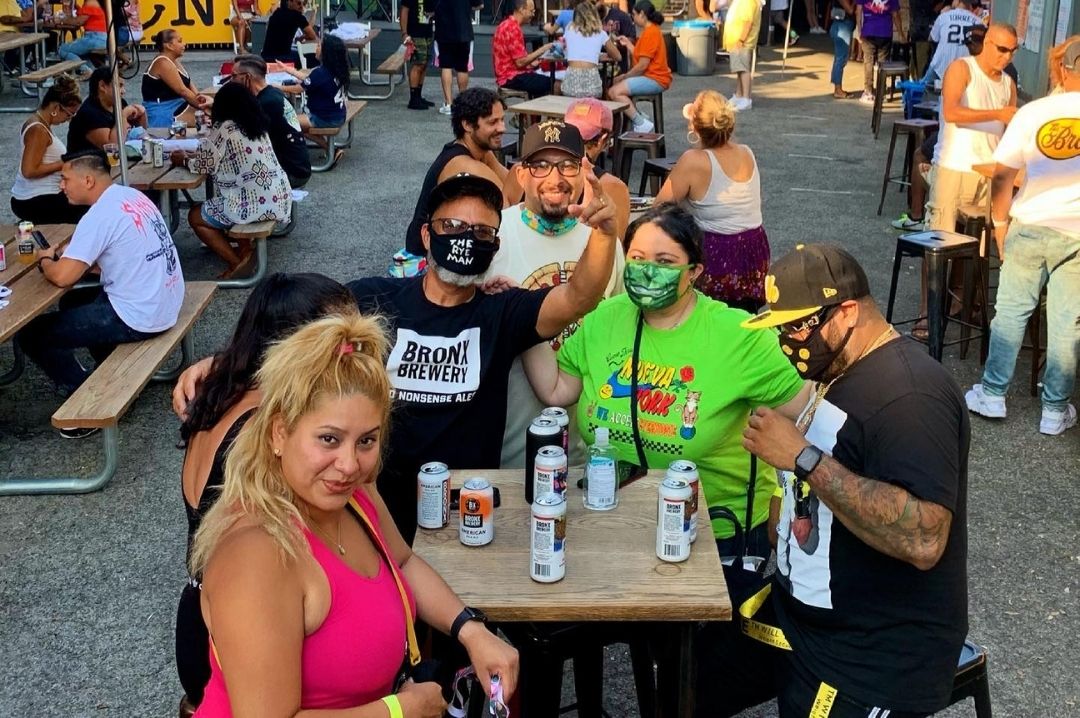 The Bronx Brewery, Source Facebook
Anchoring the northernmost borough's beer scene is the Bronx Brewery. While its more common offerings are widely available around the city, the taproom is worth a special visit. The space includes a sprawling backyard open seven days a week, and the brewery has partnered with Empanology — hello, lobster mac and cheese empanadas — to take care of the food. Side Hustle Seltzerita and Strawberry & Dreams are some of their limited releases that are worth trying.
Location - 856 E 136th St, Bronx, NY 10454, United States
DaleView Biscuits & Beer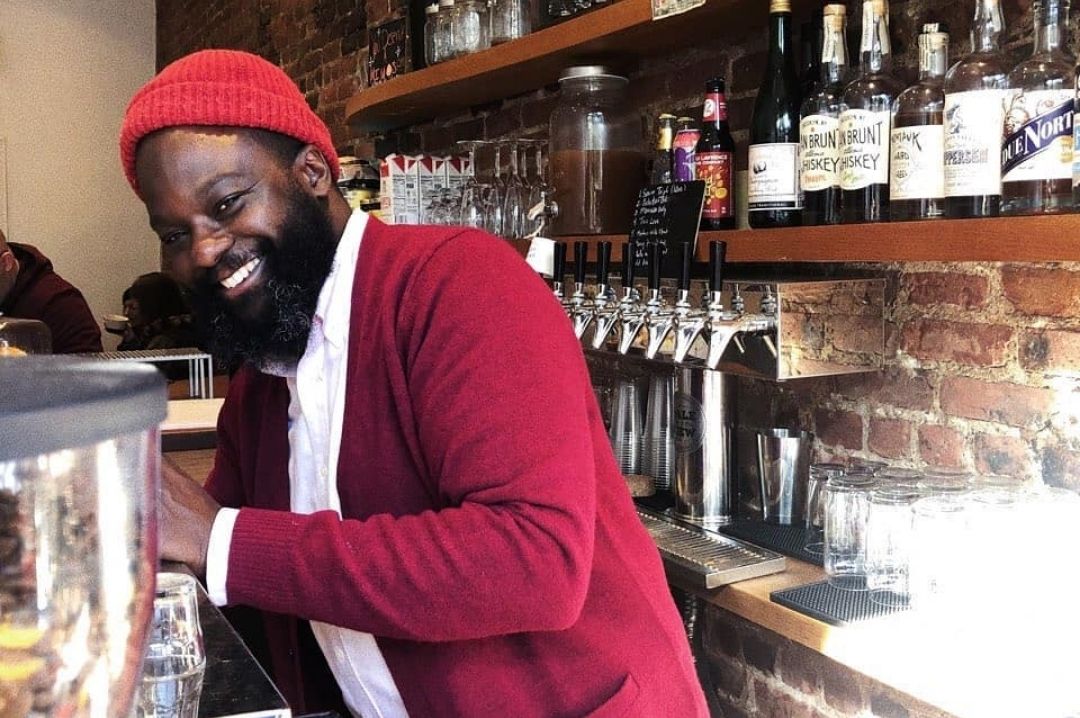 DaleView Biscuits & Beer, Source Facebook
DaleView is a microbrewery known for its craft beers and gluten-free biscuits and sandwiches. Pair the two on their mural-covered outdoor patio on Nostrand Avenue, and we guarantee you'll start to feel the fun side of your personality begin to thaw out for the summer. We recommend Mama Tingo.
Location - 1170 Nostrand Ave., Brooklyn, NY 11225, United States
Header Image: DaleView Biscuits & Beer, Source Facebook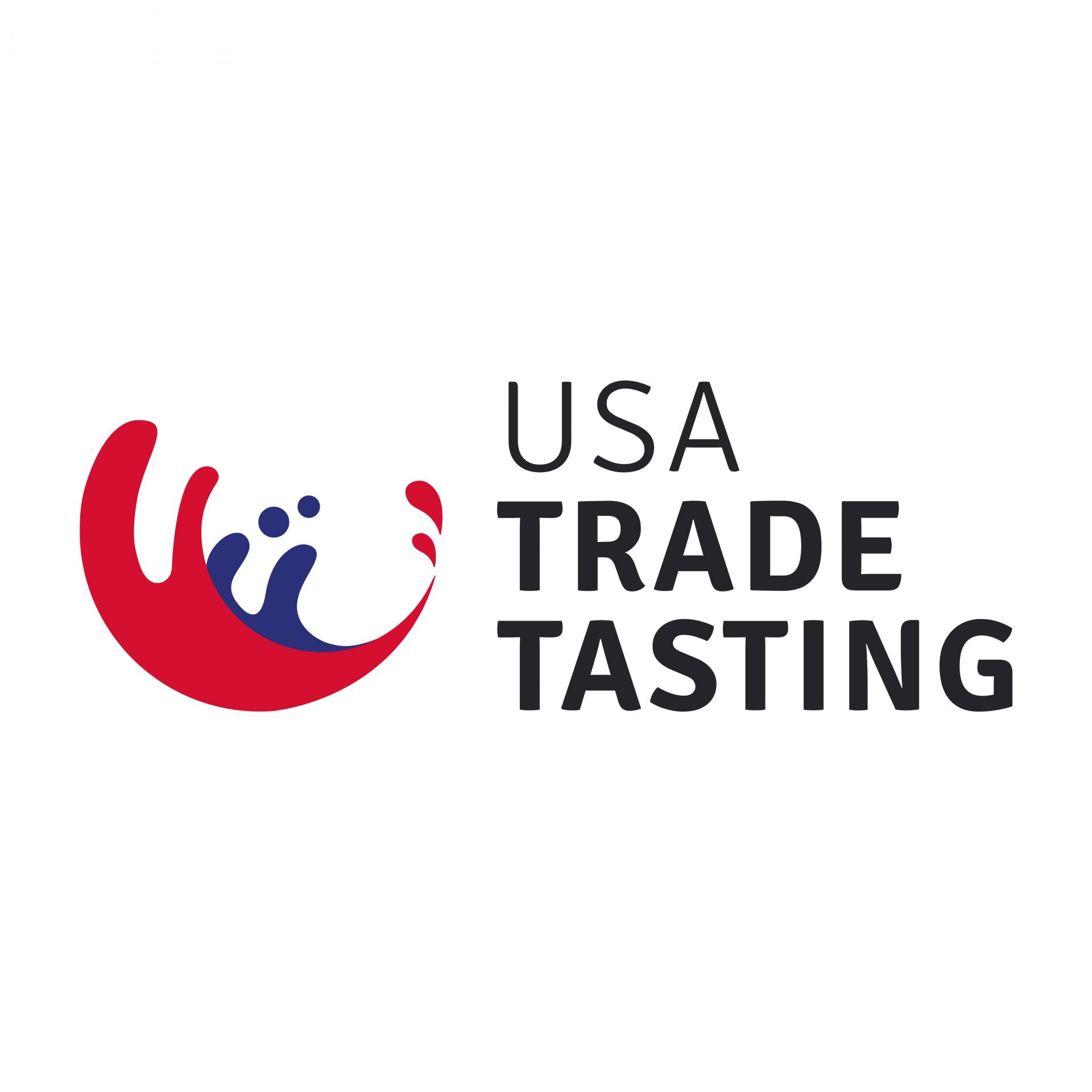 Morgan MFG, 401 N Morgan St Suite #204A, Chicago IL 60642
Register Now
South San Francisco Conference Center, 255 South Airport Boulevard, South San Francisco, CA 94080, United States.
Register Now
South San Francisco Conference Center, 255 South Airport Boulevard, South San Francisco, CA 94080, United States
Register Now