The best new restaurants in NYC
Keeping tabs on new restaurants popping up every now and then can be exhausting, so we've done it for you.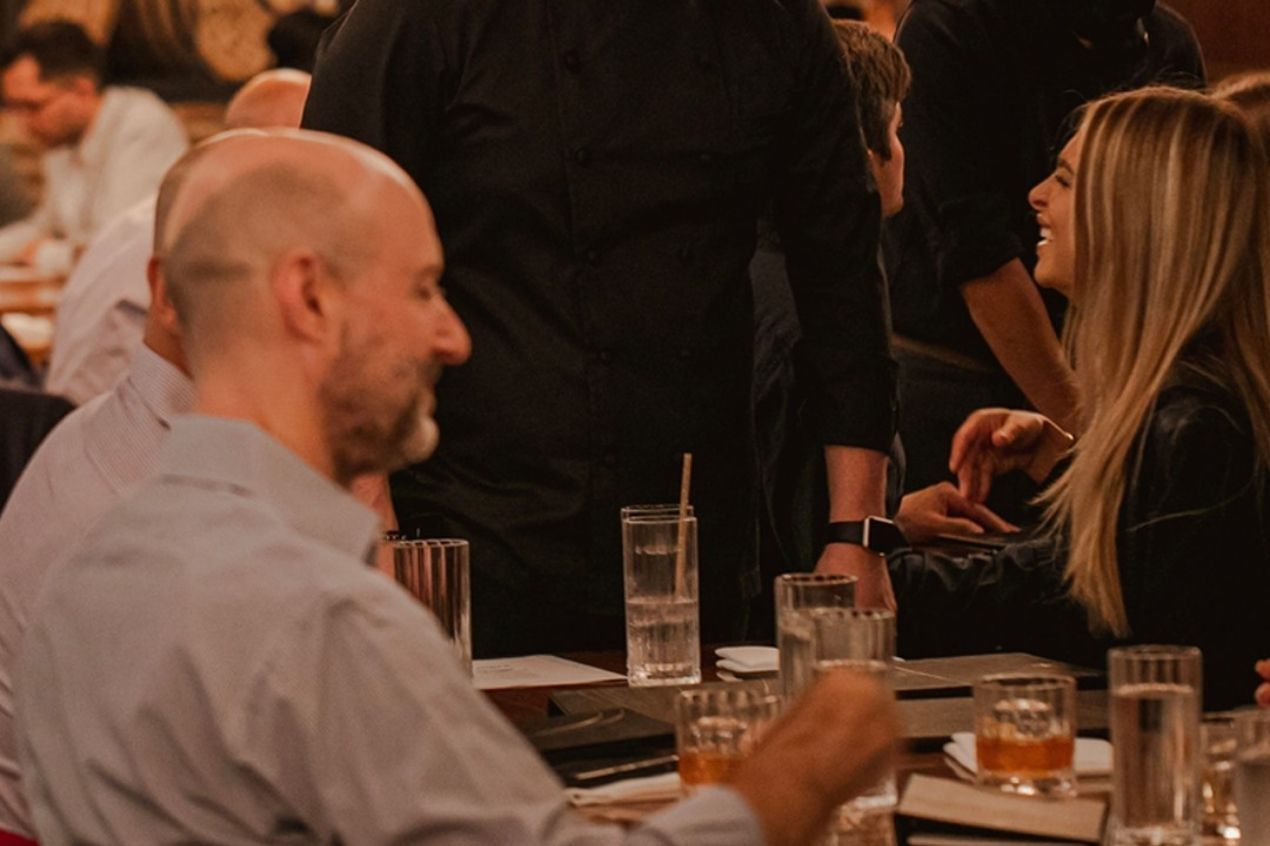 We all have our favorite restaurants that hold a special place in our hearts with insurmountable memories. But, that should not take away the appetite of trying new establishments in town, hunting to make a mark of their own.
To further complicate your reservation schedule, we have added a fresh bunch of places to eat and drink in the Big Apple that opened recently.
From soccer-themed restaurants, distillery-owned on-site eateries, and re-opened historic places, these are the top new places to hang out in New York right now.
Taqueria 86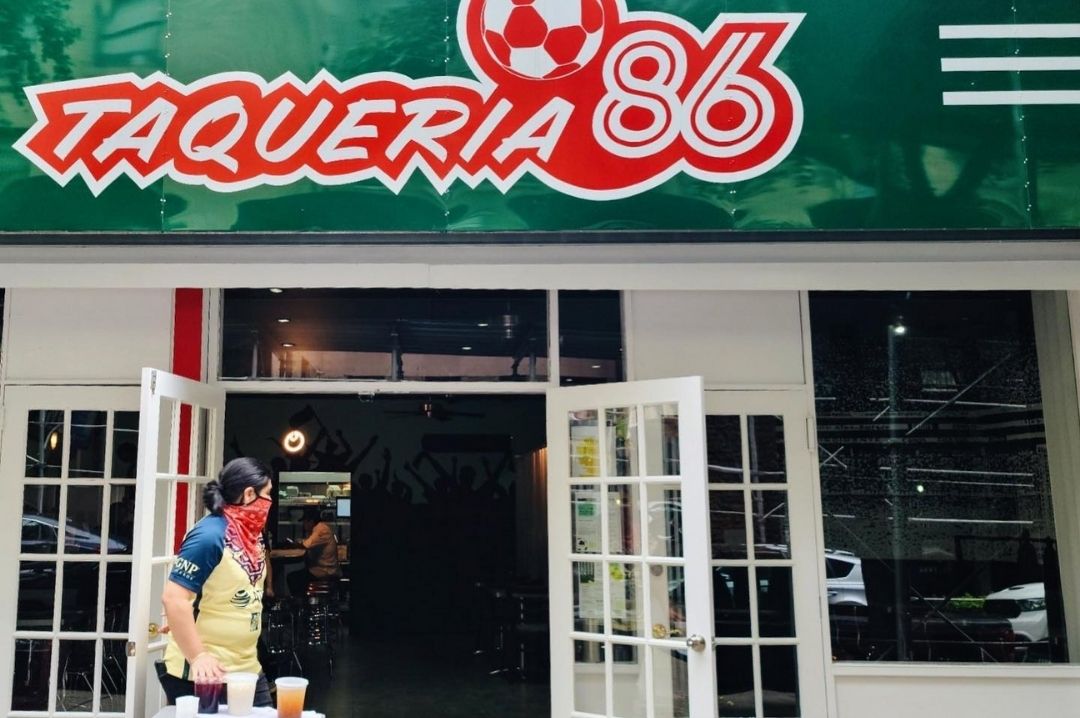 Taqueria 86 entrance, Source: Facebook
Inspired by the 1986 FIFA World Cup in Mexico, Taqueria 86 reminds us of the electric tournament lit up by Diego Maradona with interiors every soccer fan will find alluring. Traditional street-style Mexican food is there to welcome you with the aromas of fresh, simple, and tasteful ingredients.
For those who love tacos, various options await you from Puebla, Tijuana, Guadalajara, and Toluca. The Skirt Steak Burrito and Cuban Cake are heavier options you can go for, before indulging yourself in the traditional churros and Horchata.
Tip: don't miss out on the $3 Taco Tuesdays.
Location - 210 W 94th St, New York, NY 10025.
Timings - 12 pm to 9 pm (Monday to Sunday)
Yuco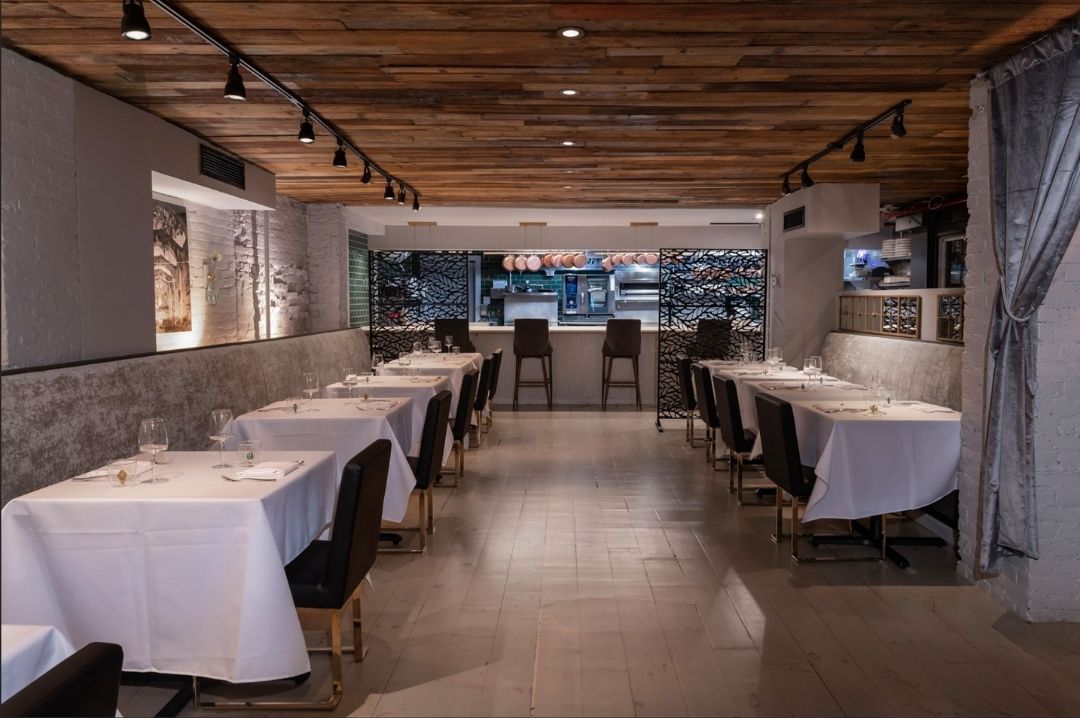 Yuco restaurant, Source: Facebook
The idea of Yuco began during the pandemic when chefs Trent Walker and Christian Ortiz decided to take risks and create a unique Yucatan experience for New Yorkers to enliven. After rigorous experiments with the dishes, concept, flavors, and ideas, the restaurant came to be.
Divided into two sections, one side focuses on multi-course service with a world-class wine program led by a sommelier, Derek Engles. The other is a casual front bar supplying innovative cocktails and an exciting bar menu from Chef Ortiz.
Impressed with their line of agave spirits, we ordered the Columbidae cocktail made with Metiche Mezcal, XILA, ginger, grapefruit, and smoked chili.
Location - 33 W 8th St, New York, NY 10011.
Timings - Closed (Sunday to Monday)
5.30 pm to 11.30 pm (Tuesday to Thursday)
5.30 pm to 12 am (Friday to Saturday)
Gage & Tollner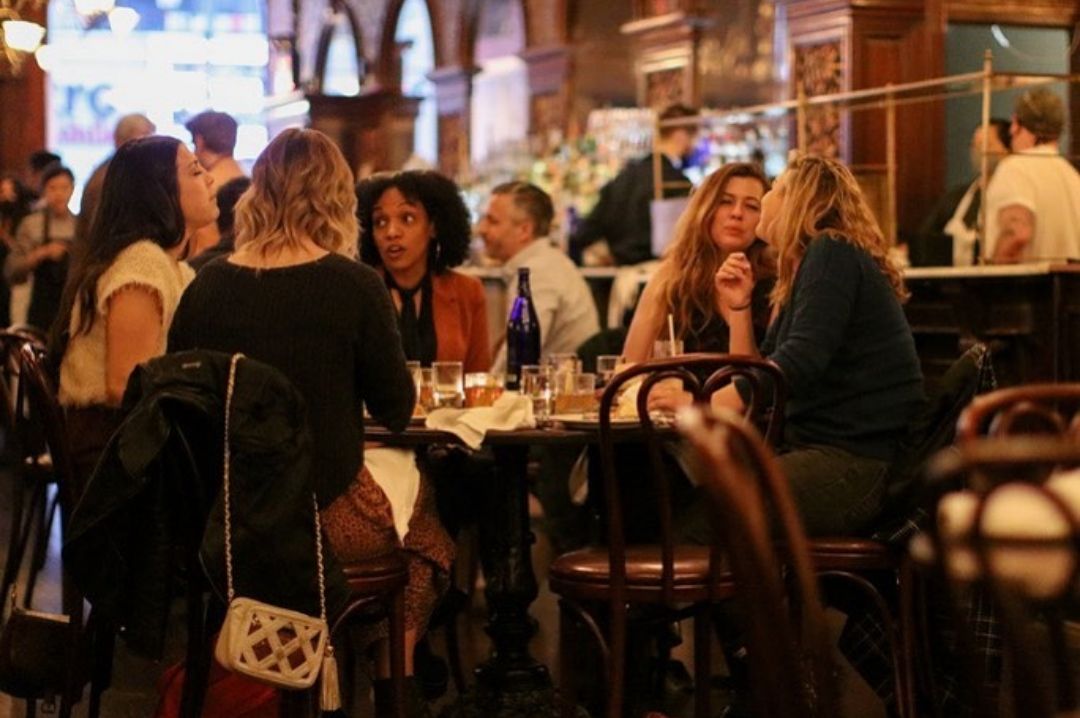 Gage & Tollner, Source: Facebook
Returning to all its glory in Downtown Brooklyn in April of 2021, Gage & Tollner revived its status as operational after shutting down in 2004. Back in the 20th century, it had a big name in New York, from surviving the Prohibition era to being granted landmark status by the Preservation Commission.
Having always risen up to occasions like Valentine's and other celebratory festivities, their revitalized menu is loaded with A La Carte selections like caviar, oyster, steak, chops, and other meat dishes. The bar doesn't run dry on classic cocktails and elaborate wine options as well.
Let's just say that Gage & Tollner are back in business and have started with a bang, thanks to their enthusiasm and love for three-layered celebratory cakes to live up to the bill.
Location - 372 Fulton St, Brooklyn, NY 11201.
Timings - Closed (Monday to Tuesday)
5 pm to 10 pm (Wednesday to Sunday)
Chai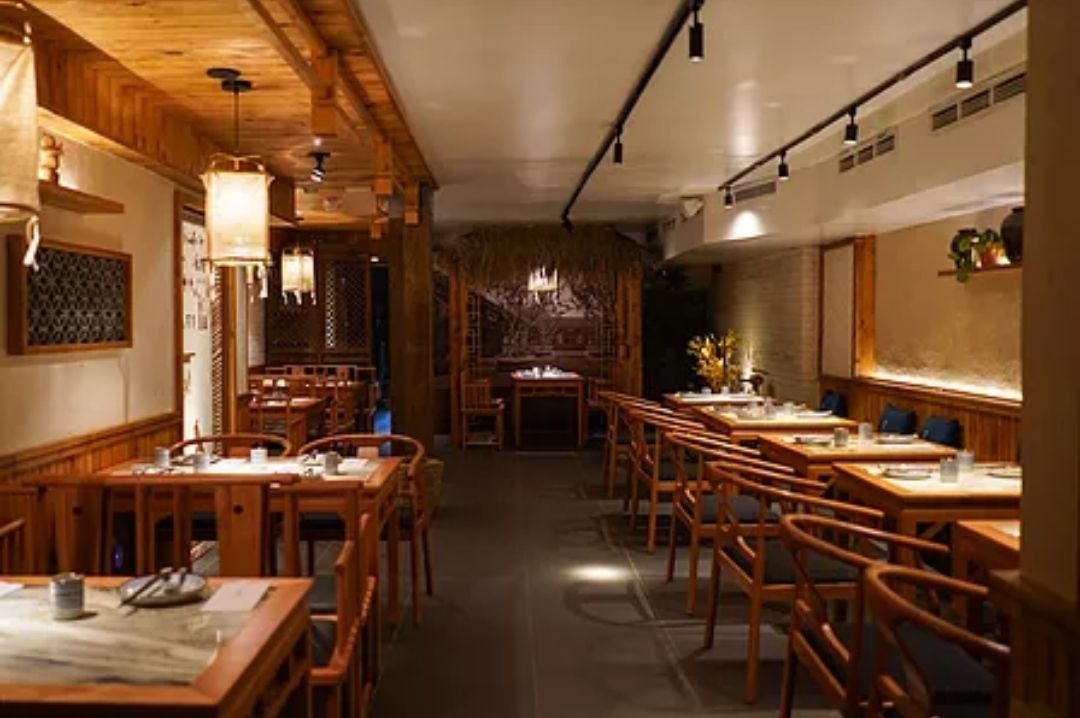 Chai restaurant, Source; Website
Expressing nuances of the authentic Beijing cuisine, Chai pays great attention to detail to their culinary creations such as the world-famous Peking Roast Duck, Aiwowo, Zha Jiang noodles, and more. The soothing wooden interiors designed in Chinese fashion are reminiscent of what you will come across in an authentic restaurant in Beijing.
Dig in with the tantalizing sweet and sour pork ribs and move on to the crispy hairtail fish with soft pancakes for a creamy delight. There is also a little something for all the vegans at this establishment, as you can also opt to start with the delicious okra salad.
For dessert, we recommend the Chai's Four Treasure Platter to have a bite from each delicacy prepared with inherited cooking techniques.
Location - 353 W 46th St, New York, NY 10036.
Timings - Closed (Monday)
3.30 pm to 11 pm (Tuesday to Sunday)
The Grid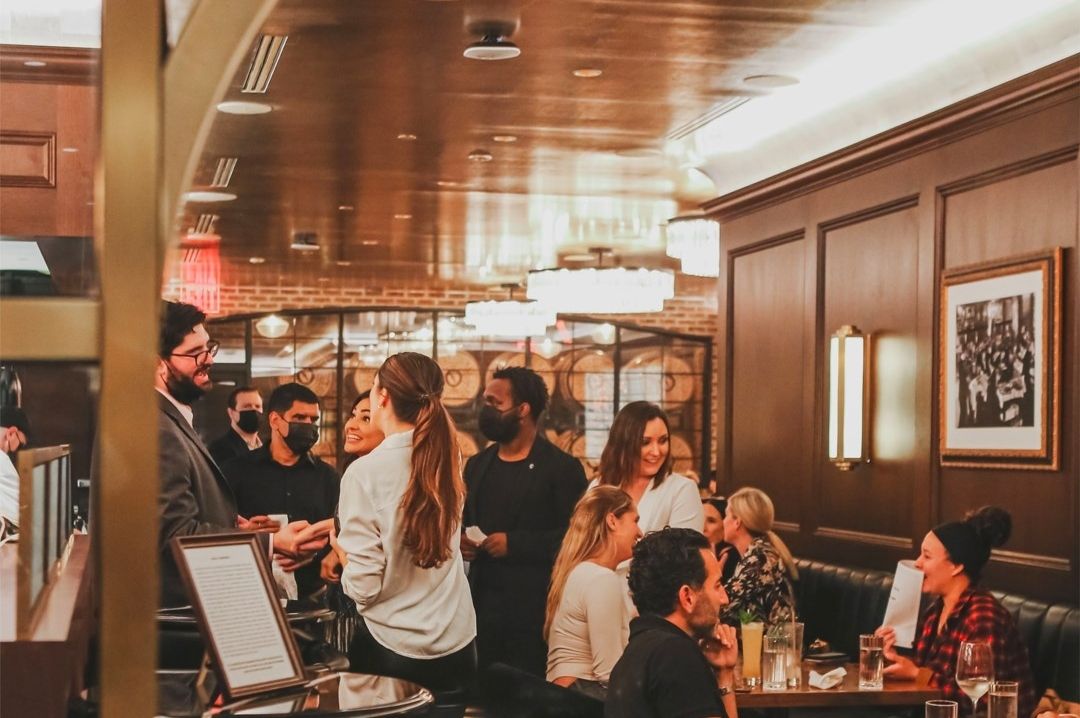 The Grid from Great Jones Distilling Company, Source: Facebook
Shifting their attention towards a restaurant, Great Jones Distilling Company aims to bring the best of New York to every plate at The Grid. Executive chef, Adam Raksin, plays a huge role in reinvigorating a fresh take on modern technique and tradition with dishes like the Chilled Prawns, Gem Lettuce Caesar, Slow Roasted Fall Squash, Crispy Skin Ora King Salmon, and more.
The bar is stocked with whiskeys from the distillery for you to choose from. Either sip on some bourbon by itself or ask the bartender to make an artisanal cocktail for you.
Striking two targets with one arrow is what you will be doing at this restaurant that mesmerizes guests with its Willy Wonka-like space, displaying the brown elixir on show.
Location - 686 Broadway, New York 10012.
Timings - Closed (Monday to Tuesday)
5.30 pm to 9.30 pm (Wednesday to Sunday)
Pig Beach BBQ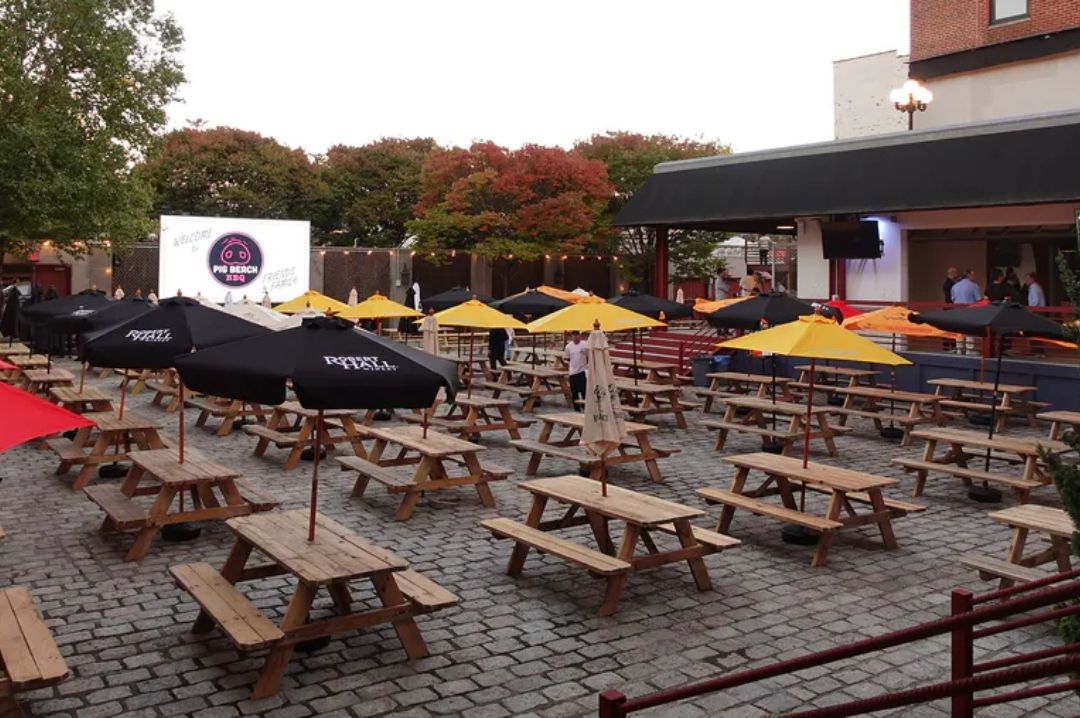 Pig Beach BBQ outdoor patio (Queens), Source: Website
Venturing the smoked meat universe, Pig Beach BBQ has a fresh take on barbeque food with an added sphere of technique, sustainability, and taste. Recently, they opened an outlet in Queens, marking their second establishment in New York and third in America.
We are expecting this one to fire on all cylinders just like the one in Long Island City in no time, with a bigger outdoor patio, making room for juicy buffalo wings, smoked duck, rugged leg of lamb, and Italian-style charcuterie to go with a long line of spirits and cocktails at the full bar.
The Pig Beach team has over 80 years of working experience in cooking and restaurant service, taking the barbeque segment to a whole another level.
Location - 35-37 36th St, Queens, NY 11106.
Timings - Closed (Monday)
4 pm to 10 pm (Tuesday to Friday)
12 pm to 10 pm (Saturday to Sunday)
8282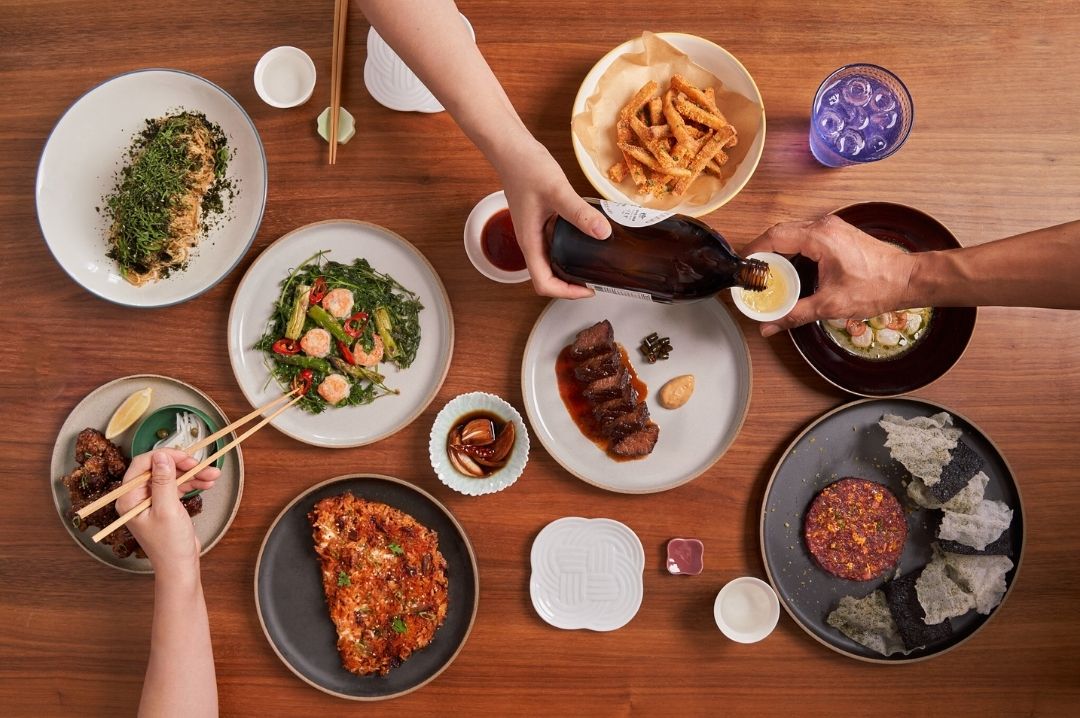 Korean dishes at 8282, Source: Website
The 8282 phrase signifies the get-it-done attitude, and also the +82 telephone country code for Korea, crucially putting the limelight on Korean cuisine. Expect to be dazzled by some wonderfully decorated plates such as the Bang-Uh Crudo made with yellowtail, fennel, apple, Korean mustard dressing, jalapeno oil, and herb puree.
You will find pork galbi, Korean boneless fried chicken, and other dishes on the menu to pair with the effervescent plum and blackberry Hong Cho, a vinegar drink.
Location - 84 Stanton St, New York, NY 10002.
Timings - Closed (Monday to Tuesday)
5.30 pm to 10.30 pm (Sunday, Wednesday, and Thursday)
5.30 pm to 11.30 pm (Friday to Saturday)
Header image - The Grid, source: Facebook
South San Francisco Conference Center, 255 South Airport Boulevard, South San Francisco, CA 94080, United States.
Register Now
South San Francisco Conference Center, 255 South Airport Boulevard, South San Francisco, CA 94080, United States
Register Now