Deadlines and Drinks: New York's bars to work from
Whether you are trying to nail a presentation or looking for a spark of creativity, these bars have you sorted with the tipples for all work problems.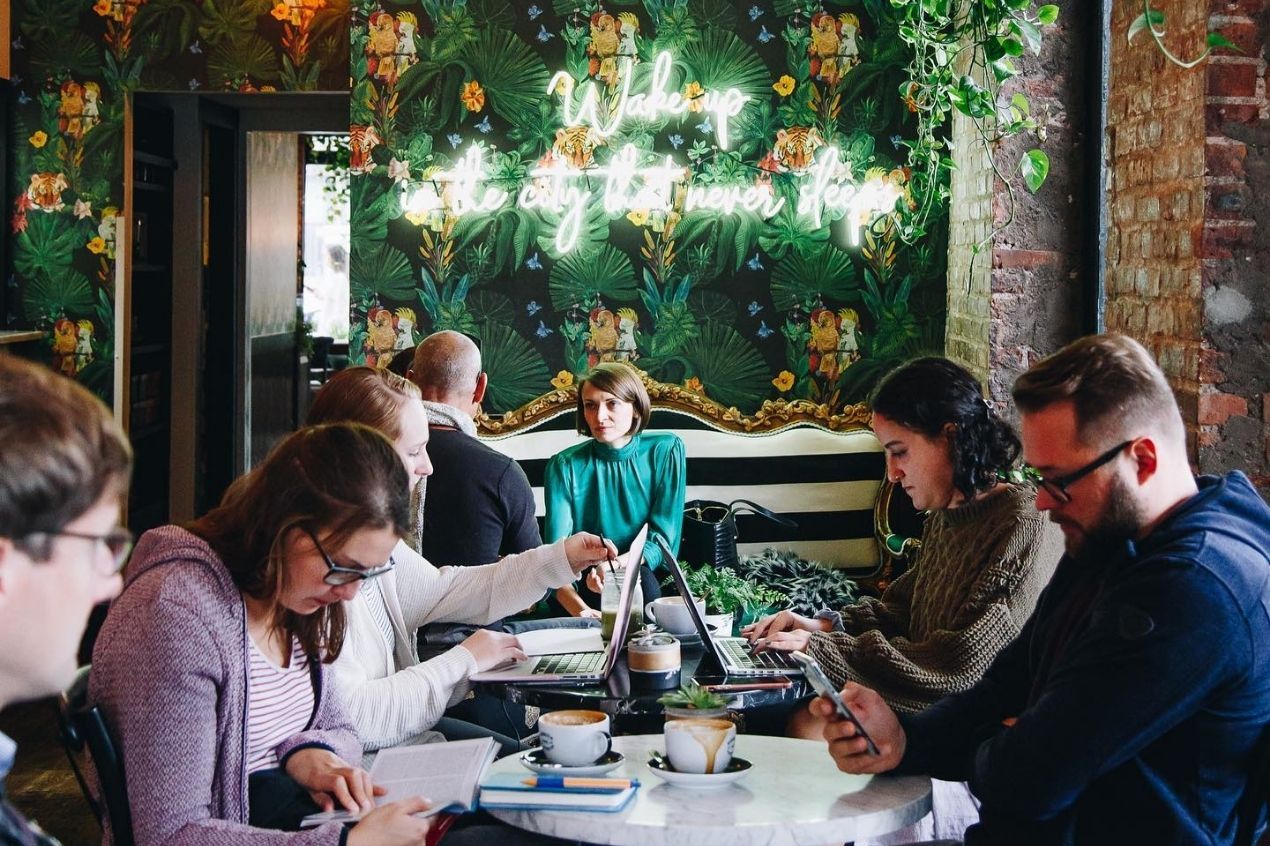 In New York, Concrete jungle (yeah) where dreams are made of, There's nothin' you can't do! Empire State of Mind rocks different when you listen to it through your earphones at work doesn't it? Where are you working from though?
Is it the office or is it your room (or home) that has transformed into your office because of all that has transpired over the last two years? We are bringing you some respite from both the cases don't you worry. New York's boroughs have for long looked after your breakfast, lunch, and dinner scenes whether on the way to work or returning after a hectic day.
The same boroughs are also home to some fine bars and restaurants that can transform into your workplace for a day or two. Reliable WiFi connection, quiet atmosphere (we don't guarantee it though), nice food, and even nicer tipples, these spots will hook you up with the right drinks as you work towards your deadlines and get that next promotion!
Epistrophy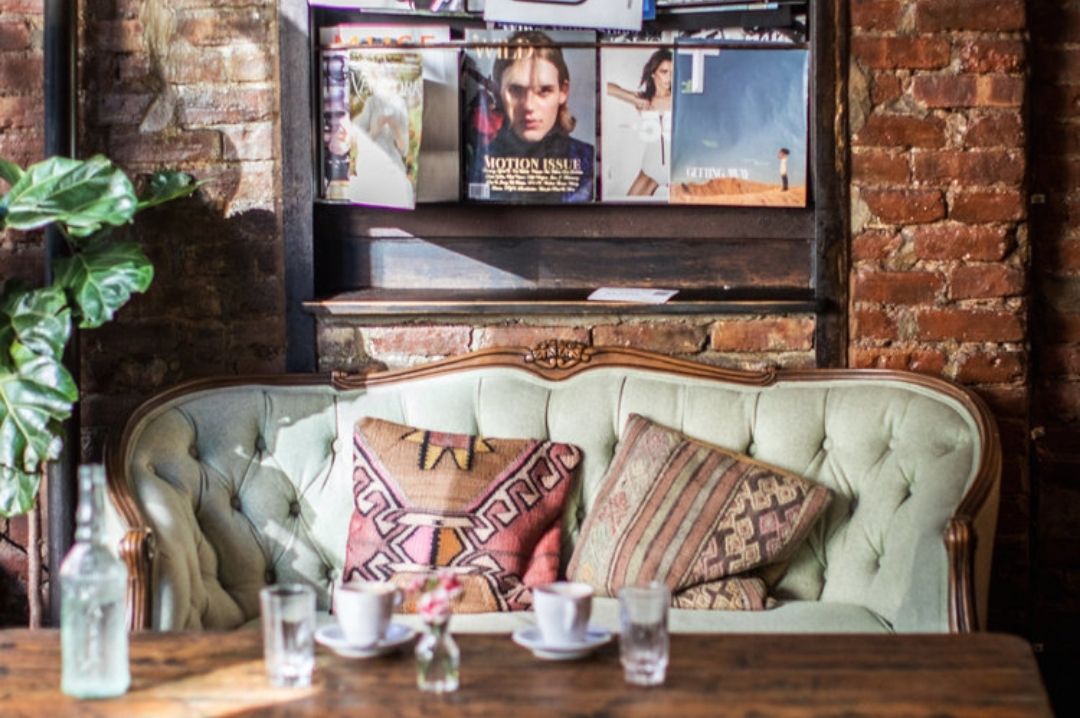 Brick walls and bubblies at Epistrophy, Source Website
New York City's affable urbane culture has long attracted people from all over the world. Epistrophy's story is quite similar, with Sardinian friends falling in love with the city and bringing the restaurant to life in The Big Apple. The Italian restaurant is one you can count on for breakfast, for lunch, for dinner, for drinks, and for drinks to sip as you finish some deadlines off.
The day menu at Epistrophy features plenty of eclectic choices, from Lemon Ricotta Pancakes, Zucchini Fritters, Panino Milanese sandwich and everything at the bar, signature and classic cocktails, beers and wines. Try The Serbian Sling, The Last Carlo or The Diamante Rosa among the beautiful tipples from the menu. Find a spot at the bar, the community table or on one of the outside tables, and get working as the tipple comes along.
Location- Epistrophy, 200 Mott Street, New York, NY 10012
Vineapple Cafe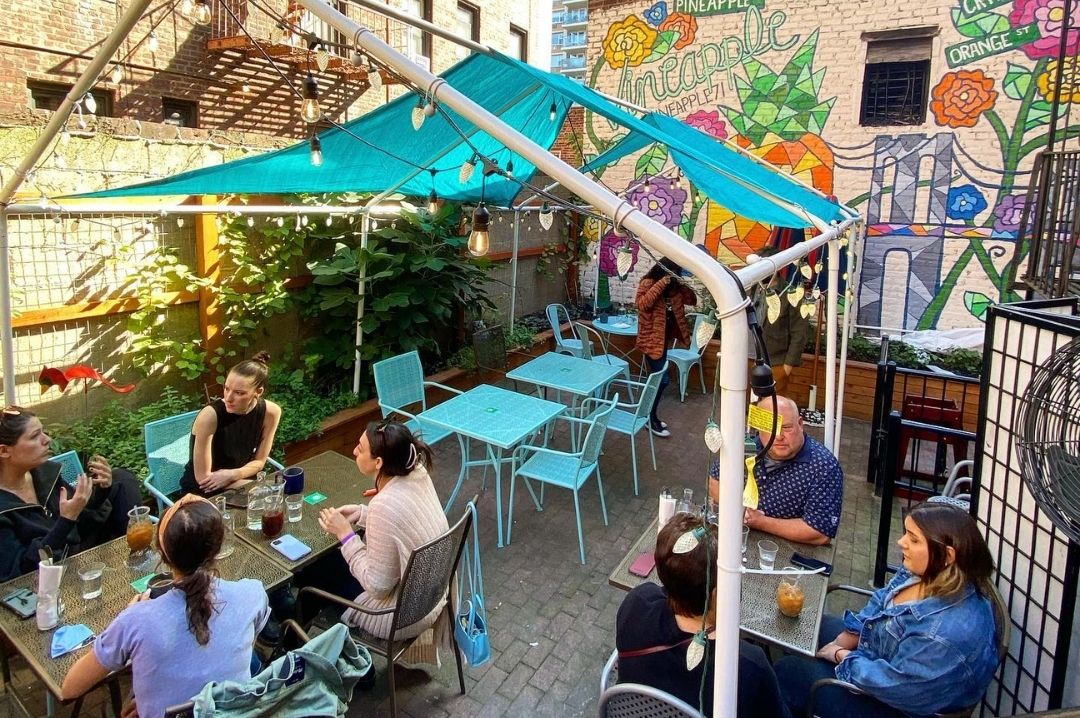 Vineapple Cafe on Pineapple Street, Source Facebook
You can always gauge how well a place is loved on how the people in the neighboring buildings and avenues talk about it. For Vineapple Cafe, it was certain the love was remarkable, based on what happened during Covid-19. With the cafe almost coming to a close because of the uncertainties facing it, the neighbors decided to revive it and keep it running under new ownership.
While the ownership is new, the bar's atmosphere is just like the old days. The Pineapple Street bar will keep your work juices flowing with the variety of drinks and bites it has to offer. The dishes are a combination of old family recipes and curated originals all served with dollops of love and butter. The bar menu, created by New York cocktail aficionado Jennifer Sandella, features cocktails made with fresh herbs from the garden, homemade syrups all combined with a base of artisan liquors.
If work is going well, step up and order a classic cocktail and if it is not going according to plan (we know, everyone has those days), you can dive into a really indulging pastry that you can pair with mulled wine perhaps.
Location- Vineapple, 71 Pineapple Street, Brooklyn, NY 11201
Kobrick Coffee Co.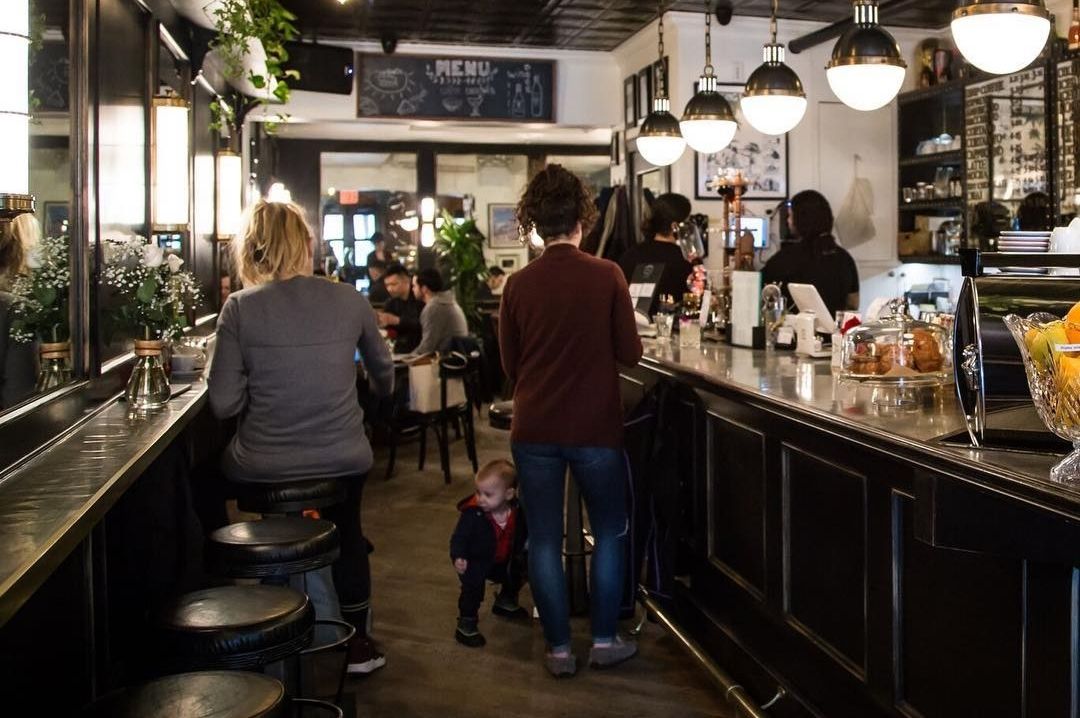 Coffee, negroni and notes at Kobrick, Source Facebook
On those long days at work, don't we all need a heavy dose of caffeine? Whether you agree or not, we know for one that it will be the case when given a long list of meetings to attend. If and when the meetings take place over Zoom (or any other network), why not attend them from Kobrick Coffee Co. on 9th Avenue. Founded by Samuel Kobrick, the family-run cafe bar has been going strong for over a century now.
At the heart of their success is the beautiful coffee they serve, some of them come with some alcohol tagging along. You can enjoy one of their coffee based libations like the Old Slip and Kyoto Negroni, or sip on something sans coffee like Matcha Made in Heaven or Sage It Ain't So. Pair these or any of the other tipples on the menu with organic egg dishes, freshly baked pastries or a good old grilled cheese sandwich and you might for a brief moment forget that the laptop is running right in front of you.
Location- Kobrick Coffee Co., 24 9th Avenue, New York, NY 10014
Milk and Roses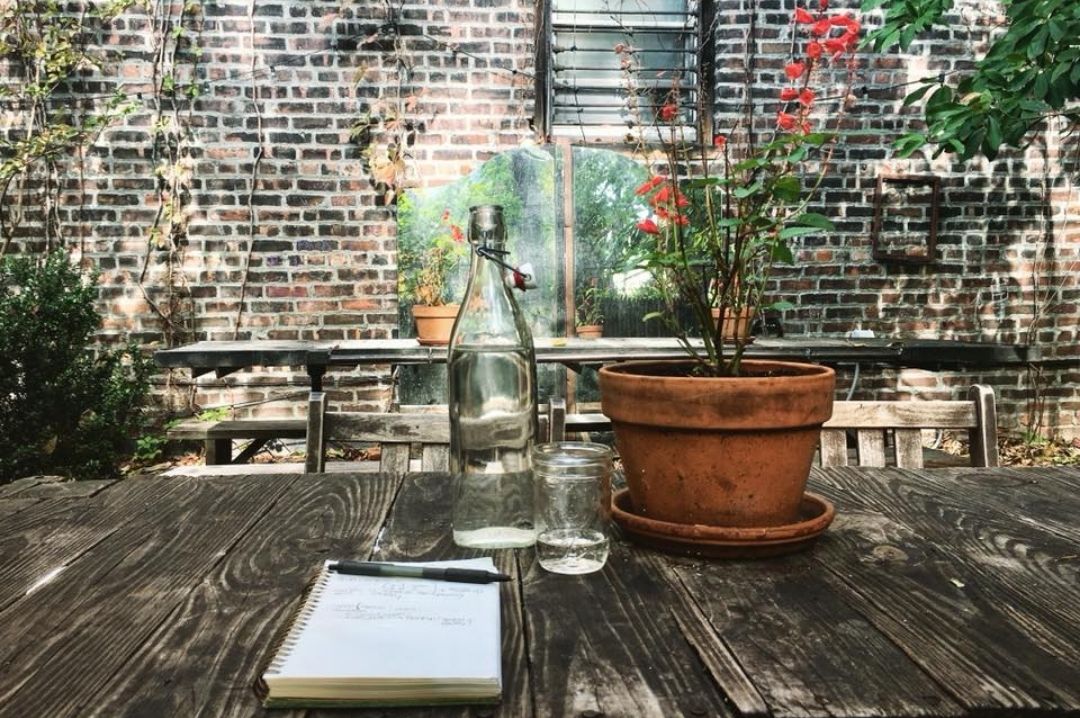 Get your notes ready at Milk and Roses, Source Facebook
The concrete jungle of New York can sometimes get on your nerves, with no escape in sight on a weekday because of the sheer amount of work you have lined up. What if we had an alternative in store for you, right in the middle of that very concrete fortress of New York's highrise buildings. Come in and enjoy a stress-free atmosphere as you work on your latest project, your new piece of art or anything else.
Milk and Roses is a place clad with exquisite Italian wines, food for the soul, and an amazing cocktail list with some knockout drinks on the cards. Pancakes, PB&J, pizzas & calzones, the famous octopus roll and more dishes make brunch at Milk and Roses fulfilling and delicious. Accompanying these dishes can be signature cocktails like Branch & Bramble, Fall Bee's Knees or warm cocktails like Upstate Apple and Pumpkin Toddy.
Whether you grab a place inside the restaurant or take over some space in the beautiful little outdoor garden, Milk and Roses is a delightful little joint to spend a day away from your home office.
Location- Milk and Roses, 1110 Manhattan Avenue, Brooklyn, NY 11222
The Grey Dog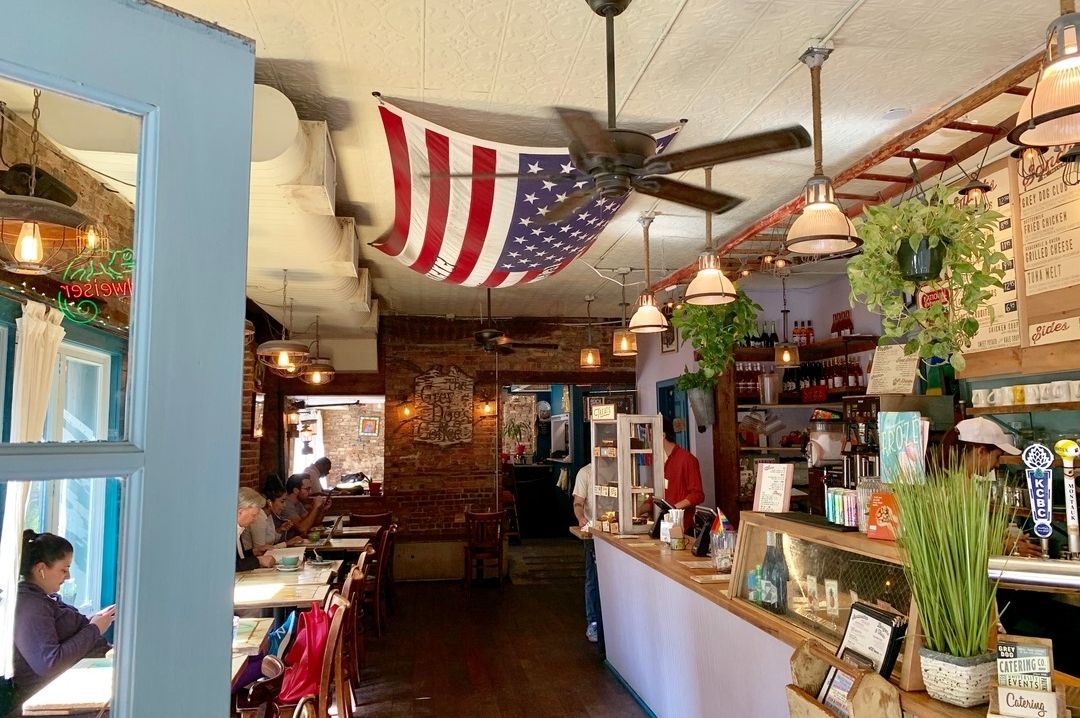 The very American bar setting, Source Facebook
A proper American spot, replete with all things the USA had to feature on this list at some point. For this very reason, we head over to West Village, to The Grey Dog, an establishment founded by two brothers, Pete and Dave. at the heart of The Grey Dog is simple, wholesome American food matched with indulgent coffee, beers, and wines. But what's in it for an office going person like yourself, looking for a place to sit and work in peace while sipping on a nice cocktail to keep you company?
There's plenty to look out for at The Grey Dog even if it is a workday for you. The food champions American classics, mixing up healthy and hearty in a terrific blend of flavors. From the long food menu, you can opt for their house burger, Philly cheesesteak, buttermilk fried chicken sandwich or a simple but delicious French toast.
These dishes go a long way in ensuring your words don't turn from creative and to the point of some random gibberish that comes out when the brain is induced with some alcohol. The latter could be the case at The Grey Dog because of the superb drinks menu the bar has in place. There are six kinds of local beers to choose from, a small but nice wine collection that can get you tipsy if you don't have a bite or two accompanying it.
Location- The Grey Dog, 55 West 26th Street, New York, NY 10010
Header Image- Kobrick Coffee Co., Source Facebook
South San Francisco Conference Center, 255 South Airport Boulevard, South San Francisco, CA 94080, United States.
Register Now
South San Francisco Conference Center, 255 South Airport Boulevard, South San Francisco, CA 94080, United States
Register Now