NYC's finest wine lists: Ai Fiori, Bâtard, and more.
From Ai Fiori, Bâtard, to Eleven Madison Park and more, here are some of NYC's best wine lists.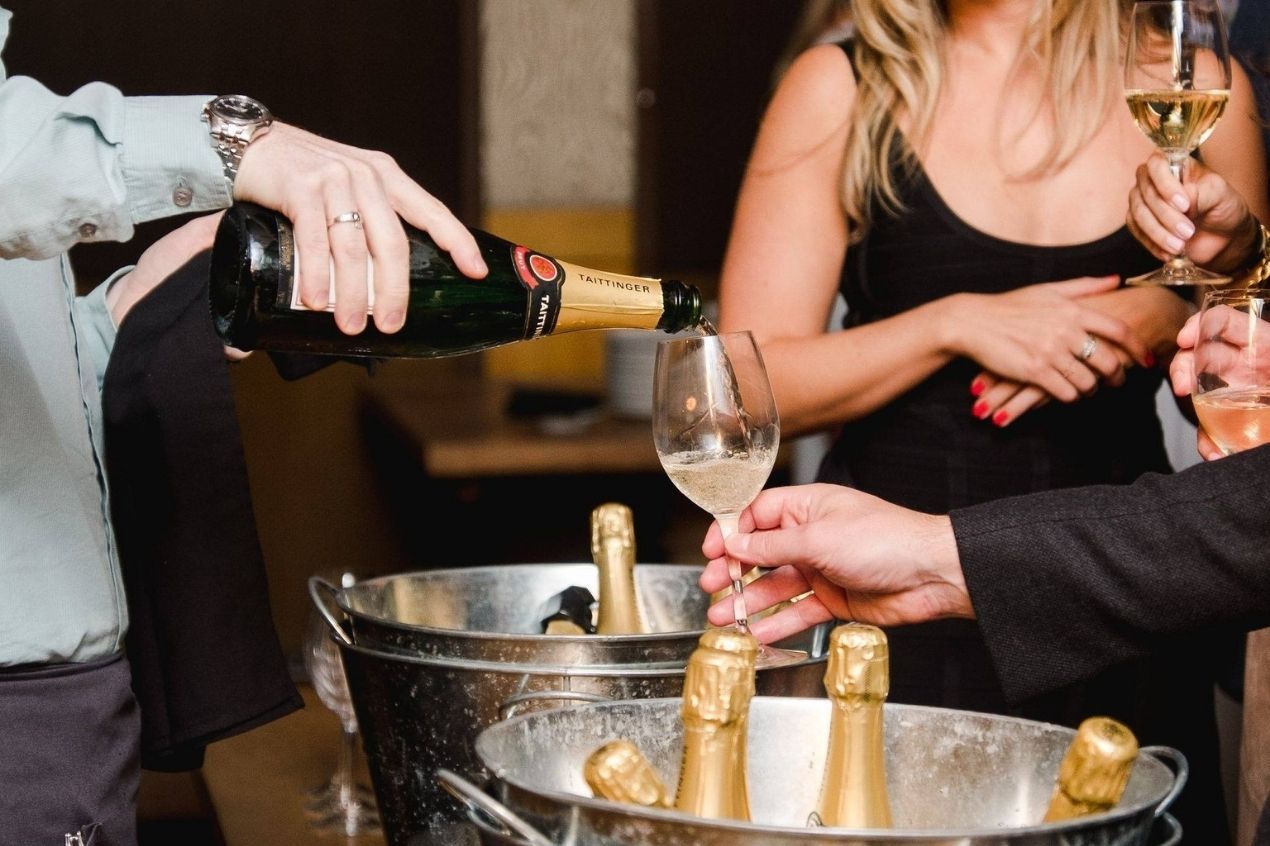 The Big Apple loves wine, and it's no secret that the city hosts a mammoth of excellent restaurants with incredible wine lists and great food and service to pair. If you're looking for a fine dining experience with some phenomenal wines to pair, look no further, because we have built the perfect checklist for you. Don't stop until you hit all these places this year!
Ai Fiori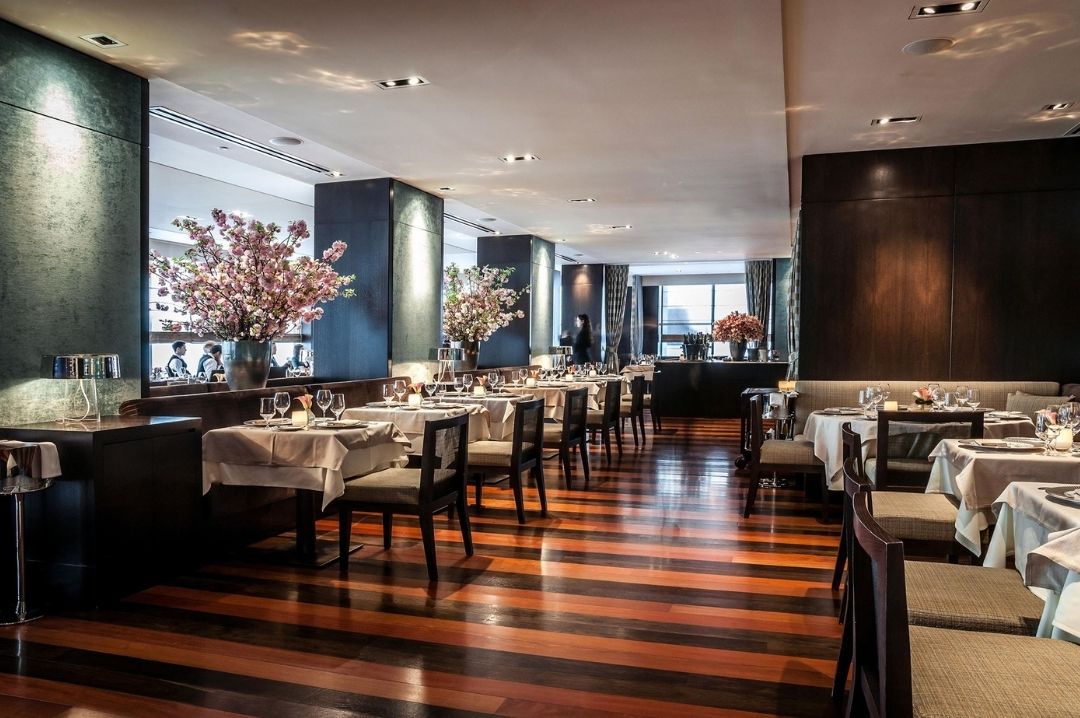 The main dining room at Ai Fiori, source: Facebook
Situated on the second floor of the Langham Place Hotel on Fifth Avenue, Ai Fiori is Chef Michael White's Italian restaurant that offers you gourmet fare from the Italian & French Riviera, plus regional wines in an elegant hotel setting.
The wine list is over 100 pages long and is filled with Italian producers. There is also a good selection of American and French wines. In addition to wines, they also offer their customers a handful of classic and signature cocktails like Fiori Gin and Tonic, and more.
Inspired by land and sea their menu highlights signature hand-made pasta, emphasizes seasonal ingredients, and also features traditional regional dishes. In the past several years, the restaurant has been awarded several stars from the Michelin Guide and other recognized institutions.
Where - 400 5th Ave #2, New York, NY 10018
Hours - Mon-Sat (5 pm - 9:30 pm)
Sunday (5 pm - 9 pm)
Bâtard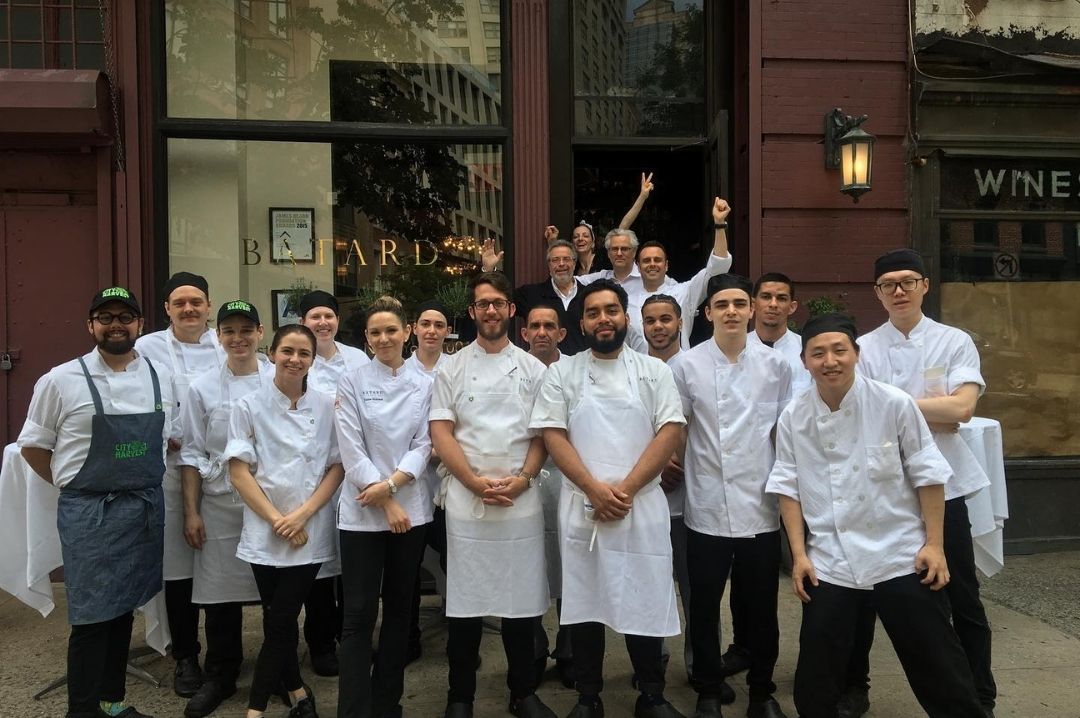 The team behind Bâtard, source: Facebook
Another Michelin-starred restaurant on the list, Bâtard is a French restaurant offering modern European plates that you can pair with an extensive wine list and cocktails in their elegant and open interior. The restaurant has also been recognized as the 'Best New Restaurant' by the James Beard Foundation.
In their relaxed setting warmed by golden light and cozy banquettes, their wine director offers you a wine list full of treasures, and at a reasonable price. The wine list at Bâtard is known for highlighting the best of Burgundy.
Try their umami-rich broth, it arrives with beautifully shaped caramelle stuffed with shallots, herbs, and morels, and pair it with a burgundy from the list.
Where - 239 W Broadway, New York, NY 10013
Hours - Tue-Sat (5:30 pm - 10 pm)
Daniel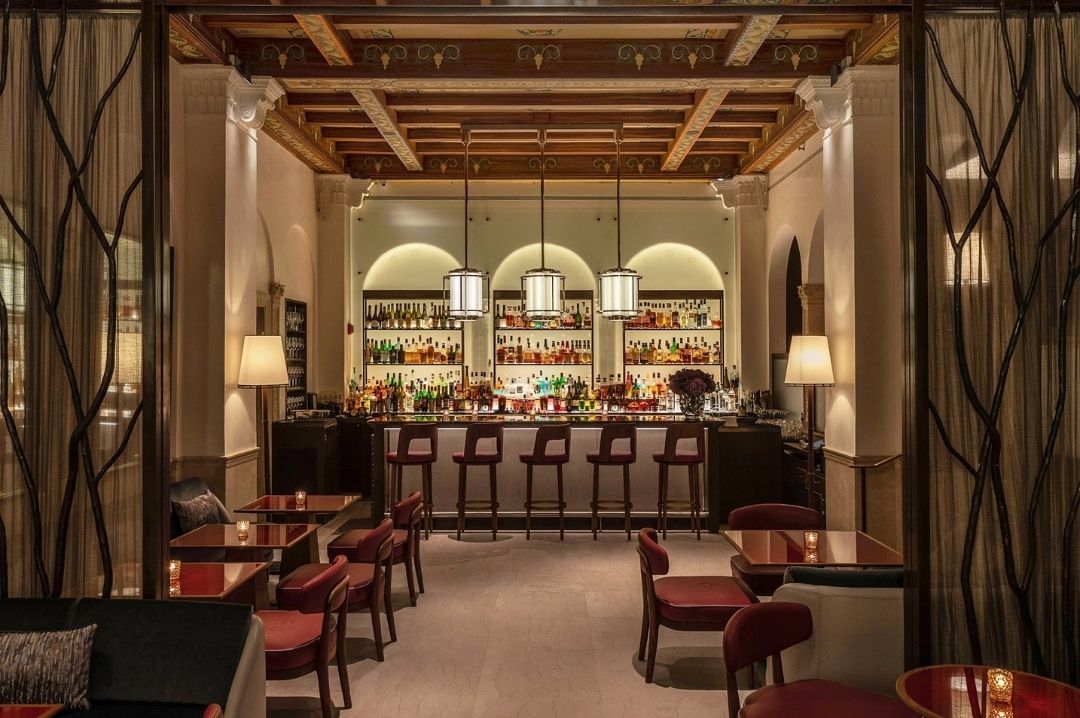 The bar at Daniel, source: Facebook
One more French restaurant coming your way! Daniel is chef Boulud's renowned restaurant located in Manhattan's Upper East Side. Since the restaurant's opening in 1993, the place has been receiving numerous accolades for its refined European cuisine, world-class cellar, and gracious hospitality.
With more than 25,000 bottles on their wine list, you can say this is the ultimate wine haven. If you really want to experience the essence of Daniel, go for their seven-course tasting menu ($275), and for an additional $175, you can opt for some great wine pairings.
Where - 60 E 65th St, New York, NY 10065
Hours - Tue-Sat (5 pm - 10 pm)
Eleven Madison Park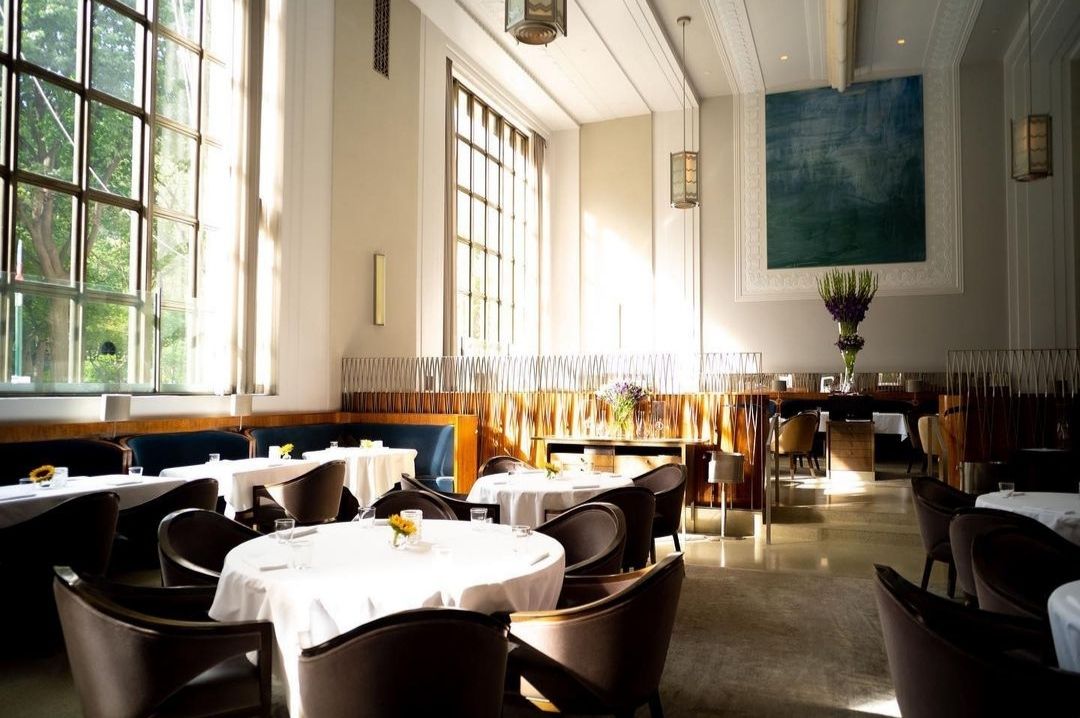 Eleven Madison Park, source: Instagram
Overlooking Madison Square Park since 1998, Eleven Madison Park sits at the base of a historic Art Deco building. This upscale restaurant offers you a fine dining experience of American tasting menus from chef Daniel Humm and the restaurant's wine list alone is worth coming here.
At the restaurant, walk-ins can order drinks and bites from à la carte and have access to Eleven Madison Park's newly expanded cellar of almost 14,500 bottles. The exemplary wine list touches on top-notch selections from around the world. There are also ales and spirits made exclusively for Eleven Madison Park by Threes Brewing and St. George Spirits.
Where - 11 Madison Ave, New York, NY 10010
Hours - Mon-Sat (5:30 pm - 10 pm)
Gabriel Kreuther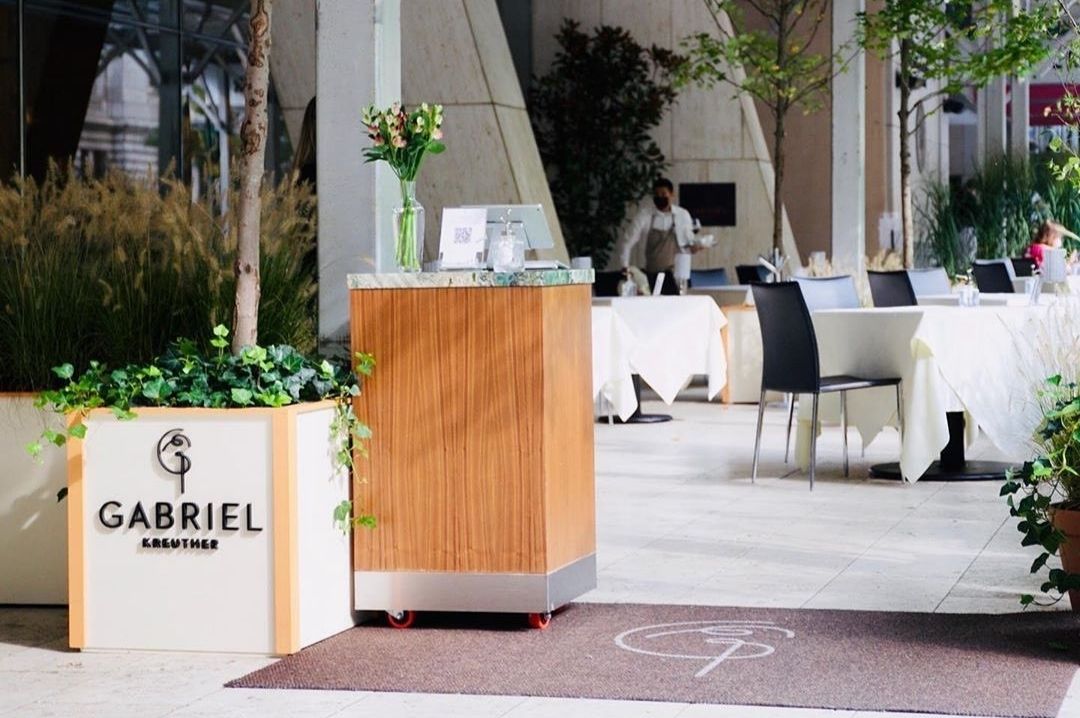 Gabriel Kreuther, source: Facebook
Looking for a phenomenal restaurant for a romantic date? Gabriel Kreuther has got you covered in every aspect. In their award-winning restaurant, they serve masterfully-crafted luxurious fare inspired by the comforts of Alsace and a wide selection of wines, majorly focused on France but also crossing the globe many times.
The place is divided into two sections: an elegant bar and lounge area with an à la carte menu showcasing Kreuther's renowned tartes flambées alongside a pre-theater menu. Here you will be offered two dinner choices, the Heritage tasting menu for $195 and the Chef's Carte Blanche ($245). Choose accordingly and pair your dishes with a choice of wine.
Where - 41 W 42nd St, New York, NY 10036
Hours - Mon-Wed (5 pm - 9:30 pm)
Thu and Fri (12 pm - 2:30 pm and 5 pm - 9:30 pm)
Saturday (5 pm - 9:30 pm)
Kaia Wine Bar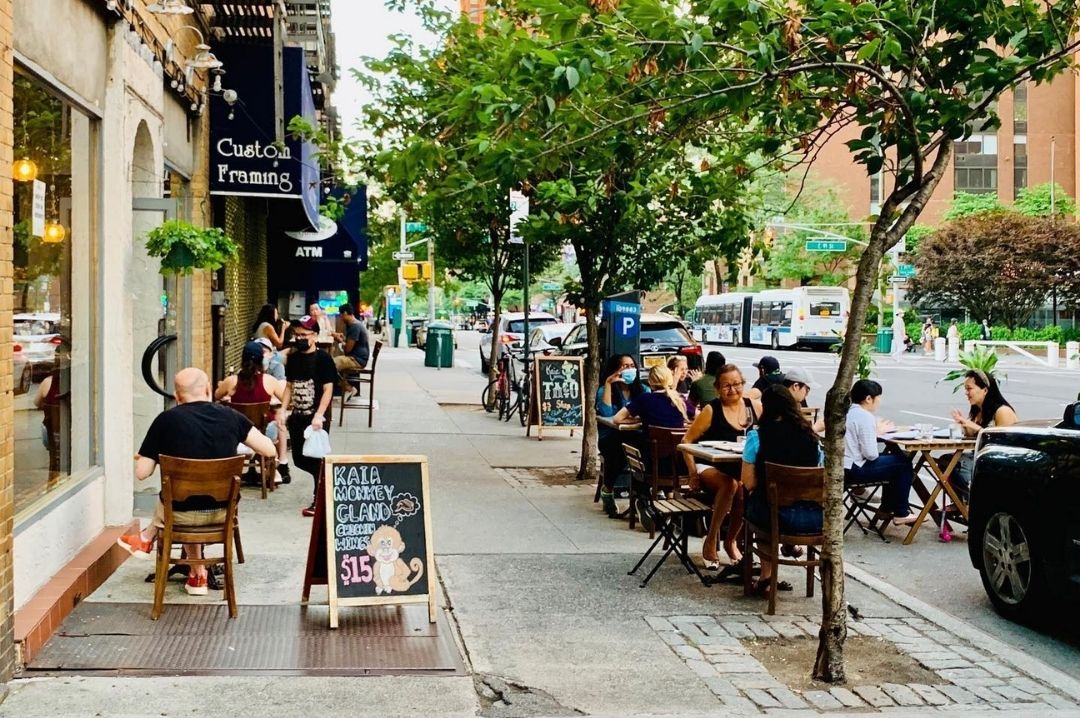 The patio at Kaia Wine Bar, source: Facebook
Wow! South African wine and food on the streets of NYC. That was our reaction when we came across Kaia Wine Bar. Here they offer you farm-to-table small plates, with craft beers & an extensive wine list emphasizing South Africa.
Every year, this Upper East Side institution supply New Yorkers South African wine worth millions of dollars, mostly by the glass. This destination is a must-see for anybody interested in the South African wine landscape, from Méthode Cap Classique to the greatest of the country's winemaking centers such as Stellenbosch and Franschhoek.
Try their traditional South African wild game, kudu, springbok, and ostrich. The meat is sliced thin, just barely seared, seasoned with coriander, toasted black-mustard seed, and flakes of sea salt, and presented with homemade sweet mustard. And we forgot to mention they also have a daily happy hour from 4 pm to 7 pm.
Where - 1614 3rd Ave, New York, NY 10128
Hours - Mon-Thu (4 pm - 10 pm)
Fri and Sat (4 pm - 11 pm)
Sunday (12 pm - to 10 pm)
Corkbuzz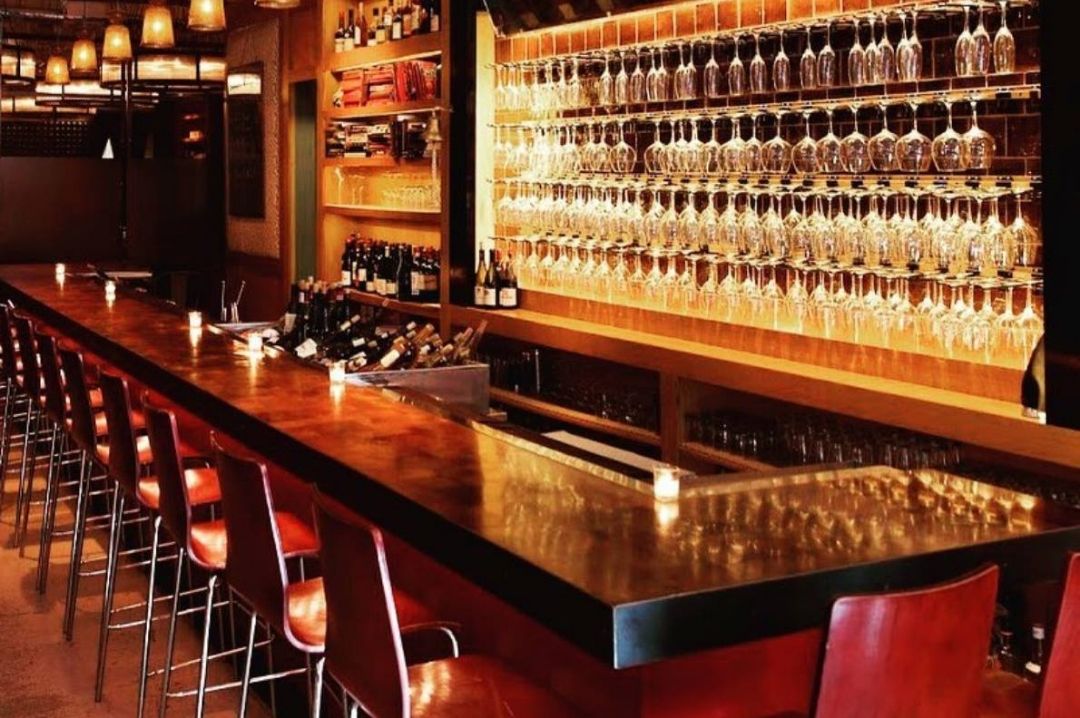 Corkbuzz Restaurant and Wine Bar, source: Facebook
Located in Union Square, Corkbuzz is a women-led, wine-focused restaurant. Their bar features a lively communal dining room, where they serve sharable plates with a Mediterranean influence and perfectly pair them with their extensive wine selection.
The has become a staple for NYC's community of wine lovers. Laura Maniec, Master Sommelier and Owner, has created a rotating selection of over 40 wines by the glass and over 250 bottles, as well as an exceptional beer and cocktail menu.
In addition, the restaurant also organizes wine classes and tastings. Head over to Corkbuzz for unusual vintage and pair it with small plates like burrata, steak tartare, or housemade ricotta.
Where - 13 E 13th St, New York, NY 10003
Hours - Tue-Thu (5 pm - 11 pm)
Fri-Sat (5 pm - 12 am)
Ruffian

Ruffian, source: Facebook
Opened in 2016, Ruffian is a cozy East Village wine bar and restaurant serving mostly vegetarian à la carte and a tasting menu with an exquisite list of wines. Their wine list is updated periodically and features historic wine styles from around the world that are less well-known, such as Northern French whites, full-bodied red Bandols, and Georgian amber wines.
In their dynamic wine list, they offer over 250+ selections by the bottle and over 30 wines by the glass, with a major focus on Southern France, Eastern Europe, and everywhere in between. Also, at any given time you can even enjoy a selection of orange wine (including 35+ varieties).
Where - 125 E 7th St, New York, NY 10009
Hours - Mon-Fri (5 pm - 12 am)
Saturday (3 pm - 12 am)
Sunday (3 pm - 11 pm)
Frenchette
Frenchette, source: Instagram
Nothing is more connected with bistro culture than wine, and Frenchette in Tribeca is a modern take of the classic French bistro. Jorge Riera's natural list is outstanding, with a full-page dedicated to pét-nat (natural sparkling wine) as well as featuring France's best winemaking regions.
They also serve a few Italian, Slovenian, Austrian, and Spanish options. In conjunction with winemaker Laurent Saillard, Frenchette has created Ette, a Gamay and pineau d'aunis combination that is available in a $180 magnum and is well worth sharing for a small party.
If you're stopping in for a quick drink and a quick bite at the bar, get a glass of Ariane Lesné "Hop hop hop" 100% Chenin Blanc organic sparkling wine with fries.
Where - 241 W Broadway, New York, NY 10013
Hours - Monday (5:30 pm - 9 pm)
Tue-Fri (12 pm - 9 pm)
Saturday (11 am - 9:30 pm)
Sunday (11 am - 9 pm)
Header image, source: Corkbuzz Facebook
South San Francisco Conference Center, 255 South Airport Boulevard, South San Francisco, CA 94080, United States.
Register Now
South San Francisco Conference Center, 255 South Airport Boulevard, South San Francisco, CA 94080, United States
Register Now