Best places in NYC for your 2021 office party
The search for a perfect office party venue is finally over as Nebula, Skylark, and World Yacht make a staggering appearance in New York.
It's that time of the year where you're going to have to spend a night with those you work with: the yearly office party. The best way to make the most of the night with the people you see everyday for 9 hours is simple; lots of alcohol and good food.
To make sure your office party is one to remember, if not, then at least bearable, we've rounded up some of the best spots in New York, from towering rooftop bars, legendary aircraft carriers, flawless nightclubs, and more.
Cecconi's Dumbo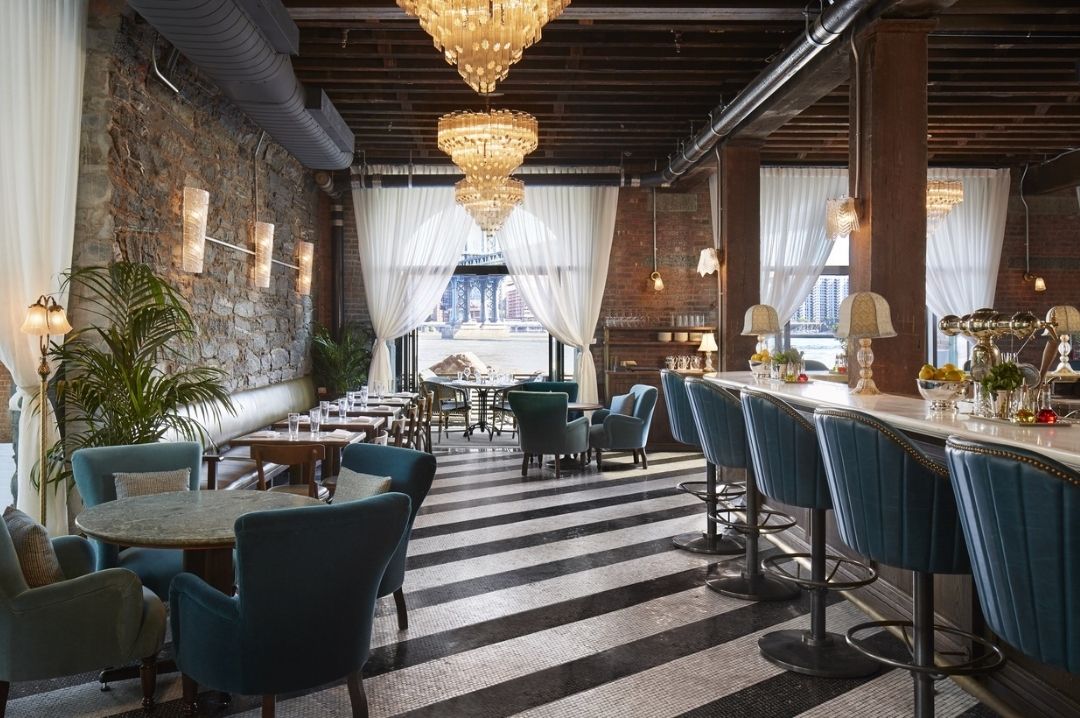 Seating area at Cecconi's Dumbo, Source: Website
Featuring sweeping views of the Manhattan skyline, Cecconi's Dumbo is located in Brooklyn Bridge Park. Offering waterfront views, handmade Italian dishes, cocktails, and wine reserves, the upscale and elegant restaurant will make your office party a memorable one.
Wood oven pizzas, pastas, and other Italian dishes run the show at this glamorous restaurant that can accommodate upto 50 people at a time.
The digestive cocktails such as the Cobblestone and Golden View are key highlights from the cocktail menu along with CBD sparkling cans, rosé & champagne from the wine list, and mezcal from the spirits menu.
Location - 55 Water St, Brooklyn, NY 11201.
Timings - 5 pm to 11 pm (Monday to Friday)
12 pm to 11 pm (Saturday to Sunday)
Nebula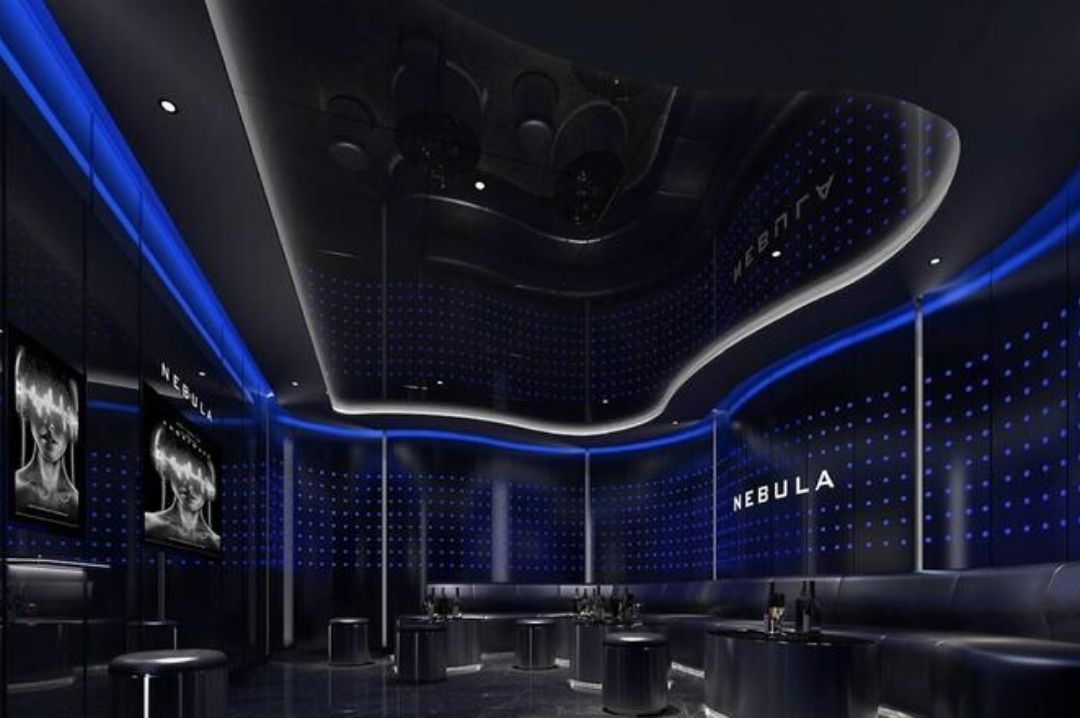 Nebula, Source: Website
One of the biggest nightclubs in Midtown Manhattan, Nebula caters to all kinds of event needs, ranging from hosting 15 people to a maximum of 700 with the buyout. Gleaming with interactive lightning displays, LED screen projections, high quality audio outputs, and all the essential amenities, this new place near Bryant Park is absolutely flawless.
If you wish to assemble with your workmates in a carefree, eccentric, and stylish atmosphere, Nebula has 'come party at this venue' written all over it.
Location - 135 W 41st St, New York, NY 10036.
World Yacht
Set sail on one of the cruises from the World Yacht, providing sublime views of the Statue of Liberty and the New York Harbor. The high end harbor cruise includes fine dine meals, unlimited alcohol supply, and a 5 star service onboard to make your epoch an unforgettable add to the checklist.
As you rejoice in a celebratory mood with quintessential cheers, the hefty vessel will follow its trajectory in bid to make your occasion blossom with luxury.
Location - Pier 81, W 41st St, New York, NY 10036.
Intrepid Sea, Air & Space Museum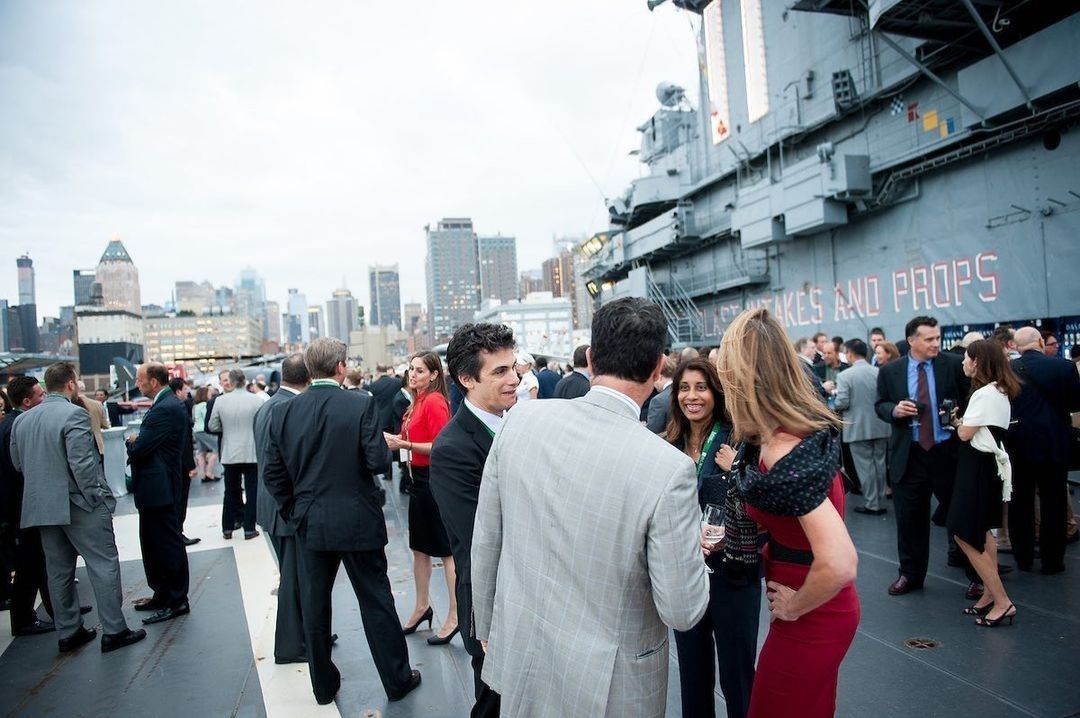 A corporate event at the Intrepid Sea, Air & Space Museum, Source: Instagram
The coolest event venue on the list, Intrepid Sea, Air & Space Museum sits aloft a legendary aircraft carrier. No matter how big of an event, this location is made to house as many bodies as one can imagine. So, if you have a grand gala in mind to celebrate the end of the year with your boss, grab hold of the reason and take this window of opportunity.
Various spaces in the aircraft carrier like hangars, fantails, space station pavilions, flight decks, classrooms, and more are there for your liking to choose from, as you enter a corvette of endless possibilities.
Location - Pier 86, W 46th St, New York, NY 10036.
Brooklyn Winery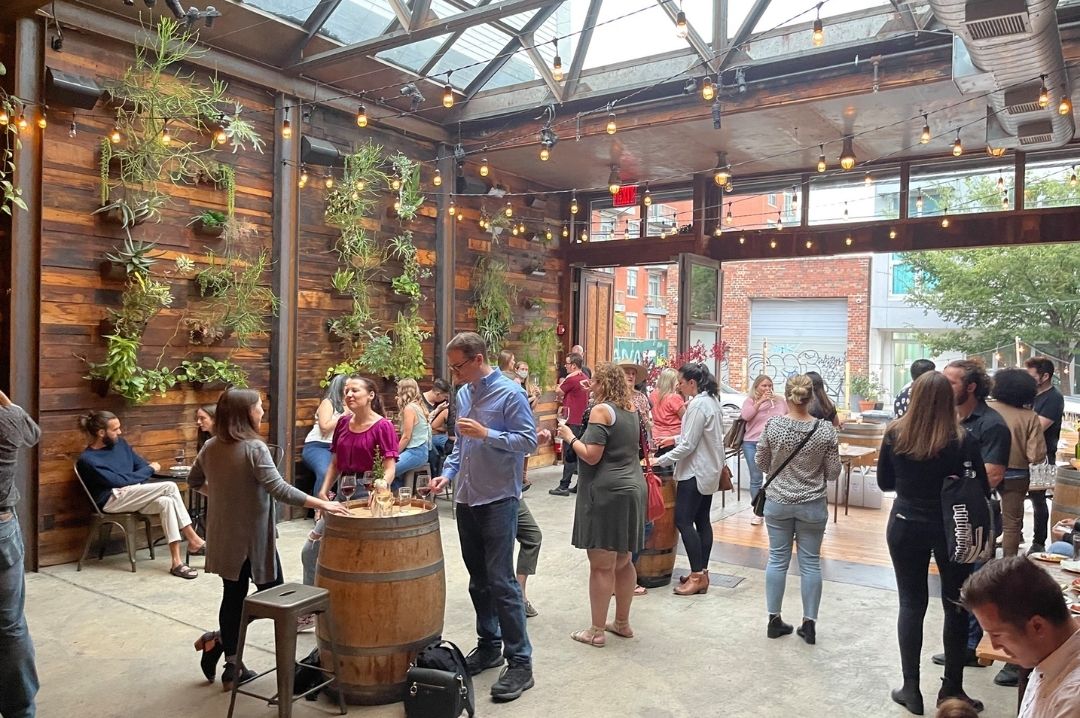 Brooklyn Winery in Williamsburg, Source: Facebook
Situated in Williamsburg, Brooklyn Winery is a great spot for you to bond with your work mates over a glass of wine (or more).
We never knew how wooden barrels made excellent drink tables, before having a bash at the Brooklyn Winey during our office party. We recommend you head there with your colleagues too, to mingle over some tasty snacks and drinks.
You will find a long list of varietals at the wine bar from red (Malbec, Pinot Noir, Cabernet Sauvignon, Reserve Merlot, Barbera, and more), white (Sauvignon Blanc, Riesling, Roussanne, and more), and sparkling (Blanc de Blancs) to choose from, as you get the party started.
Location - 213 N 8th St, Brooklyn, NY 11211.
Timings - 5 pm to 10 pm (Monday to Friday)
1 pm to 10 pm (Saturday to Sunday)
The Skylark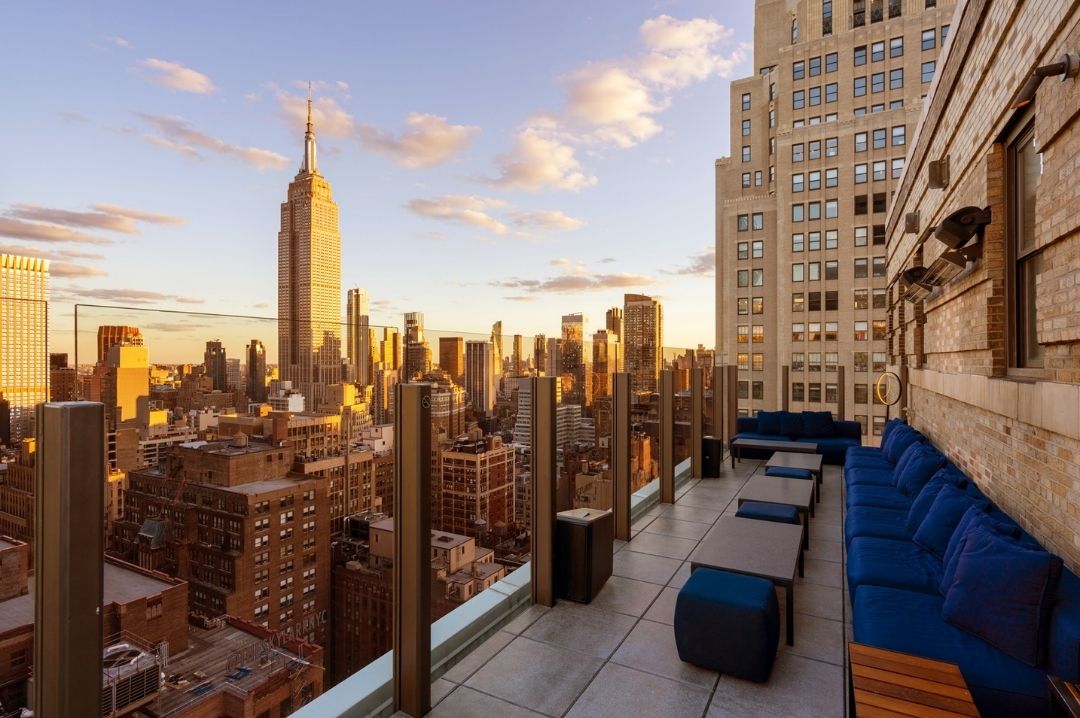 Panoramic view of New York City from The Skylark, Source: Facebook
Sitting on top of 30 stories in Midtown Manhattan, The Skylark provides panoramic views of the city with the Empire State Building in the background. Its upper deck area has a standing capacity of over 200 people, with more space available in the living room and pool room if needed.
At the bar, you will be greeted with mixology expert Johnny Swet and his delightful concoctions. The sunset views from this place are out of this world as you take a closer peek at NYC's skyscrapers. Let's be honest, a good view can make anything bearable, including a night with your colleagues.
Location - 200 W 39th St, New York, NY 10018.
Timings - 4.30 pm to 12 am (Monday to Tuesday)
4.30 pm to 1 am (Wednesday to Friday)
Closed (Saturday to Sunday)
Header image - The World Yacht, Source: Facebook