Holiday popups in NYC: Miracle, Rolf's and more
'Tis the season to sip on Christmas-themed cocktails.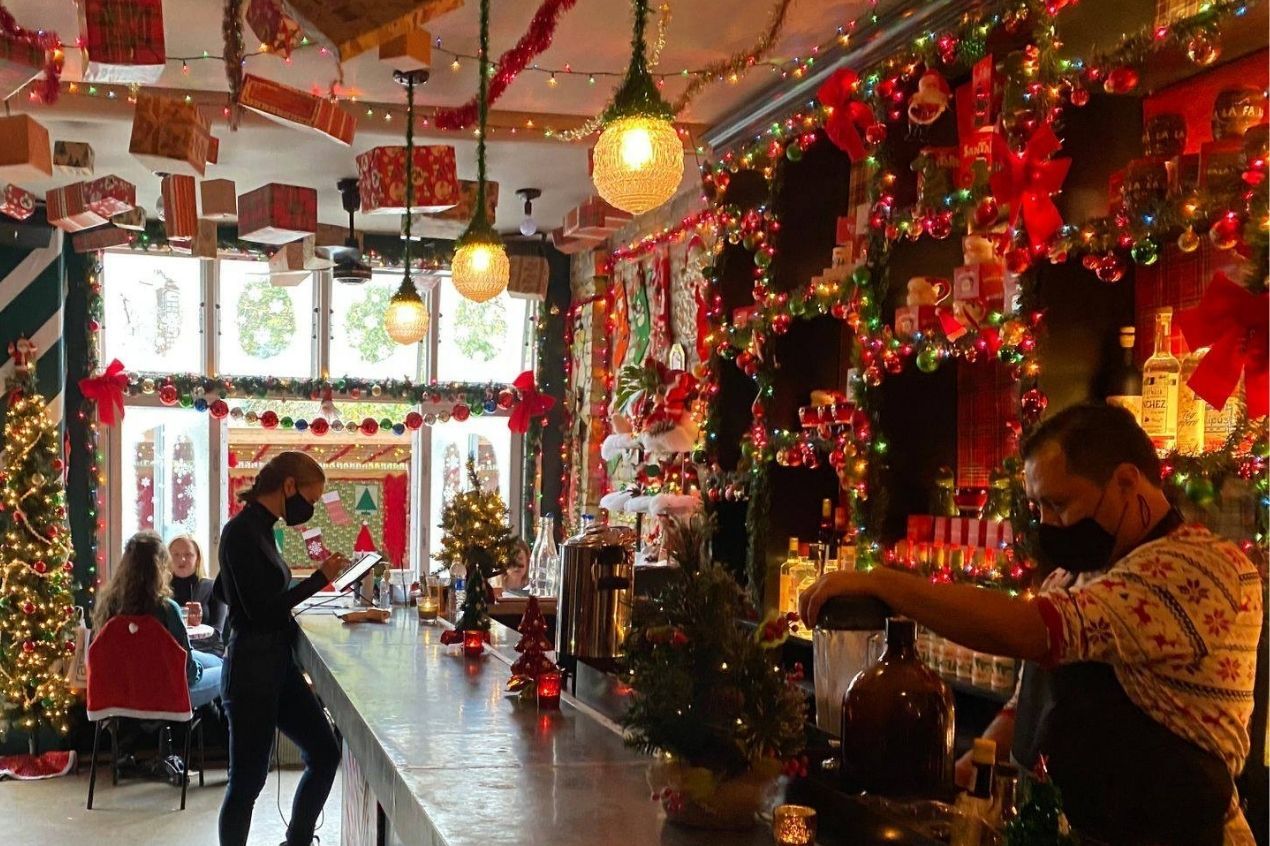 It's our favorite time of the year, and NYC has once again become a magical city to spend the holidays in. Just like every year, bars and restaurants have decked up for the festivities, and some pop up establishments have come into action with their Christmas spirit (yes, we mean liquor too).
From rooftop bars to cozy indoor lounges, these venues are all set with Christmas-themed cocktails and festive dishes to make your holiday season memorable.
Miracle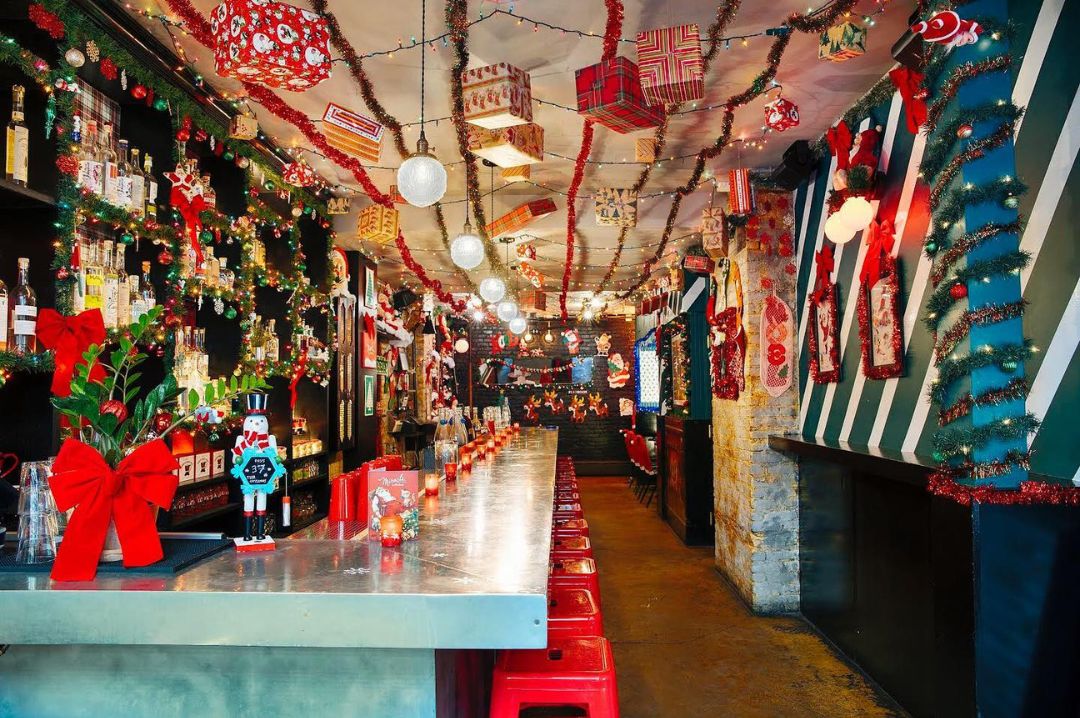 Miracle on 9th St, source: Facebook
The Miracle is a pop-up cocktail bar with a Christmas theme that serves seasonal cocktails in a festive ambiance. A plethora of garlands, Christmas lights, ribbons, candles, and tinsel, as well as seasonal melodies abounding, complete the winter wonderland experience.
Hot cocktails, such as the mulled-wine-heavy Bad Santa, and beverages with winter spices, such as the Fruit-Cake Flip, will be on the menu this year. While the flavors are intriguing, the presentation of the drinks is the Christmas icing on the cake.
Where - 649 E 9th St, New York, NY 10009
Hours - Mon-Thu (4 pm - 12:30 pm)
Fri-Sat (2 pm - 2 am)
Sunday (2 pm - 12 am)
The Helliday Inn at The Skinny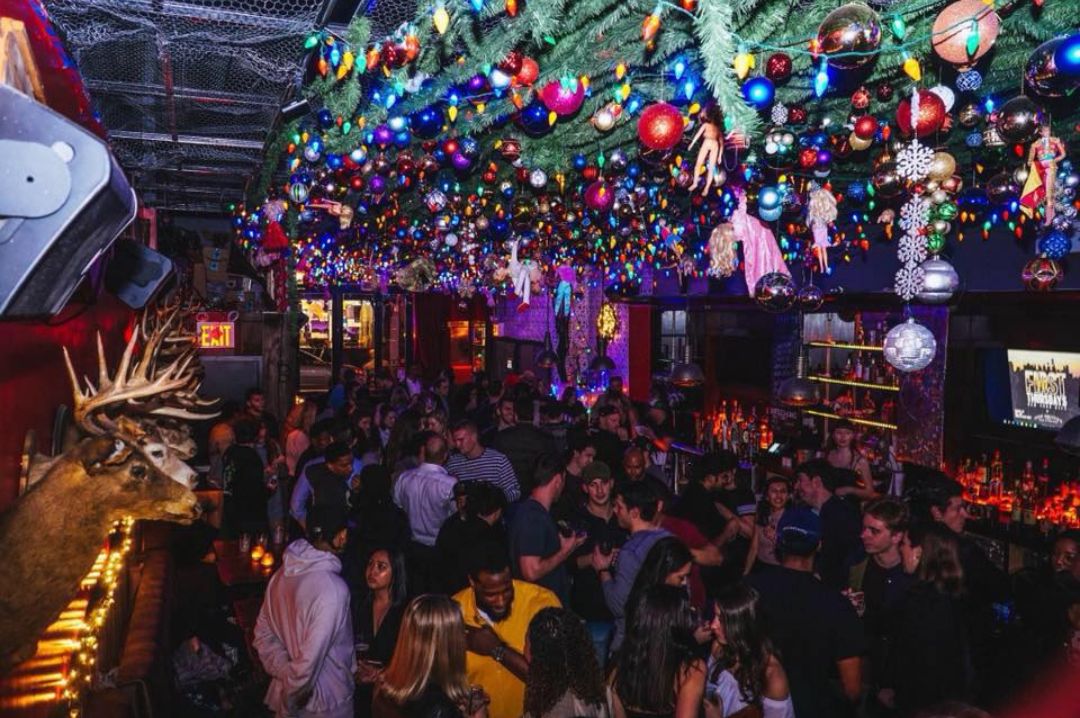 The Skinny bar and lounge, source: Facebook
With a newly refurbished and beefed-up venue, The Skinny bar and lounge is back with a boom. The place has doubled in size and transformed into a major player on the Lower East Side. The mood is nonetheless festive thanks to the billion Christmas lights and themed cocktails, despite the presence of reindeer heads on the wall, a grumpy Santa, and doll heads hanging from the ceiling.
The bar boasts 14 different beers on tap, a wide selection of premium bourbon, rye, and single malt scotches, and a handcrafted cocktail menu. The kitchen offers a chef-inspired menu, which has sliders, flatbread pizza, nachos, and many other soul-satisfying comfort food items.
Try themed drinks such as the Flying Elf with Fernet Menta, Green Crème de Menthe, and White Crème de Cacao, or the Grinding Up Against the Gingerman, a mixture of Svedka Vanilla Vodka, Hot Damn Schnapps, cream liqueur, ginger syrup, and a gingerbread man cookie.
Where - 174 Orchard St, New York, NY 10002
Hours - Mon-Wed (4 pm - 4 am)
Thursday (2 pm - 4 am)
Fri-Sun (11:30 am - 4 am)
Rolf's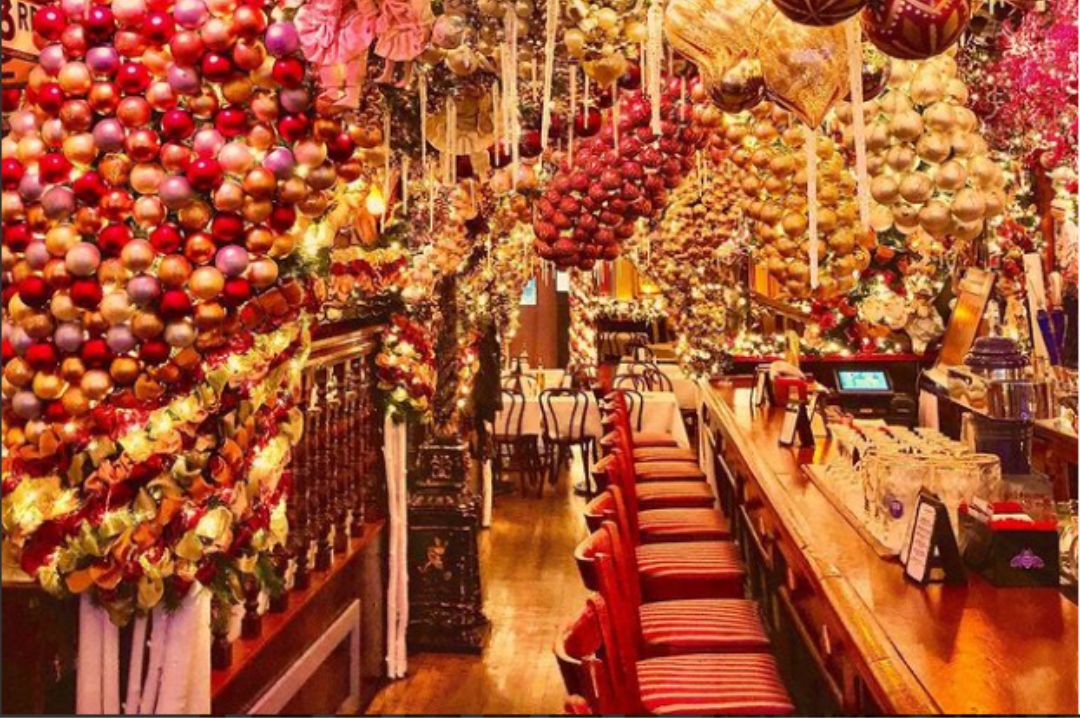 Christmas decoration at Rolf's, source: Instagram
Located in the Gramercy Park neighborhood, Rolf's is a cozy German restaurant & bar with an old-world vibe, known for its elaborate holiday decorations. This popular spot is decorated to the max during the holiday season. Rolf's does not overlook a single spot for decoration and the glitz and glam of the decor is enough to make anyone want to wear sunglasses indoors.
The kitchen sets up a vibrant menu with fish, seafood, meat, poultry, and soups. Look out for their specialties like sauerbraten or Schnitzel, they are worth trying. Try the Christmas Smoothie cocktail, made with Baileys vanilla cinnamon and a splash of Goldschlager, or the Rolf's Holiday Martini, made with Baileys original vodka, and Godiva chocolate liquor.
Where - 281 3rd Ave, New York, NY 10010
Hours - Mon-Sun (12 pm - 1 am)
Winter Room at The Roof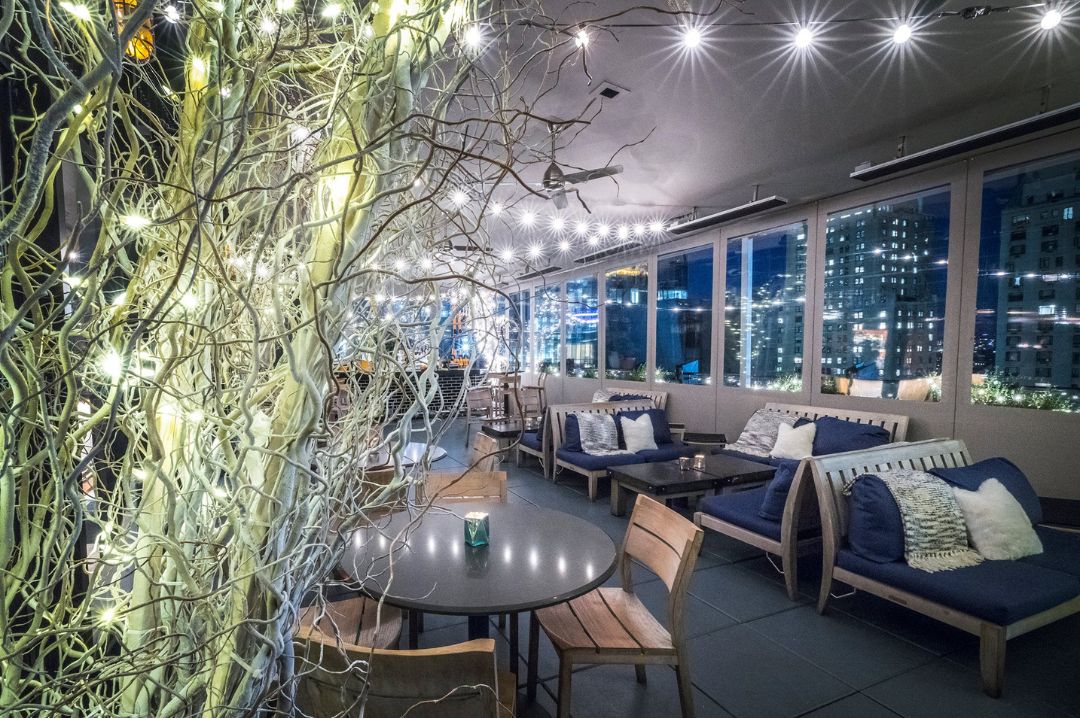 The Roof, source: Facebook
Located in New York's Viceroy Hotel, The Roof is managed by hospitality industry leader Gerber Group. The Roof is stunning any day of the year, perched high above Midtown Manhattan and giving spectacular views of Central Park. However, thanks to the venue's new Winter Lodge, a sky-high chalet-style bar adorned in white, snowy trees and warm, fuzzy cushions, the vistas will be as hot as the toddies this winter.
Small-batch spirits, regionally brewed craft beers, worldwide wine options, and a rotating range of Gerber Group's classic and modern cocktails are all on the menu. Try the specialty fondue or spiked hot chocolate which are only available for the Christmas and winter seasons.
Where - 124 W 57th St 29th floor, New York, NY 10019
Hours - Mon-Fri (3 pm - 4 am)
Saturday (1 pm - 4 am)
Sunday (1 pm - 1:30 am)
Sippin' Santa at Boilermaker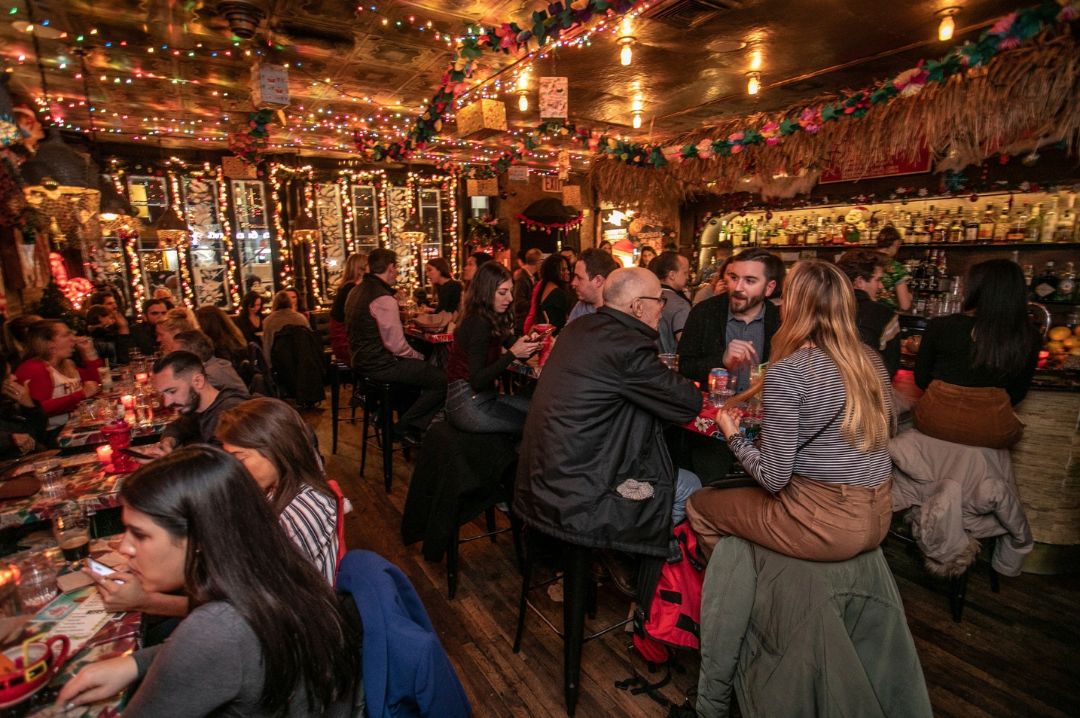 Sippin' Santa at Boilermaker, source: Facebook
Sippin' Santa, a companion pop-up to Miracle that focuses on the themes of tiki and Christmas, debuted in 2015 at Boilermaker in New York City. This year it is ready again to pop up at the Boilermaker with Christmas decor. The insane holiday decor will showcase a twerking Santa, twinkling lights, vintage garlands, reindeer figurines, and humorous cards all set to a soundtrack of holiday songs.
This year's roster includes drinks like the Kris Kringle Colada (Dark Jamaican Rum, Cynar, Allspice, Lime & Pineapple Juice and Cream of Coconut) and the Christmas Eve of Destruction (Dark Overproof Rum, Herbal Liqueur, Nutmeg Syrup, Lime Juice, and Angostura Bitters). Besides these, you can always sip on craft beers and much on nominated burgers and wings.
Where - 13 1st Ave, New York, NY 10003
Hours - Mon-Thu (4 pm - 2 am)
Fri-Sat (2 pm - 4 am)
Sunday (2 pm - 12 am)
230 Fifth Rooftop Bar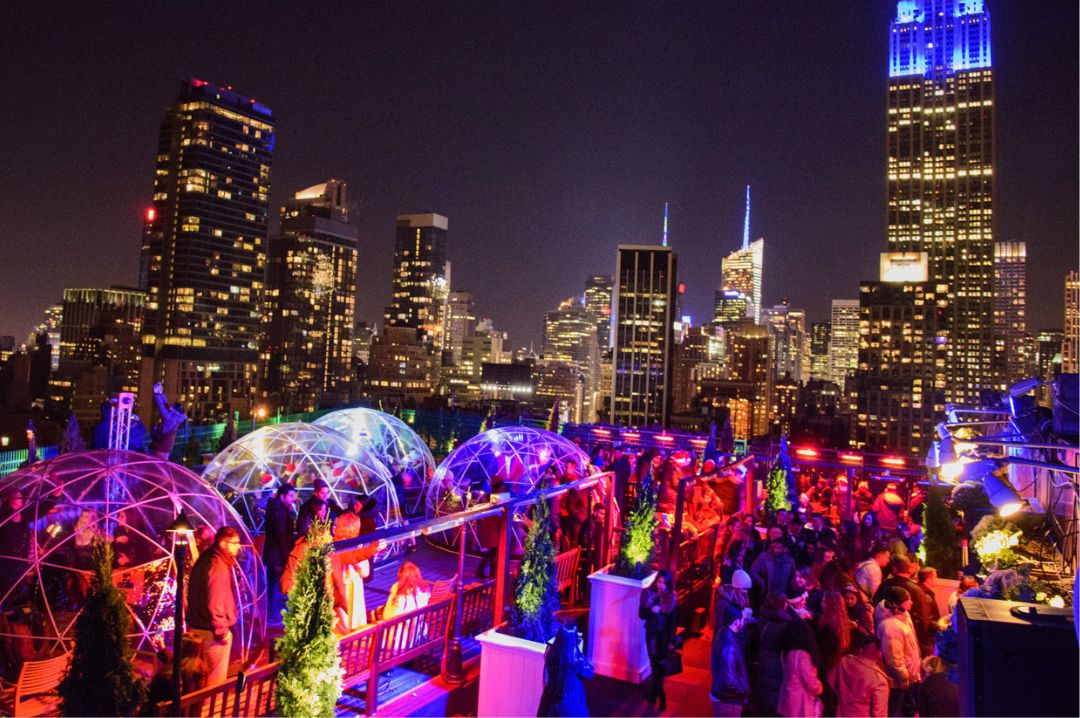 Igloo Bar at 230 Fifth Rooftop Bar, source: Website
The 230 Fifth rooftop bar, is one of the city's largest and most popular rooftop bars. The terrace can accommodate up to 1000 people at a time and shows off some truly breathtaking views of the Manhattan cityscape, with the Empire State Building serving as a powerful focal point.
From November 1st the rooftop transforms into heated and transparent igloo bars, where patrons can enjoy food and drinks with a breathtaking view. You can enjoy their signature reg snuggies and hot drinks, like Baileys Boozy Hot Chocolate or Hot Whiskey Cider.
Happy Hours - 2 pm - 5 pm
Where - 230 5th Ave, New York, NY 10001
Hours - Mon-Thu (2 pm - 1 am)
Friday (2 pm - 4 am)
Saturday (11 am - 4 am)
Sunday (11 am - 1 am)
Header image, source: Miracle on 9th St Facebook