Best Asian restaurants in NYC: Kensho, Buddha Bar, and more
From Buddha Bar, Hutong, and Kensho, New York possesses an array of Asian outlets in its food and drinks radius.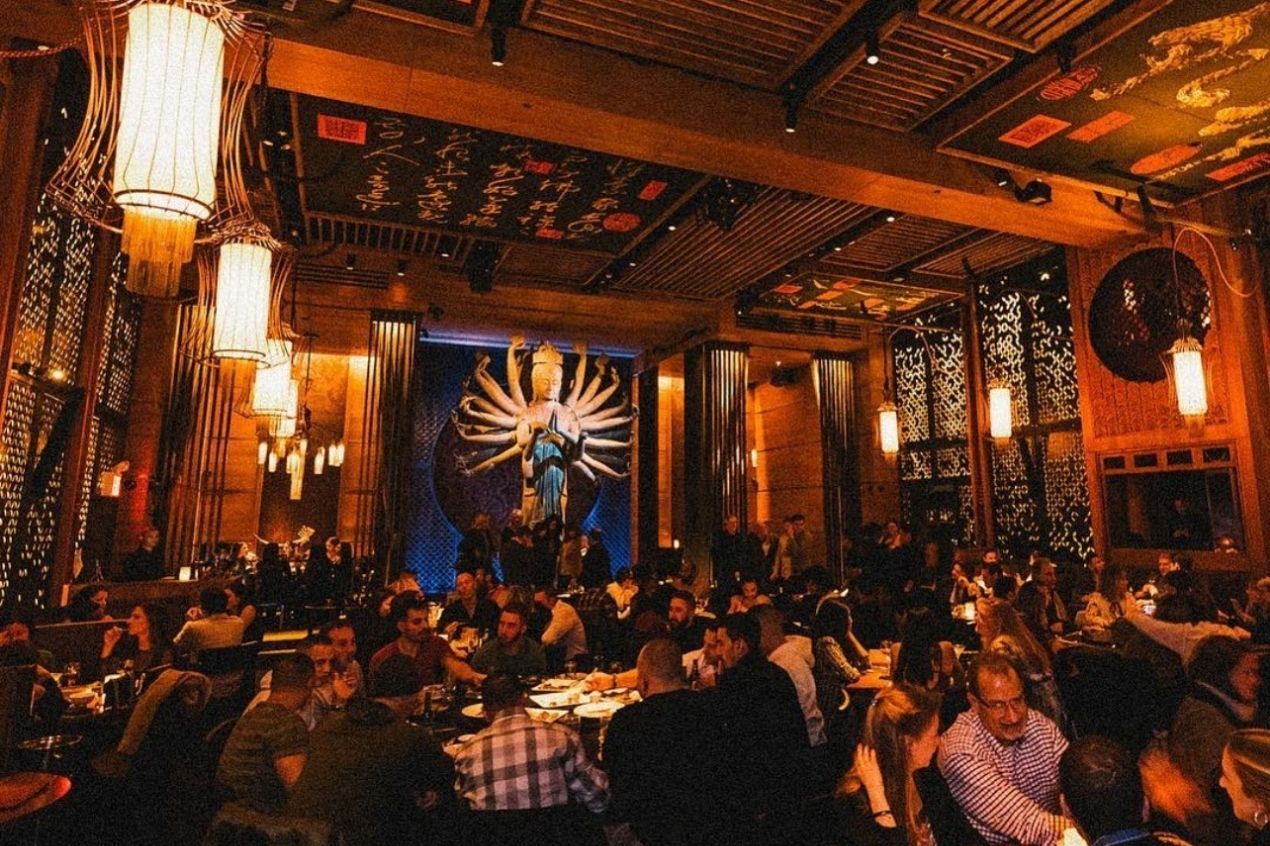 The aromas, spices, and flavors of Asian cuisine are quite unique, and every once in a while (by that we mean quite often), the craving for some delicious Asian fare keeps popping up from dim sum soups, noodles, sushi, and more.
Raising the bar with their belly filling bowls, dumplings, noodle salads, skewers, sake, and twisted cocktails, these Asian restaurants and bars in New York City offer some of the best delicacies you can think of.
Buddakan
Buddakan NYC, Source: Facebook
Serving pan-Asian food in a 16th century Parisian setting, Buddakan will dazzle you with the warmth of its ornate chandeliers, dim lit exhilarating interiors, and fanciful dishes like noodle soup, dim sum, whole Peking duck, and more.
In the shadow of a huge dining table, you will see cozy dining spots in the corners where you can sit back and enjoy the victuals from carrot dumplings, lobster egg rolls, tea smoked spare ribs, and Mongolian lamb chops with one of their specialty cocktails such as the Tranquility made with Belvedere Vodka, lemongrass-infused oolong tea, and lemon juice.
If you like your sake, wines by the glass, or spirits, the full bar will attend to all your drinking needs.
Location - 75 9th Ave, New York, NY 10011.
Timings - 5 pm to 10.30 pm (Monday to Thursday)
5 pm to 11 pm (Friday)
4 pm to 10 pm (Saturday)
4 pm to 10.30 pm (Sunday)
Obao Noodle & BBQ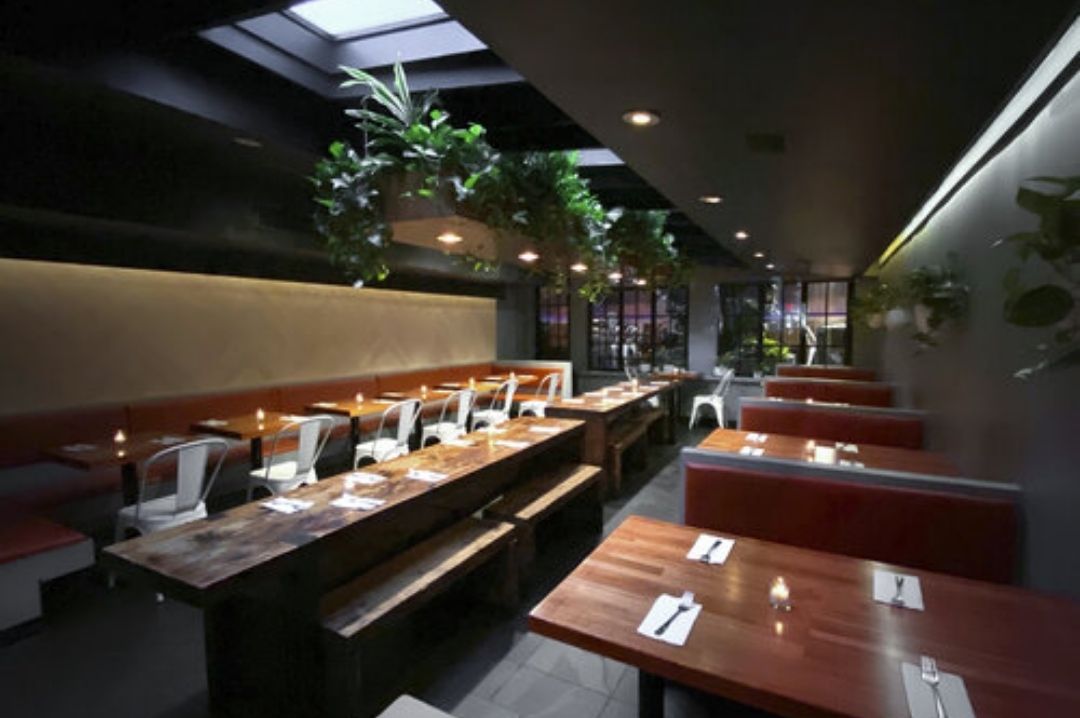 Obao Noodle & BBQ Midtown East, Source: Website
Introducing you to a range of flavorful dishes from the South East Asian market, Obao Noodle & BBQ brings together Vietnamese and Thai food with their own swivel. Some sumptuous dishes from the elaborate menu consist of green chicken curry, lobster pad thai, crispy spring rolls, mushroom dumplings, crab fried rice, spiced calamari, roasted duck noodles, pork belly with broccoli, Pho Bo, and more.
From the libations section, Obao, Fig-A-Tini, Sipping Emotions, Thai Sabai, Bruiseberry Mojito, and Flunk Flink are a few cocktails that will keep you buzzing.
With the success of their restaurant in Midtown East, Obao Noodle & BBQ have opened a new branch in Hell's Kitchen.
Location - 222 E 53rd St, New York, NY 10022 (Midtown East).
647 9th Ave, New York, NY 10036 (Hell's Kitchen).
Timings - 11.30 am to 10 pm (Monday to Sunday)
Hortus
Hortus NYC, Source: Website
A Michelin star restaurant, Hortus has mastered the art of blending cuisines from Korea, China, and Thailand with a fresh uptake. With a fusion of flavors in harmony, contemporary Asian food options like the Yellowfin Tuna Crudo, Yuzu Bacon Rose Pasta, Lobster Claws with Caviar, Truffle Donabe, Rice Pudding, and Monaka Ice-Cream are making reinventions to modern Asian cuisine.
You may also opt for the royal platter and raw food selection at Hortus, a restaurant offering fusion dishes that are not to be found anywhere else.
Location - 271 5th Ave, New York, NY 10016.
Timings - Closed (Monday)
11.30 am to 3.30 pm, 5.30 pm to 11 pm (Tuesday to Sunday)
Pig & Khao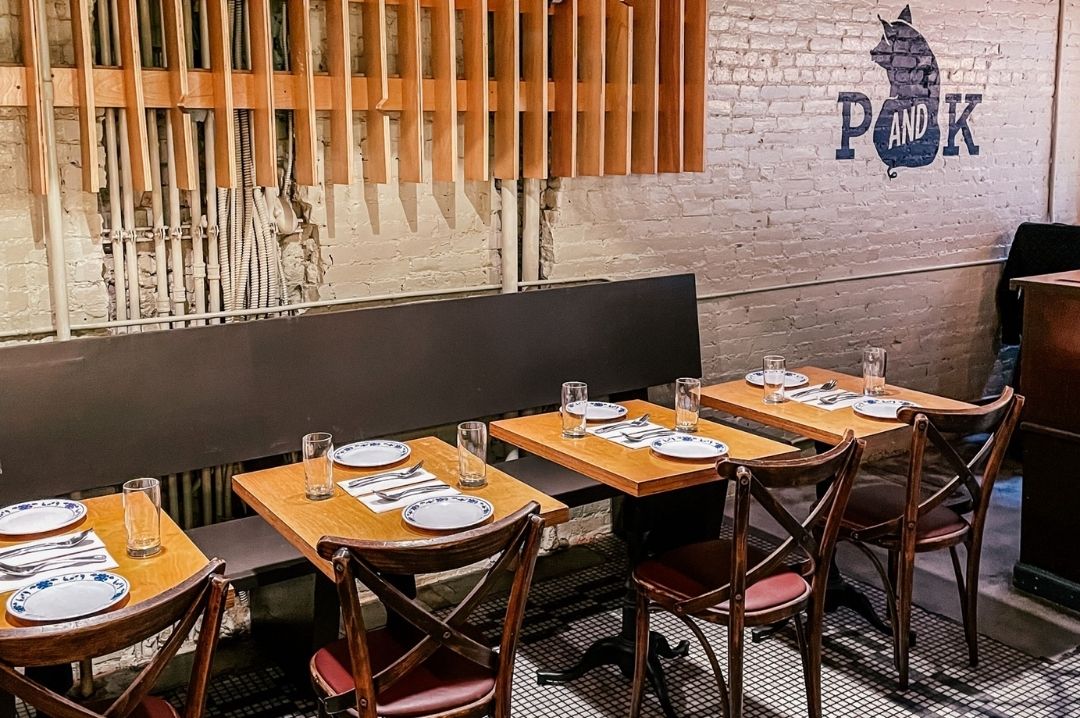 Pig & Khao, Source: Facebook
Located on the Lower East Side, Pig & Khao is a 74 seater restaurant shepherded by chef Leah Cohen and her snatch on Southeast Asian cuisine. To assist her with day to day operations and business activities, Ben makes sure everything is in place for the culinary delights to make their way to the tables.
The green papaya salad, whole fried fish with coconut rice, and ricotta donuts made a sumptuous meal as we sipped on the Spicy Pakwan cocktail (thai chili tequila, watermelon, and salt rim) to have a taste of the street food fare, welcoming ambiance, and an inventive bar program.
Location - 68 Clinton St, New York, NY 10002.
Timings - Closed (Monday to Tuesday)
5 pm to 11 pm (Wednesday to Thursday)
5 pm to 12 am (Friday)
11 am to 3.15 pm, 5 pm to 12 am (Saturday)
11 am to 3.15 pm, 5 pm to 10 pm (Sunday)
Wagamama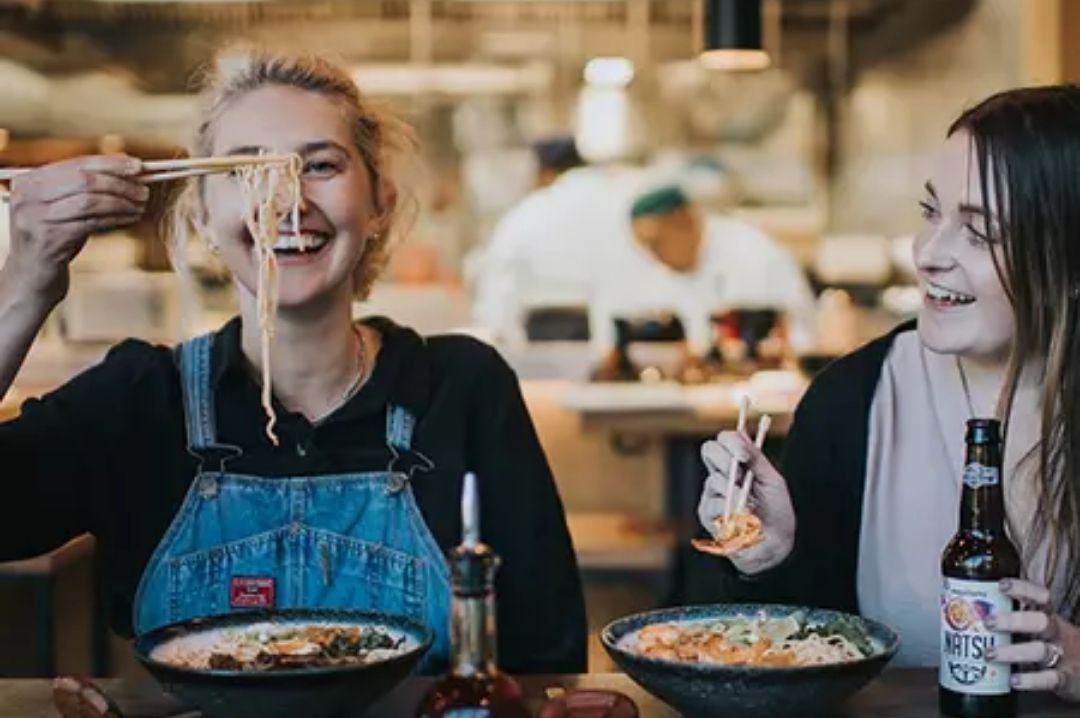 Wagamama Midtown Manhattan, Source: Website
For when you are searching for belly and soul satisfying bowls in New York, Wagamama will glaze you with its range of healthy options that include Avant Gard'n, Chicken Vietnamese Glass Noodle Salad, Nama Spicy Tuna, Shu's Shiok Chicken, and more.
Thai Chili Margarita, Southside Tokyo, Blossom, and Japanese Highball are a few cocktails on the list that are worth pairing with your bowl while you look for a rejuvenating retreat from the hustle and bustle of New York.
Sake choices such as suigei junmai, kunizakari nigori, and mio sparkling sake make up the flight selection with other cans and bottles in the mix.
Apart from the one in Midtown Manhattan, the restaurant has two more outlets in Flatiron Building and Murray Hill.
So the next time you are walking on the streets with a craving for some authentic Asian fare, Wagamama should be your go-to ramen friendly spot.
Location - 100 W 55th St, New York, NY 10019 (Midtown Manhattan).
210 5th Avenue at, W 26th St, New York, NY 10010 (Flatiron Building).
605 3rd Ave, New York, NY 10158 (Murray Hill).
Midtown Manhattan outlet timings - 11 am to 10 pm (Sunday to Thursday)
11 am to 11 pm (Friday to Saturday)
Tao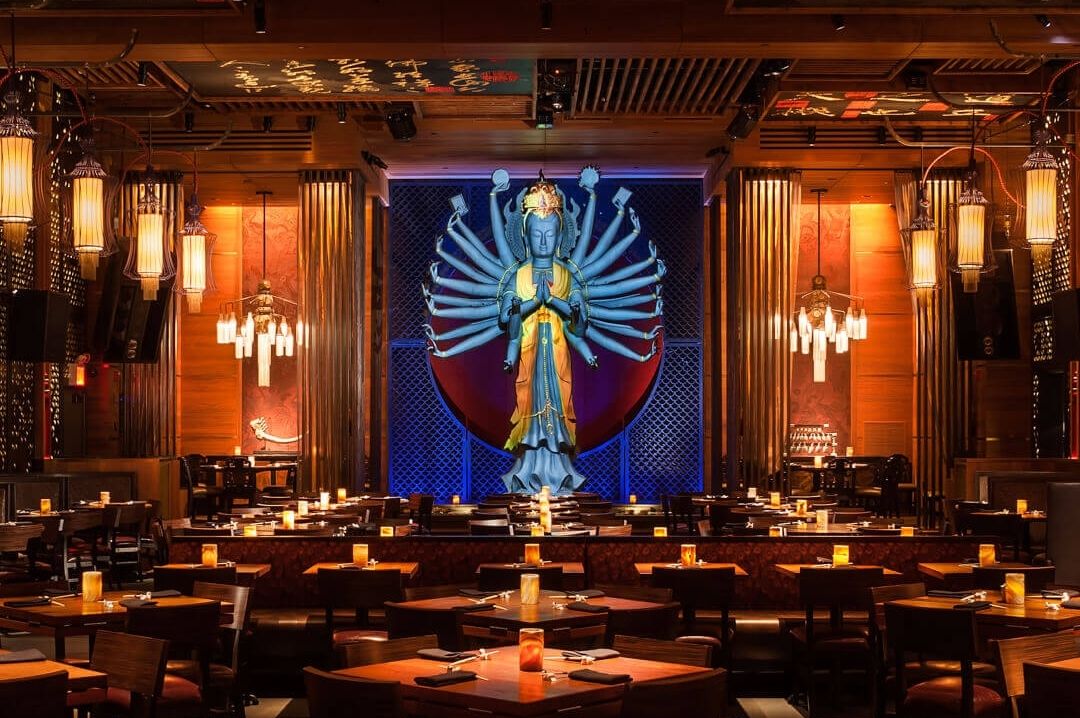 Tao at The Maritime Hotel, Source: Website
With an immersive multi space venue in the heart of Chelsea, Tao is graced with Chinese calligraphy murals, unearthed artifacts, and a long corridor fit to be casted in a high budget movie. Once you soak in the plush setting decorated with lights and pieces of art, your senses will relax in the warm and soothing atmosphere.
From lobster wontons, chicken wing lollipops, crispy bao buns, rock shrimp lettuce cuts, triple pork fried rice, sushis, specialty rolls, and more, the never ending menu will hook you to the Asian vibe.
For some extra jollification, Bubbles & Berries, Ruby Red Dragon, Mango Chili Martini, and Cucumber Saketini cocktails will keep your spirits high.
Location - 92 9th Ave, New York, NY 10011.
Timings - 5 pm to 12 am (Sunday to Thursday)
5 pm to 1 am (Friday to Saturday)
Kensho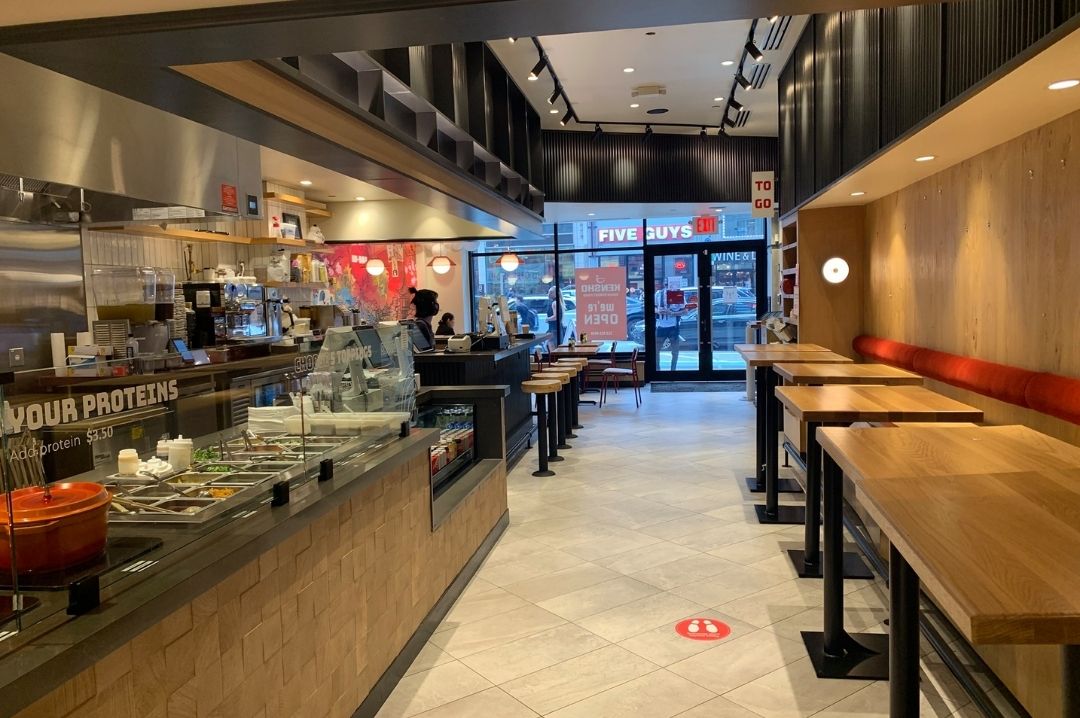 Kensho New York, Source: Facebook
Standing out with its Build Your Bowl (BYB) option, Kensho will let you customize your Asian bowl, starting with choosing the base, hot/cold protein, toppings, sauce, and crunches.
At the first glance it reminded us of Subway but with more proteins, veggies, and delightful toppings. If you are looking to try a delicious, flavorsome bowl of their own making, Hot Mama Tuna and Truffle Salmon are worth going for, provided you like seafood as much as we do.
Location - 1001 6th Ave, New York, NY 10018.
Timings - 11 am to 8 pm (Monday to Sunday)
The Tyger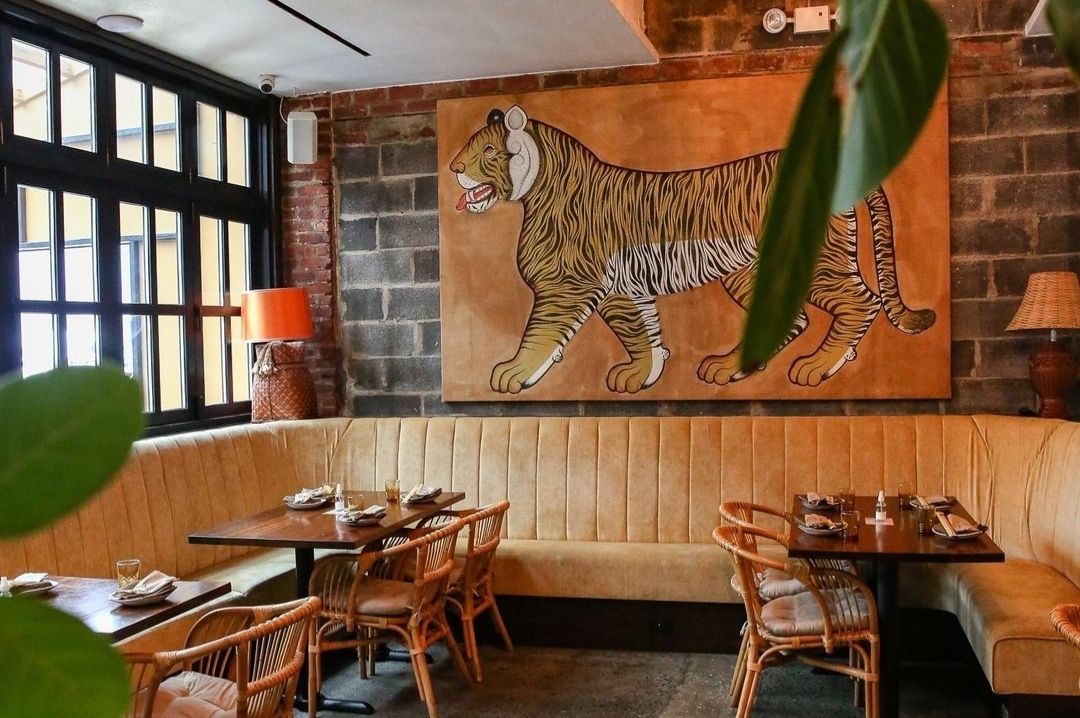 The Tyger, Source: Instagram
The bright, vibrant, and cool ambiance of The Tyger is perfect to relish the rich dining experiences of Malaysia, Australia, Thailand, and other Asian countries, inspired by chef Paul Donnelly.
You can either go for the prix fixe feast menu if you arrive in a group of more than six or devour tasty treats such as steak tartare, charred octopus, shaken beef skewers, baby gem salad, Australian Tyger Prawns, and crispy whole red snapper one at a time.
Hot cocktails like the Thai Tyger House Blend, Poison of the Honeybee, and Little Wanderer will keep you warm in the winter season. And if you happen to visit during lunch time, the Earth's Answer cocktail made with Suntory Haku Vodka, tomatillo, soy, celery, and horseradish is a great way to connect with nature at this verdant restaurant.
Location - 1 Howard St, New York, NY 10013.
Timings - 5 pm to 12 am (Monday to Friday)
12 pm to 12 am (Saturday to Sunday)
Sachi Asian Bistro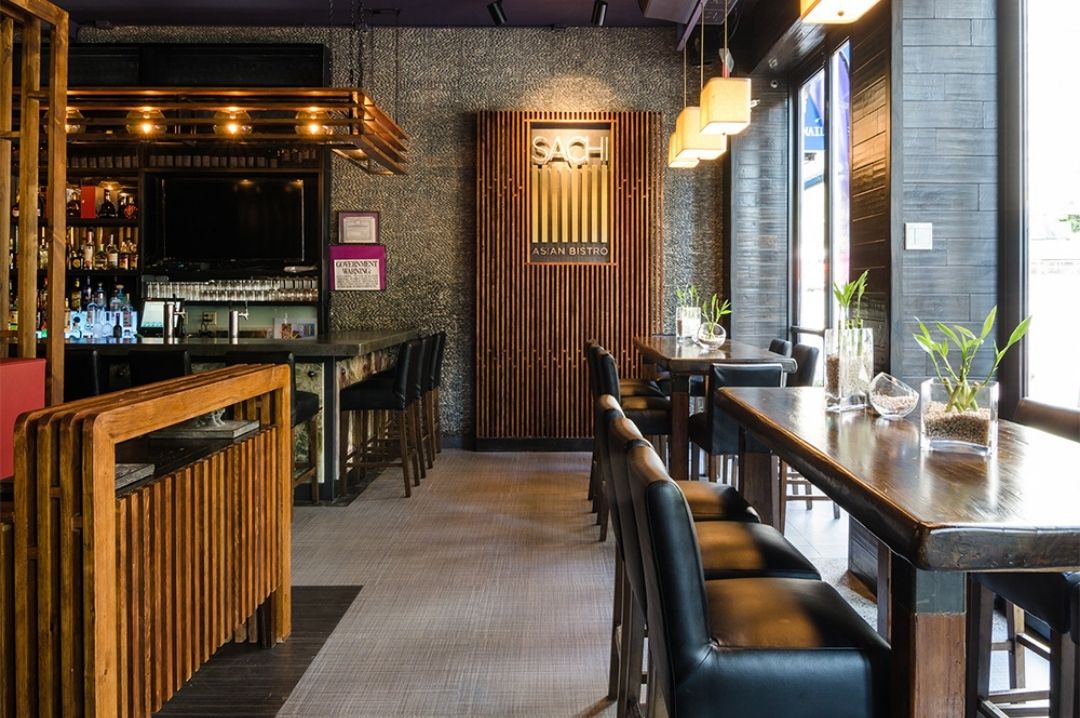 Sachi Asian Bistro, Source: Website
From house made dim sum, sashimi, sushi platter, soups, salads, rolls, bento boxes, and a lot more, Sachi Asian Bistro brings a reimagined twist to Asian cuisine with inspirations from Singapore, Japan, Korea, Vietnam, Thailand, and China.
The Pad See Ew, Spicy Tuna Pancake, Mango Lobster Roll, and Milk Chocolate Sesame Bar will keep your taste buds busy along with various sake types from nigori, junmai, ginjo, and others.
Location - 713 2nd Ave, New York, NY 10016.
Timings - 11.30 am to 10 pm (Monday to Sunday)
Buddha Bar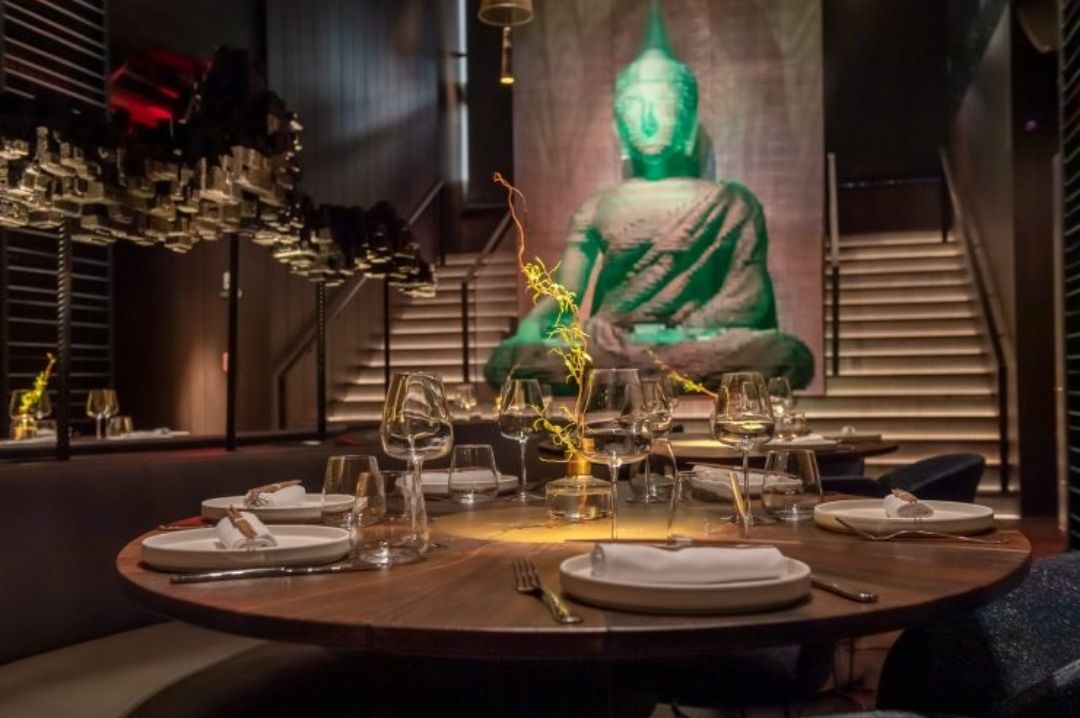 Buddha Bar in Tribeca, Source: Website
Take one off at Buddha Bar's perfectly aligned rustic beams and bricks, housing a 16 foot Buddha statue that disperses positive vibrations. Known for their quality music and pan Asian food in Tribeca, Buddha Bar has been precursing the Art of Living since its creation in 1996.
Take your pick from sushi, sashimi, raw delicacies, skewers, small plates, salads, sides, and main course dishes. For dessert you can go for digestifs like cognac and brandy or try the BBNY Tiramisu made with Thai tea, vanilla wafer, chai granola, and mascarpone.
We instantly fell in love with the Red Sunset cocktail made with Chipotle Infused Volcan Blanco Tequila, watermelon, and agave.
Location - 62 Thomas St, New York, NY 10013.
Timings - 5 pm to 11.30 (Sunday to Thursday)
5 pm to 12 pm (Friday to Saturday)
Hutong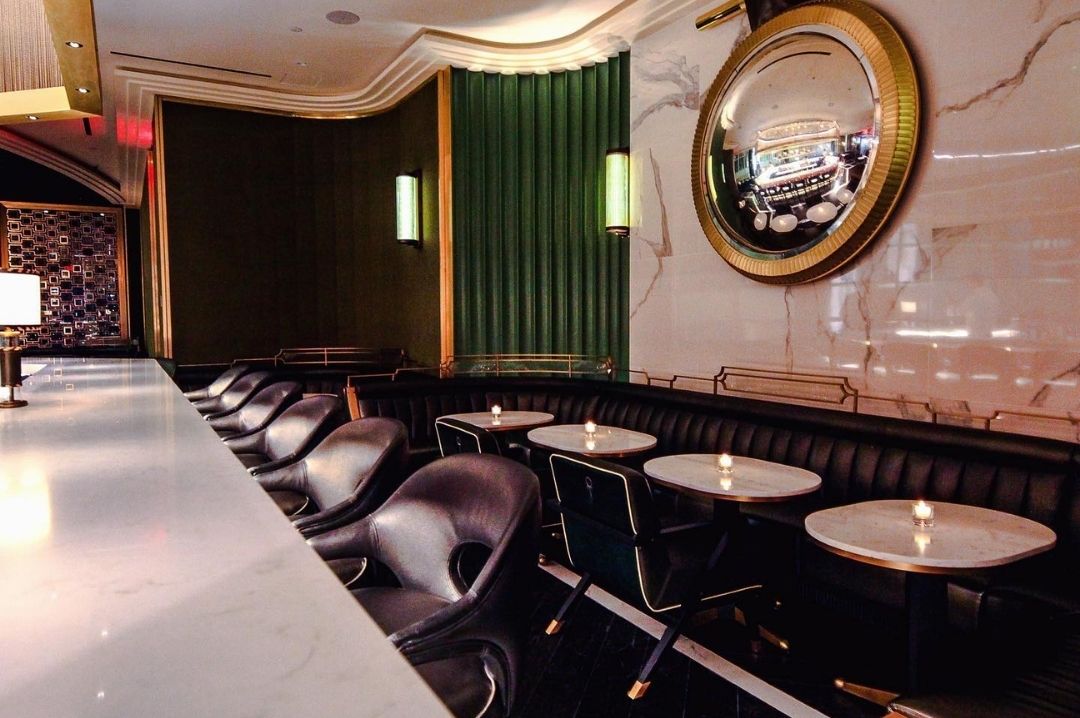 Hutong restaurant and bar in New York, Source: Facebook
One of the hottest nightlife destinations in Midtown Manhattan, Hutong invites night owls to its art deco interior, shining with well polished marbles and glamorous furnishings.
With a separate menu for each occasion, late night bites such as vegetarian spring roll, caviar crab shumai, black truffle margow, and Hutong Prawn Roll make late night snacking delectable. Other starters such as the calamari flowers, sichuan shredded beef, and Kou Sui Chicken make a great pairing with the Lucky Dragon cocktail made with scotch, amontillado sherry, Ancho Reyes verde, nocino, Angostura bitters, and five spice tincture.
Dress code: elegant casual and uptown chic.
Location - 731 Lexington Ave, New York, NY 10022.
Timings - 5 pm to 10 pm (Monday)
11.30 am to 2.30 pm, 5 pm to 10 pm (Tuesday to Thursday)
11.30 am to 2.30 pm, 5 pm to 11 pm (Friday)
12 pm to 9 pm (Saturday)
11 pm to 9 pm (Sunday)
Header image - Tao Downtown, Source: Facebook
South San Francisco Conference Center, 255 South Airport Boulevard, South San Francisco, CA 94080, United States
Register Now
South San Francisco Conference Center, 255 South Airport Boulevard, South San Francisco, CA 94080, United States
Register Now